Jerry Douglas
Dobroist extraordinaire Jerry Douglas demonstrates his fluid style as heard on "Live at the CMA Theater," the latest album by The Earls of Leicester. Read our review in the February "Hit List." READ NOW!!
---
Steve Tibbetts
Steve Tibbetts offers a glimpse of his recording studio, plays a bit on his Martin DM-12, introduces us to the crew at St. Paul Guitar Repair, then shows us inside Mairs Concert Hall (at Macalester College), where he recorded parts for his new album, "Life Of." Read our interview with Steve in the February issue. READ NOW!!
---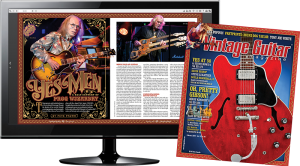 CURRENT ISSUE We catch up with Steve Lukather, Doyle Bramhall, II, Elvin Bishop, Ana Popovic, Erik Schenkman, Dan Donegan, Steve Tibbetts, and Abe Ovadia. Wolf Marshall schools us on the history and licks of Hound Dog Taylor, "Pop 'N Hiss" dishes on Def Leppard's Pyromania, and Dan Forte's "Check This Action" features root-rock acts worth hearing. Our "Hit List" reviewers guide you to the best new music, while VG Approved Gear highlights toys for your jam room (or gig rig). You'll love in the February issue, available now!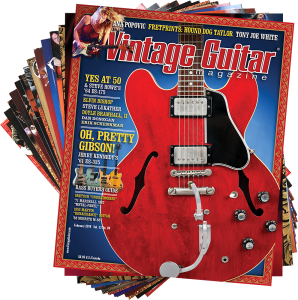 Vintage Guitar is fed up with the stale magazines in waiting areas
Gift a subscription to a business you'd LOVE to share Vintage Guitar magazine with. The next wait will be the highlight of your day! Call to mind the local barber shop/beauty salon, dentist, doctor, veterinary, car dealership, auto shop, tax preparation… 1 or 2 year term for just $24.95/year. You name it, we'll get VG there! GIFT NOW →
Over time, Vintage Guitar magazine has become much, much more than the vibrant print magazine in your mailbox. Jump-start that passion for guitar with VG's Media Family the best and brightest selections from VG's vast archive of interviews, instrument profiles, and reviews of the hottest new gear and outstanding new music. See it all →