Pickup Celebration! • DEADLINE JULY 17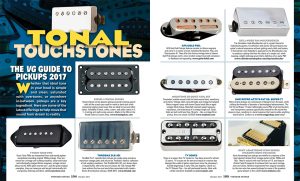 Save $100s while reaching tens of thousands of tone-loving readers with our 3 special advertising Pickup Packages:
1) Advertorial and a Facebook post with 60 words of text and full-color/hi-res photo.
2) Advertorial, Facebook post, and full-color quarter-page ad.
3) Advertorial, Facebook post, and full-color half-page ad.
As a bonus, anyone who reserves ad space can participate in a promotional giveaway of a set of single-coils or humbuckers. Your company logo will be placed on two print ads (see example pg 88) and e-blasts. We'll also promote the giveaway through Facebook. At the conclusion of the contest, you will receive a complete list of opt-in email addresses from contestants who requested more info on your product. This is a great opportunity to reach tone lovers around the world!
The Return of "Vintage Guitar Classics" • DEADLINE JULY 6
After a 20-year hiatus, VG Classics is returning as a quarterly digital magazine! It will be highlighted by instrument profiles from VG's massive archive of material going back 30 years, and reach more than 20,000 vintage-guitar enthusiasts! A full-page/full-color ad is only $500. Contact your rep for more information.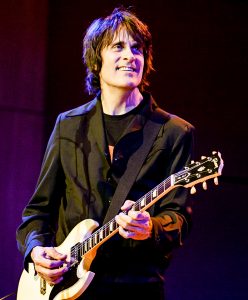 Here's an idea – coordinate your advertisement in VG with October's article features:
• Rusty Anderson, guitarist with Paul McCartney
• 1963 Fender Deluxe
• 1961 Jacobacci Major Ohio Label de Qualité
• Greg Leon
• Lorrie Collins' D-28
• New Feature- Classic Albums!
• Pickup Showcase
• FIRST FRET: Gus G, Wanda Jackson, Johnny A, Steve Kimock, Matteo Mancuso, Ian Moore, Guthrie Trapp, Remembering Bob Bain
• VG APPROVED GEAR: Boss RC-3 Loop Station, Lehle Mono Volume, B&G Guitars Little Sister, Fender The Bends Compressor and Level Set Buffer, Supro Westbury and Hampton Baritone, Taylor Guitars K24ce, Fodera Imperial Deluxe, Harden Engineering Bluesmaster
*Subject to change
Reach guitar event attendees! Copies of Vintage Guitar's October issue will be distributed to these fine events:
 • SoCAL
 • Bossier City Guitar Show
 • Lake County Musician's Swap Meet
Your ad in VG will get to pre‑qualified customers — folks who've paid $20 or more of their hard‑earned money to see a room full of guitars and guitar related products. Even if you can't be at the show, your product or service can be in front of eyes that matter.
DID YOU KNOW? VG is the only guitar magazine distributed at 40+ guitar shows and events throughout the year! Request copies of Vintage Guitar magazine to be at your event by contacting Joan Trygg → JoanT@VintageGuitar.com. Better yet – get your event published for FREE in VG when you submit your guitar event to "Upcoming Events".
Cover Date
Deadline
Status
August 2018
—closed—
View Now
September 2018
—closed—
In Mailstream
October 2018
07/17/18
In Progress
November 2018
08/15/18
Pending
December 2018
09/12/18
Pending
January 2019
10/12/18
Pending
February 2019
11/14/18
Pending
March 2019
12/12/18
Pending
Updated 07/02/18. Magazines arrive in mailboxes approximately the 15th of each month.
How do I add my guitar show to the magazine and website? Simply submit your info to this form or e-mail JoanT@VintageGuitar.com. All submissions must be received by the 10th of each month, or they will appear in the next available issue. This listing is done as a service to our readers and we reserve final determination as to its contents.
How do I submit my recording for review? Submit a recording for potential review by simply filling out this form and our review staff will be in contact with you.
How do I offer my product for review? Submit a product for potential review by simply filling out this form and Dennis Pernu will be in contact with you about your product.
I have some new and cool gear. How can VG promote it? Gearin' Up is the perfect place to put your gear in front of eyes that matter. Simply fill out this form – the VG staff will soon contact you.
How do I place a classified ad? DEADLINE for submission is the 10th of each month. VG Classifieds are FREE for VG subscribers. Start a subscription for just $24.95 and submit your FREE listing! Non-subscribers must pay $50.00/listing. Submit a Classified at https://store.vintageguitar.com/classifieds-submission.html or contact Joan at JoanT@VintageGuitar.com or 1-800-844-1197.
I would like to carry VG products in my store. Music magazines, like VG, are a proven traffic generator for music stores, but the distribution system is outdated. The Vintage Guitar team designed the 5‑Pack and Box of 6 to greatly simplify the system for retailers! For more info call Joan at (800) 844‑1197.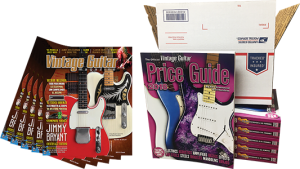 Be the coolest music store on the street with our hassle-free way to stock VG's fine products using VG for Retailers →
As you are made aware each day, the world of music retailing is constantly changing. Use VG's 32 years of being in business to help navigate these changes – introducing the brand new, hassle‑free 5‑Pack and Box of 6! Music magazines, like VG, are a proven traffic generator for music stores, but the distribution system is outdated. The Vintage Guitar team designed the 5‑Pack and Box of 6 to greatly simplify the system for retailers!
Expose your ad to the people reading the print edition of Vintage Guitar magazine →
Vintage Guitar is the largest magazine dedicated to those who love the great guitars of yesterday and today. Each monthly issue contains features on collectible instruments, great collections, interviews with players, technical articles, brand and model histories, product reviews, and much more. Each issue also has over 300 ads from dealers and manufacturers from all across the U.S. and from overseas. That means Vintage Guitar advertising works! And it's very affordable. Over 34,000 copies of VG are distributed each month to subscribers, musical instrument stores, large book chains, newsstands, and events. With an average of 1.9 readers seeing each copy of the magazine, your ad is exposed to almost 70,000 people, and if they're reading Vintage Guitar, every one is a potential customer!
"It's my most effective advertising tool; I get calls from people reading the magazine everywhere from Europe to the swampiest parts of middle America. Every time a new issue is delivered to readers, I get calls." – Nate Westgor, Willie's American Guitars
Thousands of guitar enthusiasts buy The Official Vintage Guitar Price Guide and use it continuously throughout the year. Thousands more refer to it at guitar shows, guitar shops, and of course at the local bookstore. Their hearts are racing in anticipation of finding the guitar of their dreams listed among the thousands of entries. If only you could be there every time, to assist these people in owning that instrument. You can! Get 'em while they're in the mood, put your ad right in the face of the buyer. When they look up their favorite instrument, your ad is in their hands. Who are they going to call? Advertising in The Price Guide is an easy and profitable way to sell more gear. The fact that space is very limited (less competition), gives you even more exposure. Call now while there's still space available.
Space reservation: August 24, 2018 (unless the ad space is already gone!)
Materials: August 31, 2018.
Vintage Guitar readers have real buying power – much more than just internet "views." Reach these potential customers using VG Online Services →
Vintage Guitar is not just a great magazine but a popular online destination too. Every day more than a thousand individuals stop by the VG website to browse the articles, check on the latest news from the VG newswire, and post their photos resulting in more than 110,000 page views per month. VG also hosts a popular (487,000+ likes) Facebook page.
Print and Social Media Readers
Our Readers' Stats

Magazine Readership

 65,207

Facebook

 487,000

Instagram

 40,600

Twitter

 13,000

Website

 110,000 uniques monthly

Average age

 53

• Level of Playing

  Pro: 10.3%

  Semi-Pro: 18.6%

  Experienced: 38.3%

• 47.6% of Vintage Guitar readers report a household income of more than $100,000 per year!

• 77% refer to the magazine when making buying decisions.

• 83% plan to buy one or more guitars this year.

• More than 54% plan to buy one or more amps in the next year.

• 83% purchase pedals.

• 56.8% own basses.

• VG readers will spend more than $63 million on new gear this year!