Current Issue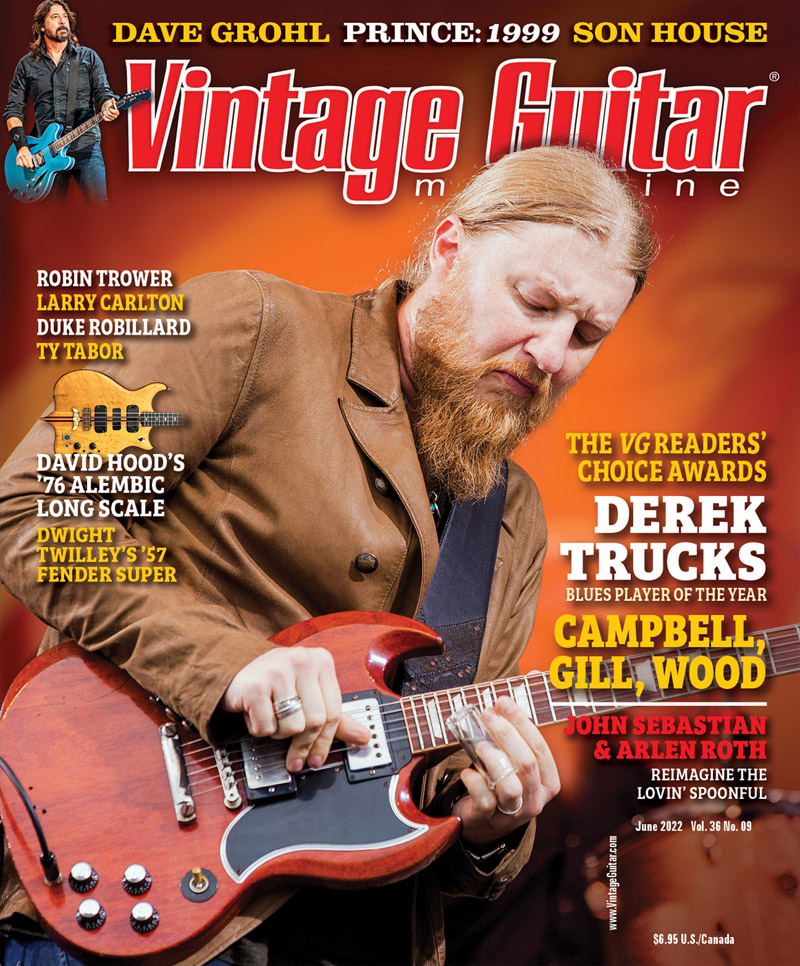 We welcome Mike Campbell, Vince Gill, Ron Wood, Nat Daniel, and the Gibson ES-330 to the VG Hall of Fame, while the Readers' Choice Awards note the best music and performances of 2021 – by Vince Gill, Billy Gibbons, Robben Ford, Derek Trucks, and the Tedeschi-Trucks Band.
The Lovin' Spoonful boasted an impressive song catalog in the age of psychedelia. Founder/front man John Sebastian recently joined world-class guitarist Arlen Roth in reworking 14 of the group's "good-time" songs, including three instrumentals.
For more than a decade, an Alembic Long Scale was David Hood's #1 bass as the world-famous Swampers backed a laundry list of high-profile artists on megahit sessions at Mussel Shoals Sound. We tell its story.
Most classic amps stand on their own merits. But when a hallowed creation also has a fun artist-related history like this road-worn '57 Fender Super formerly owned by Dwight Twilley, there's a whole other dimension to the tale.
"Pop 'N Hiss" recounts the planet-shattering impact of Prince's 1999, Wolf Marshall's "Fretprints" offers a timely reminder of how drummer-turned-frontman/guitarist Dave Grohl has influenced two generations of rock musicians, and Dan Forte's "Check This Action" rediscovers Son House… again
Our tell-it-like-it-is "Approved Gear" reviews dig into the Donner DST400, Lovepedal Purple Plexi, Walrus Audio Eras Five-State, Godin A6 Ultra Baritone, Tx-Watt Flagship, Kirn Vaquero, King Snake Three Bone, and the PRS SE Silver Sky. 
Our "Hit List" review staff sifts out the best new music. This month, their list include the Duke Robillard Band, Circle Jerks, Andy Timmons, Ty Tabor, Rick Holmstrom, Calexico, Molly Tuttle & Golden Highway, and more! Stopping in to talk about their new music are Robin Trower, Duke Robillard, Aldo Nova, Ty Tabor, and Larry McCray, while Larry Carlton talks about his final tour.
It's all in the June issue of Vintage Guitar!
Table of Contents

Click to enlarge

GET YOUR VG FIX
Your complete guitar coverage all starts with a new subscription to VG!
Print Copies Order print copies of the current issue or back issues in the VG Store. Vintage Guitar's 33 year archive of the best guitar related info is a customizable tribute to the memories shared with your best friend, band mates, you name it. Commemorate a life event by gifting Vintage Guitar magazine from an exact month and year. Browse the covers and descriptions of over 250 issues for a specific guitar or player. A well thought-out gift awaits.
Digital Edition Read for FREE in a web browser (Chrome, Firefox, Safari, etc.). The browser edition works on most computers or hand-held devices. Digital FAQ
Over time, Vintage Guitar magazine has become much, much more than the vibrant print magazine in your mailbox. Jump-start that passion for guitar with VG's Media Family the best and brightest selections from VG's vast archive of interviews, instrument profiles, and reviews of the hottest new gear and outstanding new music. See it all →
FROM READERS
Reader Mail Send letters to ward@vintageguitar.com or mail to: Vintage Guitar, Inc. Attn: Reader Mail, PO Box 7301, Bismarck ND 58507.
Readers Gallery Send your photos to: doug@VintageGuitar.com or mail to: Vintage Guitar, Inc. Attn: Readers Gallery, P.O. Box 7301, Bismarck, ND 58507. Readers submit photos with the understanding that they may be used in any VG, Inc. project. Due to the volume of photos we receive, we are unable to return them, please do not send us your only print.
Guitar Shows
Click on an event to see more information. Submit your upcoming event info to this form. See full calendar and past show photos at www.VintageGuitar.com/Upcoming.

VG Youtube Uploads