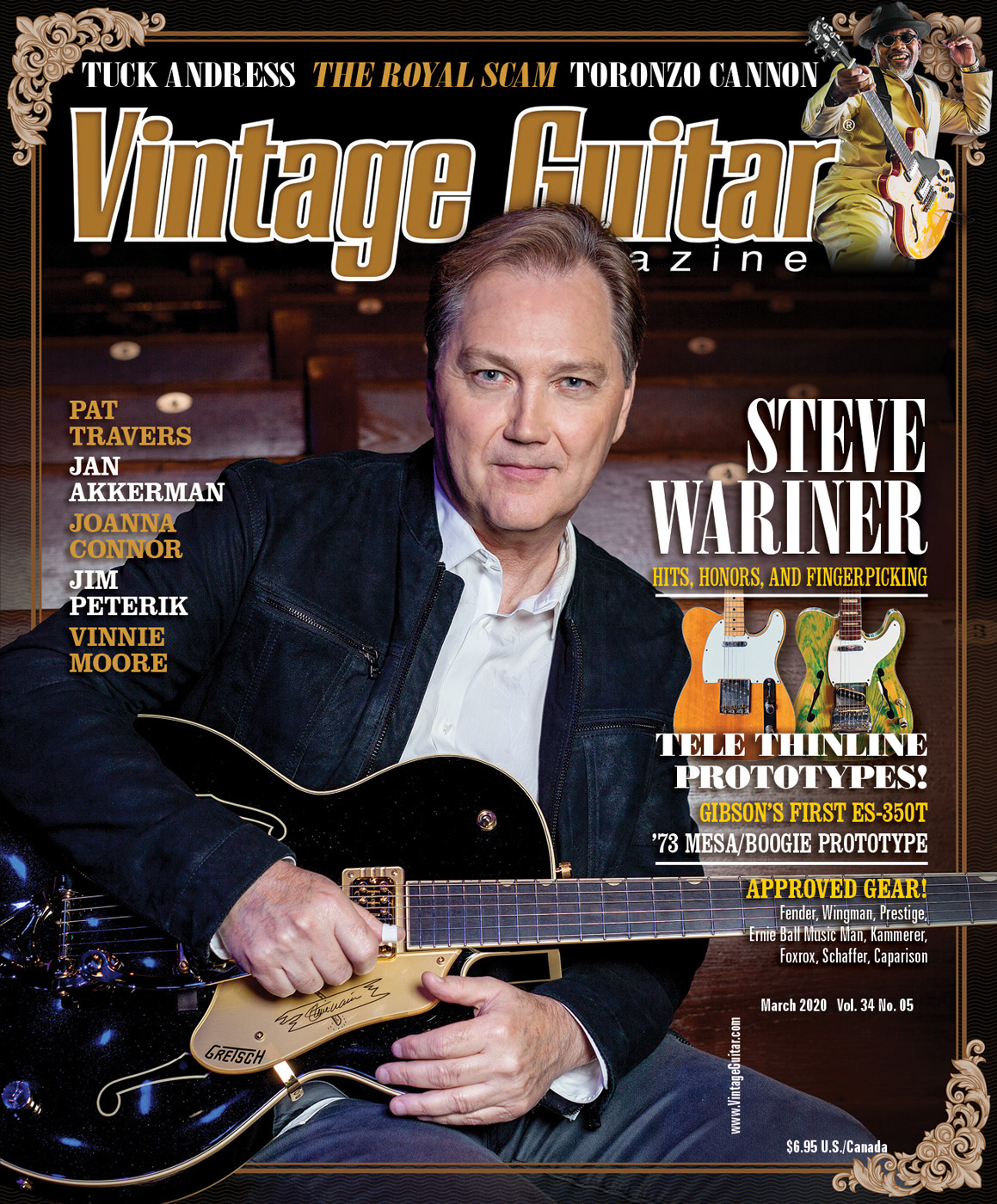 Singer/songwriter/world-class guitarist Steve Wariner was just inducted to the Nashville Musicians' Hall of Fame – an honor that accompanies his four Grammys, CMAs, 30 Top 10 hits, and 14 #1 singles. Icing on the cake is a spankin' new signature Gretsch 6120. We go in-depth with the superstar.
We also speak with electric-blueser Toronzo Cannon, who draws inspiration from his own (very real) world. Also talking vital new guitar music are Jim Peterik, Jan Akkerman, Joanna Connor, Pat Travers, G. Love, Vinnie Moore, Laura Cox, Jakko Jakszyk, and the Spellcasters. We then dig into monumental instruments in guitardom, ranging from Gibson's first ES-350NT to two prototype Telecaster Thinlines and one of Randall Smith's first Mesa-Boogie amps.
This month's "Pop 'N Hiss" reflects on the greatness within the grooves of Steely Dan's Royal Scam, Wolf Marshall's "Fretprints" reminds us of the extraordinary skill of Tuck Andress, and our reviewers detail why anyone needing new gear (and who isn't?) should check out the Foxrox Hot Silicon 2, Solo Dallas Schaffer Replica Storm, WingmanFx DangerZone, Caparison Dellinger Prominence, Fender Vintera '50s Strat Modified, Prestige Troubadour RS, Ernie Ball Music Man Short-Scale StringRay, and the Kammerer Canis Major.
Needing fresh jams? We tell you about new music from Jimi Hendrix, Marty Stuart, Mike Zito, Slash, the Rolling Stones, Skip James, Jethro Tull, and more!
Table of Contents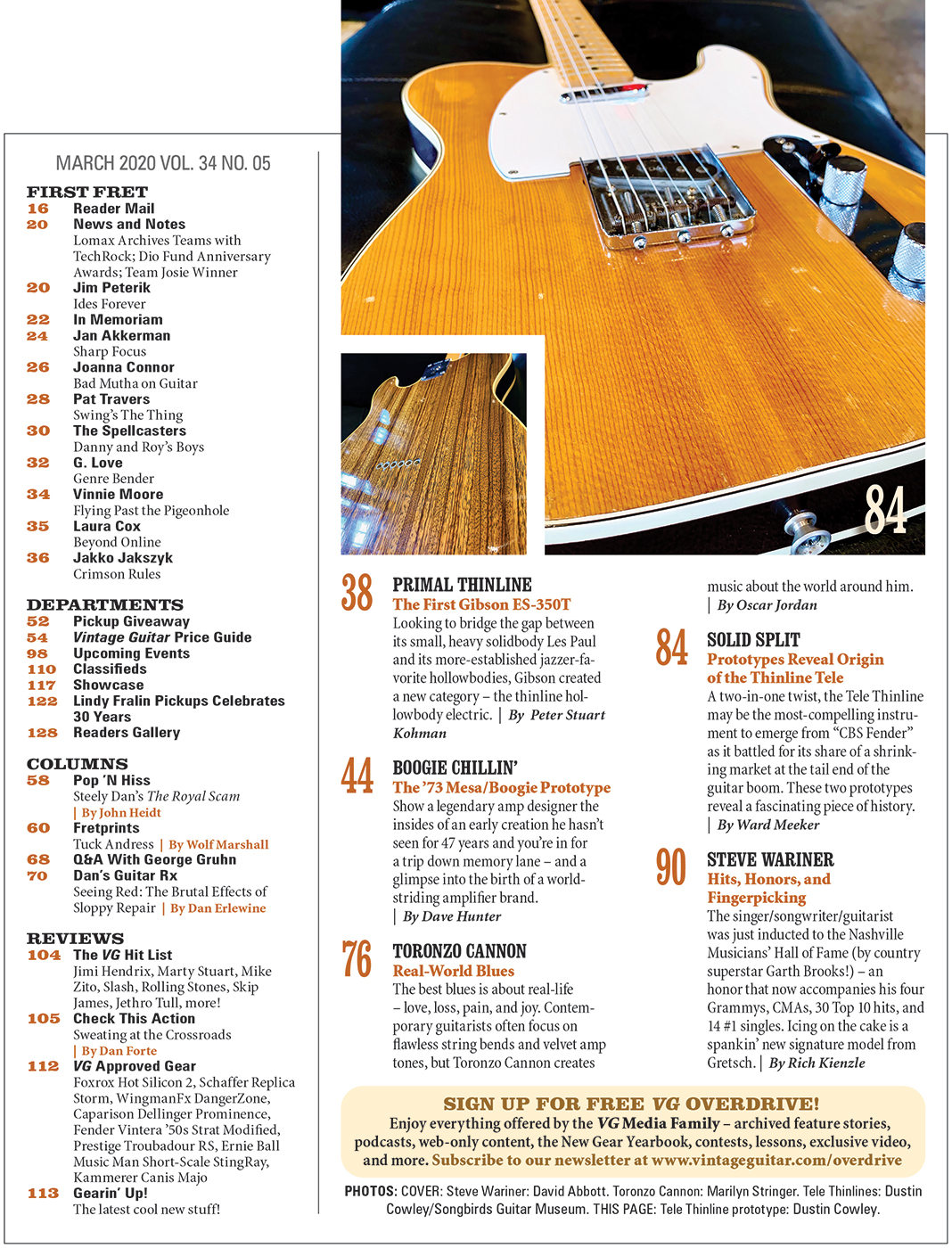 GET YOUR VG FIX
Your complete guitar coverage all starts with a new subscription to VG!
Print Copies Order print copies of the current issue or back issues in the VG Store. Vintage Guitar's 33 year archive of the best guitar related info is a customizable tribute to the memories shared with your best friend, band mates, you name it. Commemorate a life event by gifting Vintage Guitar magazine from an exact month and year. Browse the covers and descriptions of over 250 issues for a specific guitar or player. A well thought-out gift awaits.
Digital Edition Read for FREE in a web browser (Chrome, Firefox, Safari, etc.). The browser edition works on most computers or hand-held devices. Digital FAQ
Over time, Vintage Guitar magazine has become much, much more than the vibrant print magazine in your mailbox. Jump-start that passion for guitar with VG's Media Family the best and brightest selections from VG's vast archive of interviews, instrument profiles, and reviews of the hottest new gear and outstanding new music. See it all →
FROM READERS
Reader Mail Send letters to ward@vintageguitar.com or mail to: Vintage Guitar, Inc. Attn: Reader Mail, PO Box 7301, Bismarck ND 58507.
Readers Gallery Send your photos to: ward@VintageGuitar.com or mail to: Vintage Guitar, Inc. Attn: Readers Gallery, P.O. Box 7301, Bismarck, ND 58507. Readers submit photos with the understanding that they may be used in any VG, Inc. project. Due to the volume of photos we receive, we are unable to return them, please do not send us your only print.
Guitar Shows
Click on an event to see more information. Submit your upcoming event info to this form. See full calendar and past show photos at www.VintageGuitar.com/Upcoming.

VG Youtube Uploads