Current Issue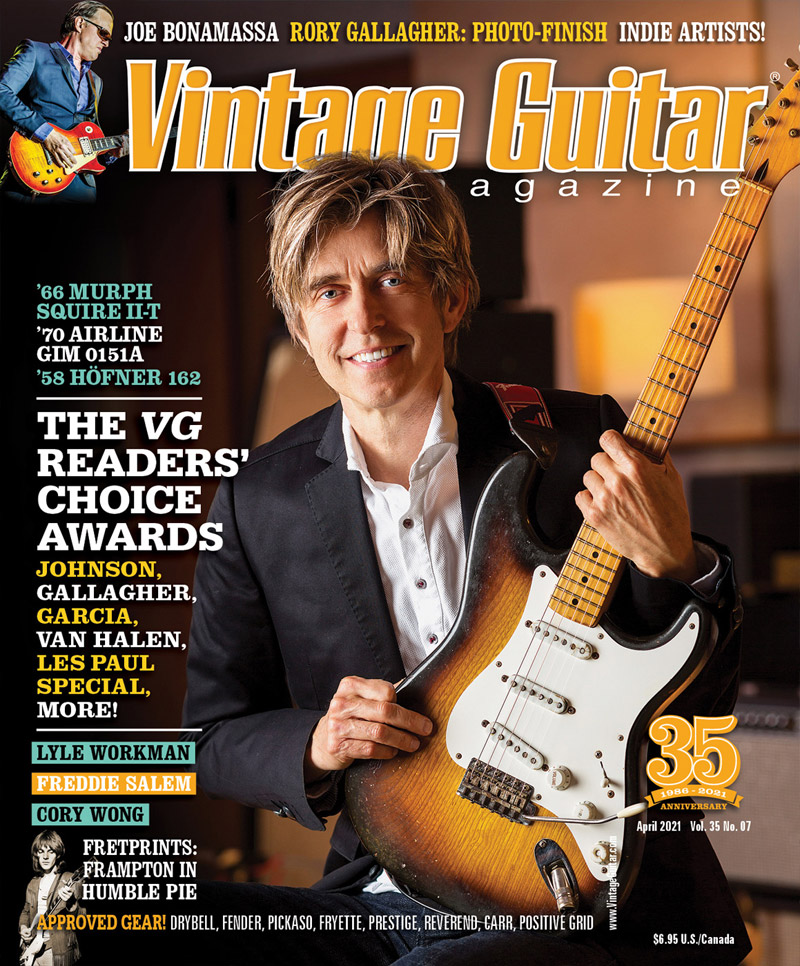 Our annual Readers' Choice Awards honor players and their music for being beacons of light in the year that was (sigh…) 2020. And we induct Eric Johnson, Edward Van Halen, Rory Gallagher, Jerry Garcia, and the Gibson Les Paul Special to the VG Hall of Fame. 
For more than 30 years, Lyle Workman has backed Sting, Todd Rundgren, Frank Black, and others. His new album offers the sort of guitar master work anticipated by fans.
The Murch Squire II-T was – and is – an attention-getter with a fascinating SoCal origin story. 
Early classic amps always capture attention, even models like the Airline GIM 9151A, which hit the market after their builder's star faded.
A casual stroll past a shuttered pawn shop in Sweden led to one of guitardom's great discoveries – a hand-made '58 Höfner 162!
Artists discussing their new music include acoustic-rock superstars Gerry Beckley and Dewey Bunnell, from America, as well as Joe Bonamassa, Cory Wong, Eric Gales, Freddie Salem, and Wolf Hoffman. Wolf Marshall studies the early career of guitar legend Peter Frampton, focusing on his work in Humble Pie, while "Pop 'N Hiss" re-examines Rory Gallagher's classic album, Photo-Finish.  
Fans of the Fab Four will love this month's "Classics," with its look at a nicely thematic collection. Plus, we have a look at Fender's Blue Floral Tele and Tele Bass, today much- appreciated by collectors.
For a refresher on your gotta-hear music choices, check this month's "Hit List" reviews, where we highlight the latest from AC/DC, Steve Lukather, Black Sabbath, Chris Hillman, Buzzcocks, Steve Earle, Rick Holmstrom, and many others!
Our "Approved Gear" review staff examines the Drybell Unit67, the Fender Player Series Jaguar, Pickaso Guitar Bow, Fryette Power Station PS-100, Prestige Classic TBK, Reverend Soul Shaker, Carr Super Bee, and the Positive Grid Spark.
It's all in the April issue of Vintage Guitar!
Table of Contents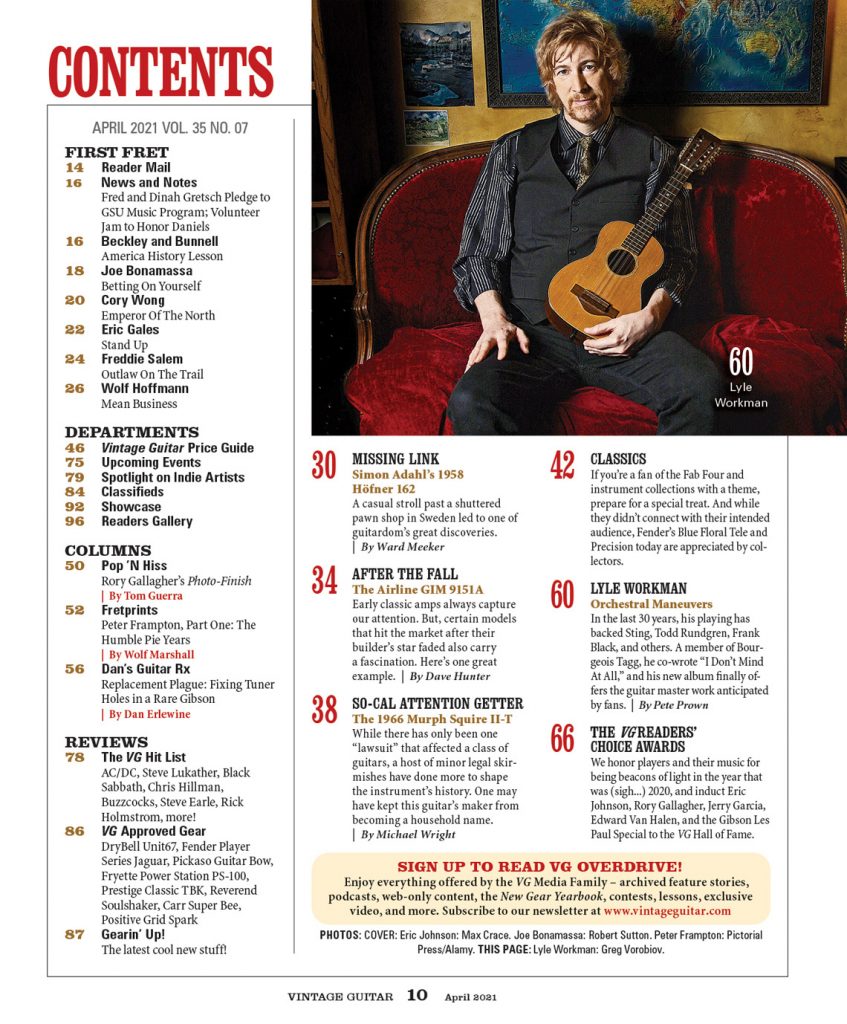 GET YOUR VG FIX
Your complete guitar coverage all starts with a new subscription to VG!
Print Copies Order print copies of the current issue or back issues in the VG Store. Vintage Guitar's 33 year archive of the best guitar related info is a customizable tribute to the memories shared with your best friend, band mates, you name it. Commemorate a life event by gifting Vintage Guitar magazine from an exact month and year. Browse the covers and descriptions of over 250 issues for a specific guitar or player. A well thought-out gift awaits.
Digital Edition Read for FREE in a web browser (Chrome, Firefox, Safari, etc.). The browser edition works on most computers or hand-held devices. Digital FAQ
Over time, Vintage Guitar magazine has become much, much more than the vibrant print magazine in your mailbox. Jump-start that passion for guitar with VG's Media Family the best and brightest selections from VG's vast archive of interviews, instrument profiles, and reviews of the hottest new gear and outstanding new music. See it all →
FROM READERS
Reader Mail Send letters to ward@vintageguitar.com or mail to: Vintage Guitar, Inc. Attn: Reader Mail, PO Box 7301, Bismarck ND 58507.
Readers Gallery Send your photos to: doug@VintageGuitar.com or mail to: Vintage Guitar, Inc. Attn: Readers Gallery, P.O. Box 7301, Bismarck, ND 58507. Readers submit photos with the understanding that they may be used in any VG, Inc. project. Due to the volume of photos we receive, we are unable to return them, please do not send us your only print.
Guitar Shows
Click on an event to see more information. Submit your upcoming event info to this form. See full calendar and past show photos at www.VintageGuitar.com/Upcoming.

VG Youtube Uploads