Current Issue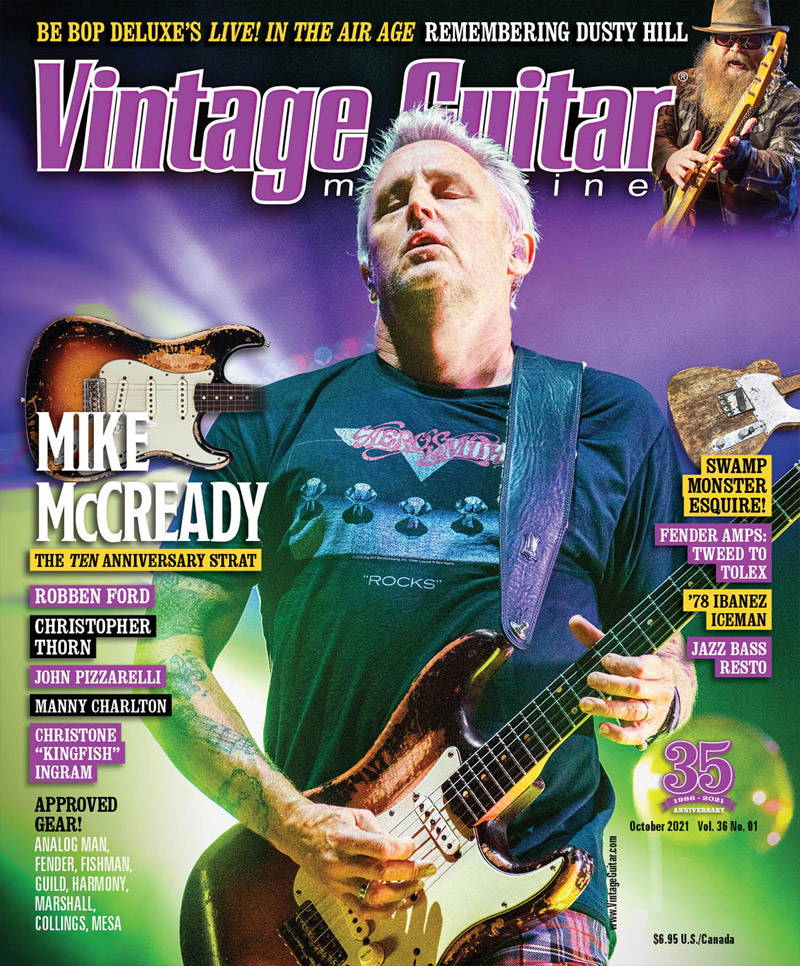 We talk with Pearl Jam guitarist Mike McCready to get the lowdown on a limited-edition Fender Custom Shop Stratocaster that marks the 30th anniversary of their landmark album, Ten. We also venture to the recording studio of Blind Melon's Christopher Thorn, who tends to a fleet of guitars and amps that help an array of artists make music.
We pay homage to ZZ Top bassist Dusty Hill and talk new music with Robben Ford, Molly Miller, Chris Cain, John Pizzarelli, Manny Charlton, Christone "Kingfish" Ingram, Alex Hall, and Dan Wilson.
This month's "Classics" recalls how VG music editor Pete Prown became enamored with the Ibanez Iceman. Dave Hunter previews his new book with a look at Fender's Tweed-to-Tolex Transition, and in one a truly bizarre guitar story, we reveal the saga of a 1958 Esquire that emerged after 30 years a Georgia storage container; get ready to meet "Swamp Thing!"  
In "Dan's Guitar Rx," Dan Erlewine takes a beat up vintage Jazz Bass under his wing, and enlists help in its restoration. "Pop 'N Hiss" tells why Uriah Heep's Demons and Wizards is watershed prog-metal. 
As always, we find great new guitar music to recommend for your turntable and playlist. This month, it's the latest from Eric Clapton, Brian May, George Harrison, Gary Moore, Molly Miller, Robben Ford, Black Sabbath, and more. Dan Forte's "Check This Action" reels in a fresh batch of instrumental surf jams. 
Our "Approved Gear" review staff tells you why the Analog Man King Of Tone Overdrive, Fender Dhani Harrison Ukulele, Fishman Fluence Greg Koch Gristle-Tone P90s, Guild B-240EF, Harmony Comet, Marshall DSL1C, Collings I-35, and Mesa Badlander are worth a look – and maybe your hard-earned dollar.  
It's all in the October issue of Vintage Guitar!
Table of Contents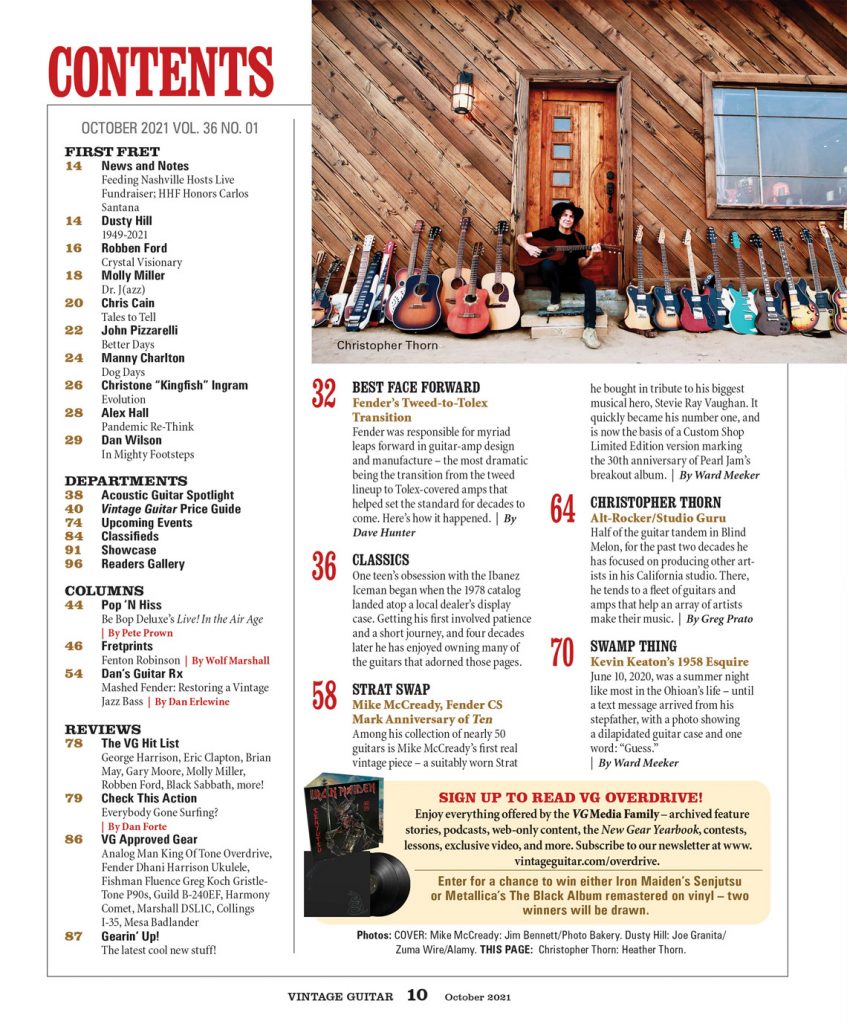 GET YOUR VG FIX
Your complete guitar coverage all starts with a new subscription to VG!
Print Copies Order print copies of the current issue or back issues in the VG Store. Vintage Guitar's 33 year archive of the best guitar related info is a customizable tribute to the memories shared with your best friend, band mates, you name it. Commemorate a life event by gifting Vintage Guitar magazine from an exact month and year. Browse the covers and descriptions of over 250 issues for a specific guitar or player. A well thought-out gift awaits.
Digital Edition Read for FREE in a web browser (Chrome, Firefox, Safari, etc.). The browser edition works on most computers or hand-held devices. Digital FAQ
Over time, Vintage Guitar magazine has become much, much more than the vibrant print magazine in your mailbox. Jump-start that passion for guitar with VG's Media Family the best and brightest selections from VG's vast archive of interviews, instrument profiles, and reviews of the hottest new gear and outstanding new music. See it all →
FROM READERS
Reader Mail Send letters to ward@vintageguitar.com or mail to: Vintage Guitar, Inc. Attn: Reader Mail, PO Box 7301, Bismarck ND 58507.
Readers Gallery Send your photos to: doug@VintageGuitar.com or mail to: Vintage Guitar, Inc. Attn: Readers Gallery, P.O. Box 7301, Bismarck, ND 58507. Readers submit photos with the understanding that they may be used in any VG, Inc. project. Due to the volume of photos we receive, we are unable to return them, please do not send us your only print.
Guitar Shows
Click on an event to see more information. Submit your upcoming event info to this form. See full calendar and past show photos at www.VintageGuitar.com/Upcoming.

VG Youtube Uploads