Current Issue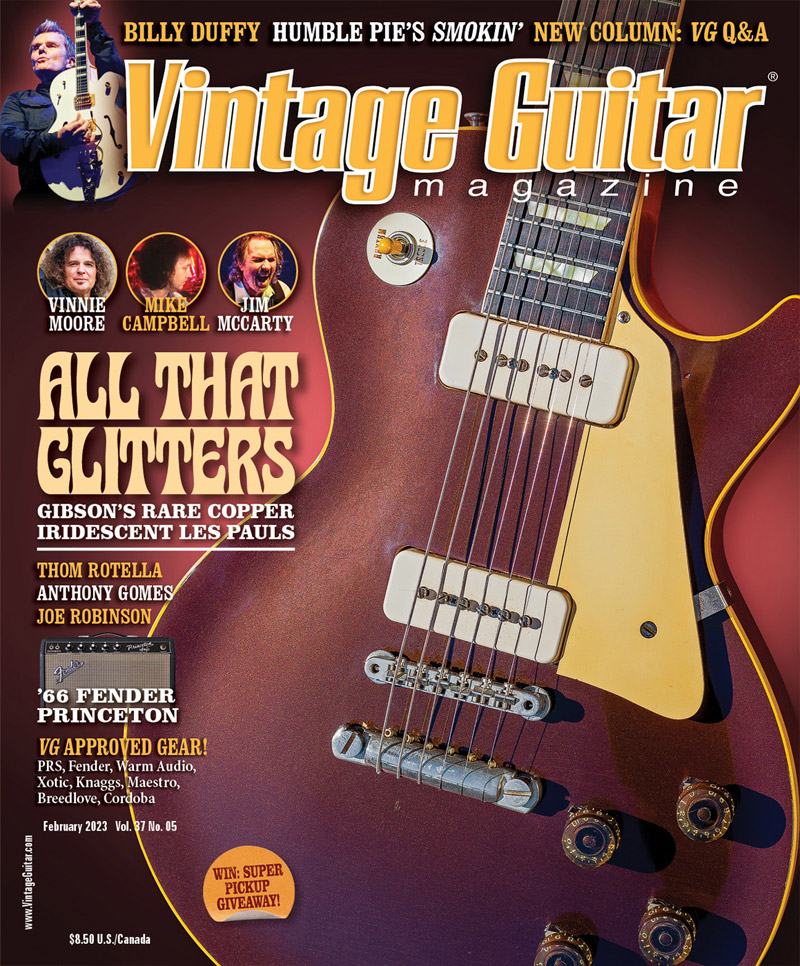 Like large celestial bodies, some guitar collectors have a gravity that draws objects to them. In 2016, rare Copper Iridescent Les Pauls began entering Joe Bonamassa's orbit. We check them out.
In 1997, Tom Petty was unsure what the future held for him or his band, the Heartbreakers, but he wanted something new. The elixer proved to be 20-show residency at one of America's most-famed venues. We sat with guitarist Mike Campbell to learn more about what the gig meant for Tom and the band.
Languishing in the shadow of one of the greatest all-round amps, the humble blackface '66 Fender Princeton brings plenty of charm. In some situations, it's a better choice than its reverb-equipped cousin.
As always, we chat with great guitarists of all styles to talk new music; this month, it's Vinnie Moore, Jim McCarty, Joe Robinson, Ron Bosse, Thom Rotella, Yates McKendree, and Anthony Gomes.
"Pop 'N Hiss" talks to Clem Clempson about jumping aboard Humble Pie just in time to record its best-known album, Smokin', while Wolf Marshall's "Fretprints" tells the story of Britain's last '80s guitar hero – The Cult guitarist Billy Duffy, who bridged gaps between hard rock, melodic metal, punk, and alternative. Dan Forte talks to guitarist Jim McCarty about the new box set of Cactus albums. We also debut a new column; "VG Q&A" uses the vast knowledge of staff to tackle questions that have gone unanswered on topics ranging from from songs, albums, and musicians to the minutiae of instrument builds, manufacturers, and the collectible market.
It's time to freshen your playlist with the latest carefully screened picks by VG's "Hit List" reviewers. This month, they dig into music by Miko Marks and the Resrrectors, King Crimson, Motörhead, Emily Nenni, The Cowsills, Don Leady, and many others.
New year, new gear, right? In case you need a nudge picking something, check out our objective reviews of the Cordoba Stage, Warm Audio Centavo, Xotic RC Booster reissue, Fender American Vintage II '57 Stratocaster, Knaggs Chena, Maestro Titan Boost and Arcus Comp, Breedlove Organic Pro, and the PRS Fiore.
It's all in the February issue of Vintage Guitar!
Table of Contents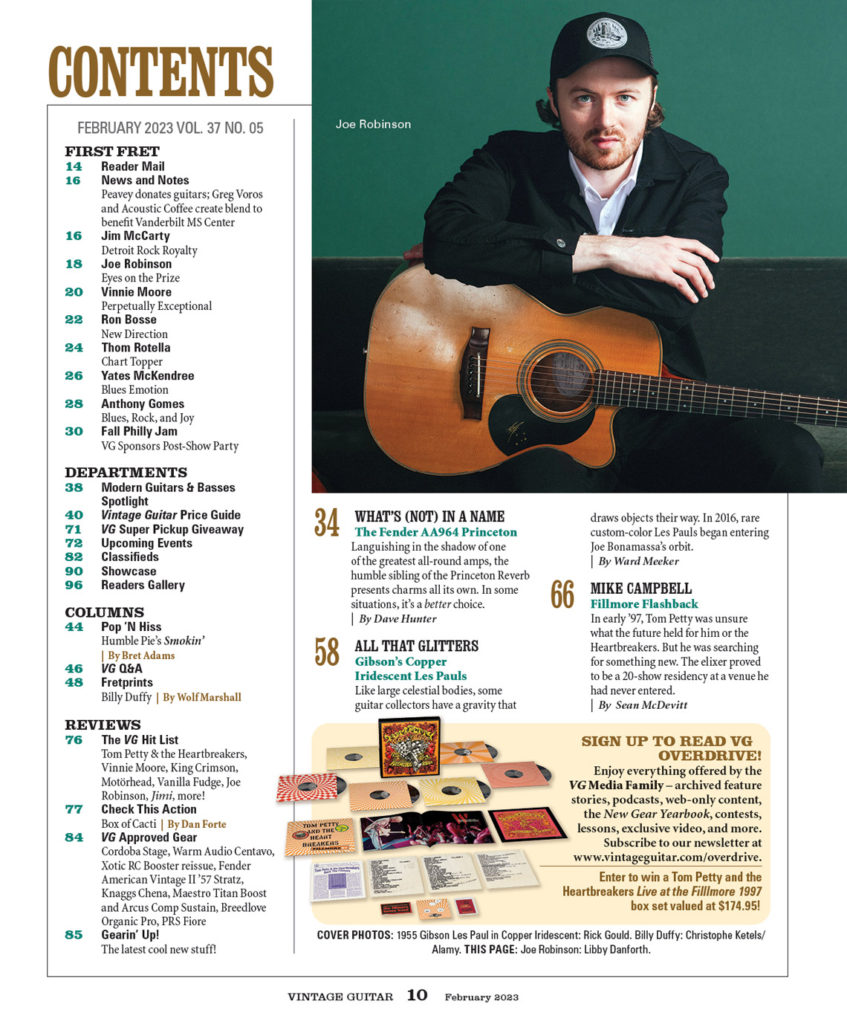 GET YOUR VG FIX
Your complete guitar coverage all starts with a new subscription to VG!
Print Copies Order print copies of the current issue or back issues in the VG Store. Vintage Guitar's 33 year archive of the best guitar related info is a customizable tribute to the memories shared with your best friend, band mates, you name it. Commemorate a life event by gifting Vintage Guitar magazine from an exact month and year. Browse the covers and descriptions of over 250 issues for a specific guitar or player. A well thought-out gift awaits.
Digital Edition SUBSCRIBE NOW or view our Complementary Digital Issue. The browser edition (Chrome, Firefox, Safari, etc.) works on most computers or hand-held devices. Digital FAQ.
Over time, Vintage Guitar magazine has become much, much more than the vibrant print magazine in your mailbox. Jump-start that passion for guitar with VG's Media Family the best and brightest selections from VG's vast archive of interviews, instrument profiles, and reviews of the hottest new gear and outstanding new music. See it all →
FROM READERS
Reader Mail Send letters to ward@vintageguitar.com or mail to: Vintage Guitar, Inc. Attn: Reader Mail, PO Box 7301, Bismarck ND 58507.
Readers Gallery Send your photos to: doug@VintageGuitar.com or mail to: Vintage Guitar, Inc. Attn: Readers Gallery, P.O. Box 7301, Bismarck, ND 58507. Readers submit photos with the understanding that they may be used in any VG, Inc. project. Due to the volume of photos we receive, we are unable to return them, please do not send us your only print.
Guitar Shows
Click on an event to see more information. Submit your upcoming event info to this form. See full calendar and past show photos at www.VintageGuitar.com/Upcoming.

VG Youtube Uploads