Current Issue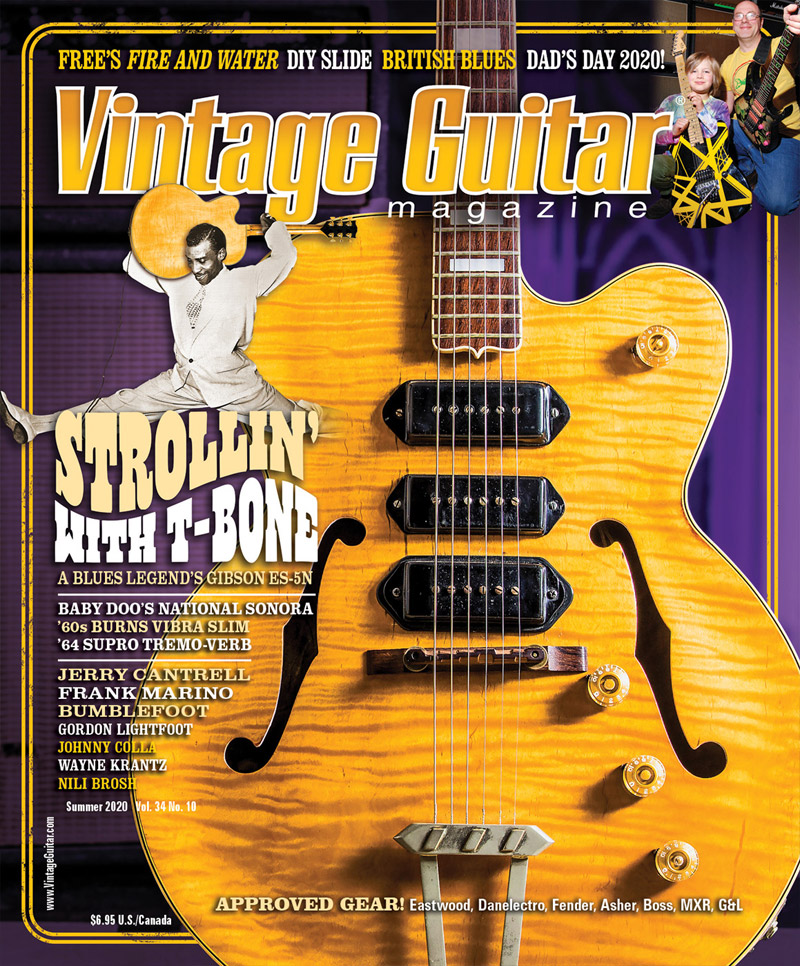 Dapper and dashing, T-Bone Walker was a pioneering electric-blues guitarist. He and the big, beautiful '49 Gibson ES-5N we feature this month made the model requisite for fashionable blues men. We also tell the story of Leonard "Baby Doo" Caston, The Mississippi native helped seed the line between the Delta and Chicago. While touring the world, the National Sonora feature in this issue was his go-to guitar. Amp guru Dave Hunter digs into the Supro Model S6422TR Tremo-Verb, and fellow vintage-gear sage Peter Kohman explores the gimmicky Burns TR2/Vibra Slim. Don't miss our annual "Dad's Day" ode to fathers who inspire. We talk speak with Johnn Colla, Kinga Glyk, Frank Marino, Wayne Krantz, Adam Hawley, Nili Brosh, Gordon Lightfoot, and Ron "Bumblefoot" Thall about their new music. Wolf Marshall's "Fretprints" gets grungy, breaking down three of the greatest licks from Jerry Cantrell, while "Pop 'N Hiss" reminds why Free's Fire and Water is such an impressive piece of work, thanks in large part to the playing of Paul Kossoff.
Our "Approved Gear" takes a close look and gives objective opinions of the Asher Mozo, Boss DD-3T, MXR Timmy, Danelectro '59 Divine, Eastwood Mad Cat, Fender '64 Custom Princeton Reverb, Fender American Acoustasonic Stratocaster, and the G&L Espada. Also, because it's always a great time to find new music, we offer our thoughts on the latest by the Allman Brothers Band, Alex de Grassi, David Bromberg, Vandenberg, Robby Krieger, Pokey LaFarge, Wylde Ratttz, Neil Young, and others while Dan Forte takes us on a journey through the British blues boom – think Eric Clapton, Kim Simmonds, Brett Marvin, Graham Hine, Mick Taylor, Peter Green, Jeremy Spencer, and others – in his "Check This Action" column.
Table of Contents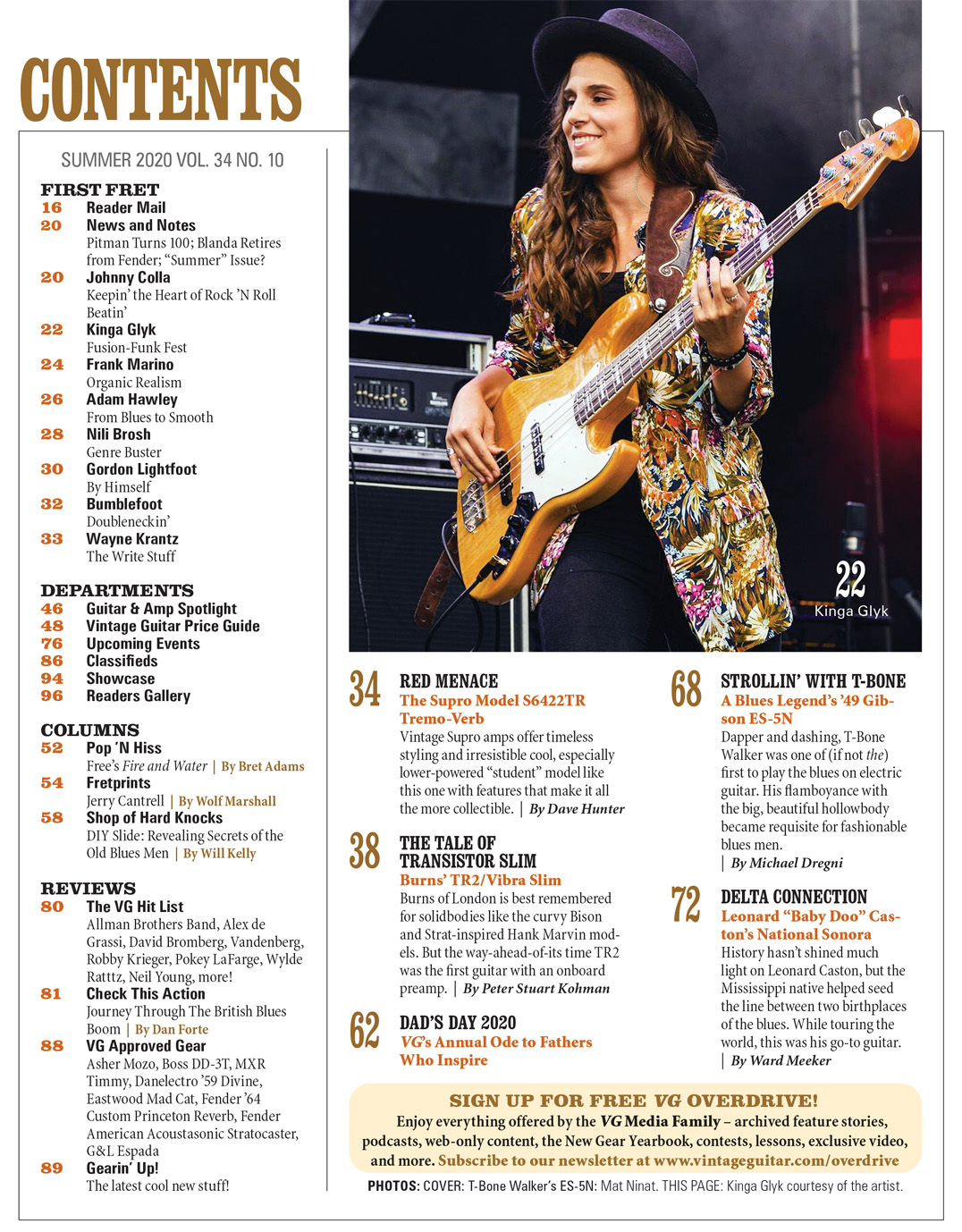 GET YOUR VG FIX
Your complete guitar coverage all starts with a new subscription to VG!
Print Copies Order print copies of the current issue or back issues in the VG Store. Vintage Guitar's 33 year archive of the best guitar related info is a customizable tribute to the memories shared with your best friend, band mates, you name it. Commemorate a life event by gifting Vintage Guitar magazine from an exact month and year. Browse the covers and descriptions of over 250 issues for a specific guitar or player. A well thought-out gift awaits.
Digital Edition Read for FREE in a web browser (Chrome, Firefox, Safari, etc.). The browser edition works on most computers or hand-held devices. Digital FAQ
Over time, Vintage Guitar magazine has become much, much more than the vibrant print magazine in your mailbox. Jump-start that passion for guitar with VG's Media Family the best and brightest selections from VG's vast archive of interviews, instrument profiles, and reviews of the hottest new gear and outstanding new music. See it all →
FROM READERS
Reader Mail Send letters to ward@vintageguitar.com or mail to: Vintage Guitar, Inc. Attn: Reader Mail, PO Box 7301, Bismarck ND 58507.
Readers Gallery Send your photos to: doug@VintageGuitar.com or mail to: Vintage Guitar, Inc. Attn: Readers Gallery, P.O. Box 7301, Bismarck, ND 58507. Readers submit photos with the understanding that they may be used in any VG, Inc. project. Due to the volume of photos we receive, we are unable to return them, please do not send us your only print.
Guitar Shows
Click on an event to see more information. Submit your upcoming event info to this form. See full calendar and past show photos at www.VintageGuitar.com/Upcoming.

VG Youtube Uploads