Current Issue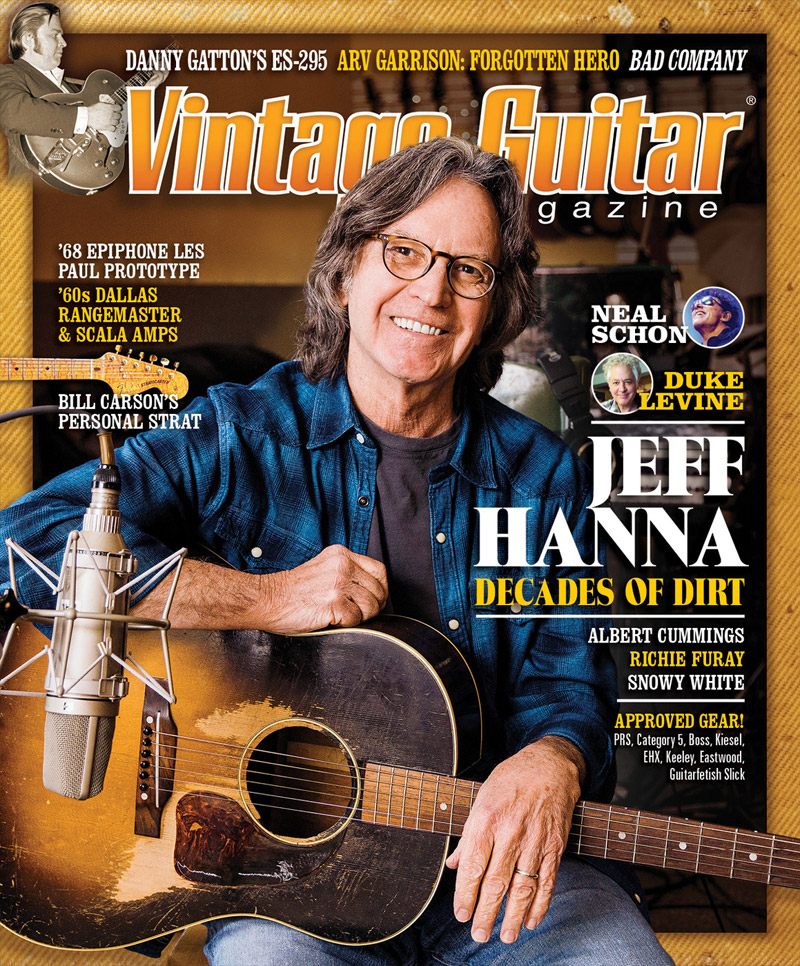 As a high-school kid, Jeff Hanna learned to play folk tunes on a Goya before starting a jug band that evolved to become Nitty Gritty Dirt Band. This month, he digs into its story, raps about guitars, and reveals why NGDB's new album is an homage to Bob Dylan.
When an excited new guitar-shop owner visited the Gibson factory in 1969, he left with a handful of guitars including an Epiphone Les Paul prototype. Oh, what might've been!
As the skiffle craze in Britain segued into rock and roll frenzy, instrument makers jockeyed for position. London-based Dallas Music Ltd. made its case with fascinating amplifiers like the Rangemaster and Scala combos.
As a youngster, Glenn Holley became infatuated with rockabilly, and later, a devout fan of Danny Gatton. Now, he owns Gatton's ES-295 and loves lending it to gigging players.
A touring guitarist who befriended Leo Fender in the early '50s, Bill Carson was the "test pilot" for the Strat. Eventually, he assembled this one-off for himself.
"Pop 'N Hiss" revisits how the dissolution of two bands led to the creation of Bad Company, Wolf Marshall's "Fretprints" sheds new light on bebop guitarist Arv Garrison, and Dan Forte's "Check This Action" joins Folkways in revisiting the '60s Folk Boom.
When it comes to new gear, we all appreciate solid advice from knowledgeable players. This month, our staff plugs in (and into) the Boss DD-200, Electro-Harmonix Ripped Speaker, Keeley Dark Side, Category 5 Samantha, Guitarfetish Slick SL-52 and SL-56, Kiesel Solo, Eastwood Black Box pedals, and the PRS Custom SE 24-08.
Our "Hit List" staff talks about great new stuff from Tedeschi-Trucks Band, Walter Trout, Skunk Baxter, Eric Clapton, Montrose, Barney Kessel, Megadeth, and more! Plus, we sit with DaShawn Hickman, Albert Cummings, Duke Levine, Richie Furay, and Snowy White to discuss their latest work.
It's all in the September issue of Vintage Guitar!
Table of Contents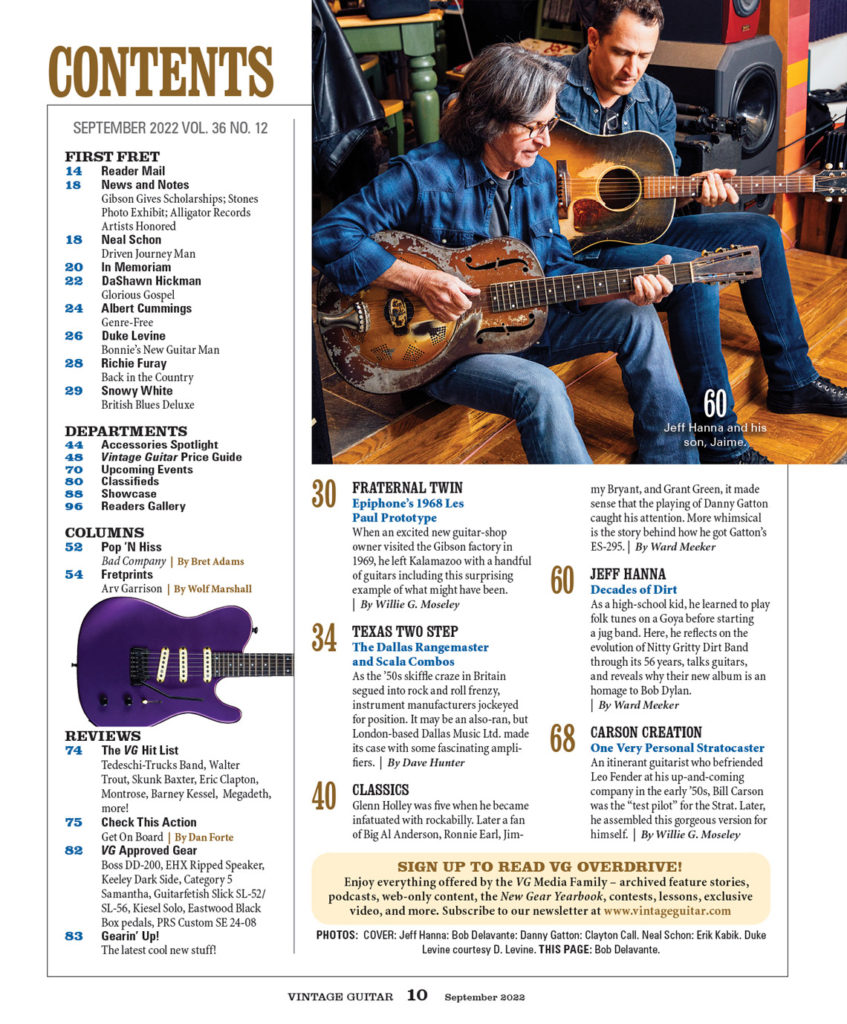 GET YOUR VG FIX
Your complete guitar coverage all starts with a new subscription to VG!
Print Copies Order print copies of the current issue or back issues in the VG Store. Vintage Guitar's 33 year archive of the best guitar related info is a customizable tribute to the memories shared with your best friend, band mates, you name it. Commemorate a life event by gifting Vintage Guitar magazine from an exact month and year. Browse the covers and descriptions of over 250 issues for a specific guitar or player. A well thought-out gift awaits.
Digital Edition Read for FREE in a web browser (Chrome, Firefox, Safari, etc.). The browser edition works on most computers or hand-held devices. Digital FAQ
Over time, Vintage Guitar magazine has become much, much more than the vibrant print magazine in your mailbox. Jump-start that passion for guitar with VG's Media Family the best and brightest selections from VG's vast archive of interviews, instrument profiles, and reviews of the hottest new gear and outstanding new music. See it all →
FROM READERS
Reader Mail Send letters to ward@vintageguitar.com or mail to: Vintage Guitar, Inc. Attn: Reader Mail, PO Box 7301, Bismarck ND 58507.
Readers Gallery Send your photos to: doug@VintageGuitar.com or mail to: Vintage Guitar, Inc. Attn: Readers Gallery, P.O. Box 7301, Bismarck, ND 58507. Readers submit photos with the understanding that they may be used in any VG, Inc. project. Due to the volume of photos we receive, we are unable to return them, please do not send us your only print.
Guitar Shows
Click on an event to see more information. Submit your upcoming event info to this form. See full calendar and past show photos at www.VintageGuitar.com/Upcoming.

VG Youtube Uploads