Current Issue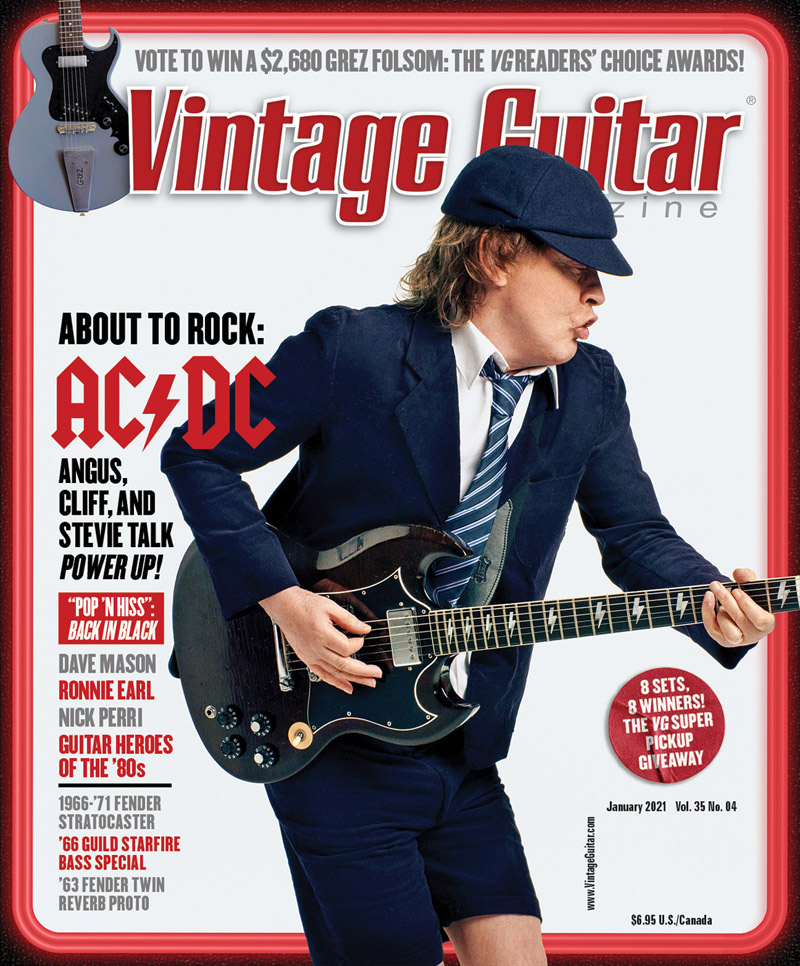 After a four-year hiatus, Angus Young and AC/DC just released their 18th album, Power Up! Angus, Cliff Williams, and Stevie Young tell the story of its making.
We break down why the 1966-'71 Fender Stratocaster is a CBS survivor
Dave Hunter unearths an astounding '63 Fender Twin Reverb prototype, and Peter Kohman details the crazy tale of the Guild Starfire Bass Special.
Discussing the inner workings of their latest albums are Nick Perri, Dave Mason, Ronnie Earl, Riley Couzzourt and Logan Tolbert of The Georgia Thunderbolts, Zephaniah OHora, Andrea Balestra, and Kirk Fletcher!
Our "Classics" photo feature keys on two super-rare pieces – a '58 Gibson Explorer and the only known lefty pre-war Martin D-28.
Speaking of new music, don't miss our "Hit List" reviews of the latest from Tom Petty, John Petrucci, Steve Hackett, Jordan Tice, Wilco, Motörhead, Stray Cats, and many others.
Needing to change up your tone? Don't miss our "Pickup Spotlight."
Did Santa come up short? Don't fret, like good ol' Rudolph, our "Approved Gear" reviews are here to help light the path to your next new piece of essential gear. Read our thoughts on the Boss OC-5, GuitarSlinger's RB1011 Silver Edition MkII, the Hallmark Buckaroo, Guild's Starfire I Jet 90, the PRS SE P20E, Strandberg's Talen Classic, Dr Z's Joe Walsh Signature Z-Master, and the Yamaha RevStar RSP20C.
It's all in the January issue of Vintage Guitar!
Table of Contents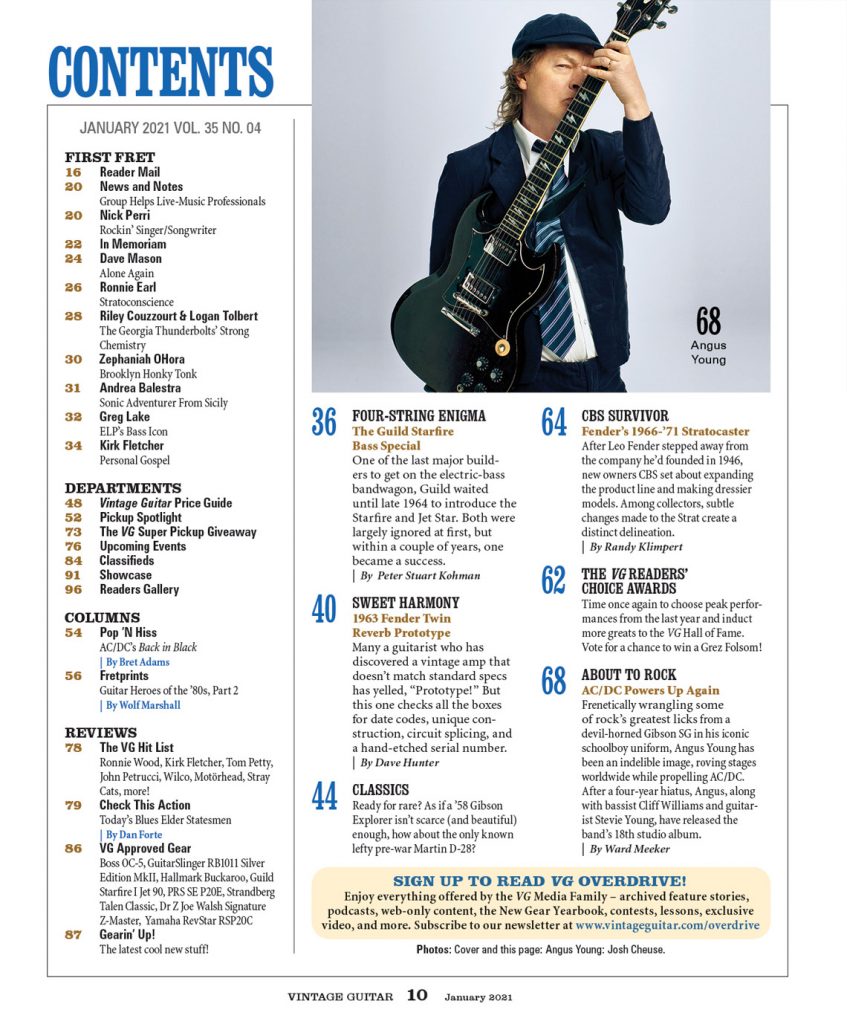 GET YOUR VG FIX
Your complete guitar coverage all starts with a new subscription to VG!
Print Copies Order print copies of the current issue or back issues in the VG Store. Vintage Guitar's 33 year archive of the best guitar related info is a customizable tribute to the memories shared with your best friend, band mates, you name it. Commemorate a life event by gifting Vintage Guitar magazine from an exact month and year. Browse the covers and descriptions of over 250 issues for a specific guitar or player. A well thought-out gift awaits.
Digital Edition Read for FREE in a web browser (Chrome, Firefox, Safari, etc.). The browser edition works on most computers or hand-held devices. Digital FAQ
Over time, Vintage Guitar magazine has become much, much more than the vibrant print magazine in your mailbox. Jump-start that passion for guitar with VG's Media Family the best and brightest selections from VG's vast archive of interviews, instrument profiles, and reviews of the hottest new gear and outstanding new music. See it all →
FROM READERS
Reader Mail Send letters to ward@vintageguitar.com or mail to: Vintage Guitar, Inc. Attn: Reader Mail, PO Box 7301, Bismarck ND 58507.
Readers Gallery Send your photos to: doug@VintageGuitar.com or mail to: Vintage Guitar, Inc. Attn: Readers Gallery, P.O. Box 7301, Bismarck, ND 58507. Readers submit photos with the understanding that they may be used in any VG, Inc. project. Due to the volume of photos we receive, we are unable to return them, please do not send us your only print.
Guitar Shows
Click on an event to see more information. Submit your upcoming event info to this form. See full calendar and past show photos at www.VintageGuitar.com/Upcoming.

VG Youtube Uploads