Current Issue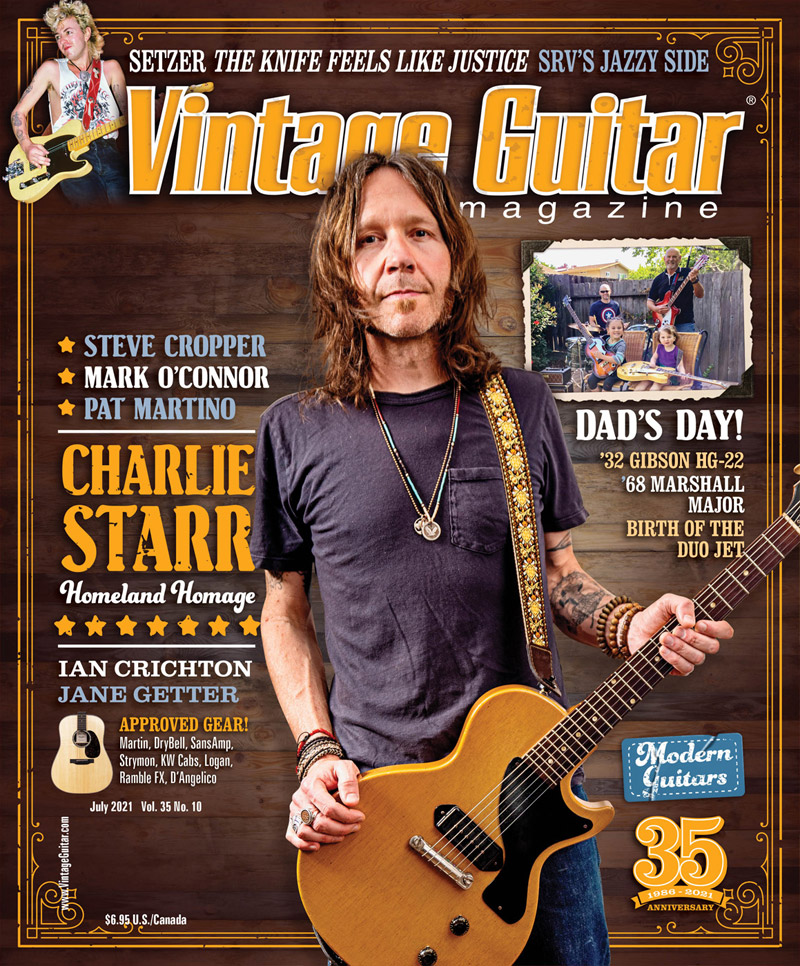 Lauding the musical heritage and traditions of its home state, Blackberry Smoke's new album, You Hear Georgia, is a rootsy, thematic effort. We speak to Charlie Starr to learn how it was made. We also chat with guitar/violin/mandolin master Mark O'Connor about his '45 Martin D-28 herringbone and new album. Others talking about their latest work are Steve Cropper, Ian Crichton, Jane Getter, Jesse Aycock, Ally Venable, and Al Stewart. Plus, Wolf Marshall tells us why Pat Martino is a redefined jazzman.
As always, VG delivers the best guitar stories, like the one about why Gretsch moved quickly to launch the 6128 Duo Jet in 1953, or the truth behind the Marshall Major. And few know about the "Hawaiian Gibson," which had a nut and bridge set for "Spanish" play. But that wasn't its most-curious element!
Wolf Marshall's "Fretprints" looks back at the jazzy side of Stevie Ray Vaughan, while "Pop 'N Hiss" flashes back to the underappreciated brilliance of Brian Setzer's The Knife Feels Like Justice. In "Check This Action," Dan Forte reminds us why John Mayall is a blues god in the guitar universe.
Because your ears are itchin' for new guitar tunes, you'll definitely dig this month's "Hit List" and our thoughts on the latest by Cheap Trick, Blackberry Smoke, Tony Joe White, Black Sabbath, Jorma Kaukonen, Southern Culture on the Skids, and many others.
Our "Approved Gear" review staff give you information you can use; read their thoughts on DryBell's The Engine, the Tech 21 SansAmp Classic, the Strymon Iridium, KW Cabs ST-220 SSB, Logan's Telemaster, the Ramble FX Twin Bender, D'Angelico's Excel 59, and the Martin D-13E Ziricote. 
It's all in the July issue of Vintage Guitar!
Table of Contents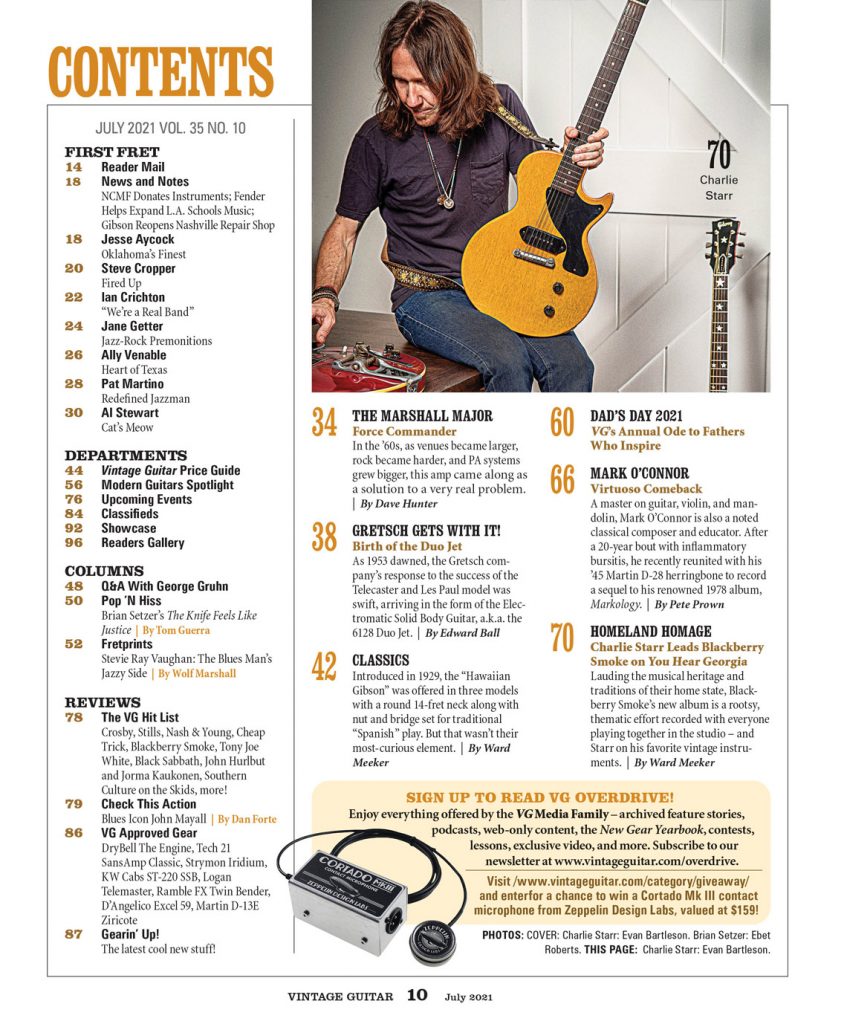 GET YOUR VG FIX
Your complete guitar coverage all starts with a new subscription to VG!
Print Copies Order print copies of the current issue or back issues in the VG Store. Vintage Guitar's 33 year archive of the best guitar related info is a customizable tribute to the memories shared with your best friend, band mates, you name it. Commemorate a life event by gifting Vintage Guitar magazine from an exact month and year. Browse the covers and descriptions of over 250 issues for a specific guitar or player. A well thought-out gift awaits.
Digital Edition Read for FREE in a web browser (Chrome, Firefox, Safari, etc.). The browser edition works on most computers or hand-held devices. Digital FAQ
Over time, Vintage Guitar magazine has become much, much more than the vibrant print magazine in your mailbox. Jump-start that passion for guitar with VG's Media Family the best and brightest selections from VG's vast archive of interviews, instrument profiles, and reviews of the hottest new gear and outstanding new music. See it all →
FROM READERS
Reader Mail Send letters to ward@vintageguitar.com or mail to: Vintage Guitar, Inc. Attn: Reader Mail, PO Box 7301, Bismarck ND 58507.
Readers Gallery Send your photos to: doug@VintageGuitar.com or mail to: Vintage Guitar, Inc. Attn: Readers Gallery, P.O. Box 7301, Bismarck, ND 58507. Readers submit photos with the understanding that they may be used in any VG, Inc. project. Due to the volume of photos we receive, we are unable to return them, please do not send us your only print.
Guitar Shows
Click on an event to see more information. Submit your upcoming event info to this form. See full calendar and past show photos at www.VintageGuitar.com/Upcoming.

VG Youtube Uploads