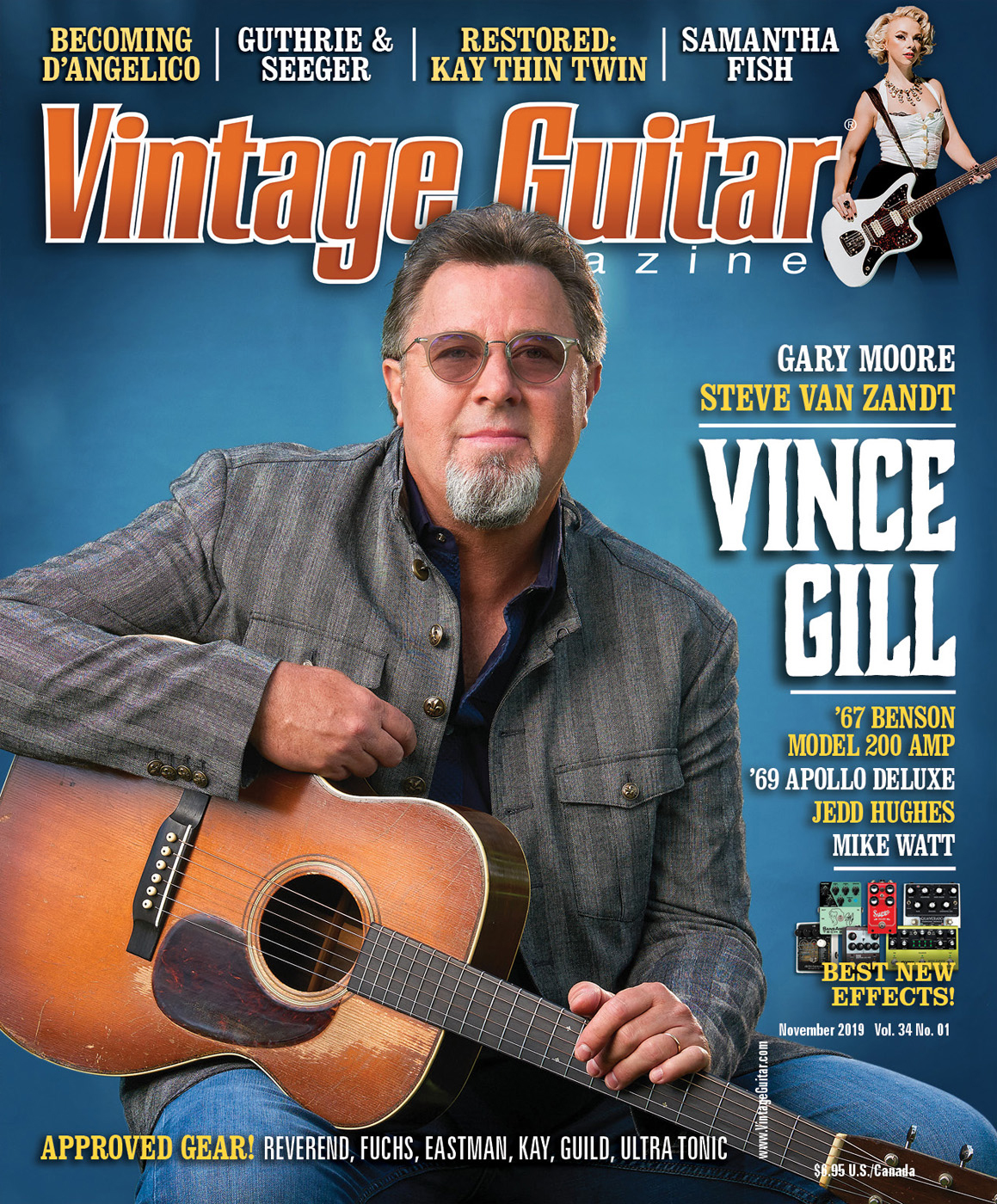 Country Music Hall of Famer Vince Gill ponders songs, favorite guitars, his path to joining the Eagles, and his new solo album. We also sit with Nashville session ace Jedd Hughes – today's greatest "heard him even if you never heard of him" guitarist. Plus, we reveal the reality of being John D'Angelico, and tell the stories behind Benson amps and the "lawsuit" all-star Apollo Deluxe!
We talk new music with Steve Van Zandt, Samantha Fish, Reza Khan, Anders Osborne, Joe Restivo, bassist Mike Watt, and Stephen McBean (of Black Mountain).
Dan Erlewine teams with renowned guitar builder Roger Fritz to restore a glorious vintage Kay Thin Twin. We also revisit the compelling first album by Spirit, Wolf Marshall digs into Gary Moore's landmark 1990 album, Still Got The Blues, and we speak with Janglebox founder Steve Lasko.
Learn why we recommend the Reverend Greg Koch Gristlemaster, Fuchs Audio's ODS Classic, the Eastman SB59v-G, Kay's K8700VTS Jazz Special, the Guild F-512 Maple, and James May's Ultra Tonic Pickup! Finally, our "Hit List" reviewers tell you why the latest by Vince Gill, Traffic, Samantha Fish, Johnny Hiland, Chris Robinson Brotherhood, Anders Osborne, The Police, Joe Restivo, Pure Prairie League, Johnny Thunders, Willie Nelson, and others is worth a listen. Also, fans of true folk will not want to miss Dan Forte's "Check This Action" deep dive on Woody Guthrie and Pete Seeger.
Table of Contents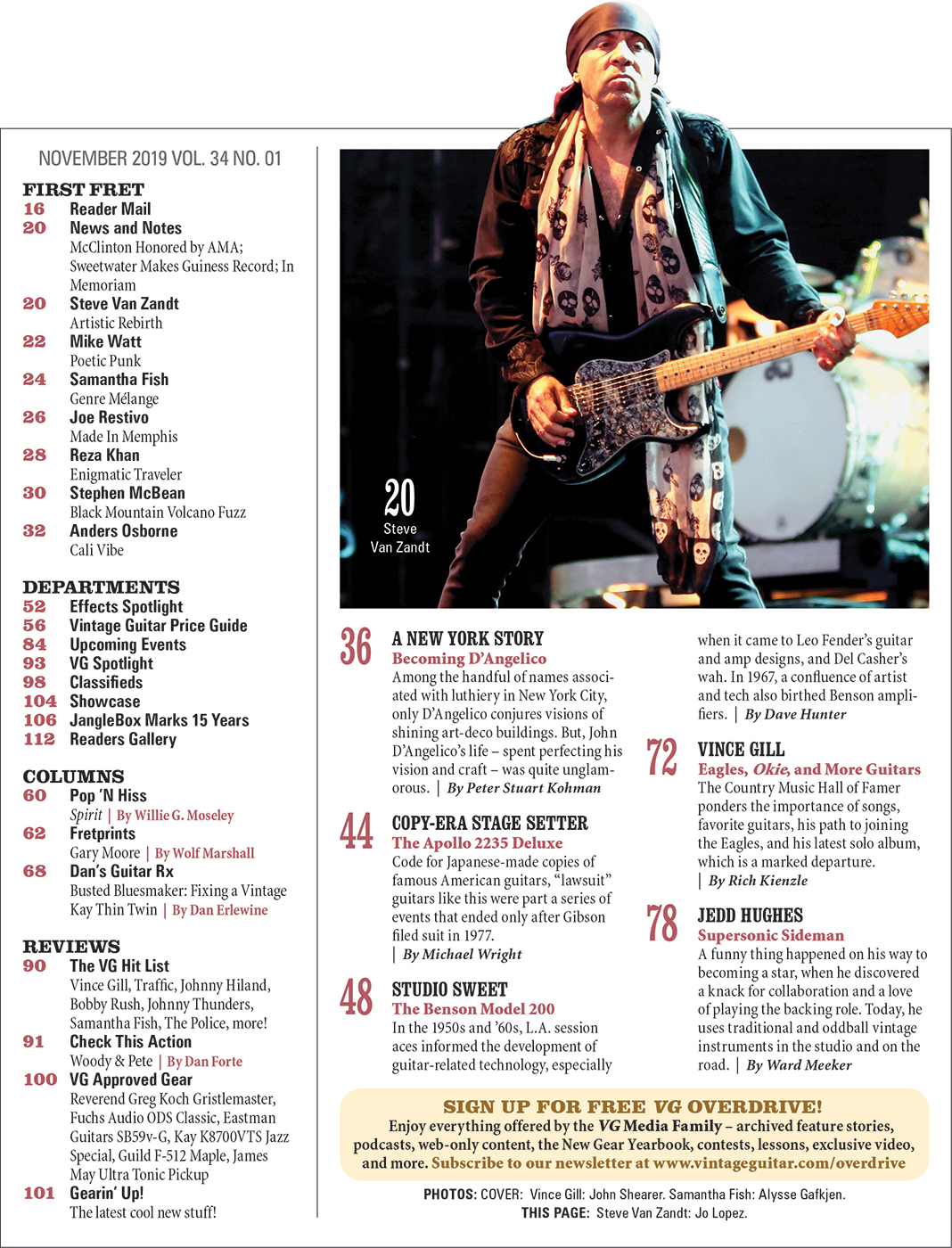 GET YOUR VG FIX
Your complete guitar coverage all starts with a new subscription to VG!
Print Copies Order print copies of the current issue or back issues in the VG Store.
Digital Edition Read for FREE in a web browser (Chrome, Firefox, Safari, etc.). The browser edition works on most computers or hand-held devices. Digital FAQ
Over time, Vintage Guitar magazine has become much, much more than the vibrant print magazine in your mailbox. Jump-start that passion for guitar with VG's Media Family the best and brightest selections from VG's vast archive of interviews, instrument profiles, and reviews of the hottest new gear and outstanding new music. See it all →
FROM READERS
Reader Mail Send letters to ward@vintageguitar.com or mail to: Vintage Guitar, Inc. Attn: Reader Mail, PO Box 7301, Bismarck ND 58507.
Readers Gallery Send your photos to: ward@VintageGuitar.com or mail to: Vintage Guitar, Inc. Attn: Readers Gallery, P.O. Box 7301, Bismarck, ND 58507. Readers submit photos with the understanding that they may be used in any VG, Inc. project. Due to the volume of photos we receive, we are unable to return them, please do not send us your only print.
Guitar Shows
Click on an event to see more information. Submit your upcoming event info to this form. See full calendar and past show photos at www.VintageGuitar.com/Upcoming.

VG Youtube Uploads