Current Issue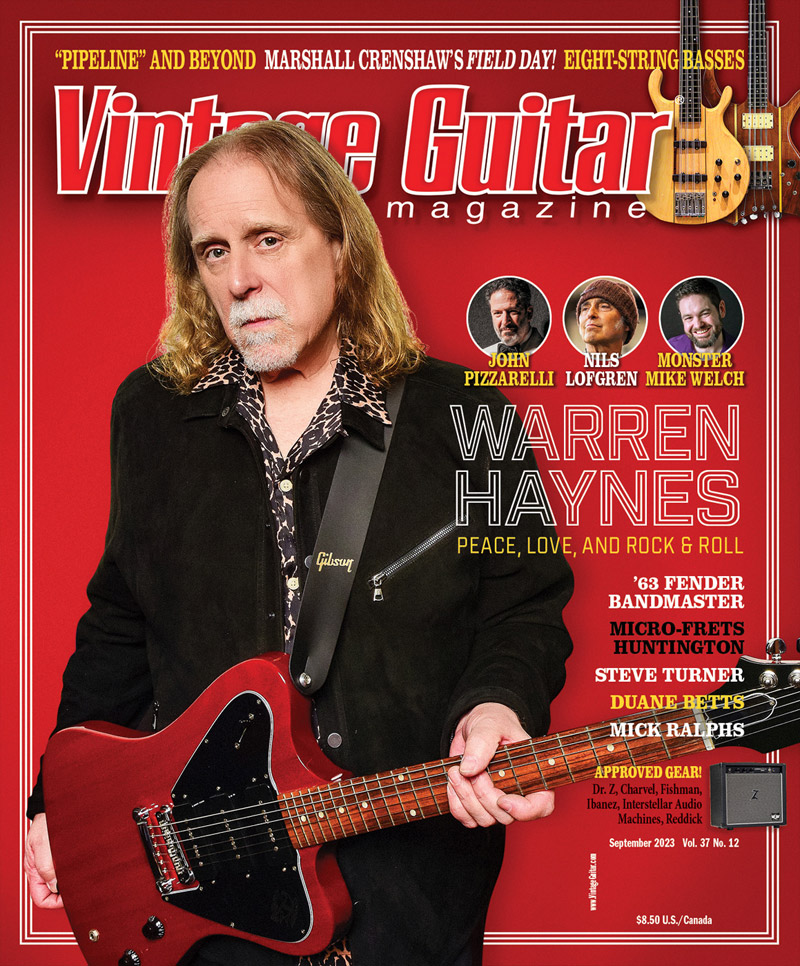 Gov't Mule didn't spend the pandemic sittin' on its hands. The band's second album from that stretch, Peace… Like A River, is a display of world-class musicians with special guests joining the flow. Warren Haynes tells us about it.
We talk more new music with Nils Lofgren, John Pizzarelli, Monster Mike Welch, Duane Betts, Dan Wilson, Steve Turner, and Ralph Towner.
A 60-year-old amp in near-showroom condition will take your breath away, especially when it's a '63 Bandmaster – Last of the Oxbloods.
Emerging in '60s catalogs from Hagström and Framus, eight-string basses occupy their own sonic niche. So does Tom Petersson's Gretsch Round Up 12-String.
Down Bakersfield way, luthier Tony Brown and graphic artist/designer Theresa Spanke built a handful of guitars using the final wood remnants from Trout's nightclub, an originator of a certain country-music style made famous by Red Simpson, Merle Haggard, and others.
In "Classics" we highlight a one-off Micro-Frets Huntington, made by one of history's underrated builders – and spawned by Fender's infamous "lawsuit" frenzy.
Wolf Marshall's "Fretprints" examines the influences and impact of rock legend Mick Ralphs. Meanwhile, "Dan's Guitar Rx" column has Mr. Erlewine beginning the resurrection of an old acquaintance.
Our knowledgable, objective gear-review staff digs into the Dr. Z 35th Anniversary Carmen Ghia 1×10, Charvel Pro-Mod So-Cal Style 1 FR E HSS, Fishman Broken Record, Ibanez Artcore Expressionist AM93QM, Interstellar Audio Machines Octonaut Hyperdrive, and the Reddick Voyager CS.
Brush aside those end-of-summer doldrums by freshening your playlist with great new guitar music. This month, our "Hit List" staff screens the latest by the Ventures, Joanna Connor, Monster Mike Welch, Eric Clapton, Kentucky Colonels, Hot Tuna, Johnny Winter, Vandenberg, and many more!
It's all in the September issue of Vintage Guitar!
Table of Contents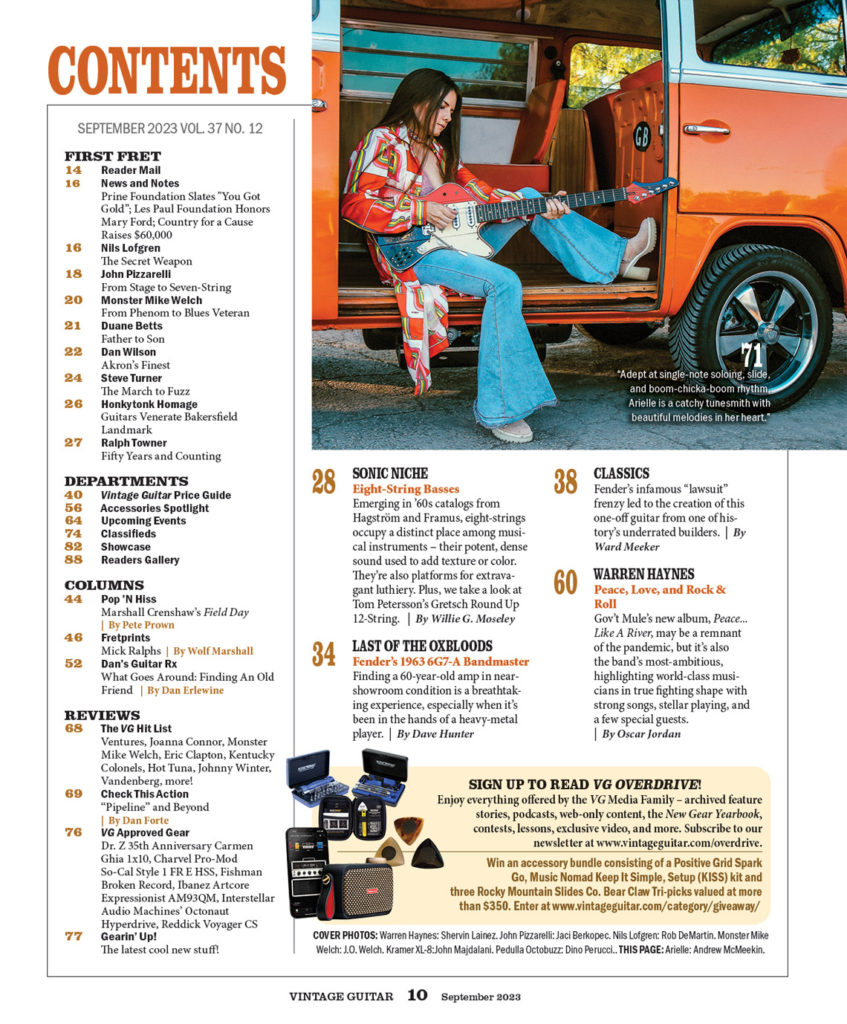 GET YOUR VG FIX
Your complete guitar coverage all starts with a new subscription to VG!
Print Copies Order print copies of the current issue or back issues in the VG Store. Vintage Guitar's 33 year archive of the best guitar related info is a customizable tribute to the memories shared with your best friend, band mates, you name it. Commemorate a life event by gifting Vintage Guitar magazine from an exact month and year. Browse the covers and descriptions of over 250 issues for a specific guitar or player. A well thought-out gift awaits.
Digital Edition SUBSCRIBE NOW or view our Complementary Digital Issue. The browser edition (Chrome, Firefox, Safari, etc.) works on most computers or hand-held devices. Digital FAQ.
Over time, Vintage Guitar magazine has become much, much more than the vibrant print magazine in your mailbox. Jump-start that passion for guitar with VG's Media Family the best and brightest selections from VG's vast archive of interviews, instrument profiles, and reviews of the hottest new gear and outstanding new music. See it all →
FROM READERS
Reader Mail Send letters to ward@vintageguitar.com or mail to: Vintage Guitar, Inc. Attn: Reader Mail, PO Box 7301, Bismarck ND 58507.
Readers Gallery Send your photos to: doug@VintageGuitar.com or mail to: Vintage Guitar, Inc. Attn: Readers Gallery, P.O. Box 7301, Bismarck, ND 58507. Readers submit photos with the understanding that they may be used in any VG, Inc. project. Due to the volume of photos we receive, we are unable to return them, please do not send us your only print.
Guitar Shows
Click on an event to see more information. Submit your upcoming event info to this form. See full calendar and past show photos at www.VintageGuitar.com/Upcoming.

VG Youtube Uploads