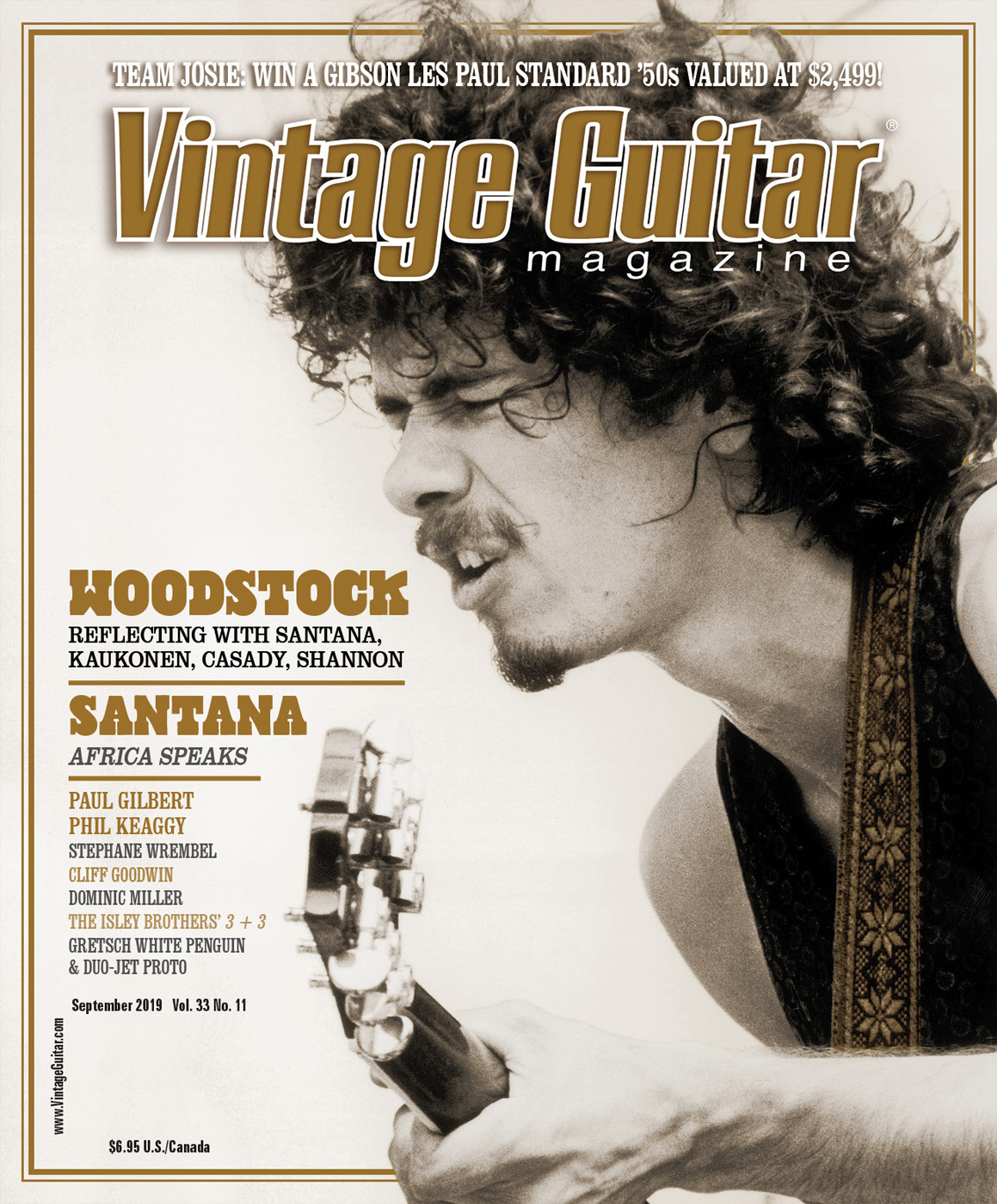 Restless babyboomers made the guitar a cultural symbol of the '60s, and music festivals – where hundreds of thousands witnessed burgeoning musical heroes use the instrument in stunning new ways – played a major role. The Woodstock Music & Art Fair holds special status, so we asked Carlos Santana, Jorma Kaukonen, Jack Casady, and Tommy Shannon to reflect on the event. We dig into the guitars and amps seen onstage at Woodstock, extend the conversation with Santana, keying on his new album, Africa Speaks, then continue our '60s-centric month with a look at Mark Lindsay's Guild F-30NT and the Ampeg J-12R Reverbojet.
Going slightly more retro, we profile a prototype Gretsch 6128 Duo-Jet and holy-grail 6134 White Penguin. Of course, we also want to tell you about new music, so we talk with Paul Gilbert, Dominic Miller, Terry Robb, Oz Noy, Stephane Wrembel, and Phil Keaggy. There are also fresh chats with Nashville studio ace Derek Wells, Joe Cocker guitarist Cliff Goodwin, and Ernie Isley, who reflects on the Isley Brothers' classic album, 3+3, in "Pop 'N Hiss."
Finally, we get guitar-heavy in this month's VG Approved Gear and detail the best new music in our "Hit List." It's all in the September issue!
Table of Contents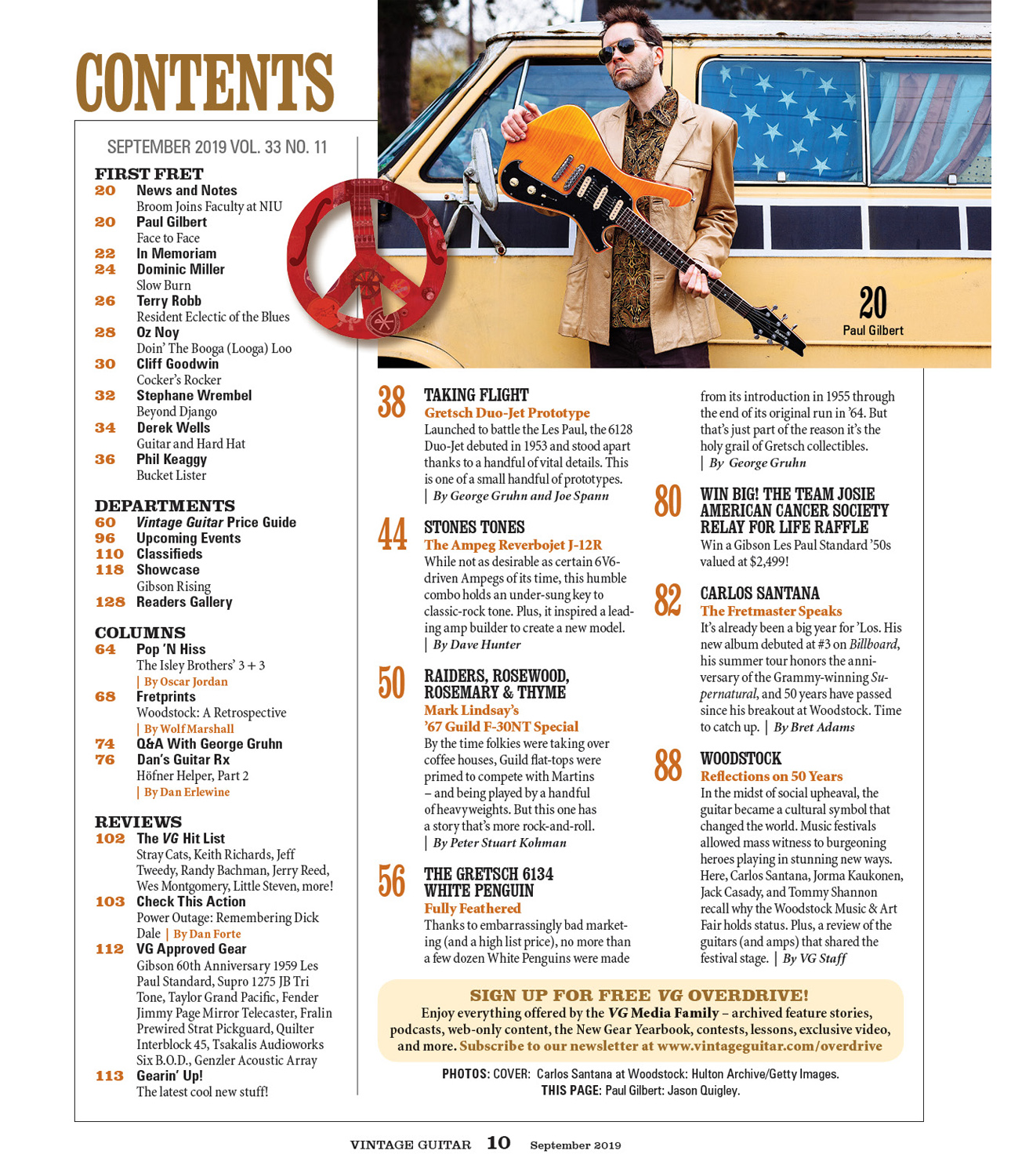 GET YOUR VG FIX
Your complete guitar coverage all starts with a new subscription to VG!
Print Copies Order print copies of the current issue or back issues in the VG Store.
Digital Edition Read for FREE in a web browser (Chrome, Firefox, Safari, etc.). The browser edition works on most computers or hand-held devices. Digital FAQ
Over time, Vintage Guitar magazine has become much, much more than the vibrant print magazine in your mailbox. Jump-start that passion for guitar with VG's Media Family the best and brightest selections from VG's vast archive of interviews, instrument profiles, and reviews of the hottest new gear and outstanding new music. See it all →
FROM READERS
Reader Mail Send letters to ward@vintageguitar.com or mail to: Vintage Guitar, Inc. Attn: Reader Mail, PO Box 7301, Bismarck ND 58507.
Readers Gallery Send your photos to: ward@VintageGuitar.com or mail to: Vintage Guitar, Inc. Attn: Readers Gallery, P.O. Box 7301, Bismarck, ND 58507. Readers submit photos with the understanding that they may be used in any VG, Inc. project. Due to the volume of photos we receive, we are unable to return them, please do not send us your only print.
Guitar Shows
Click on an event to see more information. Submit your upcoming event info to this form. See full calendar and past show photos at www.VintageGuitar.com/Upcoming.

VG Youtube Uploads