Current Issue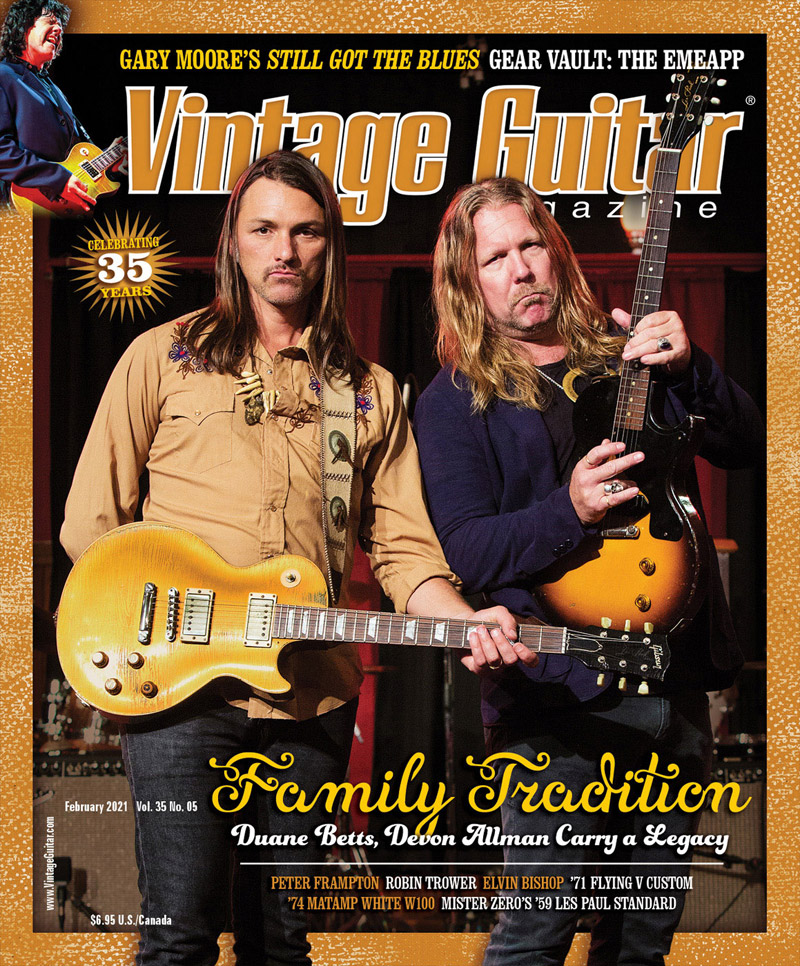 We talk to Devon Allman, Duane Betts, and Johnny Stachela about their work in the Allman Betts Band. 
We also dig deep into Gibson's 1971 Flying V Custom and the Matamp White W100, then pay a visit to the Electronic Music Education & Preservation Project, home to many a famous rig! 
Our "Classics" blast from the past features a 'Burst you've certainly heard! 
Lending personal insight to their latest music are Elvin Bishop, Peter Frampton, Dave Kilminster, Johnny Nicholas, Jordan Tice, Robin Trower, Will Bernard, and Oz Noy.
When you're ready to build a fresh playlist, we have the info you need in this month's "Hit List" reviews, where  we highlight the latest from Neil Young & Crazy Horse, Shemekia Copeland, Roger Waters, Robin Trower, Sturgill Simpson, Rory Gallagher, Black Stone Cherry, and many others!
And because life is better when you have cool new gear, we're here to sort through the latest with our "Approved Gear" reviews. This month, we test-drive Cicognani Engineering's Pompeii PP603, the EHX Pitch Fork +, Gibson's Lukas Nelson '56 Les Paul Junior, the Ibanez AS200, JHS 3 Series, Taylor GTe, Fender Tone Master Deluxe Reverb Blonde, and the Martin D-X2E.
It's all in the February issue of Vintage Guitar!
Table of Contents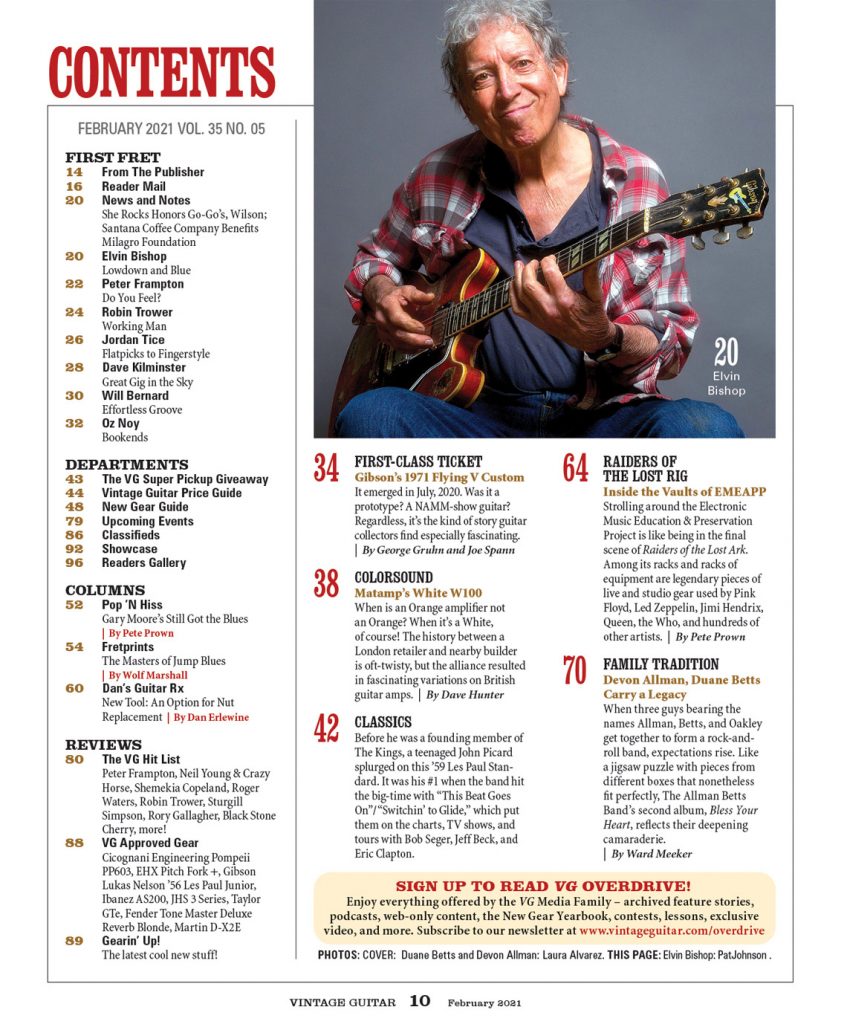 GET YOUR VG FIX
Your complete guitar coverage all starts with a new subscription to VG!
Print Copies Order print copies of the current issue or back issues in the VG Store. Vintage Guitar's 33 year archive of the best guitar related info is a customizable tribute to the memories shared with your best friend, band mates, you name it. Commemorate a life event by gifting Vintage Guitar magazine from an exact month and year. Browse the covers and descriptions of over 250 issues for a specific guitar or player. A well thought-out gift awaits.
Digital Edition Read for FREE in a web browser (Chrome, Firefox, Safari, etc.). The browser edition works on most computers or hand-held devices. Digital FAQ
Over time, Vintage Guitar magazine has become much, much more than the vibrant print magazine in your mailbox. Jump-start that passion for guitar with VG's Media Family the best and brightest selections from VG's vast archive of interviews, instrument profiles, and reviews of the hottest new gear and outstanding new music. See it all →
FROM READERS
Reader Mail Send letters to ward@vintageguitar.com or mail to: Vintage Guitar, Inc. Attn: Reader Mail, PO Box 7301, Bismarck ND 58507.
Readers Gallery Send your photos to: doug@VintageGuitar.com or mail to: Vintage Guitar, Inc. Attn: Readers Gallery, P.O. Box 7301, Bismarck, ND 58507. Readers submit photos with the understanding that they may be used in any VG, Inc. project. Due to the volume of photos we receive, we are unable to return them, please do not send us your only print.
Guitar Shows
Click on an event to see more information. Submit your upcoming event info to this form. See full calendar and past show photos at www.VintageGuitar.com/Upcoming.

VG Youtube Uploads