His tone and playing provided the Big Bang of guitar rock – his first single blasting from radios in 1955 spurred many to grab a guitar. We pay homage to Chuck Berry. Plus, we profile legendary session player/producer John Leventhal, interview Greg Martin, Eric Gales, Scott Gorham, and others, offer a study of the Gibson SJ-200 played by Rosalie Allen, remember Larry Coryell and Tommy Allsup, and proffer great histories on the super-rare Supro 1600R and 600 Reverb and Peavey's T-27. All this, along with our "VG Approved Gear" reviews, "Hit List" music reviews, a new effects special feature, and much more!
GET THIS ISSUE — order the print edition in the VG Shop, download a digital copy in the VG app, OR browse now, the FREE online digital issue.
IN THIS ISSUE…
FEATURES
› Best of Both Worlds
The Peavey T-27
Peavey solidbodies don't always fit into collectors' notions of "vintage," but this was one of the first guitars that combined two super-popular pickup configurations. | By Michael Wright
› Toneful Twosome
The Supro 1600R Supreme and 600 Reverb
Vintage Supro amps are some of the most stylish classics, and boast circuits that generated famous tones at the hands of a young Jimi Hendrix, along with Alvin Lee, Jimmy Page, and countless Chicago blues stars. But good luck finding a set like this. | By Dave Hunter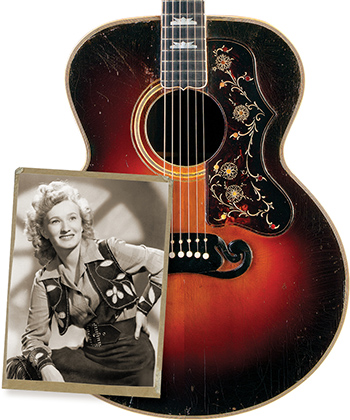 › Trophy Flat-top
Rosalie Allen's SJ-200
Big, fancy, and loud, the "king of the flat-top guitars" was inspired by Hollywood's singing cowboys and made to compete with Martin's D-45. This one was made specially for recording star Rosalie Allen, "Queen of the Yodelers." | By George Gruhn and Staff
› Larry Coryell, 1943-2017
The "Godfather of Fusion" was a pioneer of jazz-rock, noted for being comfortable in almost every style. He was 73 when he passed away in February. We pay remembrances, with help from noted fellow jazzers.
› John Leventhal
Tele-Singing Architect of Americana
Producing Shawn Colvin's 1989 album, Steady On, moved him beyond first-call status on the NYC session scene. His work has since garnered 16 Grammy nominations (along with a couple trophies) to go with a catalog of hit songs as a writer, and guest pickin' spots with artists ranging from Rodney Crowell to Donald Fagen and Marc Cohn to Dolly Parton. | By Zac Childs
› That Brown-Eyed Handsome Guitar-Playing Man
A Tribute to Chuck Berry
The notes of his first Chess single blasted from radios in 1955, inspiring many a youngster to not only turn up the volume, but grab a guitar. Hard-charging and with luscious distortion, his tone and playing were the Big Bang of guitar-powered rock. Plus, a special tribute by players and VG contributors. | By Michael Dregni
› Small Boxes, Big Impact
Though tiny in stature and mostly unnoticed by audiences, effects play a vital role in the sound, style, and approach for most guitarists. We offer a closer look at some of the best new entries in the field.
FIRST FRET
Reader Mail
News and Notes
Benefit for Jerry Donahue; Blues Foundation Hall of Fame; Dad's Day Call for Entries
Greg Martin
Elder Statesman
Ask Zac
Paul Mehling
Fab Four Gypsy of Tone
Tommy Allsup, 1931-2017
From Buddy Holly to Bob Wills
Ronnie Baker Brooks
The Bridge
Scott Gorham
Heavy Fire
Alex Haddad and Kyle Lewis
Two Times the Vibes
Eric Gales
Reinvigorated Blues
Jeff Waters
Canadian Thrash-Metal Veteran
DEPARTMENTS
Help VG Fight Cancer – Enter the Team Josie Relay for Life Raffle
Raffle tickets are available for $25. Only 600 tickets available! Entry deadline is May 26, 2017. Every penny we raise goes to the American Cancer Society! Learn more
› › Find the details on the prizes (shown below) at https://goo.gl/Haa0Sf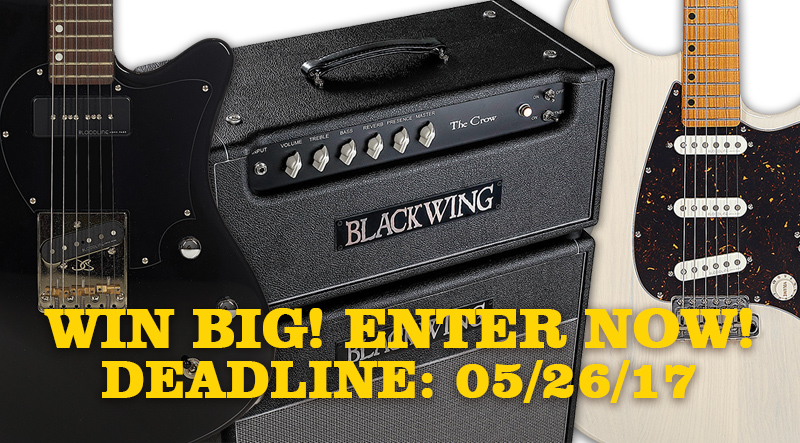 Vintage Guitar Price Guide
Order the 2017 VG Price Guide AND get the bonus digital edition FREE! The digital edition access code will be delivered with your print edition.
Upcoming Events
Vintage Guitar Classified Ads
Builder Showcase
Dealer Showcase
Readers Gallery
COLUMNS
The (Way) Back Beat
Selling the Body Electric | By Peter S. Kohman
Fretprints
Larry Coryell | By Wolf Marshall
Guitars With Guts
Words of a Master | By R.E. Bruné
Dan's Guitar Rx
Cuttin' Blues | By Dan Erlewine
Shop of Hard Knocks
The Path to Tonal Clarity | By Will Kelly
Acousticville
"E-Town," In Color | By Steven Stone
REVIEWS

The VG Hit List
Robert Cray, John 5, The Doors, Allen Hinds, Nathan East, Brad Paisley, Rodney Crowell, more!
Check This Action
The Blue Horizon Story, Part One | By Dan Forte
VG Approved Gear
Henriksen The Bud, Epiphone Joe Bonamassa Treasure Firebird-I, Hi-Tone JP-30, Mooer Slow Engine, Zemaitis CAG-200HS, Epiphone Electar Century, Gretsch Cliff Gallup Duo-Jet, Tech 21 Cali and Brit Fly Rigs, Wampler Ego Mini Compressor and Faux Tape Echo, Winfield Dust Devil
Gearin' Up!
The latest cool new stuff! To be included in Gearing' Up, contact us at vguitar@vintageguitar.com.

FROM READERS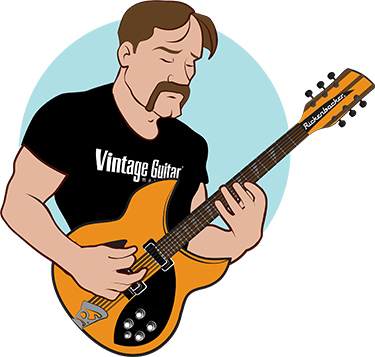 › Reader Mail
Send letters to vguitar@vintageguitar.com or mail to: Vintage Guitar, Inc. Attn: Reader Mail, PO Box 7301, Bismarck ND 58507.
› Readers Gallery
Check out the current issue Readers Gallery or VG's Online Readers Gallery
Send your photos to: doug@VintageGuitar.com or mail to: Vintage Guitar, Inc. Attn: Readers Gallery, P.O. Box 7301, Bismarck, ND 58507.
Readers submit photos with the understanding that they may be used in any VG, Inc. project. Due to the volume of photos we receive, we are unable to return them, please do not send us your only print.
VG'S GIVEAWAYS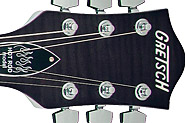 Gretsch G6120 SH valued at more than $4,000!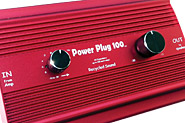 Recycled Sound Power Plug 100 attenuator from – $199.95 value!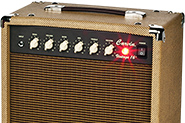 Carvin Vintage 16 – $699 value!