Current Issue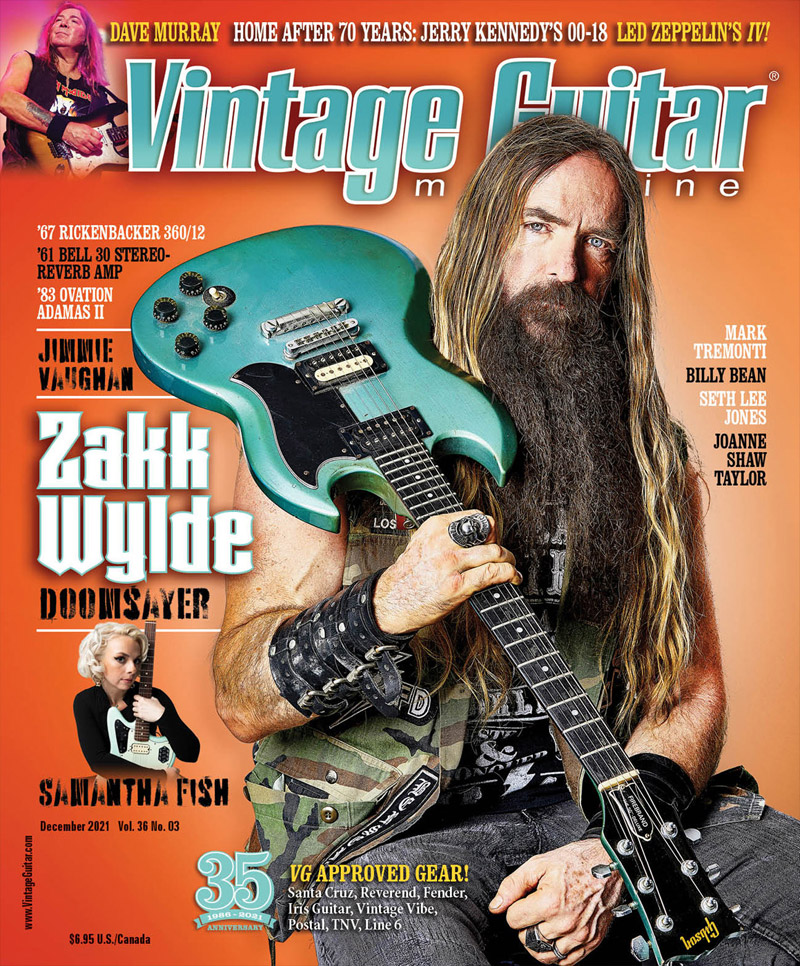 The longest-tenured guitarist for Ozzy Osbourne, for 20 years, Zakk Wylde has also led Black Label Society, which has two new albums forged with his favorite "fiddles." Samantha Fish talks about her new album, the latest step in a career marked by constantly evolving sound, style, and skill.
Cross a helicopter with a Martin and you get Ovation guitars – and the Adamas II is its ultimate expression. The Bell 30 RV amp was built for accordionists, but also made sounds a guitarist could love. Live-music fans who once roamed South Florida's music scene might recognize the '67 Rickenbacker 360/12 in this month's "Classics."
We talk new music with Mark Tremonti, Joanne Shaw Taylor, Seth Lee Jones, Dave Murray, Naia Izumi, and Chris Tapp, then tell the tale of how Jerry Kennedy's '53 Martin 00-18 was returned to him after 70 years. There's also a look at the National Guitar Museum's "Medieval to Metal" exhibit.
On the 50th anniversary of its release, "Pop 'N Hiss" recounts the stories behind – and impact of – Led Zeppelin's IV, Wolf Marshall's "Fretprints" digs into the career of unheralded jazzer Billy Bean, and Dan Forte' s "Check This Action" column keys on The Jimmie Vaughan Story box set.
This month's "Hit List" reviews tell why you'll want to hear the latest from Judas Priest, Peter Frampton, Rory Gallagher, Samantha Fish, Cedric Burnside, Ronnie Lane, Sturgill Simpson, and many others!
Our "Approved Gear" review staff examines new gear  from Santa Cruz, Reverend, Fender, Iris, Vintage Vibe, Postal, TNV, and Line 6.
It's all in the December issue of Vintage Guitar!
Table of Contents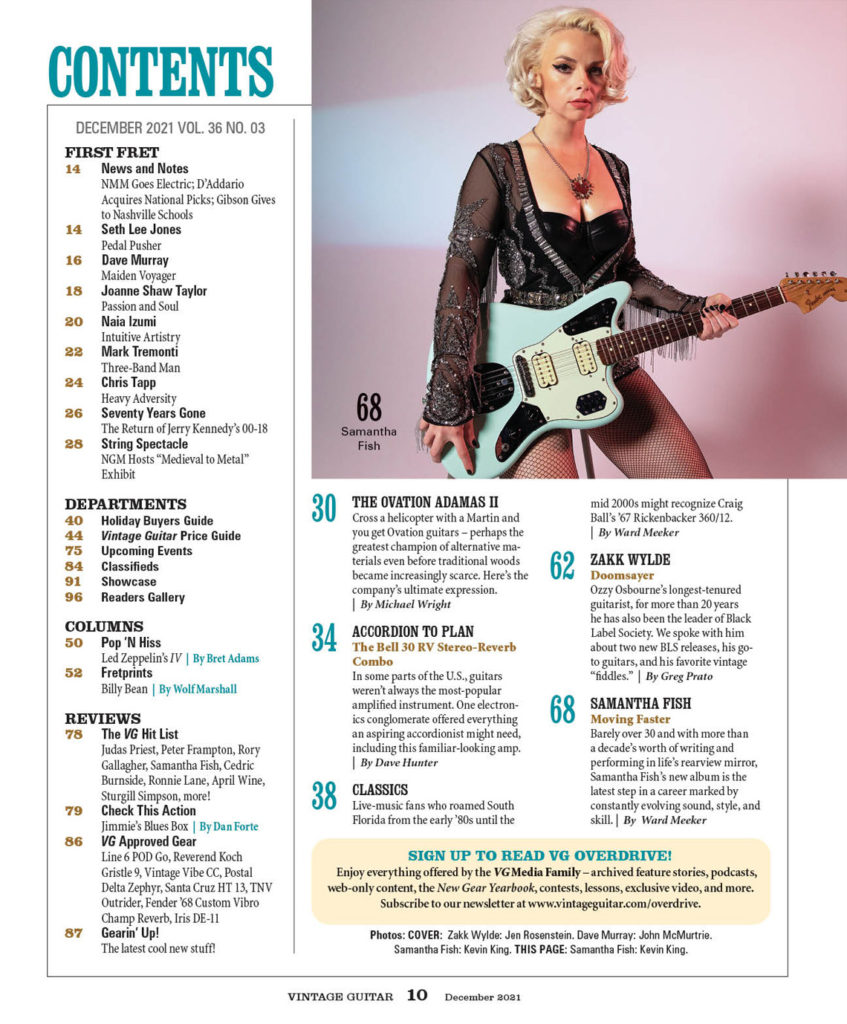 GET YOUR VG FIX
Your complete guitar coverage all starts with a new subscription to VG!
Print Copies Order print copies of the current issue or back issues in the VG Store. Vintage Guitar's 33 year archive of the best guitar related info is a customizable tribute to the memories shared with your best friend, band mates, you name it. Commemorate a life event by gifting Vintage Guitar magazine from an exact month and year. Browse the covers and descriptions of over 250 issues for a specific guitar or player. A well thought-out gift awaits.
Digital Edition Read for FREE in a web browser (Chrome, Firefox, Safari, etc.). The browser edition works on most computers or hand-held devices. Digital FAQ
Over time, Vintage Guitar magazine has become much, much more than the vibrant print magazine in your mailbox. Jump-start that passion for guitar with VG's Media Family the best and brightest selections from VG's vast archive of interviews, instrument profiles, and reviews of the hottest new gear and outstanding new music. See it all →
FROM READERS
Reader Mail Send letters to ward@vintageguitar.com or mail to: Vintage Guitar, Inc. Attn: Reader Mail, PO Box 7301, Bismarck ND 58507.
Readers Gallery Send your photos to: doug@VintageGuitar.com or mail to: Vintage Guitar, Inc. Attn: Readers Gallery, P.O. Box 7301, Bismarck, ND 58507. Readers submit photos with the understanding that they may be used in any VG, Inc. project. Due to the volume of photos we receive, we are unable to return them, please do not send us your only print.
Guitar Shows
Click on an event to see more information. Submit your upcoming event info to this form. See full calendar and past show photos at www.VintageGuitar.com/Upcoming.

VG Youtube Uploads