Current Issue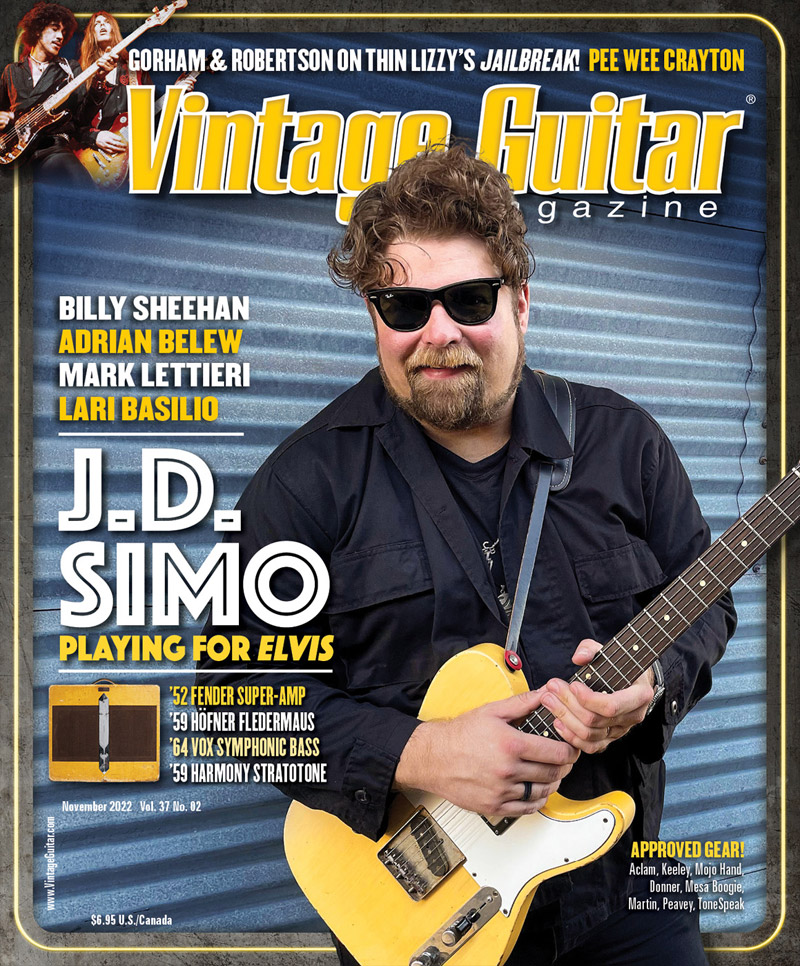 Psych-blues maestro J.D. Simo is the wizard behind the guitars heard throughout the feature film Elvis. The gig required him to embody the sounds of Scotty Moore, James Burton, Hank Garland, Tommy Tedesco, B.B. King, and others. Simo tells us why it was more fun than a barrel full of monkeys.
Despite the way collectors and dealers bandy the term "lawsuit guitars," real-world examples are few. One time it did happen was triggered by the Vox Symphonic Bass.
All tweed Fenders are lauded, but the V-Front 5B4 Super might be the most iconic. This one was also the compatriot of a player known for his tone.
Like most baby-boomer kids, Vern Juran was into slot-car tracks and bikes with banana seats and sissy bars. He also loved guitars, and this Harmony Stratotone sent him down the path. After being traded 50 years ago, it recently returned to him.
A trade-show curiosity, Höfner's Fledermaus Gitarre may be pedestrian in terms of materials, but its design was a radical departure. Today, it entices aficionados and collectors.
We talk about new music with Billy Sheehan, Adrian Belew, Lari Basilio, Tim May, Walter Strauss, and Mark Lettieri.
Blues aficionados recognize Pee Wee Crayton as a legend. Wolf Marshall's "Fretprints" tells the story of "The little man with a big sound," who dominated the charts briefly in the years between T-Bone Walker and B.B. King.
As they started studio work in 1976, Thin Lizzy was in trouble. Their label wanted a hit
 

–and "The Boys Are Back in Town" wasn't on the short list for Jailbreak. With help from Scott Gorham and Brian Robertson, "Pop 'N Hiss"

 

tells what changed their minds.
Ceil Thompson returns to "Dan's Guitar Rx" for more work on her from-scratch guitar senior project.
Because you're constantly on the lookout for good new music, our "Hit List" review staff tells you why the latest from the Doobie Brothers, Pink Floyd, Talas, Kris Kristofferson, Lari Basilio, Kirk Fletcher, Six by Six, Happy Traum, and others is worth a listen.
Speaking of worthy, in a world inundated with new amps, instruments, and gadgets, our "Apprved Gear" reviewers explain why you won't be wasting time or money if you try the Aclam Woman Tone OD, Keeley HALO Andy Timmons, MojoHand Octaverse, Donner Rising-G Pro, Mesa Boogie California Tweed 6V6 2:20, Martin 00-28 Modern Deluxe, Peavey VYPYR X, or Misco ToneSpeak 12s
It's all in the November issue of Vintage Guitar!
Table of Contents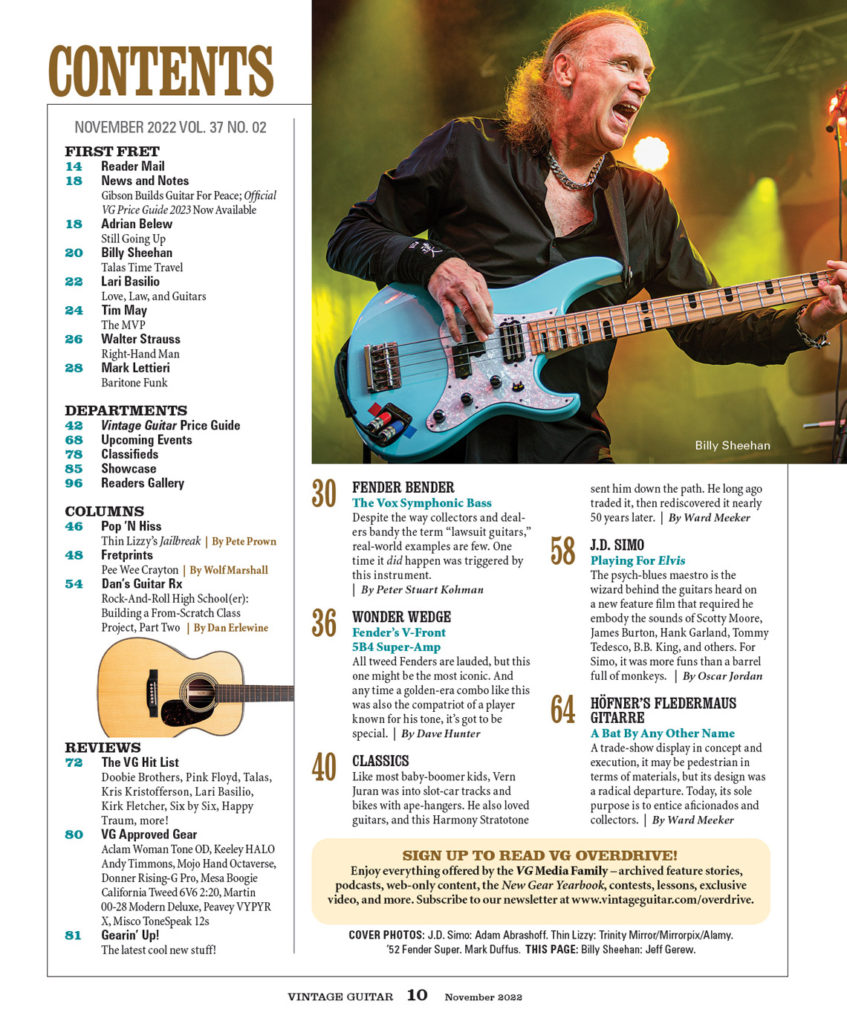 GET YOUR VG FIX
Your complete guitar coverage all starts with a new subscription to VG!
Print Copies Order print copies of the current issue or back issues in the VG Store. Vintage Guitar's 33 year archive of the best guitar related info is a customizable tribute to the memories shared with your best friend, band mates, you name it. Commemorate a life event by gifting Vintage Guitar magazine from an exact month and year. Browse the covers and descriptions of over 250 issues for a specific guitar or player. A well thought-out gift awaits.
Digital Edition Read for FREE in a web browser (Chrome, Firefox, Safari, etc.). The browser edition works on most computers or hand-held devices. Digital FAQ
Over time, Vintage Guitar magazine has become much, much more than the vibrant print magazine in your mailbox. Jump-start that passion for guitar with VG's Media Family the best and brightest selections from VG's vast archive of interviews, instrument profiles, and reviews of the hottest new gear and outstanding new music. See it all →
FROM READERS
Reader Mail Send letters to ward@vintageguitar.com or mail to: Vintage Guitar, Inc. Attn: Reader Mail, PO Box 7301, Bismarck ND 58507.
Readers Gallery Send your photos to: doug@VintageGuitar.com or mail to: Vintage Guitar, Inc. Attn: Readers Gallery, P.O. Box 7301, Bismarck, ND 58507. Readers submit photos with the understanding that they may be used in any VG, Inc. project. Due to the volume of photos we receive, we are unable to return them, please do not send us your only print.
Guitar Shows
Click on an event to see more information. Submit your upcoming event info to this form. See full calendar and past show photos at www.VintageGuitar.com/Upcoming.

VG Youtube Uploads