Current Issue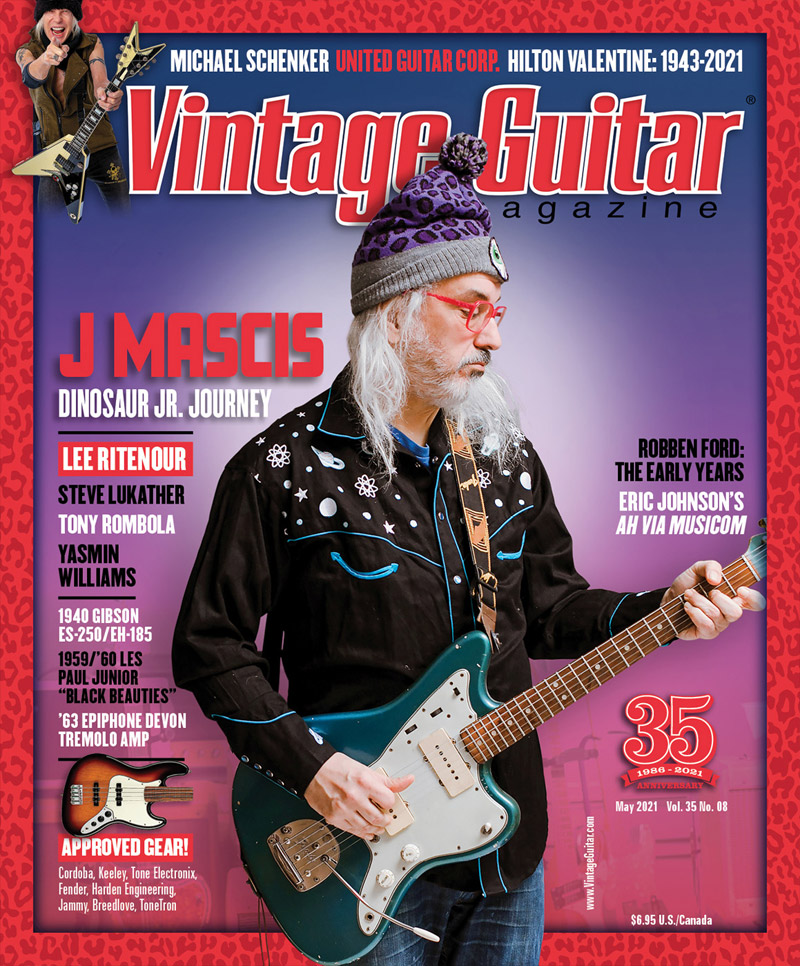 His guitar helped make Dinosaur Jr. legendary in alt-rock; we talk with J Mascis about the band's 35 years, its new music, and challenges forging forward. Speaking of challenges, Lee Ritenour has overcome his share including wildfires that claimed his home, studio, and a lifetime of keepsakes. We check in as he keeps on. Other artists talking new music and gear include Steve Lukather, Michael Schenker, Yasmin Williams, Tony Rombola, and Rod Abernethy.  
One of the great tales in 20th-century guitar lore, we tell the story of United Guitar Corporation. And because geeking-out on a amp is always time well spent, we explain the quirky appeal of the Epiphone Devon Tremolo EA-35T. Speaking of quirky, dig into our feature on two rare Gibson Les Paul Juniors, factory finished in black! Continuing the Gibson theme, this month's "Classics" feature revisists the company's 1940 logbooks and an early ES-250 with one of the first "diagonal" pickups.
Wolf Marshall breaks down the early career of Robben Ford, and our classic-vinyl "Pop 'N Hiss" column revisits Eric Johnson's Ah Via Musicom. 
Just in time to freshen your listening list, this month's "Hit List" reviews the latest from Steve Cropper, Eric Clapton, Jimmie Vaughan, Greta Van Fleet, Bob Dylan, Willie Nelson, Michael Schenker Group, Crack the Sky, Mudhoney, and many more.
Our "Approved Gear" crew explains why the Cordoba 15CFM, Keeley Hydra, Tone Electronix Animalizzer, Fender Player Jazz Bass Fretless, Harden Engineering BluesBird, Jammy G, Breedlove Jeff Bridges Concert Copper E, and ToneTron Billy Rocker 10 are worthy of your consideration.
It's all in the May issue of Vintage Guitar!
Table of Contents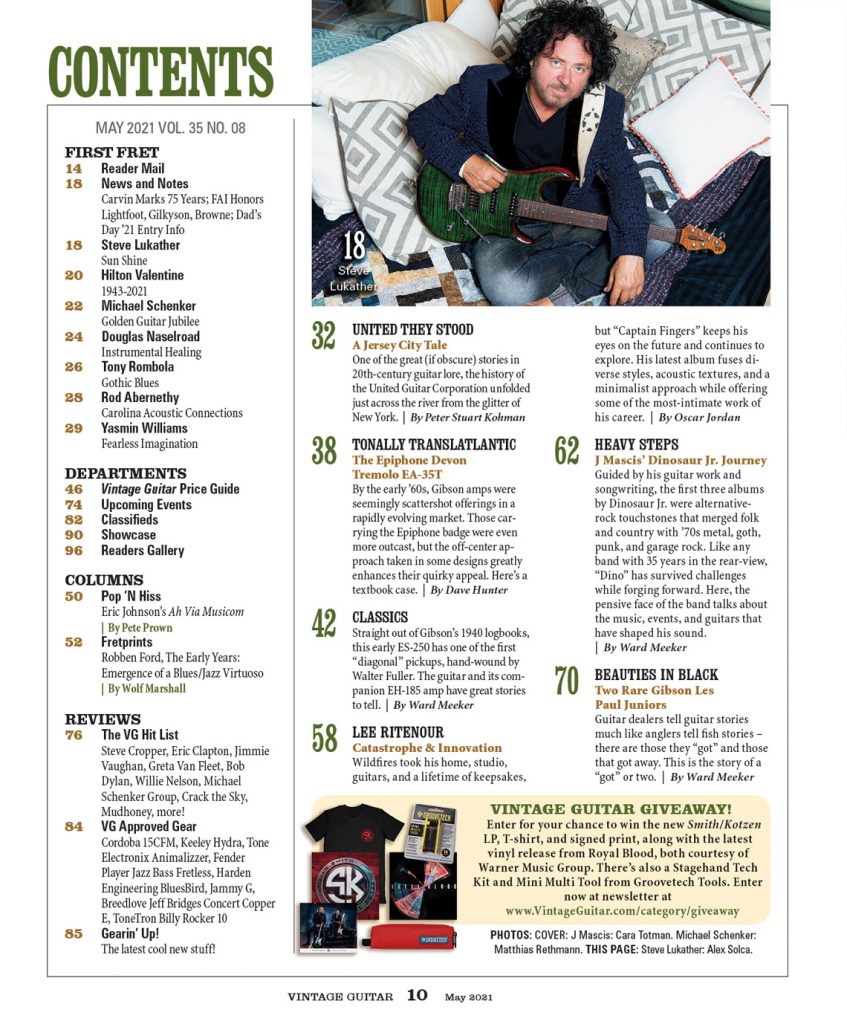 GET YOUR VG FIX
Your complete guitar coverage all starts with a new subscription to VG!
Print Copies Order print copies of the current issue or back issues in the VG Store. Vintage Guitar's 33 year archive of the best guitar related info is a customizable tribute to the memories shared with your best friend, band mates, you name it. Commemorate a life event by gifting Vintage Guitar magazine from an exact month and year. Browse the covers and descriptions of over 250 issues for a specific guitar or player. A well thought-out gift awaits.
Digital Edition Read for FREE in a web browser (Chrome, Firefox, Safari, etc.). The browser edition works on most computers or hand-held devices. Digital FAQ
Over time, Vintage Guitar magazine has become much, much more than the vibrant print magazine in your mailbox. Jump-start that passion for guitar with VG's Media Family the best and brightest selections from VG's vast archive of interviews, instrument profiles, and reviews of the hottest new gear and outstanding new music. See it all →
FROM READERS
Reader Mail Send letters to ward@vintageguitar.com or mail to: Vintage Guitar, Inc. Attn: Reader Mail, PO Box 7301, Bismarck ND 58507.
Readers Gallery Send your photos to: doug@VintageGuitar.com or mail to: Vintage Guitar, Inc. Attn: Readers Gallery, P.O. Box 7301, Bismarck, ND 58507. Readers submit photos with the understanding that they may be used in any VG, Inc. project. Due to the volume of photos we receive, we are unable to return them, please do not send us your only print.
Guitar Shows
Click on an event to see more information. Submit your upcoming event info to this form. See full calendar and past show photos at www.VintageGuitar.com/Upcoming.

VG Youtube Uploads