Current Issue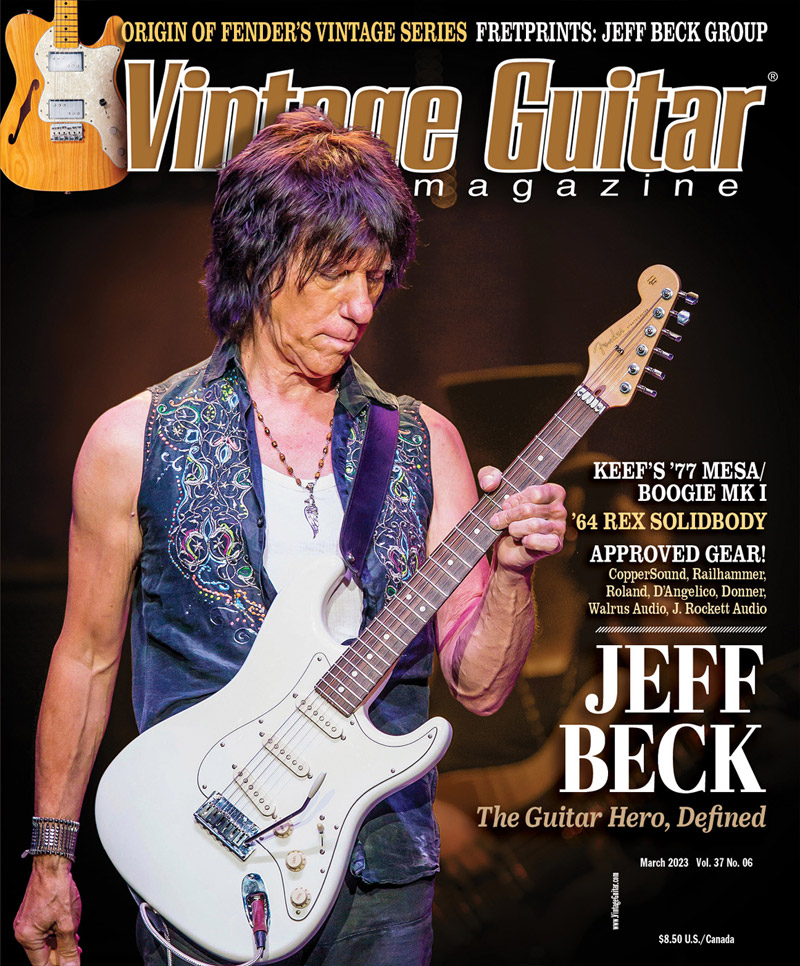 One of the most-influential musicians of his generation, we honor Jeff Beck with a look at his life, career, and influence, including a "Fretprints" breakdown of key riffs from his work in the Jeff Beck Group.
We memorialize Kim Simmonds, then talk new music with Kenny Wayne Shepherd, Leo Lydon, Sebastian Nagel, Mick Box, Lincoln Goines, and Don Latarski.
The years just before CBS' sale of Fender were fluid times in Fullerton. Until now, part of the story behind Fender's original Vintage Series has gone untold, including how three men were taking steps to cure the company's ills.
Reissue instruments usually key on cut-and-dried classics, but with its American Vintage II line, Fender is venturing into its debated (and derided) '70s guitars, intent on righting wrongs. We ask the company's Director of Branding and V.P. of Product Development about their motivations.
Before Mesa amps were sold far and wide, there was a time when even the world's most-famous guitarist had to plead his case to jump the waiting list for one of Randy Smith's Mark I creations.
For 20 years beginning in the mid '30s, Brooklyn-based Gretsch subcontracted Rex instruments from Harmony and/or Kay in Chicago. The solidbody we profile, though, came from a land down under.
"Pop 'N Hiss" talks to Jakko Jakszyk about how Robert Fripp's playing on King Crimson's Red were supremely influential, long before he joined the band. Dan's Guitar Rx sees zen master Dan Erlwine add a master Volume control to a Les Paul – relax, it's not vintage!
Because it's once again (always?) time for you to score new gear, we offer objective examinations of the CopperSound Telegraph V2, Railhammer Corgan Z-One Humcutter pickups, Walrus Audio Eons Five-State Fuzz, D'Angelico Atlantic Baritone, Donner Arena 2000, J. Rockett Audio Archer/Dude/El Hombre pedals, and the Roland JC-120 50th Anniversary.
We're also ready to help update your playlists, with screenings of new music from Humble Pie, Neil Young, Joanne Shaw Taylor, Harvey Mandel, Journey, Kurt Rosenwinkel, Robert Gordon, The Senders, more!
It's all in the March issue of Vintage Guitar!
Table of Contents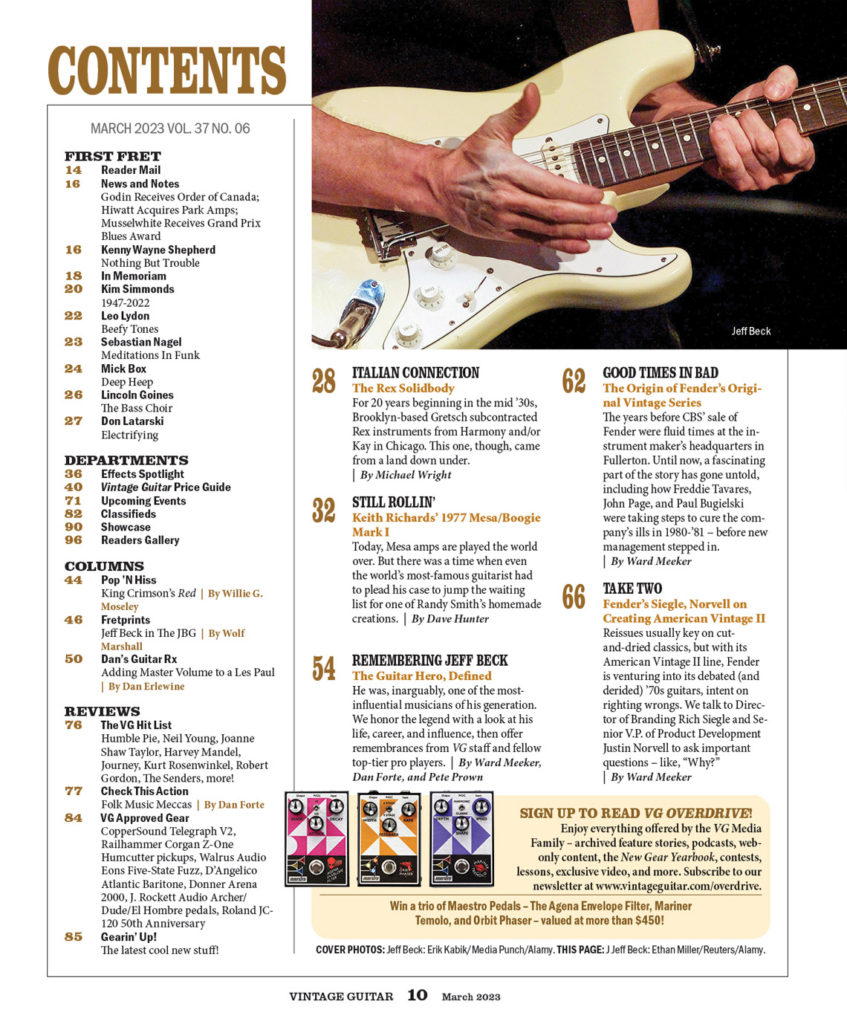 GET YOUR VG FIX
Your complete guitar coverage all starts with a new subscription to VG!
Print Copies Order print copies of the current issue or back issues in the VG Store. Vintage Guitar's 33 year archive of the best guitar related info is a customizable tribute to the memories shared with your best friend, band mates, you name it. Commemorate a life event by gifting Vintage Guitar magazine from an exact month and year. Browse the covers and descriptions of over 250 issues for a specific guitar or player. A well thought-out gift awaits.
Digital Edition SUBSCRIBE NOW or view our Complementary Digital Issue. The browser edition (Chrome, Firefox, Safari, etc.) works on most computers or hand-held devices. Digital FAQ.
Over time, Vintage Guitar magazine has become much, much more than the vibrant print magazine in your mailbox. Jump-start that passion for guitar with VG's Media Family the best and brightest selections from VG's vast archive of interviews, instrument profiles, and reviews of the hottest new gear and outstanding new music. See it all →
FROM READERS
Reader Mail Send letters to ward@vintageguitar.com or mail to: Vintage Guitar, Inc. Attn: Reader Mail, PO Box 7301, Bismarck ND 58507.
Readers Gallery Send your photos to: doug@VintageGuitar.com or mail to: Vintage Guitar, Inc. Attn: Readers Gallery, P.O. Box 7301, Bismarck, ND 58507. Readers submit photos with the understanding that they may be used in any VG, Inc. project. Due to the volume of photos we receive, we are unable to return them, please do not send us your only print.
Guitar Shows
Click on an event to see more information. Submit your upcoming event info to this form. See full calendar and past show photos at www.VintageGuitar.com/Upcoming.

VG Youtube Uploads