Current Issue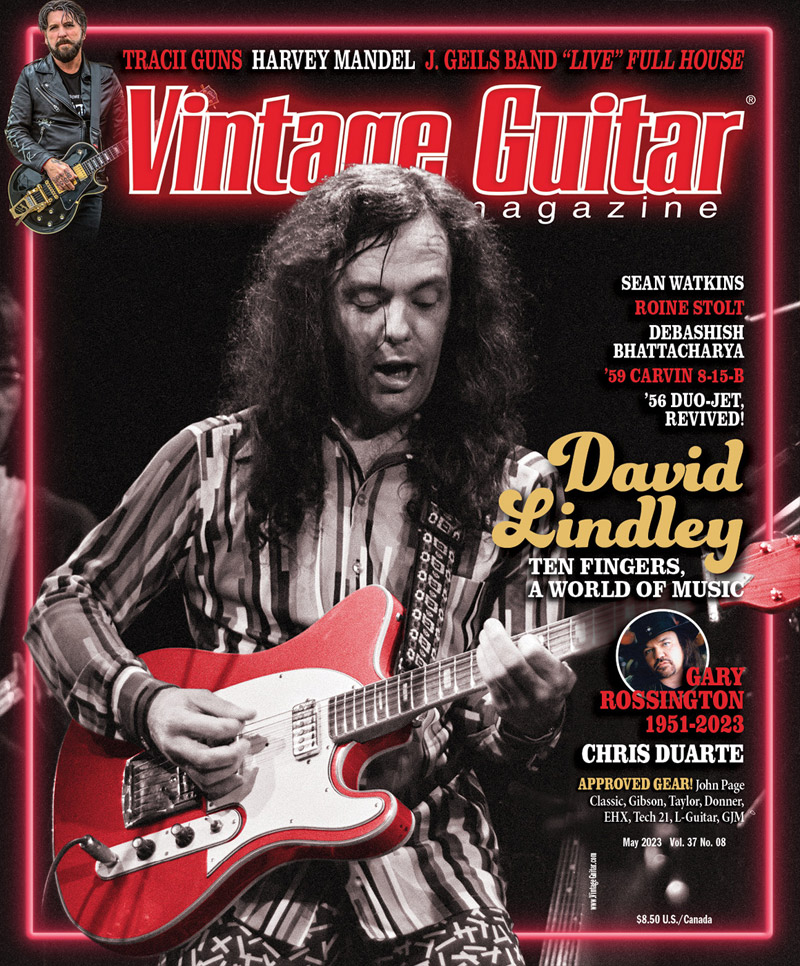 We mark the passing of two of guitardom's biggest heroes, David Lindley and Gary Rossington, with retrospective tributes including thoughts from fellow players.
Dropping in to talk new music are Chris Duarte, Sean Watkins, Roine Stolt, Guy Pratt, Tomas Janzon, Debashish Bhattacharya, and Eric Zolan. We also go in-depth with rock guitarist Tracci Guns.
For decades, Carvin's amps have gone head-to-head with Fenders and Marshalls. The 8-15-B typifies the brand's DIY vibe, and Dave Hunter contines his best-in-class work revealing its secrets.
Wolf Marshall's "Fretprints" column breaks down three of the best licks from the catalog of Harvey Mandel, Dan Erlewine narrates the reconstruction of a '56 Gretsch Duo-Jet, in "Dan's Guitar Rx," and "Pop 'N Hiss" reminds us of the greatness that is the J. Geils Band's "Live" Full House album, with fresh insight from the band.
Start scratching that itch for new gear by letting our review staff lend their informed, objective opinions. This month, they've chosen the Donner Lax Compressor, EHX Slap-Back Echo, Tech 21 Character Plus English Muffy, Gibson J-45 '50s Faded, L-Guitar Lance Glass, GJM Tenoroc, Taylor AD11e, and the John Page Classic T-Style.
And of course, spring means it's time to hit "refresh" on your playlists, so check our reviews of new releases by Fleetwood Mac, Nickel Creek, Paul Gilbert, Marshall Crenshaw, Rob Ickes & Trey Hensley, Paco de Lucia, Stefan Grossman, and many more!
It's all in the May issue of Vintage Guitar!
Table of Contents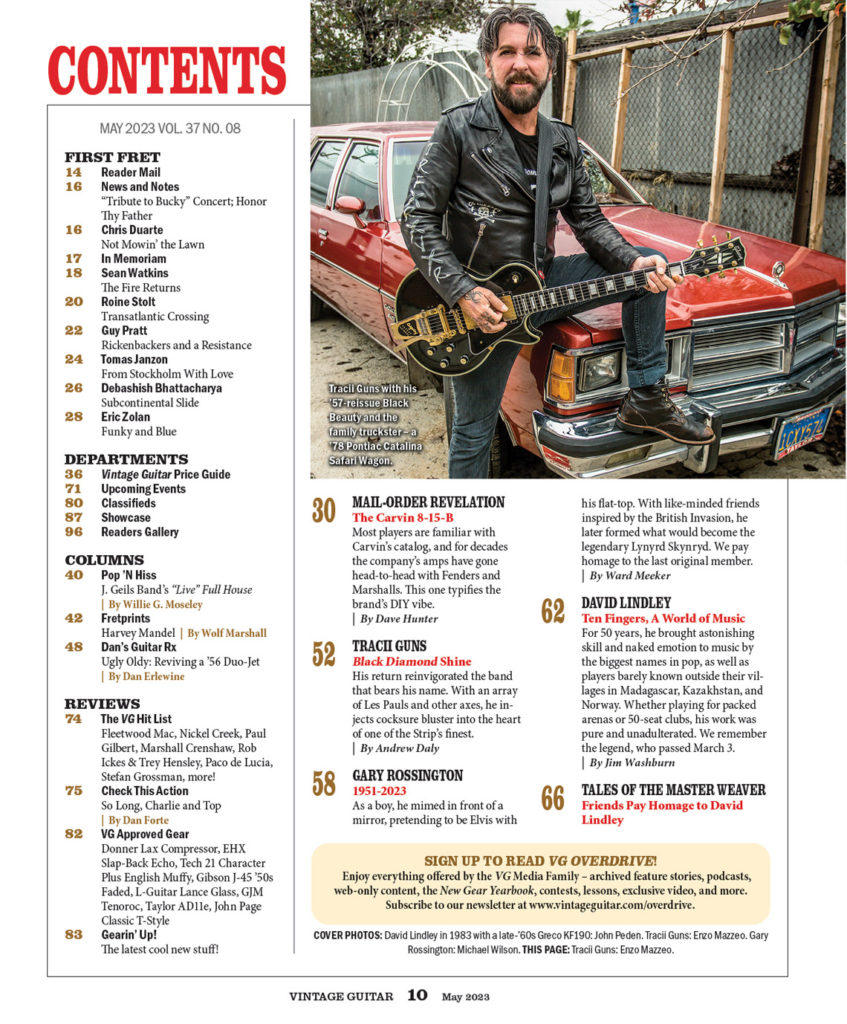 GET YOUR VG FIX
Your complete guitar coverage all starts with a new subscription to VG!
Print Copies Order print copies of the current issue or back issues in the VG Store. Vintage Guitar's 33 year archive of the best guitar related info is a customizable tribute to the memories shared with your best friend, band mates, you name it. Commemorate a life event by gifting Vintage Guitar magazine from an exact month and year. Browse the covers and descriptions of over 250 issues for a specific guitar or player. A well thought-out gift awaits.
Digital Edition SUBSCRIBE NOW or view our Complementary Digital Issue. The browser edition (Chrome, Firefox, Safari, etc.) works on most computers or hand-held devices. Digital FAQ.
Over time, Vintage Guitar magazine has become much, much more than the vibrant print magazine in your mailbox. Jump-start that passion for guitar with VG's Media Family the best and brightest selections from VG's vast archive of interviews, instrument profiles, and reviews of the hottest new gear and outstanding new music. See it all →
FROM READERS
Reader Mail Send letters to ward@vintageguitar.com or mail to: Vintage Guitar, Inc. Attn: Reader Mail, PO Box 7301, Bismarck ND 58507.
Readers Gallery Send your photos to: doug@VintageGuitar.com or mail to: Vintage Guitar, Inc. Attn: Readers Gallery, P.O. Box 7301, Bismarck, ND 58507. Readers submit photos with the understanding that they may be used in any VG, Inc. project. Due to the volume of photos we receive, we are unable to return them, please do not send us your only print.
Guitar Shows
Click on an event to see more information. Submit your upcoming event info to this form. See full calendar and past show photos at www.VintageGuitar.com/Upcoming.

VG Youtube Uploads