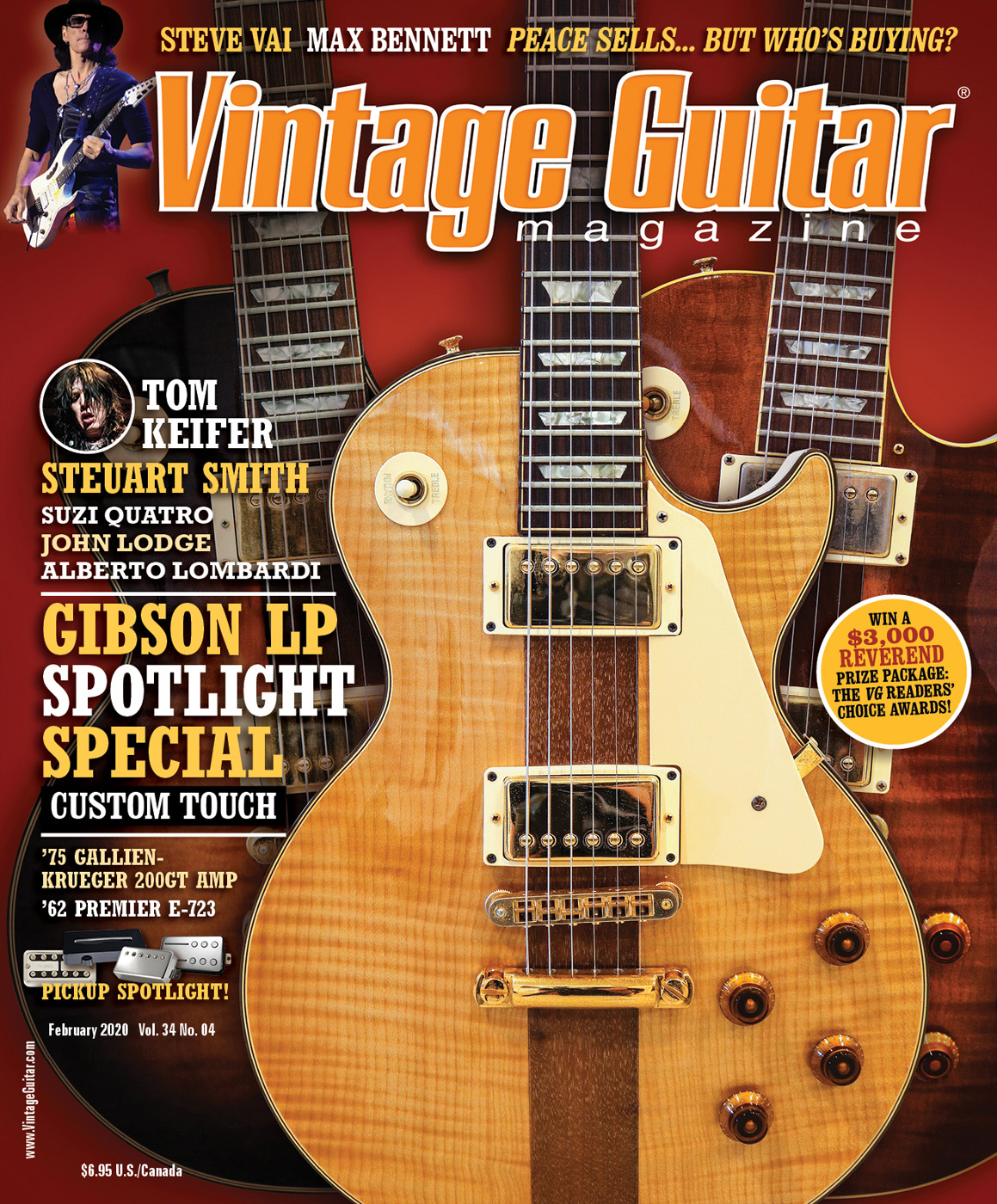 Gibson had its share of issues in the "Norlin era," and one of its greatest curiosities was the Les Paul Spotlight Special, a limited run with fancy tops and top-shelf appointments. Today, it enjoys special appreciation among collectors. We talk with Steve Vai about how he modernized two key pieces of his work. Plus, we offer a posthumous chat with legendary studio bassist Max Bennett, and unearth the stories behind the Premier E-723 and Gallien-Krueger's 200GT.
As always, we dig into great new guitar music and players who make it. This month, it's Tom Keifer, Suzi Quatro, Greg Diamond, Nick Perri, Steuart Smith, Scott Henderson, John Lodge, Alberto Lombardi, and Joel Paterson. Wolf Marshall breaks down three key licks by Billy Rogers, "Pop 'N Hiss" re-examines Megadeth's Peace Sells… But Who's Buying?.
Our gear reviewers tell you why they recommend the PureSalem Tom Cat, TWA's MiniMorph, the Walrus Audio Kangra Filter Fuzz, Collings' 290 Custom, Fat Jimmy Amps' Fat Jimmy Jr., the Suhr Scott Henderson model, Boss' SY-1 Synthesizer, and Yamaha's FG5 Red Label.
You count on VG's music reviewers to steer you to the best new stuff. This month, that includes the latest by Toronzo Cannon, Junior Watson, Joe Bonamassa, Black Star Riders, Mavis Staples, Pixies, Mike Stern/Jeff Lorber, Sturgill Simpson, and more!
Table of Contents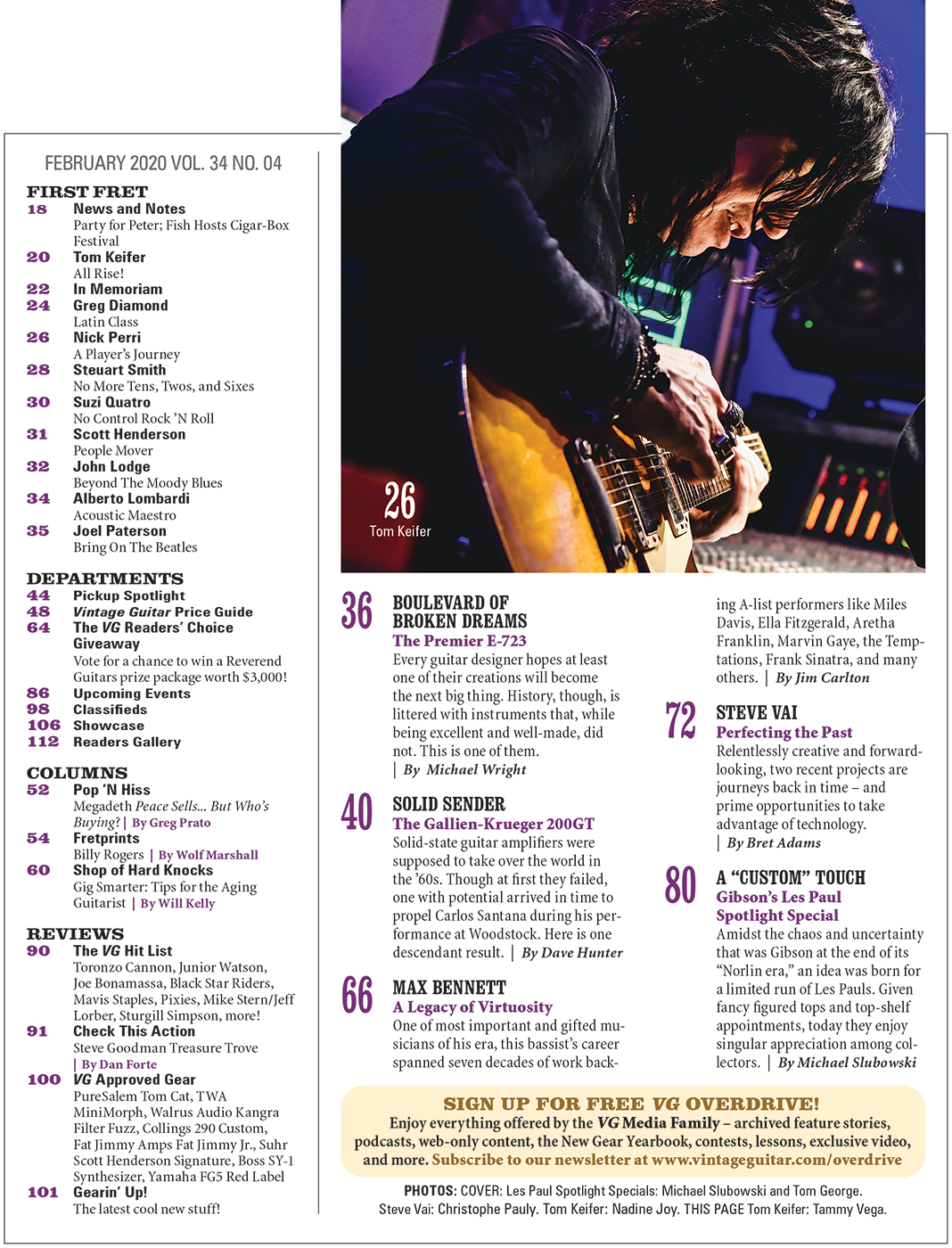 GET YOUR VG FIX
Your complete guitar coverage all starts with a new subscription to VG!
Print Copies Order print copies of the current issue or back issues in the VG Store. Vintage Guitar's 33 year archive of the best guitar related info is a customizable tribute to the memories shared with your best friend, band mates, you name it. Commemorate a life event by gifting Vintage Guitar magazine from an exact month and year. Browse the covers and descriptions of over 250 issues for a specific guitar or player. A well thought-out gift awaits.
Digital Edition Read for FREE in a web browser (Chrome, Firefox, Safari, etc.). The browser edition works on most computers or hand-held devices. Digital FAQ
Over time, Vintage Guitar magazine has become much, much more than the vibrant print magazine in your mailbox. Jump-start that passion for guitar with VG's Media Family the best and brightest selections from VG's vast archive of interviews, instrument profiles, and reviews of the hottest new gear and outstanding new music. See it all →
FROM READERS
Reader Mail Send letters to ward@vintageguitar.com or mail to: Vintage Guitar, Inc. Attn: Reader Mail, PO Box 7301, Bismarck ND 58507.
Readers Gallery Send your photos to: ward@VintageGuitar.com or mail to: Vintage Guitar, Inc. Attn: Readers Gallery, P.O. Box 7301, Bismarck, ND 58507. Readers submit photos with the understanding that they may be used in any VG, Inc. project. Due to the volume of photos we receive, we are unable to return them, please do not send us your only print.
Guitar Shows
Click on an event to see more information. Submit your upcoming event info to this form. See full calendar and past show photos at www.VintageGuitar.com/Upcoming.

VG Youtube Uploads