Current Issue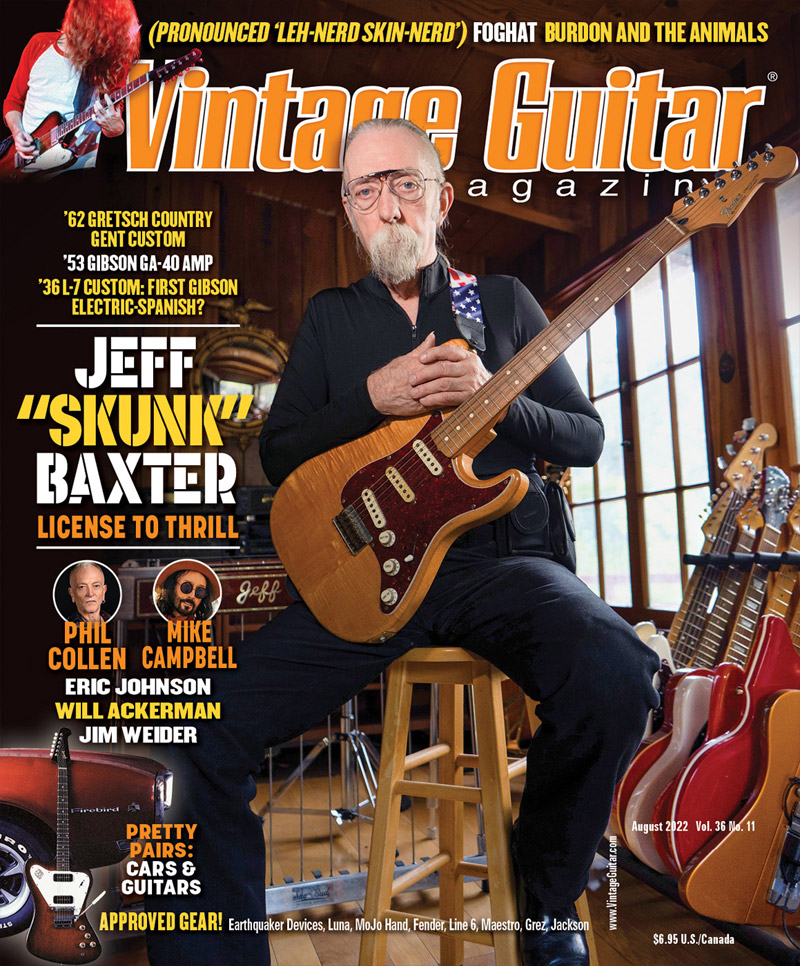 One of the most-recognizable guitarists of the early '70s, Jeff "Skunk" Baxter was the Tele-wielding rocker in Steely Dan and has worked a lifetime of A-list sessions. His new album, The Speed of Heat, is packed with eclectic synergy.
Son of an auto mechanic and a guitar-shop owner at age 18, Steve Evans spent years taking photographs of guitars that share names with cars that share names with guitars. We offer a look at his work.
By the early '60s, Gretsch was riding high with models endorsed by Chet Atkins; one of them is an icon, another faded quickly. Few, if any, were like the '62 Country Gent Custom.
While scanning a VG ad in 2009, Billy Soutar spotted a 1936 Gibson L-7, "Custom… with factory Charlie Christian pickup." The word "rare" especially caught his attention, and he was soon taking a long drive to buy it.
Les Paul's name on the headstock of Gibson's debut solidbody was the biggest guitar-star endorsement of its time. The GA-40 amp came with it, offering tone players still dig today.
"Pop 'N Hiss" revisits the challenges faced by Lynyrd Skynyrd in making its first album, Pronounced 'Leh-Nerd Skin-Nerd', while Wolf Marshall's "Fretprints" examines the full-tilt boogies of Foghat. Dan Forte's "Check This Action" reminds us why Eric Burdon and the Animals were a landmark act, and Dan Erlewine guides a high-school student through a guitar build.
As always, "Approved Gear" offers an objective screening. This month, it's the Earthquaker Devices Special Cranker, Luna Art Vintage Parlor A/E, MoJo Hand Swim Team, Fender Meteora, Line 6 Catalyst, Maestro FZ-M Fuzz-Tone, Grez Mendocino, and the Jackson Pro Series Jeff Loomis Soloist SL7.
Everyone loves to freshen-up their playlist or music collection, and "Hit List" review staff is always finding the best new stuff. This month, they include Black Crowes, Graham Nash, Lightnin' Hopkins, John Scofield, ZZ Top, Albert Cummings, Eric Johnson, Def Leppard, and more! To talk about new music, we sit with Phil Collen, Mike Campbell, Eric Johnson, Jim Weider, Shane Fontayne, Josh Smith, and Will Ackerman.
It's all in the August issue of Vintage Guitar!
Table of Contents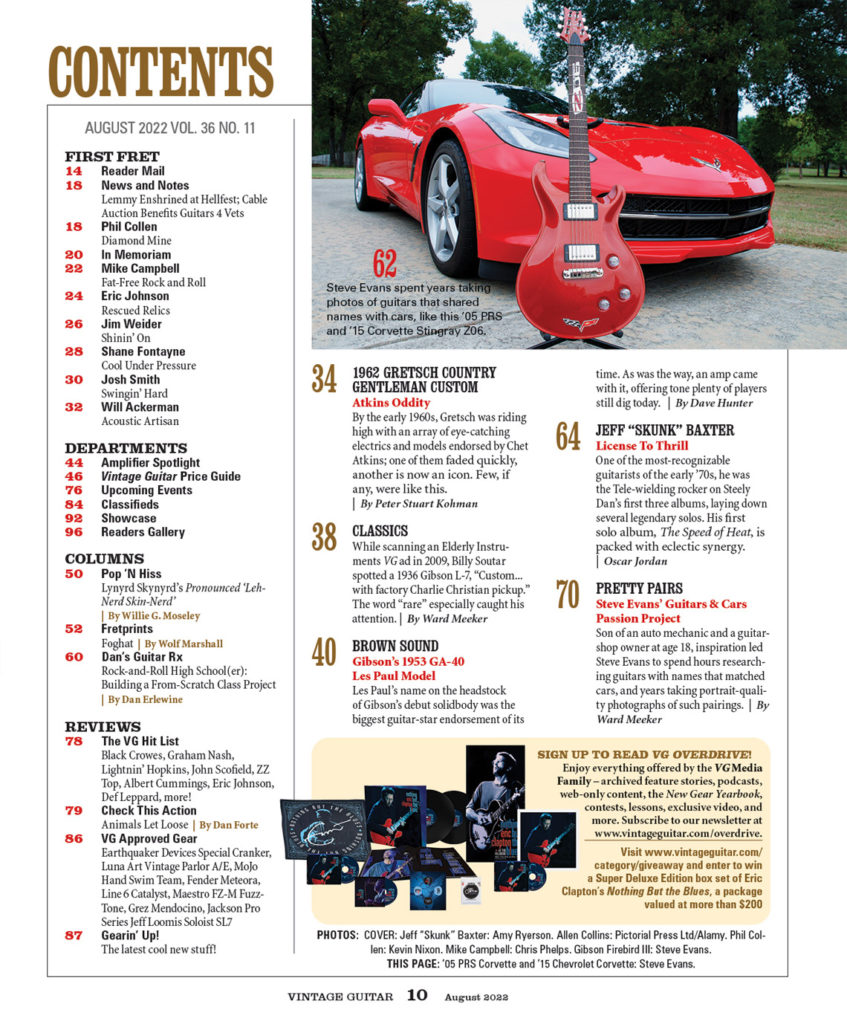 GET YOUR VG FIX
Your complete guitar coverage all starts with a new subscription to VG!
Print Copies Order print copies of the current issue or back issues in the VG Store. Vintage Guitar's 33 year archive of the best guitar related info is a customizable tribute to the memories shared with your best friend, band mates, you name it. Commemorate a life event by gifting Vintage Guitar magazine from an exact month and year. Browse the covers and descriptions of over 250 issues for a specific guitar or player. A well thought-out gift awaits.
Digital Edition Read for FREE in a web browser (Chrome, Firefox, Safari, etc.). The browser edition works on most computers or hand-held devices. Digital FAQ
Over time, Vintage Guitar magazine has become much, much more than the vibrant print magazine in your mailbox. Jump-start that passion for guitar with VG's Media Family the best and brightest selections from VG's vast archive of interviews, instrument profiles, and reviews of the hottest new gear and outstanding new music. See it all →
FROM READERS
Reader Mail Send letters to ward@vintageguitar.com or mail to: Vintage Guitar, Inc. Attn: Reader Mail, PO Box 7301, Bismarck ND 58507.
Readers Gallery Send your photos to: doug@VintageGuitar.com or mail to: Vintage Guitar, Inc. Attn: Readers Gallery, P.O. Box 7301, Bismarck, ND 58507. Readers submit photos with the understanding that they may be used in any VG, Inc. project. Due to the volume of photos we receive, we are unable to return them, please do not send us your only print.
Guitar Shows
Click on an event to see more information. Submit your upcoming event info to this form. See full calendar and past show photos at www.VintageGuitar.com/Upcoming.

VG Youtube Uploads