Current Issue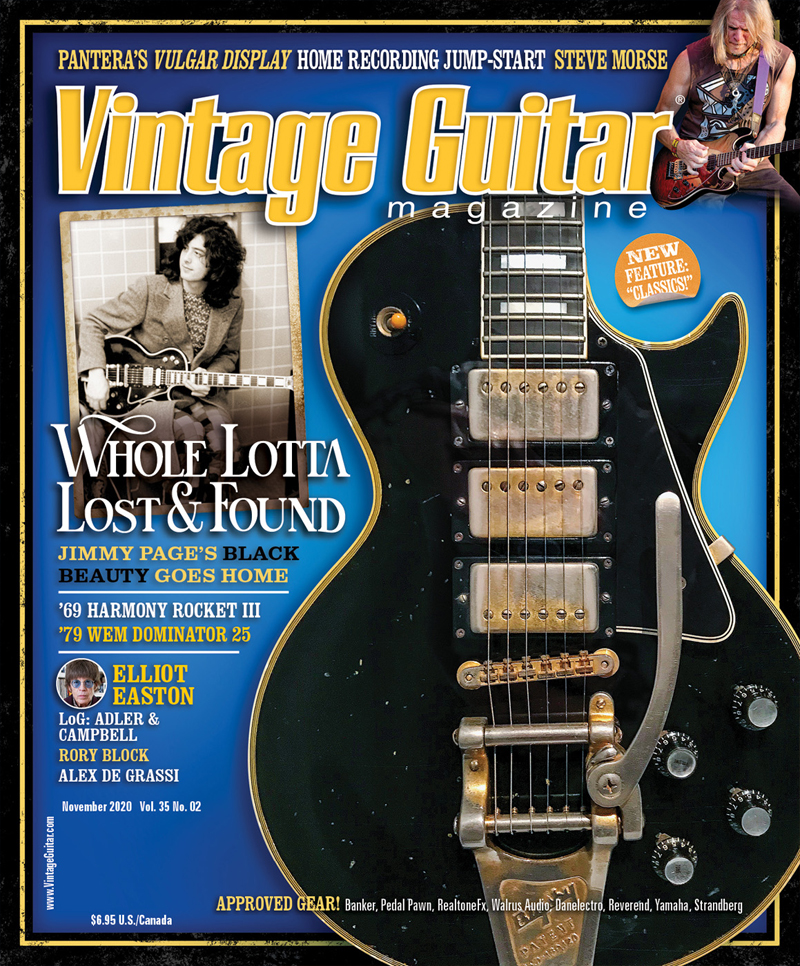 Before the Yardbirds or Led Zeppelin, Jimmy Page was a young session ace with a prized Les Paul Black Beauty. After it was stolen, he spent 45 years longing for its return. In 2015, his wish came true. Here's the story. We also interview Elliot Easton, whose innovative playing with The Cars helped set his place in rock history. Today, he makes music with an all-star rock band and tends to a stellar collection of vintage instruments.
We dig into the fascinating stories of the Harmony Rocket III and WEM Dominator 25 amp, share glorious eye-candy portraits of a Gretsch 6130 Round-Up and vintage Fender Concert.
If your to-do list includes recording yourself playing, see our "Home Recording Jump Start" feature, and a look at the latest gear to help you sound great.
Sharing the stories behind their new music are Rory Block, Alex de Grassi, Steve Morse, Masa Kohama, Paul Benjaman, Garry Roberts, Michael Abdow, and Lamb of God's Willie Adler and John Campbell.
If you're want informed opinions on new gear, our staff looks at the Banker '58 Spec Korina V, Pedal Pawn Fuzz and Texan Twang, the RealtoneFx Fat Larry Overdrive Mk1, Walrus Audio's Ages Five-State Overdrive, the Danelectro 3699 Fuzz, Reverend's Warhawk 390, Yamaha's CSF-TA TransAcoustic, and the Strandberg Boden Classic 6.
Looking for an infusion of new music in our crazy world? Our "Hit List" reports on the latest from Walter Trout, Allman Betts Band, Joe Louis Walker, Trevor Rabin, Michael Landau, Steve Hackett, the Mavericks, Jose Ramirez, and many others!
It's all in the November issue of Vintage Guitar!
Table of Contents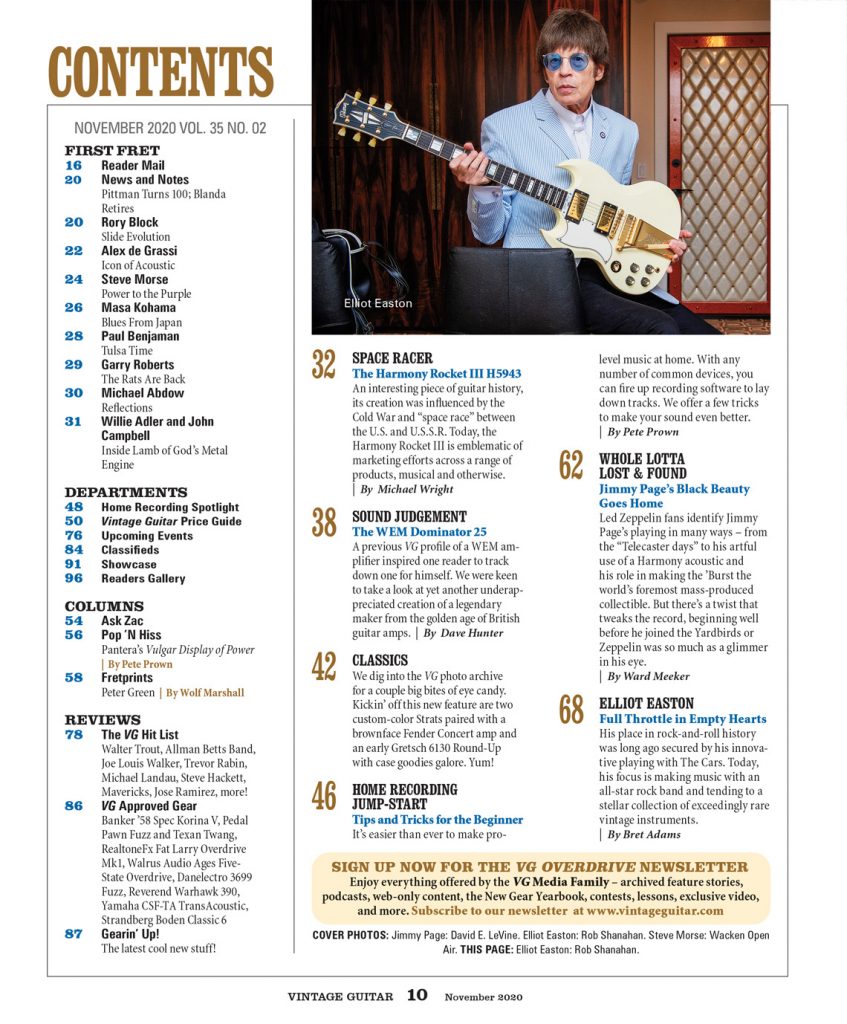 GET YOUR VG FIX
Your complete guitar coverage all starts with a new subscription to VG!
Print Copies Order print copies of the current issue or back issues in the VG Store. Vintage Guitar's 33 year archive of the best guitar related info is a customizable tribute to the memories shared with your best friend, band mates, you name it. Commemorate a life event by gifting Vintage Guitar magazine from an exact month and year. Browse the covers and descriptions of over 250 issues for a specific guitar or player. A well thought-out gift awaits.
Digital Edition Read for FREE in a web browser (Chrome, Firefox, Safari, etc.). The browser edition works on most computers or hand-held devices. Digital FAQ
Over time, Vintage Guitar magazine has become much, much more than the vibrant print magazine in your mailbox. Jump-start that passion for guitar with VG's Media Family the best and brightest selections from VG's vast archive of interviews, instrument profiles, and reviews of the hottest new gear and outstanding new music. See it all →
FROM READERS
Reader Mail Send letters to ward@vintageguitar.com or mail to: Vintage Guitar, Inc. Attn: Reader Mail, PO Box 7301, Bismarck ND 58507.
Readers Gallery Send your photos to: doug@VintageGuitar.com or mail to: Vintage Guitar, Inc. Attn: Readers Gallery, P.O. Box 7301, Bismarck, ND 58507. Readers submit photos with the understanding that they may be used in any VG, Inc. project. Due to the volume of photos we receive, we are unable to return them, please do not send us your only print.
Guitar Shows
Click on an event to see more information. Submit your upcoming event info to this form. See full calendar and past show photos at www.VintageGuitar.com/Upcoming.

VG Youtube Uploads