Current Issue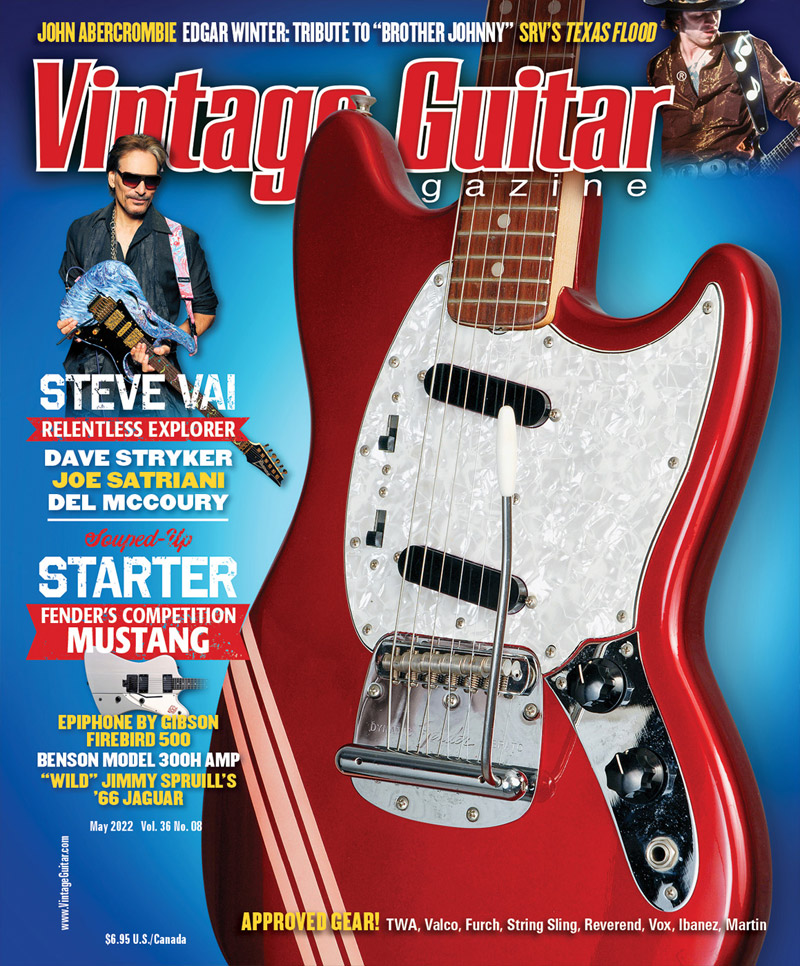 Cars and the California lifestyle are inextricably intertwined, so of course Fender marketed a guitar with racing stripes. On your marks, get set, meet the Competition Mustang! Speaking of races, after retiring the Epiphone brand name in '85, Gibson revived it for use on guitars targeted at the market being dominated by the likes of Kramer. Its flaghip was this Epiphone by Gibson Firebird 500.
More than 40 years into a stellar career, Steve Vai continues to explore music outside his comfort zone. His new album is one of the best – and bravest – he has ever made.
Even with all the excellent amps available by the late '60s, nothing was quite good enough for jazz and studio great Howard Roberts – so he and and a friend created the Benson Model 300H.
New York City session ace "Wild" Jimmy Spruill played his share of guitars – and likely altered every one of them much like the '66 Jaguar in this month's "Classics."
We talk new music with Edgar Winter, Joe Satriani, Del McCoury, Gregg Wright, and Sam Williams.
"Pop 'N Hiss" recounts the long road to Stevie Ray Vaughan's Texas Flood, Wolf Marshall's "Fretprints" reminds us of the impact and playing of Earl Hooker, and Dan Forte's "Check This Action" recalls playing guitar with the Ventures.
As always, our knowledgable "Hit List" music reviewers are ready to help freshen your playlist by screening the latest from John Mayall, Eric Clapton, Del McCoury Band, Edgar Winter, Sam Moss, Joe Satriani, and many more!
If you prefer expert opinions without catalog-speak, our honest, objective "Approved Gear" reviews discuss the latest from TWA, Valco, Furch, String Sling, Reverend, Vox, Ibanez, and Martin.
It's all in the May issue of Vintage Guitar!
Table of Contents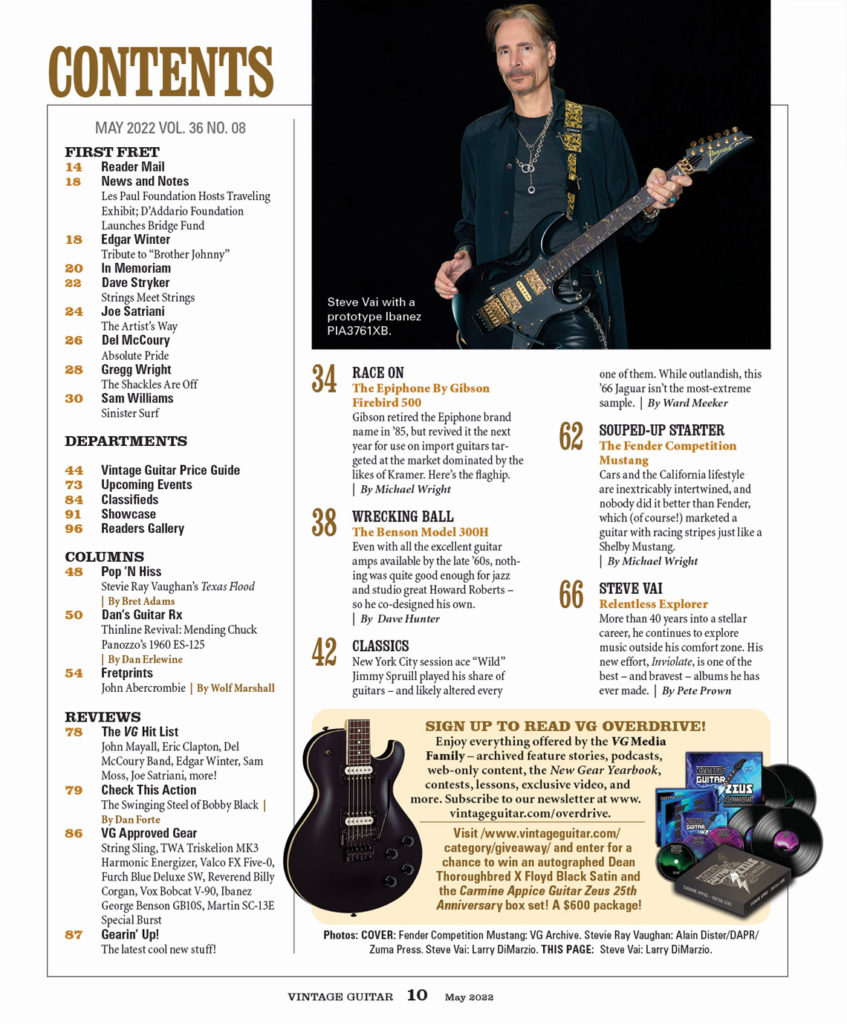 GET YOUR VG FIX
Your complete guitar coverage all starts with a new subscription to VG!
Print Copies Order print copies of the current issue or back issues in the VG Store. Vintage Guitar's 33 year archive of the best guitar related info is a customizable tribute to the memories shared with your best friend, band mates, you name it. Commemorate a life event by gifting Vintage Guitar magazine from an exact month and year. Browse the covers and descriptions of over 250 issues for a specific guitar or player. A well thought-out gift awaits.
Digital Edition Read for FREE in a web browser (Chrome, Firefox, Safari, etc.). The browser edition works on most computers or hand-held devices. Digital FAQ
Over time, Vintage Guitar magazine has become much, much more than the vibrant print magazine in your mailbox. Jump-start that passion for guitar with VG's Media Family the best and brightest selections from VG's vast archive of interviews, instrument profiles, and reviews of the hottest new gear and outstanding new music. See it all →
FROM READERS
Reader Mail Send letters to ward@vintageguitar.com or mail to: Vintage Guitar, Inc. Attn: Reader Mail, PO Box 7301, Bismarck ND 58507.
Readers Gallery Send your photos to: doug@VintageGuitar.com or mail to: Vintage Guitar, Inc. Attn: Readers Gallery, P.O. Box 7301, Bismarck, ND 58507. Readers submit photos with the understanding that they may be used in any VG, Inc. project. Due to the volume of photos we receive, we are unable to return them, please do not send us your only print.
Guitar Shows
Click on an event to see more information. Submit your upcoming event info to this form. See full calendar and past show photos at www.VintageGuitar.com/Upcoming.

VG Youtube Uploads