Current Issue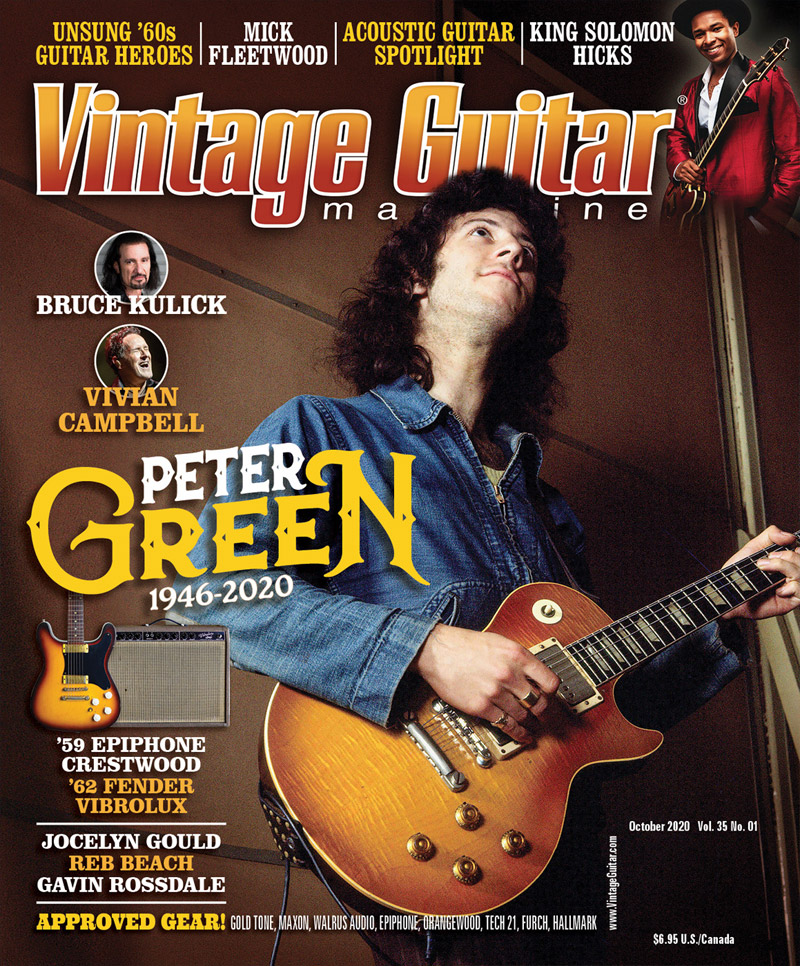 We remember the late Peter Green, who emerged among a wave of astounding young British blues guitarists in the '60s to make a profound musical statement; legendary guitarists pay homage, we offer a list of essential listening, and we speak with Mick Fleetwood about Green's impact. We also catch up with Bruce Kulick. Respected by peers and loved by fans, he grew up infatuated with the guitar. For the first time, he talks about the death of his brother, Bob, the renowned session/touring guitarist.
We profile the '59 Epiphone Crestwood, perhaps the least-known "golden era" Kalamazoo solidbody, and the '62 Fender Vibrolux – supremely collectible for three reasons!
We talk new music in exclusive interviews with Vivian Campbell, King Solomon Hicks, Ryan Perry, Jocelyn Gould, Reb Beach, Chris Haskett, and Gavin Rossdale.
Our gear staffers offer detailed insight on the Gold Tone PBR-D Resonator, Maxon APEX808, Walrus Audio Mako Series D1, Epiphone Les Paul Junior, Orangewood Ava Mahogany, Tech 21 PSA 2.0, Furch Blue Master's Choice, and the Hallmark Fuzz Blender.
Ready to update that playlist with an infusion of the best new guitar music? Our "Hit List" crew tells you about new tunes from Fantastic Negrito, Deep Purple, Bill Kirchen, David Broza, Steve Howe, Def Leppard, and many more. No guitar mag reviews more music than Vintage Guitar!
Table of Contents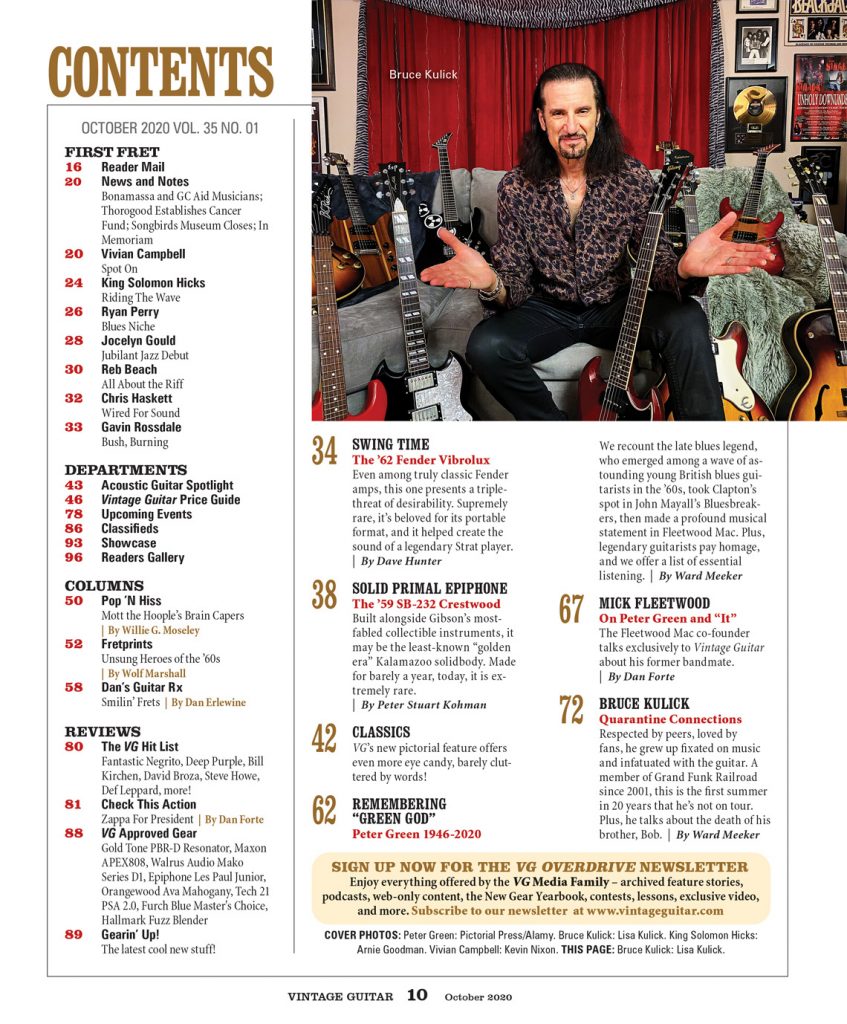 GET YOUR VG FIX
Your complete guitar coverage all starts with a new subscription to VG!
Print Copies Order print copies of the current issue or back issues in the VG Store. Vintage Guitar's 33 year archive of the best guitar related info is a customizable tribute to the memories shared with your best friend, band mates, you name it. Commemorate a life event by gifting Vintage Guitar magazine from an exact month and year. Browse the covers and descriptions of over 250 issues for a specific guitar or player. A well thought-out gift awaits.
Digital Edition Read for FREE in a web browser (Chrome, Firefox, Safari, etc.). The browser edition works on most computers or hand-held devices. Digital FAQ
Over time, Vintage Guitar magazine has become much, much more than the vibrant print magazine in your mailbox. Jump-start that passion for guitar with VG's Media Family the best and brightest selections from VG's vast archive of interviews, instrument profiles, and reviews of the hottest new gear and outstanding new music. See it all →
FROM READERS
Reader Mail Send letters to ward@vintageguitar.com or mail to: Vintage Guitar, Inc. Attn: Reader Mail, PO Box 7301, Bismarck ND 58507.
Readers Gallery Send your photos to: doug@VintageGuitar.com or mail to: Vintage Guitar, Inc. Attn: Readers Gallery, P.O. Box 7301, Bismarck, ND 58507. Readers submit photos with the understanding that they may be used in any VG, Inc. project. Due to the volume of photos we receive, we are unable to return them, please do not send us your only print.
Guitar Shows
Click on an event to see more information. Submit your upcoming event info to this form. See full calendar and past show photos at www.VintageGuitar.com/Upcoming.

VG Youtube Uploads