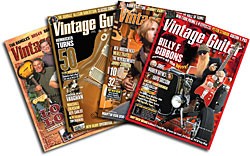 Vintage Guitar magazine
Vintage Guitar is the largest magazine dedicated to those who love the great guitars of yesterday and today. Each monthly issue contains features on collectible instruments, great collections, interviews with players, technical articles, brand and model histories, product reviews, and much more. Each issue also has over 300 ads from dealers and manufacturers from all across the U.S. and from overseas. That means Vintage Guitar advertising works! And it's very affordable. Over 34,000 copies of VG are distributed each month to subscribers, musical instrument stores, large book chains, newsstands, and guitar shows. With an average of 1.9 readers seeing each copy of the magazine, your ad is exposed to almost 70,000 people, and if they're reading Vintage Guitar, every one is a potential customer!
Vintage Guitar magazine Mechanical Requirements
---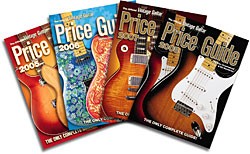 VG Price Guide 2014
Thousands of guitar enthusiasts buy the VG Price Guide and use it continuously throughout the year. Thousands more are referring to it at guitar shows, guitar shops and of course at the local bookstore with a cup of java. Their heart is racing in anticipation of finding the guitar of their dreams listed among the thousands of entries. If only you could be there every time, to assist these people in owning that instrument. You can! Get 'em while they're in the mood, put your ad right in the face of the buyer. When they look up their favorite instrument, your ad is in their hands. Who are they going to call?
Advertising in the Price Guide is an easy and profitable way to sell more gear. The fact that space is very limited (less competition), gives you even more exposure. Call now while there's still space available.
VG Price Guide 2014 Mechanical Requirements
---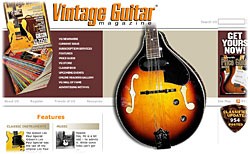 vintageguitar.com
Vintage Guitar offers you three simple ways to connect with the customers you want and with more than 70,000 unique users per month, advertising on www.vintageguitar.com makes good business sense.
Banner Ads
If customers can't find your website, all the work you put into setup and maintenance is wasted. But a banner ad on the VG website puts your name and image at the forefront. You can even choose where your banner is presented. If you already have a banner ad, chances are we can use it. Or we can design one for little additional cost. Call or write for a price quote – we'll put a package together that's just right for you.
Unlimited Online Classified Ads
You can place an unlimited number of ads on our Online Classified Ad pages. Update at your convenience. Your items are even included in our site's search engine, so buyers are sure to find them. Plus, they can view all of your listed items at once. Try it for free today.
Links
If you purchase a banner ad package on our website, or advertise in Vintage Guitar magazine, you qualify for a free listing on our links page.
vintageguitar.com Mechanical Requirements
---
For more information please fill out the form below or call James Jiskra or Greg Brekhus at
1-800-844-1197
All fields with an asterisk (*) are required.