Advertising with Vintage Guitar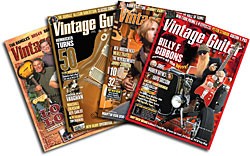 Vintage Guitar magazine
Vintage Guitar is the largest magazine dedicated to those who love the great guitars of yesterday and today. Each monthly issue contains features on collectible instruments, great collections, interviews with players, technical articles, brand and model histories, product reviews, and much more. Each issue also has over 300 ads from dealers and manufacturers from all across the U.S. and from overseas. That means Vintage Guitar advertising works! And it's very affordable. Over 34,000 copies of VG are distributed each month to subscribers, musical instrument stores, large book chains, newsstands, and guitar shows. With an average of 1.9 readers seeing each copy of the magazine, your ad is exposed to almost 70,000 people, and if they're reading Vintage Guitar, every one is a potential customer!
Vintage Guitar magazine Mechanical Requirements
---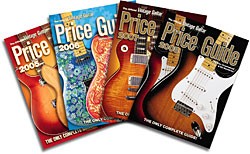 VG Price Guide
Thousands of guitar enthusiasts buy the VG Price Guide and use it continuously throughout the year. Thousands more refer to it at guitar shows, guitar shops, and of course at the local bookstore. Their hearts are racing in anticipation of finding the guitar of their dreams listed among the thousands of entries. If only you could be there every time, to assist these people in owning that instrument. You can! Get 'em while they're in the mood, put your ad right in the face of the buyer. When they look up their favorite instrument, your ad is in their hands. Who are they going to call?
Advertising in the Price Guide is an easy and profitable way to sell more gear. For as little as $507, your ad could be in the hands of these eager buyers. That's just over $42/month to reach tens of thousands of collectors and enthusiasts for an entire year. This, and the fact that space is very limited (less competition), gives you even more exposure. Call now while there's still space available.
VG Price Guide Mechanical Requirements
---
VG Online Services
Vintage Guitar is not just a great magazine but a popular online destination too. Every day more than a thousand individuals stop by the VG website to browse the articles, check on the latest news from the VG newswire, and post their photos resulting in more than 125,000 page views per month. VG also hosts a popular (481,000+ likes) Facebook page.
---
Carry VG in your store
Vintage Guitar is packed with colorful layouts of interviews, guitar histories, equipment reviews, and guitar collections along with our regular features of tech and playing tips, CD reviews, price guide, and news. Call 800-844-1197 to get VG in your store.
---
For more information please fill out the form below or call 1-800-844-1197