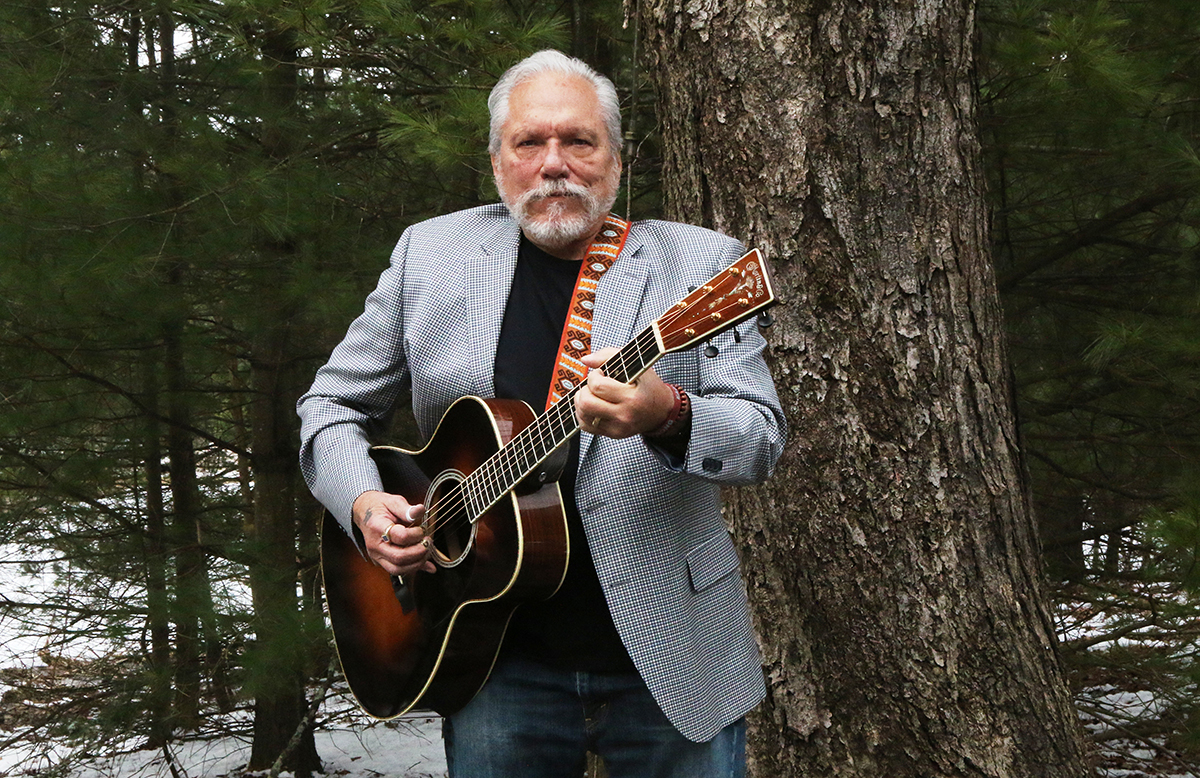 Working with any of the following artists or gear makers? Submit your ad to really stand out!
• Billy F Gibbons
• Jorma Kaukonen
• Jessie Ed Taylor's "Dice" Guitar
• "Oversized" '61 Fender Deluxe
• Magnatone Model 100
• Bruce Forman
• Flat-tops Dressed Cowboy-Style
• POP & HISS: Eat'em & Smile
• FIRST FRET: Reverend Horton Heat, Don Flemons, Popa Chubby, Alex Skolnick, Victor Cabas, Joe Hottinger, Surfrajettes, Steve Tebbetts, Yasmin Williams
• VG APPROVED GEAR: Dynamount X1-R, Fender American Original '50s Telecaster, Fractal X-Load LB-2 Reactive Load Box, Fodera Emperor, Guild Starfire IV ST-12, Honeydripper Amps Sugar Bee, Malinoski Gypsy, Vox MSB25 Mini SuperBeetle

*Subject to change
Holiday Buyer's Guide! • DEADLINE OCTOBER 16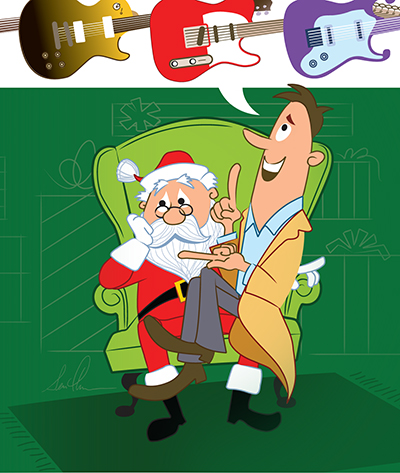 Put your product, store, or service in front of
more than 500,000 guitar fans

just in time for the holidays!

Take part in the "Holiday Buyer's Guide" and your company's product, store, or service gets included in an advertorial in the print and digital issues, two e-blasts, on the VG website, and an enhanced Facebook post. Call your rep today – space is limited! Send your VG rep a hi-resolution photo and up to 60 words of text which can include pricing and web address. DEADLINE: 10/16/18
The Return of "Vintage Guitar Classics"
After a 20-year hiatus, VG Classics is returning as a quarterly digital magazine! It will be highlighted by instrument profiles from VG's massive archive of material going back 30 years, and reach more than 20,000 vintage-guitar enthusiasts! A full-page/full-color ad is only $500. Take action today! Express your interest to a VG rep when you call (800) 844‑1197 8am-5pm CST.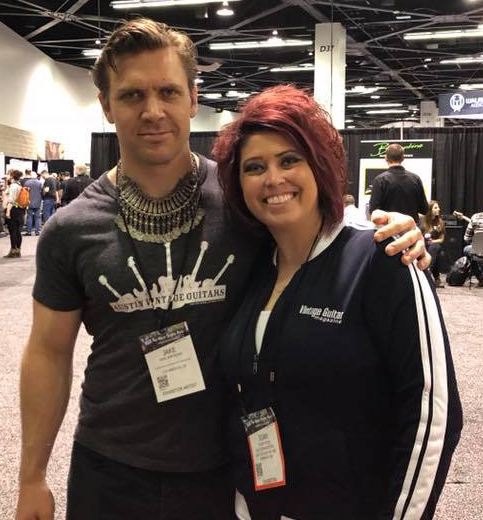 2,000+ copies of the January issue will be distributed to these fine events:
 • Fall Philly
 • Lake County Musician's Swap Meet
 • CNY Guitar Show
 • Michigan Guitar Show
 • Merseyside Guitar Show
Among the hustle and bustle of guitar events attendees freely grab issue(s) of VG as they enter. Your ad in VG will reach pre‑qualified customers — folks who've paid $20 or more of their hard‑earned money to see a room full of guitars and guitar related products. Even if you can't be at the show or event, your product or service can be in front of eyes that matter.
Do. Not. Hesitate. Reserve ad space pronto and submit artwork before VG's devoted staff meets crunch time on October 12, 2018. The January 2019 issue is currently in progress; note our advertising opportunities and article features. Pay attention to where BONUS distribution is headed.
Cover Date
Deadline
Status
November 2018
—closed—
View Now
The Official Vintage Guitar Price Guide 2019 Learn more →
—closed—
Order Now
December 2018
—closed—
In Mailstream
January 2019
10/12/18
In Progress
February 2019
11/14/18
Pending
March 2019
12/12/18
Pending
Updated 10/01/18. Magazines arrive in mailboxes approximately the 15th of each month.
Frequently Asked Questions
How do I add my guitar show to the magazine and website? Simply submit your info to this form or e-mail JoanT@VintageGuitar.com. All submissions must be received by the 10th of each month, or they will appear in the next available issue. This listing is done as a service to our readers and we reserve final determination as to its contents.
How do I submit my recording for review? Submit a recording for potential review by simply filling out this form and our review staff will be in contact with you.
How do I offer my product for review? Submit a product for potential review by simply filling out this form and Dennis Pernu will be in contact with you about your product.
I have some new and cool gear. How can VG promote it? Gearin' Up is the perfect place to put your gear in front of eyes that matter. Simply fill out this form – the VG staff will soon contact you.
How do I place a classified ad? DEADLINE for submission is the 10th of each month. VG Classifieds are FREE for VG subscribers. Start a subscription for just $24.95 and submit your FREE listing! Non-subscribers must pay $50.00/listing. Submit a Classified at https://store.vintageguitar.com/classifieds-submission.html or contact Joan at JoanT@VintageGuitar.com or 1-800-844-1197.
I would like to carry VG products in my store. Music magazines, like VG, are a proven traffic generator for music stores, but the distribution system is outdated. The Vintage Guitar team designed the 5‑Pack and Box of 6 to greatly simplify the system for retailers! For more info call Joan at (800) 844‑1197.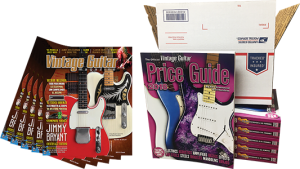 Be the coolest music store on the street with our hassle-free way to stock VG's fine products using VG for Retailers →
As you are made aware each day, the world of music retailing is constantly changing. Use VG's 32 years of being in business to help navigate these changes – introducing the brand new, hassle‑free 5‑Pack and Box of 6! Music magazines, like VG, are a proven traffic generator for music stores, but the distribution system is outdated. The Vintage Guitar team designed the 5‑Pack and Box of 6 to greatly simplify the system for retailers!
Expose your ad to the people reading the print and digital editions of Vintage Guitar magazine →
Vintage Guitar is the largest magazine dedicated to those who love the great guitars of yesterday and today. Each monthly issue contains features on collectible instruments, great collections, interviews with players, technical articles, brand and model histories, product reviews, and much more. Each issue also has over 300 ads from dealers and manufacturers from all across the U.S. and from overseas. That means Vintage Guitar advertising works! And it's very affordable. Over 65,000 copies of VG are distributed each month to subscribers, musical instrument stores, large book chains, newsstands, and events. With an average of 1.9 readers seeing each copy of the magazine, your ad is exposed to almost 130,000 people – every one is a potential customer!
"It's my most effective advertising tool; I get calls from people reading the magazine everywhere from Europe to the swampiest parts of middle America. Every time a new issue is delivered to readers, I get calls." – Nate Westgor, Willie's American Guitars
Thousands of guitar enthusiasts buy The Official Vintage Guitar Price Guide and use it continuously throughout the year. Thousands more refer to it at guitar shows, guitar shops, and of course at the local bookstore. Their hearts are racing in anticipation of finding the guitar of their dreams listed among the thousands of entries. If only you could be there every time, to assist these people in owning that instrument. You can! Get 'em while they're in the mood, put your ad right in the face of the buyer. When they look up their favorite instrument, your ad is in their hands. Who are they going to call? Advertising in The Price Guide is an easy and profitable way to sell more gear. The fact that space is very limited (less competition), gives you even more exposure. Call now while there's still space available.
Space reservation: August 23, 2019 (unless the ad space is already gone!)
Materials: August 30, 2019.
Vintage Guitar readers have real buying power – much more than just internet "views." Reach these potential customers using VG Online Services →
Vintage Guitar is not just a great magazine but a popular online destination too. Every day more than a thousand individuals stop by the VG website to browse the articles, check on the latest news from the VG newswire, and post their photos resulting in more than 110,000 page views per month. VG also hosts a popular (487,000+ likes) Facebook page.
Print and Social Media Readers
Our Readers' Stats

Magazine Readership

 65,207

Facebook

 487,000

Instagram

 40,600

Twitter

 13,000

Website

 110,000 uniques monthly

Average age

 53

• Level of Playing

  Pro: 10.3%

  Semi-Pro: 18.6%

  Experienced: 38.3%

• 47.6% of Vintage Guitar readers report a household income of more than $100,000 per year!

• 77% refer to the magazine when making buying decisions.

• 83% plan to buy one or more guitars this year.

• More than 54% plan to buy one or more amps in the next year.

• 83% purchase pedals.

• 56.8% own basses.

• VG readers will spend more than $63 million on new gear this year!