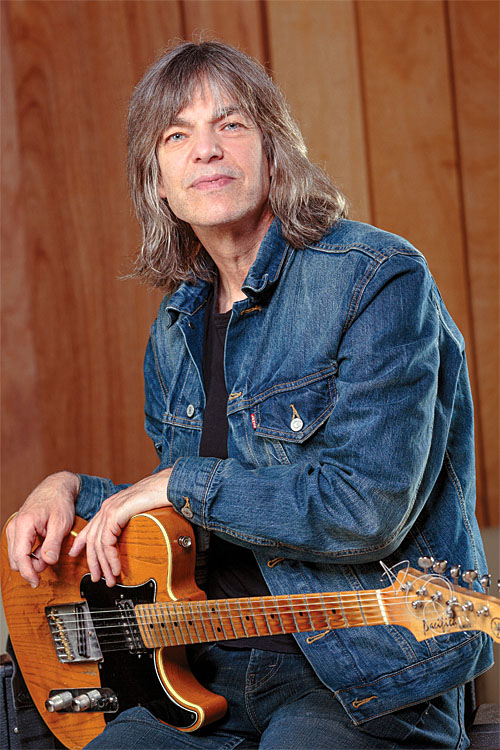 Mike Stern made his name playing with Blood, Sweat & Tears, Jaco Pastorius, Miles Davis, and others, carving a notable solo career while constantly seeking to broaden his musical voice. On his latest album, Eclectic, Stern pairs with rock guitarist Eric Johnson; the former engaging his rock side while the latter explores his jazz influences.
How did you and Eric Johnson get together?
We played on my Big Neighborhood record. I loved the experience, and for years we talked about doing more together. I went to a couple of his gigs, and we'd occasionally meet and say, "Hey, one of these days we gotta do something together."
It went so well on Big Neighborhood that we fell into this tour a couple years later. It went well, and we said, "Let's just record." This was with Anton Fig on drums and Eric's bass player, Chris Maresh. We did the record and it went very good. It was kind of live, but not overly worked.
The idea was to play what we were playing live and use the studio for touching up stuff, adding a rhythm part here or there, or fixing a couple things. We left in a lot of the rough edges, which is what I always try to do. I've always done records where everybody's there, playing live. We were inspiring each other to do that. Eric sounds beautiful.
How did you choose songs?
We had a good feeling about playing together live, so when we went into the studio, we felt we could experiment. I brought some tunes, Eric brought some tunes, and we wrote a couple specifically for the project. I wrote lyrics for the first time on a record. It's called "Roll With It," and I recorded it as an instrumental first, then wrote words. Singer Malford Milligan was available and it worked out.
Your wife, guitarist Leni Stern, sings on the record, as well, and sounds great.
She's awesome. She inspires me so much. She's always trying different things and she's very adventurous with music. She got a Malian instrument called a ngoni (banjo-guitar), and started playing it. Eric is a big fan of hers and said, "Let's record some stuff." We were very happy with it and they were all first takes.
What gear are you currently using?
I'm using a Fender '65 reissue Twin Reverb, which I also used on the recording. I use an old Yamaha SPX90 for a chorus sound; I use it for one patch. I'm also using a signature guitar Yamaha made for me. It's a copy of a copy of my original Telecaster, which I got from Danny Gatton. Before that it was Roy Buchanan's. It was a great guitar that was stolen when somebody pulled a gun on me in Boston. I started using a spare made by Yamaha. They make really good guitars.
What's next?
I'm going to do more recording. I don't know when. I have a bunch of new tunes, so I'll figure out something. I just want to keep it happening.
---
This article originally appeared in VG's March 2015 issue. All copyrights are by the author and Vintage Guitar magazine. Unauthorized replication or use is strictly prohibited.
---