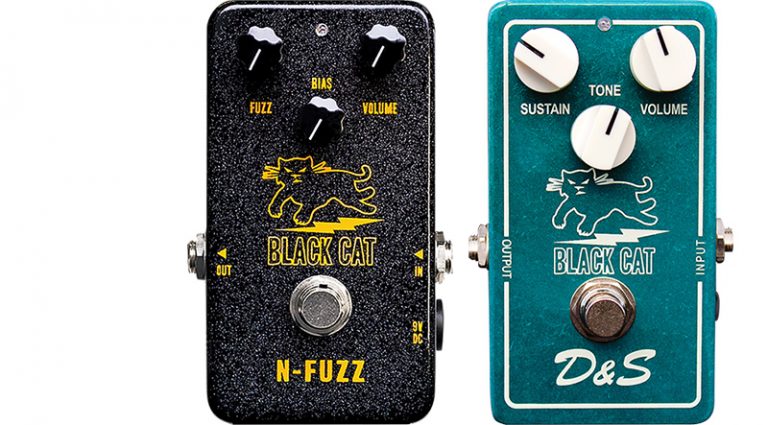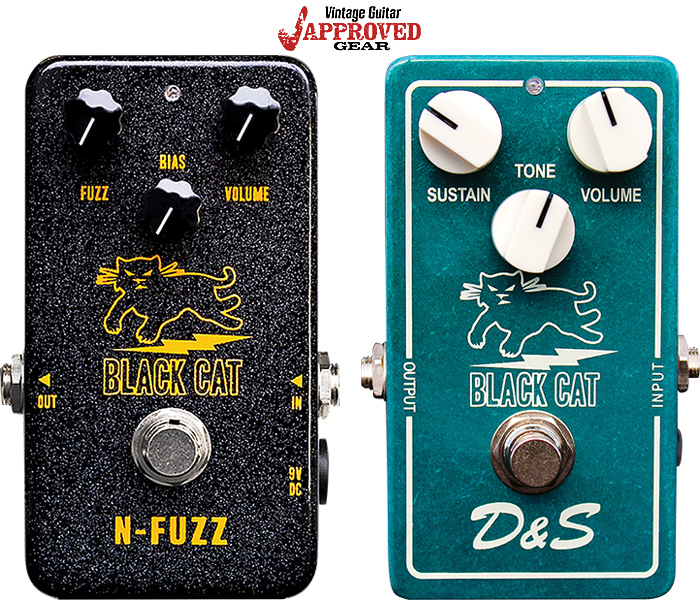 Located in south-central Connecticut, Black Cat blends an ear for vintage tones with an eye toward modern function and bulletproof construction. On the fuzz front, they have captured two distinct period flavors with a pair of versatile stompboxes.
The D&S is a modern replica of a 1974 Maxon D&S (distortion and sustain), which itself was a Japanese clone of the venerable Electro-Harmonix Big Muff in a compact chassis more akin to an MXR pedal. In addition to the Maxon's smaller size, its tone controls offered more control of the effect compared to the uncontrollable bass rumble of the raging Big Muff.
In that spirit, Black Cat kept the D&S circuits intact. This new version sports metal film resistors and Nichicon electrolytic capacitors; 3PDT true-bypass switch and Switchcraft jacks; 2.1mm Boss-style power jack or internal 9-volt battery; stacked metal film caps; and the same Toshiba 2SC1815-BL transistors that Maxon used more than 40 years ago.
On the outside, the D&S looks pretty conservative, but don't be fooled – plugged in, it's a ferocious little beast. It has just three controls – Sustain, Tone, and Volume – but they generate a maelstrom, from gentle overdrive to masses of liquid fuzz and distortion. The Sustain knob acts as the gain, or amount of effect added. At the lower end of its range, you get some warm overdrive – not particularly transparent, but that's not what you're after in a fuzz box (anyway, there are plenty of transparent overdrives on the market, like the Black Cat OD-Boost). Increase the Sustain knob, however, and you'll get a wallop of fat fuzz in the Hendrix/Trower mold.
The box is further complemented by modulation pedals, whether a phase shifter, tremolo, UniVibe, Black Cat Vibe, or anything that swirls and stirs your tone. Using a Telecaster through a tremolo circuit of a Musicvox tube amp, we got the D&S to sound reasonably close to Ernie Isley's landmark tone on the 1973 Isley Brothers hit "That Lady." Nicely done, Black Cat.
You'll also want to play around with the Tone knob, which is very reactive and delivers everything from sweet, smoldering "woman tone" to sharp, abrasive fuzz. The circuit has a broad range and will give tone-tweakers plenty of sounds to explore.
Overall, the D&S is a killer Big Muff-style pedal, but one that retains the unique tonal qualities of the '74 Maxon. Highly recommended for those who crave vintage Muff tones.
Black Cat's N-Fuzz is a modern take on the Fuzz Face, one of the classic boxes of the late '60s, but again with Black Cat's unique Asian-stompbox spin. For example, they use premium Japanese electrical components (hence the N in N-Fuzz… for "Nippon"). It also features a wide-range bias control, a powder-coat "Holographic Sparkle" finish, and, like the D&S, 3PDT true-bypass switch and Switchcraft jacks and a choice of a 2.1mm Boss-style power jack or internal 9-volt battery.
The N-Fuzz has Fuzz, Bias, and Volume controls. The Bias works as its own volume/tone control. Roll it back and the midrange drops off. Crank it up and you get a blast of mids and volume; at this point, you can control the overall level with the master Volume knob.
At full blast, the Fuzz provides plenty of square-wave love, from garage rock and Jeff Beck-era Yardbirds to early Jefferson Airplane and Hendrix. Still, you can ease back the Fuzz level to find more dynamic flavors, while tone-tweakers will have fun playing with the Bias knob.
Unlike the sweeter sounding D&S, the N-Fuzz excels at delivering rude, gnarly guitar tones. We liked the Fuzz and Bias each at about 3 o'clock, where we found a fat, armor-piercing sound reminiscent of the Moody Blues' 1968 "Story in Your Eyes" featuring Justin Hayward's killer fuzz licks.
Whether you want the '60s vibe of the N-Fuzz or the '70s vibe of the D&S, both pedals offer rock-solid builds, ample features, and cool, quiet finishes that let the circuits do the talking. Better yet, neither is a one-trick pony. These Black Cat boxes are versatile and useful for fuzz-hungry guitarists everywhere.
---
This article originally appeared in VG January 2016 issue. All copyrights are by the author and Vintage Guitar magazine. Unauthorized replication or use is strictly prohibited.
---