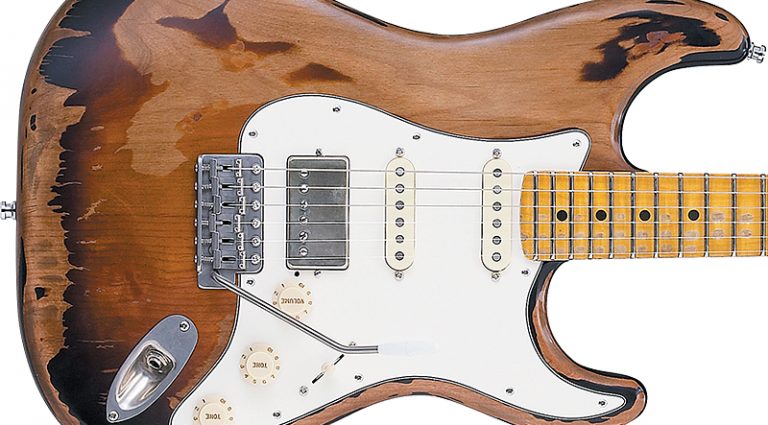 Like the "aged" guitars crafted by Fender and Gibson, this ESP solidbody looks like an ancient road warrior, one that's gigged from Texas to Tijuana and back again, 200 nights a year. The GL-56 is actually a fresh entry in ESP's line of George Lynch guitars, this one sporting the appearance of a modded old Strat. But is this seemingly aged axe a gimmick or a real, viable tone tool? Let's find out.
The general specs on the guitar are distinctly Fenderesque: a bolt-on maple neck with a 25.5″ scale and alder body. As for its "modded" qualities, the neck features 22 extra jumbo frets and a 42mm bone nut, along with nickel hardware, and Sperzel locking tuners. A nice touch is the contoured heel to allow for better upper-fret access. On the other end of the guitar you'll find a Gotoh bridge and an SSH pickup configuration featuring a Seymour Duncan Pearly Gates humbucker in the bridge position and two ESP SS-120 single coils in the neck and middle slots.
Finally, there's that glorious, well-beaten finish, known at ESP as a "distressed two-tone burst." Whatever you call it, it's still gorgeous. The implied fingerboard wear is highly seductive, as are the faux belt-buckle gouges, crackly vanish, hints of rust on the humbucker, and other signs of delicious abuse and neglect. The plastic knobs and pickup covers have been cleverly "yellowed," too.
How's she sound and play? Like a dream. While your brain may look at this newly aged finish and say, "marketing gimmick," your hands and ears say, "Ahh… vintage." The GL-56 really has that played-in feel of an ancient player, something indescribable, other than to say it feels right. The fingerboard is super fast (a hair too fast for me – I'd suggest bringing the action up if you want more bending room). And the choice of pickups is sweet – it can accommodate everything from old-school Jimi chords on the neck and middle pickups to shreddin' Yngwie and Lynch licks on the bridge. The vibrato bar is satisfactory, too, thanks to the Sperzels. But you should be aware that it's a "down only" bar, which limits the number of whammy tricks it can do, but some players prefer the connected feeling of having the back edge of a vibrato bridge sit flush on the body.
Suffice to say, this ESP axe is a joy to play. Maybe the pseudo-vintage finish tricks the mind in a sense, but you can't argue with the results – this is a bitchin', badass guitar and, in this reviewer's opinion, worth the expense. (The company also makes a more affordable model called the GL-256, but it doesn't have the same depth of aging that goes into this model or the same premium hardware.) In any case, you might want to get your hands on a GL-56 and see how it rides for yourself. Not many of us can afford $15,000 or more for a real vintage beater, but for a fraction of that, ESP offers a guitar that feels pretty damn close and sounds like a monster, too.
---
This article originally appeared in VG's November 2008 issue. All copyrights are by the author and Vintage Guitar magazine. Unauthorized replication or use is strictly prohibited.
---