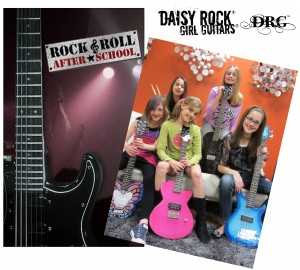 Daisy Rock Girl Guitars recently donated one of it Black Debutante Elite guitars on behalf of Vicki Peterson (The Bangles), in support of the Rock & Roll After School music education program in Phoenixville, Pennsylvania.
Rock & Roll After School is a music school where kids ages 7 to 18 can learn guitar, bass, drums, piano, and vocals. The organization's band program affords kids the opportunity to join a band and rehearse for a performance in a professional venue. The Black Debutante guitar supports the pursuits of young people in the program as they learn and play their own music.
"We are so honored to be able to donate a Daisy Rock Black Debutante Elite guitar in the name of Vicki Peterson from the all-girl legendary band, The Bangles," commented Tish Ciravolo, President and Founder of Daisy Rock Girl Guitars. Whenever Daisy Rock is asked to be a part of an organization such as Rock & Roll After School, whose sole mission is to bring the gift of music to children, we are thrilled to help in any way we can."
As part of the music experience, Rock & Roll After School music school also operates five weeks of camps during the summer, hosting more than 100 kids every year. For more , visit rockandrollafterschool.com  and daisyrock.com.