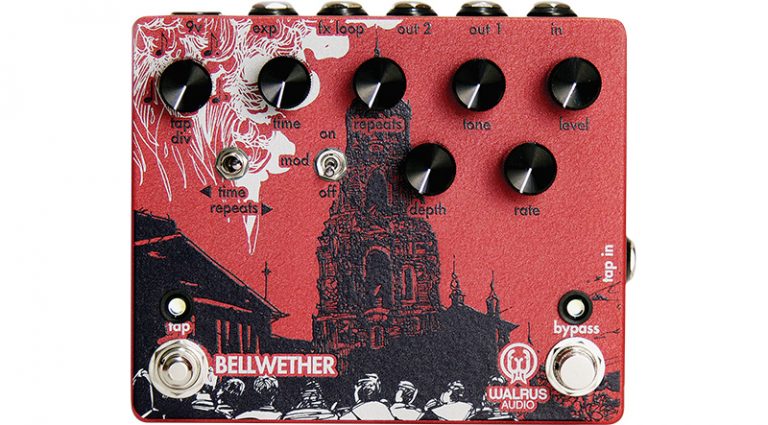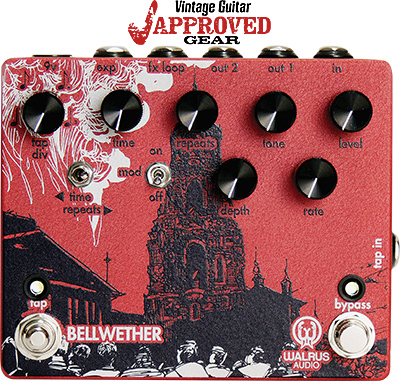 The Bellwether from Walrus Audio is a high-end analog delay notable for its tone, adaptability, and depth of control. The pedal's capabilities will exceed many players' needs, but the Bellwether is well worth a look for any musician with the desire (and the pocket change) for a delay effect that answers more serious demands.
None of the features that differentiate this delay would be worth much if the pedal didn't have great tone of its own. The Bellwether offers an organic sound capable of re-creating natural rooms, slappy chambers, and airy atmospheres with up to 1000ms of delay time. Dark tones – sometimes lush, sometimes just muddy – are characteristic of bucket-brigade analog delays like this one, but the Bellwether has the advantage of a Tone knob to add presence when you want a clean, rhythmic edge on the repeats.
Switching on the Mod toggle engages the pedal's Analog Chorus Engine, which adds a modulation effect to the wet signal (without affecting the dry). We loved that this circuit includes controls for Depth and Rate, allowing us to color the repeats with mod effects stretching beyond chorus and touching on vibe, light flanging, and rotary. Thanks to an F/X Loop jack on the rear panel, there is no limit to the effects that you can add to the Bellwether's repeat trails.
The Tap Division knob sets the meter of the delay (quarters, eighths, dotted eighths, or triplets), the Time knob controls tempo, and Repeats determines how many repeats are generated, as on most delays. There's a soft-click Tap button with a blue blinker, and a Tap In jack for syncing the Bellwether to another timed effect or other external source.
With an expression pedal attached (not included), either the Time parameter or the Repeats parameter can be manipulated by foot, depending on the selection of the Time/Repeats toggle. Let's say that again: At the flip of a switch, you can alternate an expression pedal's function to control the tempo or the number of repeats. Such flexibility invites some exciting opportunities to improvise with delay on the fly – another perk to working with a delay that is eminently controllable.
If you're looking for a set-and-forget stompbox to achieve a specific delay quality, the Bellwether is way more pedal than you need. The price sends that message pretty clearly. But if you want more control so that you can manipulate delay effects and open the door on a world of possibilities, the Bellwether sets a high standard in versatility, playability, and aural richness.
---
This article originally appeared in VG January 2016 issue. All copyrights are by the author and Vintage Guitar magazine. Unauthorized replication or use is strictly prohibited.
---