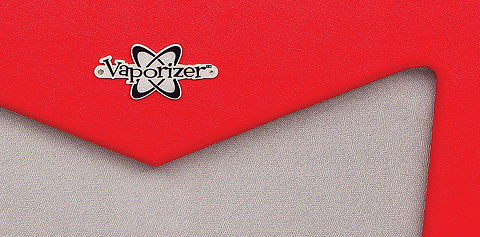 Fender's Vaporizer Amp
Price: $399.99 (street)
Info: www.fender.com
Given the popularity of smartphones, tablets, digital recorders, and amp modeling in today's music industry, when it comes to guitar amps, what was once "old school" is "retro cool" and remains incredibly popular among players young and old alike.
Fender's new Vaporizer all-tube combo amp takes retro and shifts it into high gear with a post-war Space Age vibe and rocket-fuel tone. From the wedge-shaped cabinet (available in Surf Green, Rocket Red, and Slate Blue) to the midcentury bow-tie grille cutout and rugged luggage handle, the Vaporizer looks like a prop right off the set of a 1950s sci-fi flick. Even the rear of the amp features a throwback V-shaped panel with an integrated tube shield and a hang tag that warns the user of impending "Vaporization."
Inside, the Vaporizer uses a pair of 10″ custom ceramic speakers powered by a pair of 6BQ5/EL84 power tubes producing 12 watts; a genuine tube-driven spring reverb circuit; Normal and Bright input jacks coupled to TV-style Volume, Tone, and Reverb knobs; a pair of 12AX7 preamp tubes; and a footswitch-able "Vaporizer" circuit with jewel-light indicator. This Vaporizer circuit completely bypasses the Volume and Tone controls, resulting in full-on overdrive, as if the Volume and Tone control is dimed with an overdrive pedal on top of it.
The Vaporizer was tested with a Fender American Vintage '65 Reissue Strat loaded with a trio of stock single-coil pickups and a Gibson Les Paul Standard sporting a pair of Gibson Burstbuckers.
In normal un-Vaporized mode, the Volume and Tone controls navigate the user through a very responsive and lively preamp with clear jangly top-end, tightly focused low-end, and punchy in-your-face mids with an abundance of natural overtones. With the Volume control turned all the way up, there was a nice touch-sensitive and moderately thick overdrive easily controlled and cleaned up with either pick attack or with the guitars' volume controls. The amp's single Tone control rolled off just enough high-end to keep the tone from getting too brittle (especially with the Strat's bridge pickup) and without cutting into the amp's overall gain/drive or its thick overtones.
Kicking the amp into Vaporizer mode with the included footswitch resulted in a thicker, higher-gain overdrive/distortion. Because this mode bypasses the amp's Volume and Tone controls (though not the Reverb) the high end can get a bit harsh, again, more so with single-coil pickups than with humbuckers, but the guitar's controls make quick work of toning down the highs. Also, the amp is definitely loud in Vaporizer mode, but not out-of-control loud; in a band or gig situation it probably would be just right, but at home in your bedroom it might be a bit much.
The amp's two custom ceramic magnet speakers add to its sonic output and its punchier midrange tone and tighter bottom end, resulting in a nice mix of classic Fender tone and British midrange bite. The spring reverb circuit is also classic Fender: crisp and clean with nice depth for that extra-wet sound, and it's driven independently of the amp's Volume control, so no matter where the Volume control is set, even in Vaporizer mode, the wet-to-dry reverb blend stays the same.
The Fender Vaporizer has a very nicely executed retro aesthetic design, stellar player-friendly features, and a super-lively touch-sensitive tone – all sure to launch your hottest licks into next galaxy.
---
This article originally appeared in VG July 2014 issue. All copyrights are by the author and Vintage Guitar magazine. Unauthorized replication or use is strictly prohibited.
---