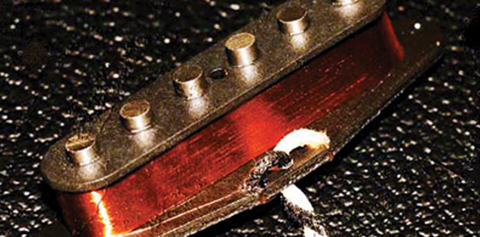 In 2011, session guitarist Joshua Hernandez began winding pickups in his living room. From these modest beginnings, and with no desire simply to replicate the sounds of vintage pickups, Hernandez went a step further and set out specifically to build modern pickups suited to the sonic idiosyncrasies of Stratocaster-style guitars – or, as Hernandez puts it, "waking up anemic Stratocasters" with single-coil pickups, humbuckers, and P90s. Thus HomeWrecker Pickups was born.
Today, Hernandez also builds pickups for Les Paul- and Telecaster-style guitars, but Strat-style guitars remain the intended destinations of HomeWrecker's five flagship pickups: the neck-position Valentina, the bridge-position HW Durden, and the bridge-position Money Shot (all humbuckers); and the neck-position Mean Bean and Crooked Halo (both single coils). For the purpose of this review, all were installed in two Strat-style guitars and a 1978 Yamaha SG2000 (for good measure), and tested through a Fender '66 Pro Reverb, a '65 Fender Deluxe Reverb, and a Peavey JSX 120-watt head.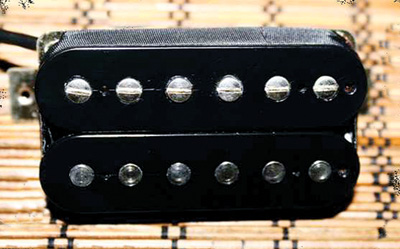 Valentina
The neck-position Valentina is Hernandez's modern take on vintage humbuckers. It has a vintage vibe yet it's also clear and soulful, and it doesn't crack under pressure. Calibrated specifically for the neck position, the Valentina features alnico 4 magnets, which take out the boomy lows, provide better touch response, and allow the player to clean up his or her sound with the volume knob.
With a Valentina installed in the neck position, the SG2000 (HomeWrecker humbuckers are available in both standard and F spacing) came alive with more volume, a fuller and earthier ambience, and more clarity than the hubucker it replaced. At 7.4k, it's a medium-output pickup perfectly suited for ZZ Top-style grit or robust jazz tones.
Influenced by '50s and '60s Les Paul and Ibanez Super 70 pickups, the Valentina is voiced with less bass and more mids and highs. The upper register is very clear, while the vibration from the low strings is balanced and doesn't overpower the bridge pickup. Compared to true vintage models, however, it's clearer, more defined, and less noisy. It cuts through a heavy band mix without being icepicky. The Valentina also loves distortion making it a very versatile pickup.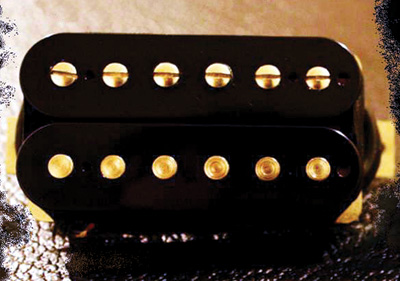 HW Durden
The HW Durden bridge pickup is HomeWrecker's higher-output (14.5k) Swiss army knife , covering a lot of territory without cutting corners in the pop, rock, or metal departments. Utilizing Alnico VIII magnets, it has a firm top-end that never feels peaky and plenty of low mids (a sonic theme in Hernandez's sound; for those who don't share this predilection, he'll wind pickups to accommodate personal tastes).
The HW Durden cleaned up very nicely in the test Strats, yet sounded mean and visceral when copious amounts of dirt were added. With light gain, it offered a smooth, singing quality for clean blues with very little compression, while the extra low mids added fullness and chunk. Crunching through a high-gain amp resulted in George Lynch-style fun, while heavy chord work elicited thick overtones and plenty of tight, articulate warmth and definition.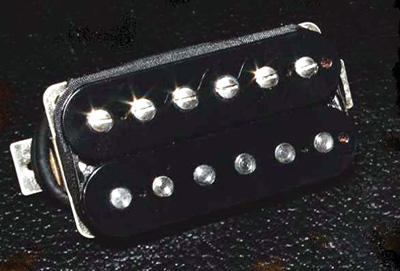 Money Shot
Falling into the high-output (16.8k) bridge-pickup department, the Money Shot has anger issues, screaming without shrieking as artificial harmonics leap from the fretboard. Soloing is a breeze – the Money Shot puts out a smooth, organic grittiness and effortless sustain that makes one want to quote "Eruption" or perhaps join an Ozzy tribute band.
Despite the Money Shot's love for the loud and dirty, it can also provide some very clean chicken pickin' tones. It has more low mids than the HW Durden, and while it pushes a slightly nasal quality through a clean amp, it doesn't sound muddy, abundantly harsh, or overly compressed. The Alnico VIIIs serve the Money Shot well, giving it rugged warmth, malleable dirt, and natural low mid compression. This pickup gives more than your typical blues or rock player may need, but for the hard rock or metal player who appreciates nuance, musicality, and ear-friendly burn, it's aces.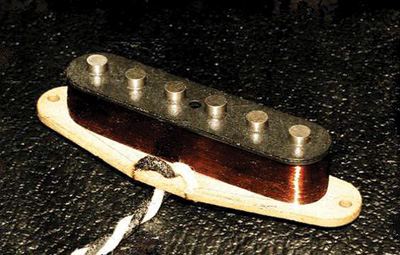 Mean Bean
Sporting non-staggered Alnico V magnets and an output level of 6.7k, the Mean Bean is HomeWrecker's Texas tribute. A bigger and better-focused reimagining of the Fender Texas Special pickup, it's specifically dimed to work well with overdrive for spectacularly dirty blues. In addition to sweet sustain with gorgeous overtones, it gets high marks for capturing crystalline but hearty sounds through a clean Deluxe Reverb. While the Mean Bean is a very traditional-sounding single coil when used with clean settings, it doesn't crap out or get buzzy when you step on the overdrive.
The Mean Bean's slightly scooped character accentuates the strengths of its Alnico Vs. Although higher in output than traditional single-coils, the Mean Bean is smooth and buttery, but very expressive when unleashed with some grind. It's perfect for Strat players who need a combination of warmth, sweetness, and added volume for neck-position soloing.
Perhaps not surprisingly, the Mean Bean is marketed with plenty of Texas tone references, but it has its own personality – a blend of cozy low mids, snarling sustain, and balls. The winding pattern makes it quieter than normal in high-gain situations, but used in ultra-clean settings, Jimmie Vaughan-style single-note snap and jazzy Eric Johnson flourishes are also possible.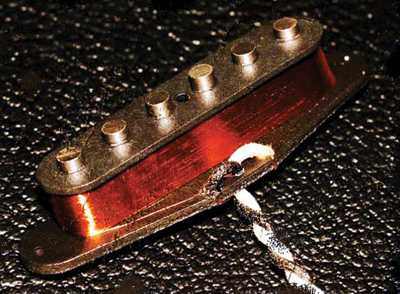 Crooked Halo
Sort of like the Mean Bean's mellower little brother, the Crooked Halo has the same wind pattern platform, and output as its older sibling, but comes with staggered Alnico II magnets. Equally effective in the neck or middle position, the Crooked Halo is the real deal. Slightly warmer than the Mean Bean, it has a rounder top end providing the kind of classic spank heard on Buddy Guy records. The Mean Bean and Crooked Halo also work in conjunction with each other, offering bona fide classic Strat tones with depth reminiscent of Mark Knopfler when in the pickup selector's fourth position. Played through the abovementioned amps in a variety of settings, country twang, shimmering chime, and bubbly quack are all present and accounted for.
Less than two years on, Joshua Hernandez's understanding of classic tones, the special characteristics of Strat-style guitars, and market niche has resulted in a series of quality hand-built pickups. HomeWrecker's five flagship pickups are contenders to rouse slumbering Strats for years to come.
---
This article originally appeared in VG March 2013 issue. All copyrights are by the author and Vintage Guitar magazine. Unauthorized replication or use is strictly prohibited.
---