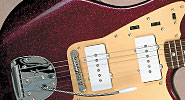 Introduced in the late 1950s as Fender's "jazz guitar," the Jazzmaster was also supposed to compete in the market with Gibson's semi-hollow ES line. But despite its very specific moniker, the guitar never caught on with the jazz crowd.
Lucky for Leo, the Jazzmaster was hijacked by many of the top surf and instrumental bands of the late 1950s and '60s (i.e. the Ventures) and in the 1970s and '80s by punk/alternative rock bands and artists (i.e. Elvis Costello.
Along the way, it also occasionally gained favor with harder-edged rock players. One prime example is J. Mascis, lead guitarist for Dinosaur Jr., the indie rock guitar icon credited with keeping guitar leads in rock music.
At last month's NAMM show, Fender debuted the J. Mascis Jazzmaster, an interesting derivative based on Mascis' personal guitar. Not only does it boast a cool metallic purple finish with matching headstock, but it offers a handful of new features like jumbo fret wire, a flatter (9.5" radius) fretboard, satin poly-finished neck, and Fender's Adjusto-Matic bridge. Otherwise, the guitar is classic Jazzmaster with its offset-waist body, gold-anodized pickguard, dual Vintage Reissue single-coil pickups, vintage-style floating vibrato, three-way pickup toggle, master Volume and Tone controls with separate "rhythm" circuit, as well as a 25.5"-scale bolt on maple neck with a rosewood fretboard.
For the uninitiated, the Jazzmaster's electronics have always employed the "rhythm circuit" in the cluster of controls on the upper bass bout portion of the pickguard. Engaged via a slide switch, it switches the guitar's output from being controlled by the three-way toggle and volume/tone controls to run only the neck pickup with its own volume and tone controls (the two thumbwheels next to the slider switch). This allows the player to go from a darker, softer pre-set "jazz" sound with neck pickup, to a brighter, hotter lead sound with any pickup combination simply by flicking the slide switch.
If you're familiar with the Jazzmaster's bridge, you'll likely appreciate the Adjusto-Matic unit the Mascis models gets in place of the original pivoting version. This floating bridge pivots on two pointed set screws inside a concentric bottom socket that allows the bridge to move side to side when using the vibrato. This ensures tuning stability. The problem with the original system is when you play the guitar hard (a la Mascis) the bridge is subject to forces that can move it to one side or the other, which affects intonation. Plus, with aggressive playing, strings were prone to jumping out of the old-style threaded-rod saddles, monkeying up string spacing and causing tuning problems.
With typical use, the solid-pinned Adjusto-Matic bridge stays in tune, and doesn't affect the stability of the vibrato even with aggressive playing.
Upgraded hardware aside, the most impressive feature of the JMJ versus a standard reissue Jazzmaster is its playability; the combination of jumbo frets, flatter-radius fretboard, lower action and satin-finished neck make it a breeze to play. And per Leo's original intent, the '60s-style C-shape neck and body contours are very comfortable whether sitting down or with the guitar strapped on. And a tight neck joint along with Kluson-style tuning machines make for very little touch-up tuning.
Through a Chicago Blues Box Roadhouse head (12AX7/5881/6L6/EL34) and a Hard Truckers Fatty 2×12" cabinet, the JMJ's bridge pickup produced a strong, bright spanky tone with fair amount of low-end punch, excellent for picking clean lead lines, while the middle switch position (which is humbucking) had a thick lush planky sound, ideal for chording and palm-muting. The neck pickup produced a darker, fatter, very usable jazz tone.
Using this guitar in a jazz situation would likely mean using its "rhythm" circuit, which would prove handy to pre-set dark soft-chording sound, then let a player pop into a full, round, lead sound.
Through the overdrive channel of a 6L6-powered Crate Blue VooDoo, the JMJ's bridge pickup produced crunchy, cutting single-coil sounds with plenty of attack and sustain, while the middle position produced a rounder, higher-output sound good for rhythm work (especially considering the setting is humbucking), but still cutting enough for solos. The neck pickup gave a solid overwound-neck-pickup sound that was full without being muddy. Under high gain with the Volume control all the way up, the pickups can become a bit microphonic, squealing slightly to let you know you're too close to the amp. But it never becomes uncontrollable.
Workmanship is typical Fender Japan, with a flawless finish, clean/level frets, and tight-fitting components.
In all, the J. Mascis Jazzmaster is fun and offers killer looks and playability, whether drenched in reverby surf tune or cranked through a half-stack.
---
Fender J Mascis Jazzmaster
Price: $1,199.99 (retail)
Contact: Fender Musical Instrument Corp., 18860 E. Chaparral
Road, Suite 100
Scottsdale AZ 85250-2610;
www.fender.com.
---
This article originally appeared in VG October 2007 issue. All copyrights are by the author and Vintage Guitar magazine. Unauthorized replication or use is strictly prohibited.