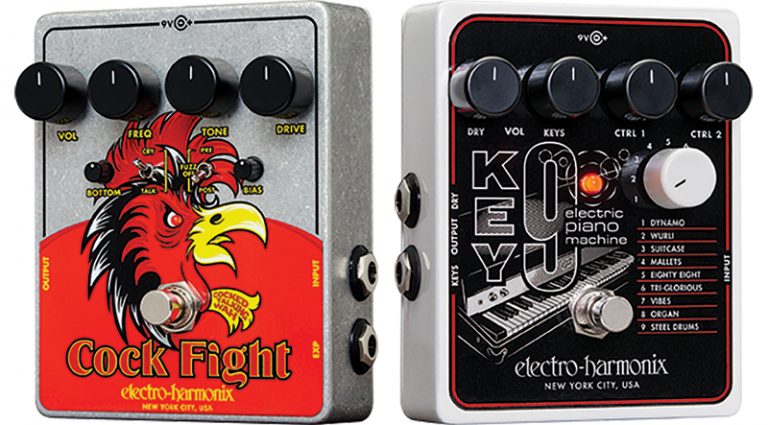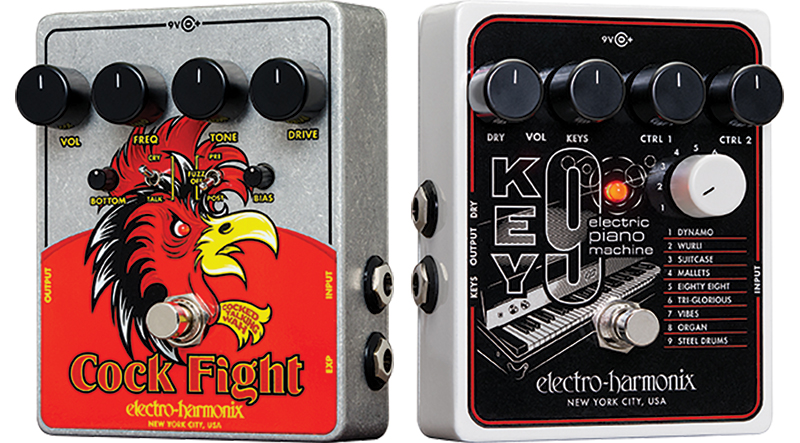 When it comes to sweet retro tones, the wizards at Electro-Harmonix (EHX) have been busy again, turning out a fresh pair of wonders just dripping with '70s and '80s vibes. One of these, the Cock Fight, reproduces the vintage tones of cocked-wah pedals, while the Key9 is the latest in EHX's impressive line of keyboard simulators for guitar.
The Cock Fight is well-named – a feisty pedal scrappin' for action. The idea is to replicate the classic tones of Tony Iommi, Michael Schenker, Brian Robertson, and Slash, players who knew how to deploy a conventional wah as a booster for solos, setting it in a single position and letting its powerful EQ and boosting qualities make solos and riffs even hotter. Similarly, Jeff Beck used a wah with cleaner textures to make licks from his Blow By Blow era funkier than anything else.
The Cock Fight's powerful EQ control manages the sweep of the wah effect, but rather than using their foot, the player can pick the desired tone. There are also Tone and Volume controls, but the genius of the Cockfight is that the EHX folks also put a full-blown fuzzbox in there, allowing the user to go to Marshall-town via the Drive knob.
Other goodies include a Bottom knob for extra bass; Cry/Talk tone filter and Pre/Post Fuzz toggles; and a Bias control. Pre Fuzz yields a warmer vintage crunch, while Post is abrasive and decidedly modern grit. Bias is even wackier – turn it up for a full, beefy flavor or down for that sputtering, dying-battery sound. For a more conventional wah approach, just plug in an expression pedal. The Cock Fight is a killer pedal and a blast to play with.
The idea behind the Key9 is to let guitarists add electric-piano sweetness to their grooves, replicating various Fender Rhodes, Wurlitzer, and Mallets bringing to mind John Paul Jones' tremolo-laced piano on Led Zeppelin's "No Quarter." The "Eighty Eight" setting is a dead ringer for the Doors' "Riders On The Storm," and there are Organ and even Steel Drum settings, among others, for creative guitarists whose bands need more atmospheric texture.
Each setting comes with two level controls: one for the Dry guitar and the other for the wet Keys. CTRL 1 and CTRL 2 knobs control preset effects like tremolo or phase shifter. There's a different combination for each simulation. Another amenity on the Key9 is a Dry guitar output to differentiate the signal from the wetter Keys out.
Keep in mind that the Key9 will sound different through different amps and PAs, and is geared more for cleaner tones. That said, the box's tone is impacted by picking technique, attack, and pickup settings, resulting in a fairly broad palette of keyboard textures. Better yet, there's no "triggering" involved, as with a guitar synthesizer – this is all your actual playing.
The Cock Fight and Key9 will expand your guitar's range without much effort. The Cock Fight will be popular with everyone from rockers to funk stylists, while the Key9 is the ticket to vintage electric-piano sounds with a certain amount of guitar flavor mixed in. Guitarists in cover bands who desire keyboard textures will particularly dig this pedal, especially fingerstylists who can play bass and melody notes in a piano-like manner.
---
This article originally appeared in VG December 2016 issue. All copyrights are by the author and Vintage Guitar magazine. Unauthorized replication or use is strictly prohibited.
---