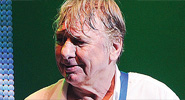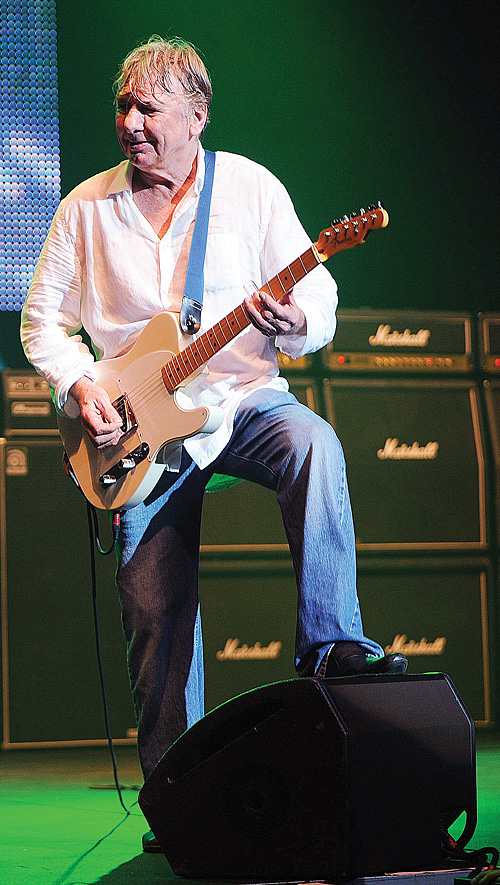 Guitarist Mick Ralphs, whose pulverizing riffs were first heard in the late '60s in the original Mott the Hoople, has charged back into the limelight.
Mott was a ferocious quintet, and one of the most highly-underrated bands of that era. Ralphs' six-album experience in the band was followed by his tenure in Bad Company, a supergroup that formed in '73, and was signed to Led Zeppelin's Swan Song label. The membership also included vocalist Paul Rodgers and drummer Simon Kirke (both ex-Free) and bassist Boz Burrell, formerly of King Crimson.
Bad Company scored numerous mega-hits, but also went through various personnel changes over the years. The original foursome regrouped in 1999 for a limited tour, after which Ralphs and Burrell opted to get off the road.
"After the '99 tour, I recorded a bunch of songs at home, playing all the instruments which were subsequently released on two albums, It's All Good and That's Life – Can't Get Enough, on Angel Air Records," Ralphs recently told VG. "After that, I toured with (former Mott vocalist) Ian Hunter, which was great! I have a lot of love and respect for the man – he's such a great writer, and a wonderful person."
A heart attack claimed Boz Burrell in 2006, and the remaining members of the original Bad Company regrouped for a 2008 concert in Florida. A DVD documented that effort, and while they noted the memory of their former bassist, his death wasn't the primary reason for the reunion.
"It was a means to re-establish the name Bad Company with the remaining three members, to avoid any other versions of the band trading as Bad Company," the guitarist explained. "Obviously, Boz was dearly missed by all of us… and I still miss him terribly."
Supplementing the original threesome were guitarist Howard Leese (formerly with Heart) and bassist Lynn Sorensen, both of whom have played with Rodgers for a number of years. The reunion gig went so well the members decided to tour. However, Ralphs had another reunion to coordinate, as the original fivesome of Mott the Hoople was slated for a series of performances in England in late 2009, so he quickly worked into that project, as well.
As it turned out, the Pretenders' Martin Chambers played drums at the Mott the Hoople shows, due to original drummer Dale "Buffin" Griffin's health problems. Griffin sat in for the encores.
"It was well-timed," Ralphs said of the Mott reunion. "I had just finished a U.S. Bad Company tour and went straight into the Mott rehearsals!"
A 2010 Bad Company tour of England offered an opportunity for a first-ever live recording by the remaining original members (with Leese and Sorensen still onboard), and the documentation took place on the tour's final stop, at Wembley Stadium.
"It seemed appropriate to record the band live in the U.K., since we never put out a live album in the day," said Ralphs.
The result was Bad Company Live at Wembley (Eagle Rock), a tour-de-force document of a veteran band in fine form. The CD proffers 15 of the band's classics, and the DVD includes "Burnin' Sky" and a bonus feature of interviews with band members.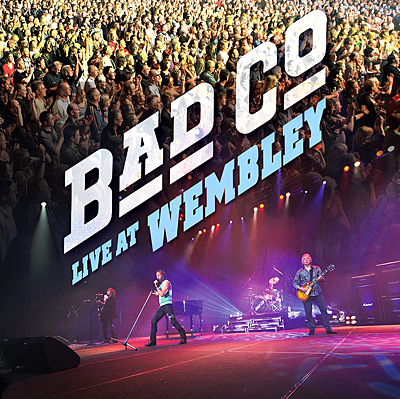 Some things don't change over the decades…
"I still love my Gibson Les Paul and my old Fender Esquire, so why change?" he said. "I have been using a '58 (reissue) chambered Les Paul for about four years now, and it's the best-sounding Les Paul I have ever played, including some of the vintage '58 and '59 guitars! The '57 Esquire is used on the songs with open-C tuning, like 'Movin' On,' 'Can't Get Enough,' 'Honey Child,' etc."
"Seagull" is an acoustic presentation featuring just Rodgers and Ralphs, who plays his Yamaha LLX16, which he describes as "a very nice guitar."
Ralphs is upbeat about the way Bad Company Live at Wembley turned out, but further tours by that aggregation aren't in the offing. He does, however, plan on continuing to perform.
"There are no plans for BadCo at present," Ralphs said. "But I've put together a blues band – called the Mick Ralphs Blues Band, amazingly (laughs) – and it's great, playing the blues with a great bunch of guys. There's Dicky Baldwin on bass, Sam Kelly on drums, Jim Maving on guitar, and Stuart Maxwell on harmonica and vocals. We'll be doing gigs in the U.K. in the fall."
---
This article originally appeared in VG December 2011 issue. All copyrights are by the author and Vintage Guitar magazine. Unauthorized replication or use is strictly prohibited.
---