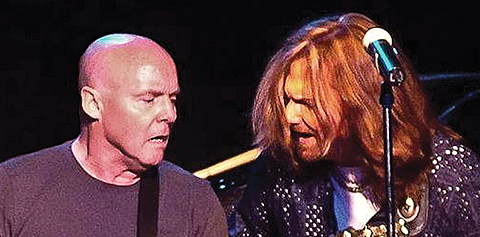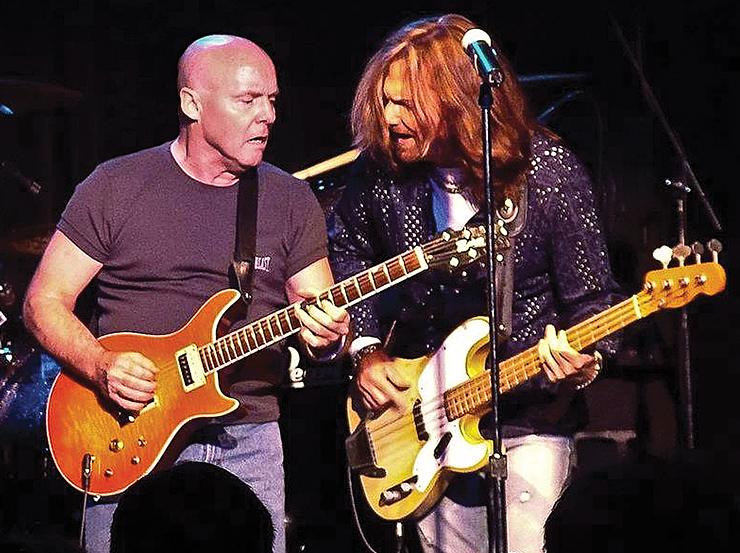 Ricky Phillips has many fond memories of his friendship and musical association with Ronnie Montrose (1947-2012). The bassist is finishing a recording project by the late guitarist on which he had participated prior to joining Styx.
Montrose and Phillips met in the early '80s, but didn't collaborate until 20 years later, when Montrose needed a bassist.
"Chuck Wright recommended me as his replacement after he went on the road with Alice Cooper," Phillips said. "We dug into the Montrose material and played the hell out of it – got to the point where arrangements changed by a mere glance from Ronnie and we'd go face-to-face, trading riffs.
"New song ideas began to emerge from that interaction; it was like being back in the '70s, with free-form jamming using Montrose material as the constant."
Drummer Eric Singer settled into the percussion position between gigs with Kiss and Alice Cooper. In late 2003, Phillips got the call from Styx. By the time he departed, however, the three had recorded several tracks in a unique manner…
"We loaded in our gear with the premise to catch a vibe and keep everything analog, as pure as possible, with no click tracks and no overdubs," he said. "In other words, if we liked the vibe of a take and there were subtle mistakes or imperfections, so be it. Some tracks were barely discussed before we laid them down, never rehearsed, and performed only that once, while they were being recorded."
Phillips is now completing those tracks as a tribute to Montrose.
"Since taking over production, I've listened to the tracks many times. I thought they were good back then, but they sound better than I recalled. Ronnie's approach was spot-on. He knew advances in technology were becoming a crutch, and didn't want it to alter the work and dilute the brew.
"Now, my focus is to carry on with Ronnie's wishes."
The concept, as named by Montrose, was 10/10 – 10 songs with 10 singers. Some vocals were recorded more than a decade ago, while others were recent. "Ten years in the making," Phillips reflected. "Maybe we should call it 10/10/10."
Numerous guitarists are also contributing. 
"Ronnie wasn't able to get to all of his solos or do any incidental rhythm overdubs, so my job lately has been to find guitarists and singers Ronnie loved, to complete the project. So far, Joe Bonamassa, Marc Bonilla, Rick Derringer, Tommy Shaw, Brad Whitford, Mark Farner, Joe Elliot, Leslie West, and Dave Meniketti have helped. The one connection I'm being insistent on is that we use the guys Ronnie was into, and had talked about.
"He loved this project," Phillips added. "When he was sick, he didn't pick up his guitar for two years. But, before he died, he started talking about it again, and was excited about finishing, excited about the future."
Two months after Montrose's passing from cancer, Phillips participated in a memorial concert for him. He remembers getting the call from Montrose's widow, Leighsa.
"I was definitely going to be there. Neal Schon and Steve Smith were in, and we decided to do something together. I think Steve suggested 'Open Fire,' which he recorded with Ronnie, and of course, Ronnie's masterpiece arrangement of 'Town Without Pity.' Ed Roth played keys on it, and did a fantastic job; he and Ronnie were very close.
"I hadn't worked with Neal since our Bad English days, and I hadn't played with Steve since we used to jam when the Babys and Journey toured together."  
The event (a DVD of which was released in late 2013) included reunions of the mid-'70s Montrose band (with Sammy Hagar as lead vocalist) and his later band, Gamma.
"The Montrose set was very strong," Phillips said. "Sammy never disappoints. And the Gamma set was great stuff; Marc Bonilla really captured the intensity of Ronnie at that time in his career."
Other guitarists at the event included Joe Satriani, Jeff Watson, Tommy Thayer, and Frank Hannon.
"I thought Frank did a great job on 'Frankenstein,'" Phillips noted. "Everybody was good, but Frank's guitar work, mimicking the synthesizers, was pretty cool. No one was given any time to really fine-tune anything, and I commend everyone who showed up at this event and cared enough to devote their time to the memory of Ronnie Montrose. To get on that stage and perform in a kamikaze back-line format is tough to do. I think everybody did great, and I was proud of them all."
Phillips is focused on completing the 10/10/10 project, and notes that he's doing his best to do what Montrose would have done.
"I need to feel I have his blessing on each decision or that he would approve, and feel we're still on track," the bassist said.
---
This article originally appeared in VG August 2014 issue. All copyrights are by the author and Vintage Guitar magazine. Unauthorized replication or use is strictly prohibited.
---