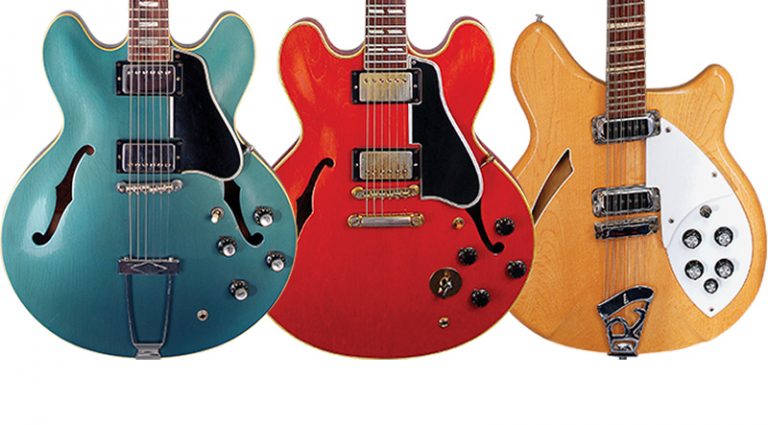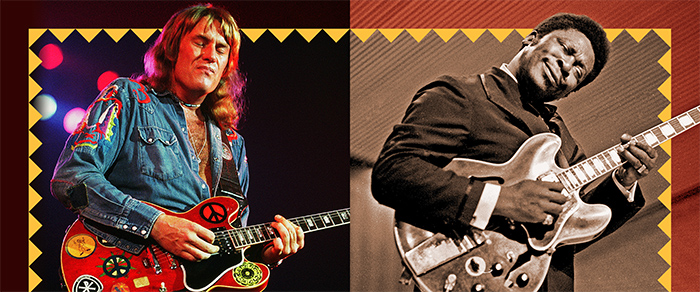 The semi-hollowbody electric guitar is one of the most revered axes in the plugged-in universe, offering the playability of a solidbody with the warm, woodier tone of a fat archtop. Yet the term "semi-hollow guitar" is somewhat confusing, as few can agree on a precise definition. There is the classic design of the Gibson ES-335 – a thin-body guitar with a solid-wood "center block" under the pickups and two hollow wings to create a bit of air and resonance. Yet there are also thinline hollowbodies with no center block, as well as a huge variety of chambered guitars with f-shaped sound holes or routed body pockets to provide weight relief and a slightly airier tone.
Like some personal relationships, the world of semi-hollowbodies is… complicated. In that light, let's check out some great thin designs and the master guitarists who wielded them.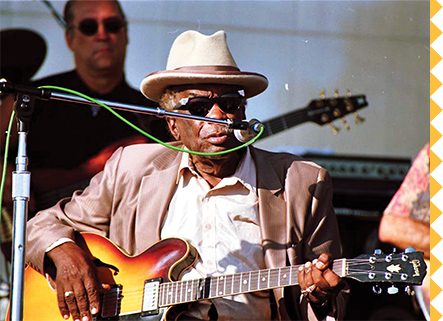 Post-war Blues Power
If you think blues and guitar heroes, B.B. King instantly jumps to mind. For decades, the American guitar legend used a Gibson ES-355 (the "ES" being short for "electric Spanish"), later spinning off the "Lucille" model that comes sans sound holes to control feedback. There were other great post-war players who used semis, such as Texas tornado Freddie King, who used ES-345 and 355 models with the Varitone switch that offered a range of tonal possibilities. John Lee Hooker boogied deep on an ES-335 and later endorsed the Epiphone Sheraton. And you can't talk about Chicago blues without mentioning the great Otis Rush, who laid down the law on a red lefty Epiphone Rivera and a 335.
Other important blues men on the semi-hollow train included Robert Lockwood, Jr., Magic Sam, and Americana master Clarence "Gatemouth" Brown, who used a semi-hollow Washburn HB35 later in his career. Today, the post-war tradition is being upheld by Gary Clark, Jr., who has a signature Epiphone Casino (the Blak & Blu model, a thinline hollowbody with dog-ear P-90 pickups).
Country Jazzboxes
While Fender Telecasters and Bass VI baritones are considered quintessential country axes, many of the top pickers of the late 1950s and '60s had jazz aspirations, making the thinline and semi-hollowbody a fine choice. One of those country-jazz monsters was Hank Garland, who co-designed the Gibson Byrdland hollowbody and had a hand in creating the Gibson ES-345 Stereo and a one-off six-string bass called the EB-6. The session giant played on radio hits for Patsy Cline and Elvis Presley, but was also a killer jazz player in his own right – his 1961 album, Jazz Winds from a New Direction, remains a must-own bop record and gave a peek at Garland's 345 on the cover.
Of course, the name Chet Atkins is synonymous with the Gretsch thinline hollowbodies, among them the Country Gentleman. Aside from George Harrison, Chet helped sell more Gretsch guitars than anyone on the planet. Other Nashville powerhouses to use ES-335 semi-hollowbodies were legends like Grady Martin and Harold Bradley, as well as Roy Clark, who shredded on Gibsons for years. These days, the 82-year-old picker has a Heritage Roy Clark semi with a Venetian cutaway and a floating center block (not attached to the back). It's a gorgeous instrument.
Fender is primarily known for solidbodies, but has dabbled in the airy world of chambers and semi-hollowbodies. In 1968/'69, the company rolled out the Fender Telecaster Thinline, a cool chambered electric identified with Buck Owens – king of the Bakersfield Sound – as well as singer Conway Twitty. It's still in production today, under both the Fender and Squier brands, fitted with either traditional Tele pickups or Fender Wide Range humbuckings.
In the early '70s, the company tried its hand at a genuine semi-hollowbody with the offset, maple-clad Starcaster. Its most popular proponent back then was Leo Nocentelli of the Meters, but it's now back in production and players from Radiohead, the Killers, and the Arctic Monkeys all jam on the humbucker-loaded axe. It should be noted that jam-band hero Trey Anastasio plays a custom Languedoc Ollandoc semi-hollow, inspired in part by that kooky Starcaster vibe.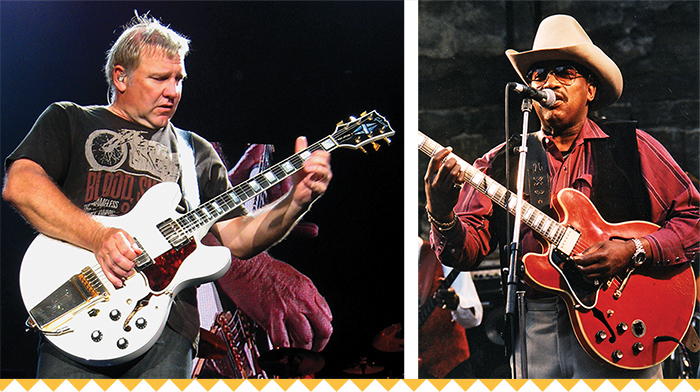 Hollow Tones in Jazz & Pop
Initially, bop guitarists of the '50s and '60s were skeptical of these newfangled thinlines, but once they caught the semi fever, they never looked back. Similar to the way we associate B.B. King with the ES-355, we think of Larry Carlton with another Gibson ES. Thanks to his warm tone and melange of jazz, rock, blues, and pop, Carlton has long been known as "Mr. 335" and his sumptuous playing on '70s Steely Dan records remain a high-water mark for tasty improvisation (such as in "Don't Take Me Alive," "Kid Charlemagne," and "Aja"). Not far behind him were other ES aces like Lee Ritenour and Robben Ford, both of whom raised the bar of thinline tone, taste, and style. In fact, check out the Yellowjackets' "Monmouth College Fight Song" to hear Ford play one of the finest 335 solos in recorded history – it's a zig-zagging fusion masterpiece.
The field of jazz-rock is fine place to find semi-hollow virtuosity, such as from John Scofield, the funk-fusion wizard who's played Ibanez semis forever. The man's chunky grooves and wickedly complex improvs on Ibanez JSM-10 and JSM-100 models have captivated fans for decades. Still one of the world's finest jazz guitarists, Philadelphia flash Pat Martino played fatbody archtop and solidbodies early in his career, but in recent decades has employed single-cutaway signature semi-hollowbodies from Benedetto and Gibson. There's also fusion pioneer John Abercrombie, who has deployed a variety of beautiful semis from Brian Moore Custom Guitars and Rick McCurdy (who also builds for jazz figures Sheryl Bailey and Kurt Rosenwinkel).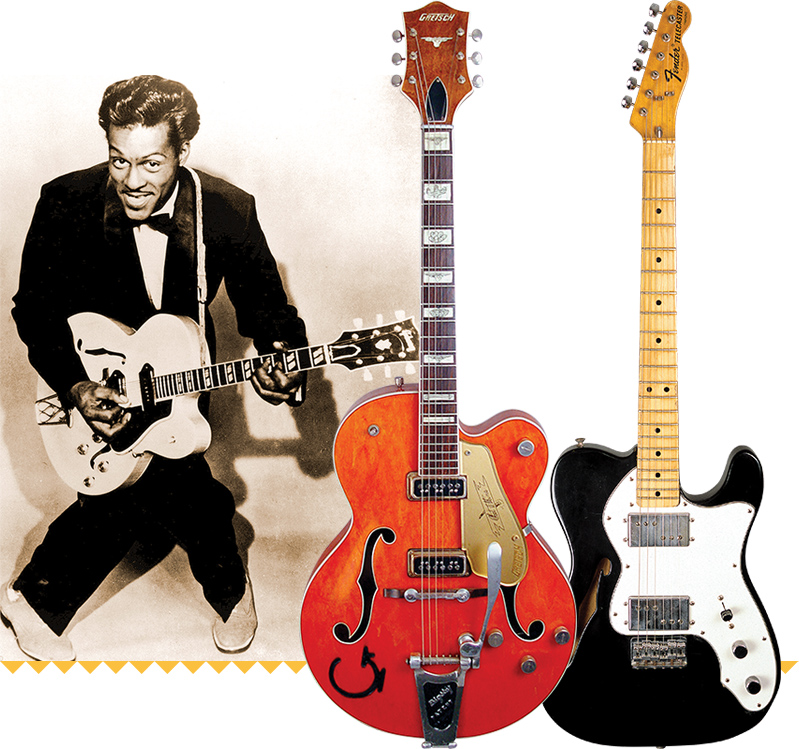 Rockin' the Box
Once post-war guitarists learned how to pump up the volume and increase the tempo, they set about finding the proper tone tools for this new thing called "rock and roll." Solidbodies had been around since 1950, yet early rockers like Bill Haley and even Chuck Berry stayed with big archtops, cutting their early classics with a fat Gibson ES-350T. Berry later discovered the new ES-335, as well as various 345 and 355 models. Believe it or not, the man is still riffing today at age 89.
Prior to Berry, Gretsch was making a chambered electric called the model 6128 Duo Jet, which wound up in the hands of a rockabilly cat named Cliff Gallup, who in 1956 cut a few records with singer Gene Vincent; Gallup's blazing licks on "Be Bop-a-Lula" and "Race with the Devil" helped write the rockabilly textbook.
Another Duo Jet devotee was a Liverpool lad named George Harrison, who used a '57 model with a Bigsby vibrato on "Please Please Me," then appeared with it on the cover of his 1987 solo album Cloud Nine. Harrison, along with fellow Beatles John Lennon and Paul McCartney, were all semi-hollow and thinline devotees, deploying Gretsch, Rickenbacker, and Epiphones throughout the Beatles' career. Indeed, you can't talk about Beatles guitar music without mentioning the sunburst Epiphone Casinos – true hollowbodies that lack a center block – played by Harrison and Lennon (who later had his Casino stripped to a natural finish and used it at the Beatles' final "rooftop" concert in January, 1969).
Thanks to Harrison, Rickenbacker's 360/12 became a trademark sound in classic rock. The venerable electric 12-string was used by Roger McGuinn of the Byrds, Tony Hicks of the Hollies, Brian Jones, Pete Townshend, Tom Petty, Jeff Buckley, and Mike Rutherford of Genesis, among countless others. Further into the '60s pop sphere, you'll find Trini Lopez, whose Gibson was like an ES-335 but with a Firebird-style headstock and cat's eye sound holes. One modern player with deep '60s-pop roots is Johnny A, whose cool signature Gibson has a double-cutaway body, Bigsby vibrato, figured-maple top, and 57 Classic humbuckers.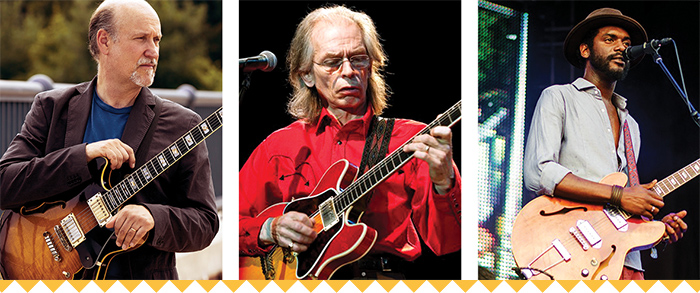 Feedback Fighters
The semi-hollow design hit its stride in the post-Beatles rock landscape. Perhaps its most iconic user was Eric Clapton, whose red '64 ES-335 was a key part of his rig in the later days of Cream, including at the trio's farewell gig as well as in Blind Faith and his mid-'90s return to hard blues. Slowhand eventually auctioned the guitar for $847,500 – that's how important it became. In Clapton's wake came a tidal wave of ES users, among them Ritchie Blackmore (during his early Deep Purple days) and ES-345 journeymen like the Jefferson Airplane's Jorma Kaukonen, Bob Weir of the Grateful Dead, Elvin Bishop, and one-time Be Bop Deluxe axeman Bill Nelson. Still recording actively, Nelson now has his own Eastwood Astroluxe Signature and also plays Peerless semi-hollows.
You can't talk about the Gibson ES-345 – a stereo model with the Varitone switch – without talking about Alvin Lee of Ten Years After. A high point of the Woodstock movie, Lee's blazing solos on "I'm Going Home" pushed his sticker-laden Gibson into the pantheon of iconic guitars and exposed a generation of players to the concept of "shred." Another speed demon was Steve Howe, of Yes, who used a ES-345 Stereo almost exclusively while recording the band's legendary Close to the Edge album in 1972. A decade later in Asia, Howe wailed on an ornate Gibson ES Artist – a 335-sized semi with no sound holes, double pickguard, off-center fret dots, and active electronics designed by Moog. Another progger, Alex Lifeson of Rush was heavily into semi-hollowbodies in the late '70s, using a tobacco-sunburst ES-335TD ("T" for thinline and "D" for double pickup), as well as a gorgeous white ES-355 during the A Farewell to Kings and Hemispheres era. It gas since become one of his trademark guitars.
In rock, there is a vast parade of semi-hollow and thinline users, including Warren Haynes, Oasis' Noel Gallagher (Epiphone Sheraton), Eric Krasno of Soulive (Ibanez EKM100), and Dave Grohl of Foo Fighers and Tom DeLonge of Blink-182, both of whom have signature models from Gibson and Epiphone, respectively. Of course, you can't talk about this category without mentioning Keith Richards and his badass white '64 ES-345 Stereo and black ES-355 with Bigsby. Both are frontline axes for his Rolling Stones live work. Another great thinline hollowbody is Gibson's ES-125, and its #1 proponent, blues basher George Thorogood. The 125 is a basic box with a P-90 (or sometimes, two P-90s), and Thorogood rocks it, plain and simple.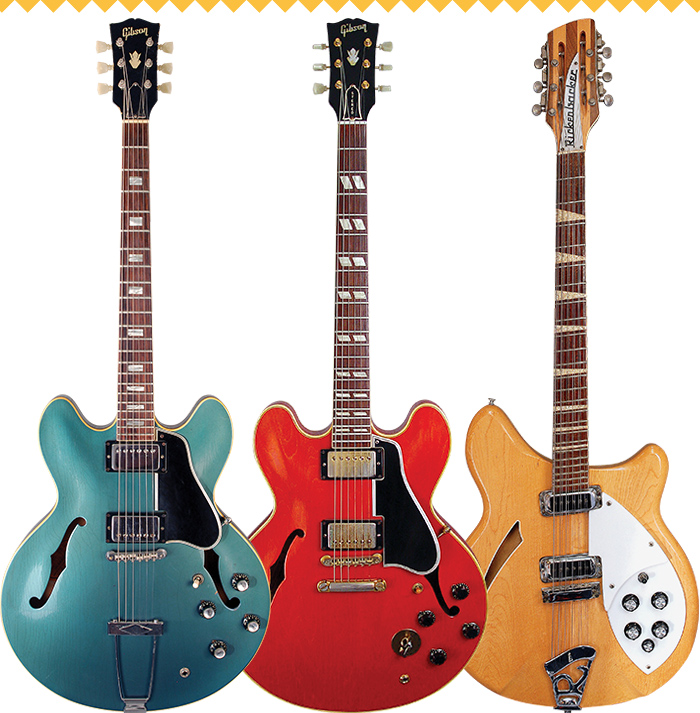 Hollow Tech in the 21st Century
Today, everyone from independent builders to global manufacturers are devising an array of concepts beyond traditional "hollowbody" or "semi-hollow" designs. One thing we're seeing more of is hybrid guitars that combine chambered ideas with solid hardwood or softwood tops, to reduce feedback at higher volumes. Examples include the Taylor T3/B acoustic/electric, the carved-top Carvin SH550, and Paul Reed Smith's P245 Semi Hollow, as well as numerous retro-styled thinlines from Eastwood, Peerless, Duesenberg, and so on.
Dial in the revival of Fender's Telecaster Thinline and chambered Gibson and Epiphone Les Pauls, and you discover a clear trend toward retro-dressed guitars with sound holes – something almost unimaginable 20 years ago. It's even more surprising to see that hollow and semi-hollow electric basses have become fashionable again; Jack Casady – legendary four-stringer from the Jefferson Airplane and Hot Tuna – has used non-solid basses on and off for close to 50 years, including the Guild Starfire, Gibson EB-2 and, most recently, an Epiphone signature model. Manufacturers like Ibanez, Gretsch, Lakland, Fender, G&L, Warwick, and many others are also in the hollow four-string game, all portending to offer something closer to upright-bass tone than their solidbody counterparts.
Whether it's a semi-hollow, thinline jazzbox, or chambered axe, these electric guitars and basses with a little air on the inside are hipper than ever. Players dig the warmer tone and lighter body weight, plus these guitars have an elegant retro vibe that can't be matched. Better yet, today's thin-box revolution appears to be getting bigger all time.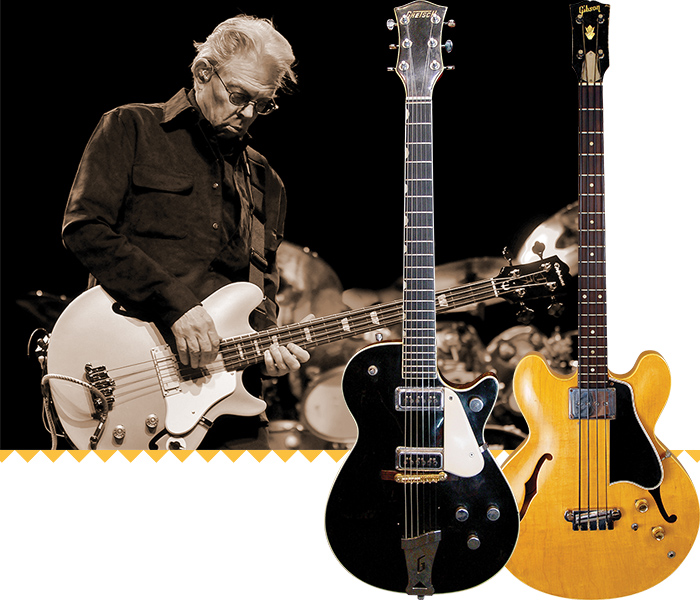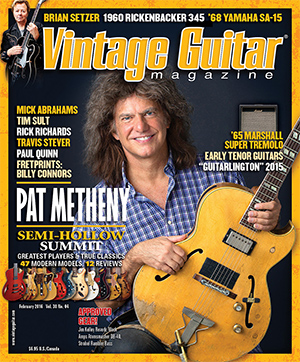 ---
This article originally appeared in VG February 2016 issue. All copyrights are by the author and Vintage Guitar magazine. Unauthorized replication or use is strictly prohibited.
---