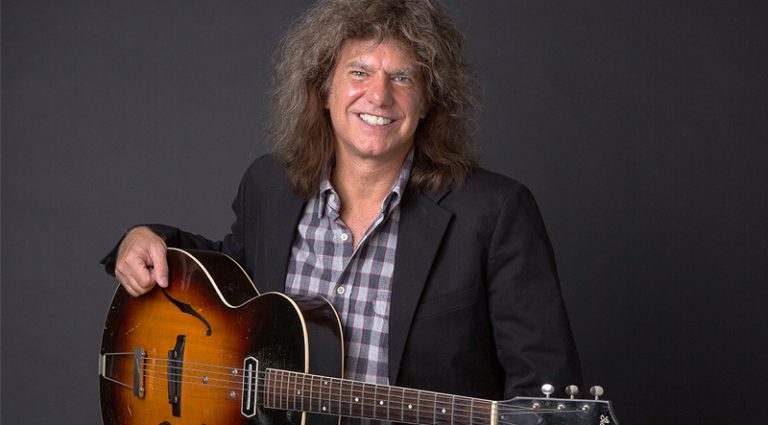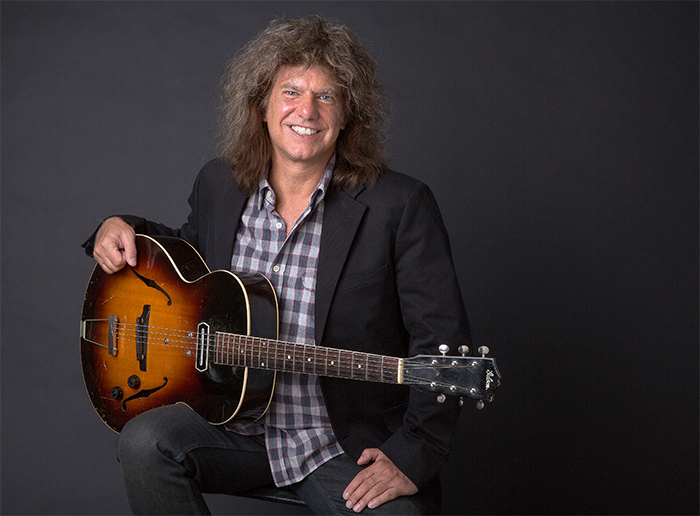 Despite his 20 Grammy awards and crossover popularity, with loyal fans dating back 40 years, Pat Metheny's career path should read "Do not try at home" for fledgling guitarists.
Growing up in Lee's Summit, Missouri, a small suburb of Kansas City, he took up guitar at 13. By his senior year of high school, he was flirting with flunking out because, he admits, he hadn't taken a book home since seventh grade; instead, he was practicing 20 hours a day.
That figure might be a slight exaggeration, but Metheny was dedicated (he says obsessed) enough to impress Dr. Bill Lee, dean of the University of Miami's music school, to offer him a full ride after hearing him play in a Kansas City club. But before Metheny's freshman year was over, he told Lee he was going to drop out. The professor offered the 18-year-old a teaching position.
Not long after, legendary vibraphonist Gary Burton recruited him to teach at Berklee College of Music in Boston, and he soon joined Burton's group, sharing guitar chores with Mick Goodrick. After recordings with Burton and fellow UM faculty member Jaco Pastorius, Metheny's '76 solo debut, Bright Size Life, turned a legion of guitarists' heads. But two albums later, The Pat Metheny Group landed the guitarist on the covers of Downbeat and Musician. And his group – Metheny, keyboardist Lyle Mays, bassist Mark Egan, and drummer Danny Gotlieb – were as close to rock stars as any jazz combo of the past four decades. His rapport with Mays brings to mind Jim Hall's collaborations with Bill Evans, except that Hall and Evans didn't play thousands of live gigs together.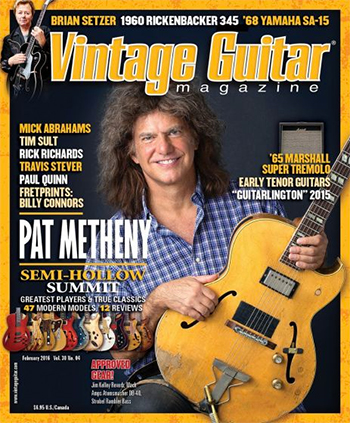 Metheny, born in August of 1954, represented a truly new, unmistakable, individual voice in jazz guitar – on electric and acoustic, as well as being somewhat of a pioneer of the guitar synth. Ridiculously prolific, he has released approximately 45 albums under his own name, and who knows how many splinter groups and appearances he's made on other artists' projects.
But far from resting on his laurels, and hefty record sales, he hasn't shied away from taking chances – the most obvious being 1994's Zero Tolerance For Silence, the melodic master's about-face into an all-guitar orgy of improvised dissonance recorded in one day.
Then there was The Orchestrion Project. The 2012 CD and film were Metheny's modernized version of the coin-operated, human-less music machines of yesteryear. But far from a novelty, Metheny's array – several pianos, drum kits, bells, marimbas, "guitar-bots," dozens of percussion instruments, as well as carefully tuned bottles – was triggered by his guitar, programmed to follow his lead.
Metheny has worked with a who's who of jazz and non-jazz luminaries, including Burton, Pastorius, Kenny Garrett, Michael Brecker, Charlie Haden, Ornette Coleman, Billy Higgins, Steve Swallow, Abbey Lincoln, Jack DeJohnette, Dewey Redman, Joshua Redman, Roy Haynes, Brad Mehldau, Joni Mitchell, Herbie Hancock, Sonny Rollins, Tony Williams, Bob Moses, David Bowie, John Zorn, Eberhard Weber, Milton Nascimento, Chick Corea, the Heath Brothers, Dave Holland, Marc Johnson, Cassandra Wilson, Bruce Hornsby, Steve Reich, and brother/trumpeter Mike Metheny. The list of artists who've recorded his compositions is even longer and wider. In the guitar department, he's collaborated with Goodrick, "Sco" (as he calls John Scofield), Bill Frisell, and Jim Hall.
"If you look at the very long list of people I've had associations with, it's also a list of my favorite musicians," he smiles. "Not only have I gotten to play with them a lot, we're all very close. It's a really great community that I feel lucky to be a part of."
And in 2013, Metheny became only the fourth guitarist to be inducted into the Downbeat Hall of Fame – the other three being Charlie Christian, Django Reinhardt, and Wes Montgomery.
Metheny's most recent release is the DVD The Unity Sessions, with his Unity Band members – bassist Ben Williams, drummer Antonio Sanchez, and saxophonist Chris Potter – augmented by Giulio Carmassi on piano, flugelhorn, and vocals.
The "zone" that creative people speak of, when one soars to a higher level, is definitely familiar to Metheny. "The best musicians I know are also, without exception, the best listeners," he feels. "But the objective, like you see in sports, where somebody's going to hit eight three-pointers in a row, that thing is for real. For me, it's been kind of a mandate of the gig to get to there every night, no matter what. The only thing, from my standpoint, that I can do is sort of, as my dad always said, 'play the odds.' I know in my case that the odds are better that I'm going to be able to get to that if I warm up for two hours before. I think all you can do is hope for the best, play the odds, and in the case of music be a real good listener. That seems to usher in that zone thing. And there's a collective element. The Unity Band with Ben, Antonio, Chris, and me? 100 percent. Every night we got to it. I've never experienced it to the degree that I did with that band. Just a magical combination of people, and it was pretty exciting knowing that we were going to get to that."
On the surface, someone who plays 160 concerts nearly nonstop, each typically around three hours, not counting his two-hour warm-up regimen, would seem like a driven workaholic. But Metheny and his wife of 20 years live on Manhattan's Upper West Side. They have three children and enjoy taking them to the city's numerous museums. And when he's off the road, the jazz legend goes out to hear music – classical music.
He was kind enough to interrupt some down time by talking guitar perhaps more extensively than he ever has, and he allowed VG to shoot some of the more distinctive pieces in his extensive guitar collection.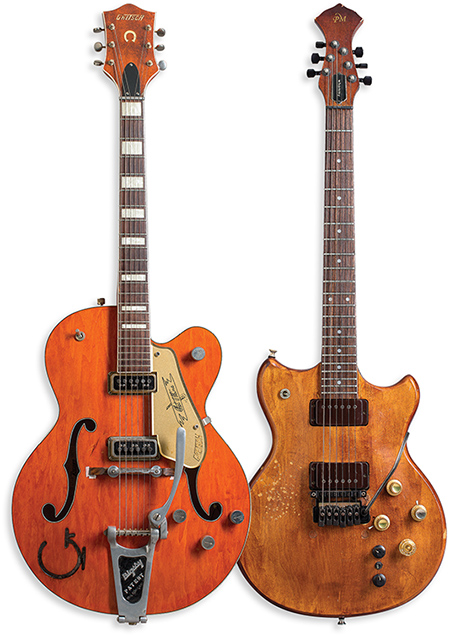 You've referred to the guitar as a "tool."
I'm a proud guitar player, and I know stuff about the instrument. But it's always been a translation device to get ideas out. Ideas and the fundamentals of music – time and harmony and melody – transcend any particular instrument. The guitar, which happens to be this thing hanging around my neck that's been there for 50 years, has become a tool, I guess I would say.
I kind of came through the ranks of Kansas City musicians that I was very lucky to start playing with at a very young age – 14 or 15 years old through the time I got out of high school. So, to a certain degree, I missed a lot of stuff because I was so dedicated. You kind of have no choice but to spend a few years of your life completely immersed in it, if you want to deal with Charlie Parker or John Coltrane and what that language involves to even function. I was deep into that, to the point that I probably missed Jimi Hendrix and a lot of basic guitar stuff, because I was just thinking, "Well, what about Sonny Rollins in 1959?" That was my focus.
I was also very concerned and dedicated to the standard that had been set among my favorite guitar players, like Wes Montgomery, Django Reinhardt, Kenny Burrell, and Jim Hall, who had really found a sound and an identity through their improvising. That seemed to be a non-negotiable aspect of what the goal was.
Do you remember the first electric guitar you ever saw?
When I was about nine in Lee's Summit, I was still into baseball and throwing rocks at girls at that point. One day, these neighbors, the Sumner boys, said, "Our dad has an electric guitar, but you can't look at it." Of course, that made me really want to see what an electric guitar looked like. I'd never seen one. So I convinced them one day that we could look in the closet. I remember when they opened the case, it was like the Holy Grail – this red, shining, beautiful thing. I was like, "Wow, that's so amazing. What do you do – like plug it into the wall?" (laughs)
Back then, it was rare to have anyone in your neighborhood with an electric guitar. It was like, "What else do you have, a rocket ship?"
You got it, man. You just captured exactly the feeling for me. About that time, the Beatles were on "Ed Sullivan" and the guitar was ushering in this new feeling in the universe. I was right in the midst of that.
I had a paper route throughout those years, and I told my parents, "I think I want to get a guitar." For them, that was like, "I think I'm going to join the devil worship church down the street. Is that okay?" They said, "No, you're not. You're not going to play electric guitar." So that made me really want to do it.
This went on until finally for Christmas, when I was 11, my Christmas present was their permission to use my own money to buy a guitar (laughs). We looked in the Kansas City Star, and for 75 bucks there was an ES-140 three-quarter for sale. My dad being a car dealer, he talked them down to 60. That was my first guitar. Sort of an odd choice, and not what I was thinking. But I knew that Gibsons were good, and 60 bucks was about what I had. For about two weeks I played in a little rock band called the Beat Bombs, doing "Hang On Sloopy" and "Little Latin Lupe Lu." Then my brother brought home this Miles Davis record, Four And More, and it was like somebody smacking me over the head with a baseball bat. I immediately started down the road of where I'm still at, trying to figure out what is that.
How long did you play the ES-140?
I didn't have it very long when my family took a plane to Minocqua, Wisconsin, to see my grandparents, on Ozark Airlines. I checked my guitar, and when we got to Minocqua, I opened the case to find shards. It was heartbreaking for me. Ozark Airlines said, "How much is that guitar worth?" And my dad, knowing that I paid $60 for it, said, "It's worth $100." (laughs) So they gave me 100 bucks and I went to a music store and bought a Fender Mustang. No idea why. It didn't work for me at all.
By this time, I was into Wes, and I explained to my dad, "I need a guitar that's more like that first one." I made a deal with him where if I could earn more money and sell the Mustang, I could get another guitar. Also, they could kind of see that this was happening quickly, and I could play a little bit almost right away. So I got permission again to spend my own money to get something better. After I found somebody to buy the Mustang, my dad and I found an ES-175 for sale. The guy wanted $120, and dad talked him down to $100. And he also had a bass, and he offered to sell us that for $75. My dad said, "We'll give you 60," and the guy went for it. That was a '58 Fender Precision, which I later gave to Jaco Pastorius, who did his whole thing on it, and that was the bass that Mark Egan played all those years. Then Steve Rodby played it when he joined, but it was stolen in Argentina.
Kind of parallel to all of this, I asked the Sumner kids if their dad could play that electric guitar – because there were really no teachers around in Lee's Summit. They said, "Yeah, he plays with his friends. Come over tonight." So I went over there, and it was all bluegrass. I'd grown up with country dominating everything and people playing bluegrass in barber shops, but it was strumming, kind of banjoey-type playing. It wasn't electric like Mr. Sumner was playing. He said, "I hear you're interested in guitar. I've got a jazz guitar book." He gave me Jazz Guitar Method By Ronny Lee, Vol. 1 (published by Mel Bay). I asked him to show me a jazz chord, and he said, "Well, you know F, right? Just lift up your first finger; that's Fmaj7." I thought, "Wow. Yeah, that's jazz."
Can you detail the "modifications" you did to the 175?
It became the thing for me, and remains the standard by which all guitars are judged. The 175, of course, has a fantastic tradition in many ways throughout the history of the instrument, and it's been cool for me to be a member of that.
Originally, that guitar was a one-pickup, which made it more rare. Being 13, I thought, "Really good guitars have two pickups." So I took it to my shop class and cut a hole with the jigsaw and ordered another humbucking pickup from Gibson. But it didn't sound good, and I realized that none of the people I liked used that sound anyway. So I decided to take it out. That's why there's a piece of black tape over the hole that I cut in shop class. With the help of a professional guy, because I'd messed it up so much, I reverted it back.
About two years ago, I finally had my guy, Mark Herbert in Boston, fix where I had duct tape holding it together (on the bottom rim), because the crack kept getting bigger and bigger. And it actually makes it sound a lot better, too.
I finally did a deal with Ibanez, because the day-to-day maintenance of the 175 was becoming almost overwhelming for me. I was constantly having to do things – raise the bridge, tweak the neck. Part of that is because, from the time I got it until now, I've never had it in the shop. It's never had a fret job; it's exactly the way it was (laughs). And it sounds amazing. Certain notes really sound great; I would never mess with the frets on it. But Ibanez guitars are a lot like Paiste cymbals in that they don't have much personality, but every one is exactly the same. I could go to a music store right now, pick up one of those Ibanezes, and walk onto the bandstand and play a gig. And I like the neutrality of those guitars, because you get out what you put in. Very documentary-like.
When did you first play a Gibson Charlie Christian?
In high school, there was a kid who had an ES-150. It's a very particular sound and a great sound. We all love the sound of those Charlie Christian records. But there are some problems that come with it. It's gonna buzz and hum, and the B string is too loud. A great guitar player here in New York is Miles Okazaki, and he turned me on to a box that Electro-Harmonix came out with called the Hum Debugger Hum Eliminator that completely defeats the hum issue without changing the sound. Works great.
I had a gig in Nashville, and like everybody, when you're in Nashville, you go to Gruhn's. They had a 150, and a particular one just kicked my ass. I took it into this little practice room and played it for about two hours, but ended up not getting it. Then they sold it, so I was kicking myself. But as it happened, the guy brought it back and I wound up with it.
That became my main practice guitar. I have a feeling that whoever had it over the years was really a good player. It has that feeling of an instrument that's been played a lot. Over the last two years, I've really gone deep into trying to understand those instruments. I ran into Lynn Wheelwright, who found Charlie Christian's 250. I got to spend a couple of hours with it, and it's a very different animal than the 150. It's a carved top, more like an L-5. By far the best 250 I've played; I could play that guitar all day. For me, kind of the most important thing with any guitar is how much it's been played. If you play somebody's guitar that's five years old but they've played it 18 hours a day, it's going to have a thing going on that the guitar that's never been played from 1932 will not have.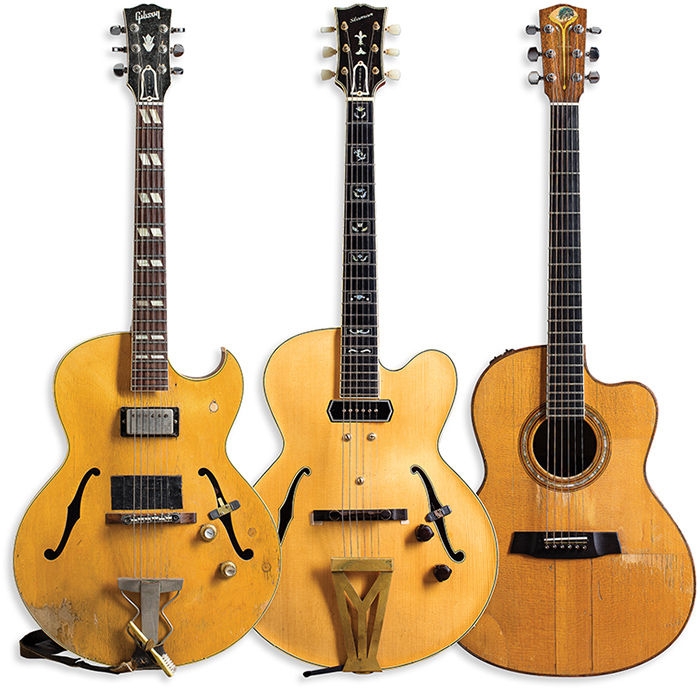 And you also have an ES-150 that once belonged to Charlie Christian himself and then Les Paul?
I have to admit that I'm in my middle-age collection zone, and have a place in my life for guitars that goes beyond just tools. And the Charlie Christian thing has become kind of an obsession. There are 40 known ES-250s in the world – the rarest Gibson. At an auction, there was a guitar that was supposedly a gift from Charlie Christian to Les Paul, then to this guy who was getting rid of all these guitars. And I ended up with this guitar, which according to the documentation was once Charlie Christian's 150. Lynn Wheelwright would probably laugh at that. His level of the documentation of the Christian-owned instrument he has is electron-microscope level. He found photos of Charlie Christian and examined the wood grain and matched it exactly. He's that level of collector. The requirement for belief of something like that is really high. But I'm going to take this collector-guy's word that it was Charlie Christian's – and I know it was Les Paul's.
A guy in Holland, Daniel Slaman, is not just making Charlie Christian pickups, but Charlie Christian re-creation guitars – to the nth degree. Fantastic instruments, incredibly accurate. But he's a very forward-thinking guy. I asked him if he could make me a 150/250 hybird and if he could deal with this pickup issue – to where there are adjustable pole pieces. He got together with CC Pickups in England and figured an adjustable pole piece version of a Charlie Christian pickup, then made me a hybrid 150/250 with a cutaway – because I'm always playing throughout the register, so that's a nice thing – and the instrument has just kicked my ass in the best possible way. It's a carved-top guitar, and I've been taking it around the past six months – to Japan and Sweden, did a duet concert with Ron Carter in 96-degree weather in Detroit – and the dues I've had to go through to make it sound good every day, it's an hour or so before every gig. As opposed to my Ibanez, which I'm still going to use constantly, because it's like a tank.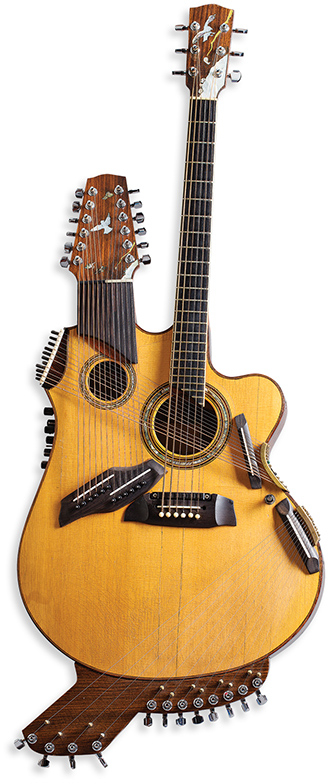 What other guitars have you collected?
I didn't really remember much about Mr. Sumner's guitar except that it was red and it was beautiful, and it wasn't a Gibson. Then about two years ago, the sons called me after the dad had died, because they remembered the guitar making an impression on me, and they asked if I'd be interested in buying it. They'd had it appraised, and it was a '56 Gretsch Chet Atkins 6120. They named a price, and it was very reasonable, so I now have the first electric guitar I ever laid eyes on. And it's an incredible guitar. The guy basically never played it; it's in flawless condition.
You had a close relationship with Hungarian jazz great Attila Zoller.
When I was about 14 and had been playing for maybe a year and a half, Downbeat had a competition to win a week at a summer jazz camp in Illinois. So I got together with a couple of friends, and we recorded "Bumpin' On Sunset," and I did my very best Wes imitation – kind of my obsession at the time. And I won. So I went to Decatur, Illinois, in July of '68, and Attila was the guitar teacher. That was the first time I'd had any contact with a real professional, high-level jazz guitar guy – an incredible figure for me at that age.
Somehow, Attila recognized something in me and took me under his wing. He said if I ever wanted to come to New York and hang out, go hear everybody, he'd be happy to show me around. We stayed in touch by mail, and the next year, my parents let me fly to New York with money I'd saved, and I spent a week hanging out with Attila. We went to hear Jim Hall and Ron Carter every night, and Bill Evans, Freddie Hubbard. And Attila and I played a lot together, and we remained friends for the rest of his life.
The Höfner/Zoller AZ Standard I have was his main guitar for the last few years of his life, so it's a real special piece because of that connection and friendship.
You got a guitar that was owned not only by Wes Montgomery, but also by George Benson?
I'm really not that materially oriented, but I thought, "If I could ever get one of Wes' guitars, that would be something I'd really love." One thing led to the next, and we all knew that George Benson had one of Wes' guitars, and somehow I wound up with that L-5 – from George.
It's the 1961 Gibson L-5 CES that we all know from the cover of Movin' Wes, and George used it on the first couple of CTI recordings he was on. He used it as a studio guitar. I think George could pick up a telephone pole with a cable on it and it would sound f***ing amazing. He seems kind of impervious to whatever. He's an interesting case, that guy (laughs).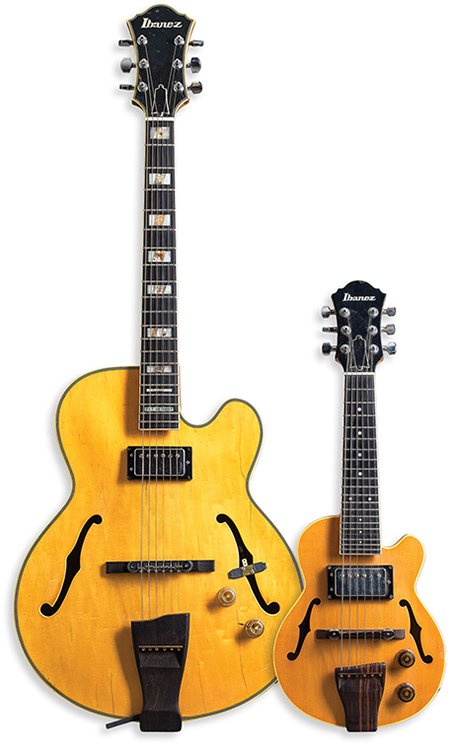 Does it have one pickup or two?
It has two. The single-pickup has the heart (inlaid) and says "Wes Montgomery," and there were two of those. One was in a fire and infamously tried to be sold a few years ago for a ridiculous amount of money, after being refinished by Gibson, and I believe the other one is in the Children's Museum of Indianapolis. And there are a couple of other Wes-owned guitars around, but this one is kind of iconic because he used it on a bunch of recordings.
Is there more than one Pat Metheny signature model Ibanez?
There is. But consistently over these years, I've used the prototype, and they've just recently reissued exactly what the prototype is. They'd kind of gotten away from the main thing that I play all the time – with my cooperation. We came up with some wacky variations, including a sort of double-cutaway thing. The PM-100 has a second little cutaway, on the bass side, and I did use that for a number of years. For reasons I can't quite put my finger on, I switched back to the single-cut. The double-cut became more useful to me, and I still use it often, in a thinner, more 335-ish depth, as opposed to the fatter, jazz-guitar depth. I use it as a triggering device for all the robotic stuff on The Orchestrion Project.
Because I was so associated with the 175 for all those years, when I started switching to the Ibanez, in part for pragmatic reasons, I put out a record called Secret Story – a very large, elaborate, almost compositional record with an orchestra. But on it, half of the tracks are on the 175, the other half are on the Ibanez. So, whenever anyone starts, "Aw, man, ever since Metheny stopped playing the 175 he's never really been the same" – which I get a little bit from certain factions – I always say, "Okay, listen to that record and tell me which songs are the 175 and which are the Ibanez." Nobody's ever even come close.
How did Linda Manzer come to your attention?
From the '80s on, there've been a lot of builders out there in ways that there didn't used to be. And when somebody comes to a gig, I'm happy to play their guitar, but I always start by telling them, "I don't need any more guitars." In about '82, Linda Manzer showed up at a gig. She'd been an apprentice for Jimmy D'Aquisto for a couple of years and had worked at Larrivee, in Canada. I gave her the same rap, but when I played her guitar – which is now called the original Linda 6 – it was strikingly different from any guitar I'd played, in a very particular way.
What I'm always looking for in an instrument is that it's very connected, from the very top to the very bottom – all sounds like one thing. Particularly in acoustic guitars, most guitars have huge humps in one place or another – usually a honky, woofy thing in the middle register that doesn't fit with my conception of balance. Her guitar was unbelievably balanced, from top to bottom, and kind of felt pianistic. An intrinsic musical quality to every note. So I got one right away and proceeded to write a whole bunch of music on that guitar, including tunes like "First Circle."
The sound of the Linda 6 probably culminated with the Beyond The Missouri Sky duo record I did with Charlie Haden. It's like a Linda Manzer demo record – with a lot of Linda's classical guitars, the acoustic sitar guitar, and that Linda 6 is one of the main voices throughout that album.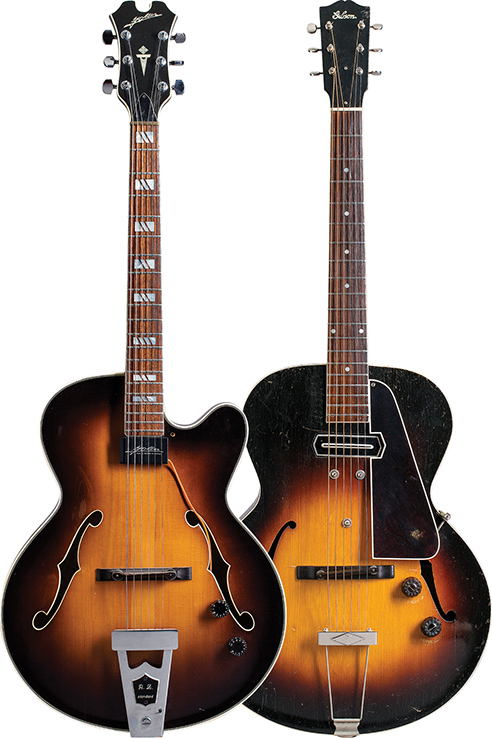 You also have a few Manzer baritone guitars.
Craig Snyder asked her to make him a baritone guitar. And like many guitar players, I've picked up baritone guitars over the years and thought, "Wow, that's cool. What would I ever use that for?" And if I try to play chords, it's too muddy. So, baritone guitar was never something on my radar – I thought. I've known Craig from around town; he's a studio guitarist and jingle writer, and he owns CR Guitars in Rhinebeck, New York. We happened to be working in the same studio and he brought in the baritone Linda made for him. I loved it right away and asked her to make me a copy of the one she'd made for Craig. I played the few things I thought would sound good on it, and I found myself very quickly putting it aside. Again, it was too muddy.
Then, one night in 2001, after I'd had it four or five years, I remembered that in my hometown of Lee's Summit, there was a colorful character named Ray Harris. An amazing guitar player – kind of country, but he'd go play with the jazz guys, too. He had these guitars he'd invented, including this double-neck that was a 12-string on one side, and the bottom was this wacky tuning where he could play the bass and melody at the same time. And I realized it was a baritone guitar, because it went from A to A. But he did a Nashville tuning – meaning he would take the middle two strings, replace them with lighter-gauge strings, and tune them up an octave – but with a baritone guitar.
So I remembered that and did the Nashville tuning, like I'd done on "Phase Dance," to Linda's baritone. I'd just gotten a new mic and thought, "I'm going to record this," and ended up recording for about four hours in that tuning, not really knowing what I was doing. I finally arrived at thinking of the bottom two strings as a cello, the middle two strings as a violin, and the top two strings as a viola. So you could play your normal kinds of things, and they would come out sort of sounding backward, with some hip bass notes.
After I listened to the stuff for about six months, it wound up being the record One Quiet Night.
After hundreds of hours of live performance under my belt, I really understood what was going on with voicings and possibilities, because I got into the habit of playing baritone guitar at the beginning of every concert. So I made What's It All About – the only time I played other people's music. They were songs I've always loved and would play around the house, so I thought it would be fun to make a record like that.
How much input have you had in the instruments Linda has made for you?
Linda became a major collaborator with me. In addition to incredible skills making a conventional instrument, she's extremely open-minded. She told me early on if I had any wacky ideas, she'd love to give it a shot. It started out very simple, like, "Could you do a 12-string version?" And she whipped one up quickly, and it was amazing. Then I told her, "I've always wanted a guitar I could tune up a fourth or a fifth, but still six strings," and that's when we launched off into uncharted territory of instruments that had no particular precedent.
Of course, the ultimate version of that would be the 42-string guitar. In that case, it was me saying, "What's the most amount of strings you think you could get on a top without it exploding?" (laughs) I drew a sketch on a napkin and said, "Maybe it could be something like this." I had the idea of almost like a sustain pedal, where I could have some harmonic material ringing while I did other things on top of that with a more conventional neck. She modeled the Pikasso guitar exactly on the 175. She measured the scale and everything and more or less got that 175 neck sitting in the middle of all this.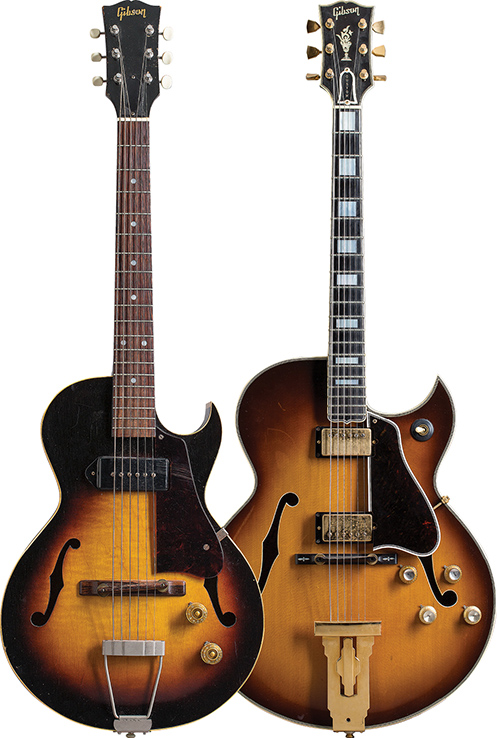 When I finally got the instrument from her, it took me a year of just looking at it, thinking about what exactly I would do with it in terms of how I would tune it or how I'd use it. And I'm still kind of figuring that out. That strategy has followed many of her instruments, where I've had an idea of what might be possible; then she makes a great instrument, and I have to figure out what to do with it. I think she's now made about 17 different instruments for me. Some are more conventional than others – from a straight-up nylon-string to the mini guitars, then the sitar guitar, the six-string nylon-string fretless on "Imaginary Day" and a lot of records, and the 12-string version I used on "Counting Texas." It's got fret-marker lines but no frets.
She's not coming from jazz – although she's gone on to make some incredible archtop guitars, which I also own, including a mini jazz archtop. It's got kind of a Johnny Smith pickup and is very short-scale, but I tune it up a little bit. There's something cool going on when you can reach seven or eight frets – kind of like Allan Holdsworth on a regular guitar.
There's a six-string guitar on the bottom of the Pikasso, a short-neck fretless 12-string neck above it with a sound hole, and at about a 60-degree angle with tuners on top of the guitar is another 12-string anchoring below the bottom soundhole, then…
The original picture she made and the original form that she made it, there was a headstock for the 12 strings that go sort of 60-degrees across, but it was untenable for me. I'd just bash my face into it. So that got sawed off, and she built Autoharp-like tuners into the rim. Then at the bottom, where on a normal guitar would be your Volume and Tone controls, there's 12 strings across there. Basically, what you've got is a six-string and three 12-string areas that can either be tuned in consonance with each other or in dissonance with each other or whatever you want to do.
Right now, the six-string part of it is set up as a baritone guitar. That allows me to kind of play bass notes with one hand that are substantially lower in pitch for the bottom two strings and also play the kind of wacky stuff that the particular baritone tuning allows me to do.
The first set of pitches that I gave her were very particular – although I don't even remember what they were. But I said something like, "I need the G below middle C," so in order for her to get that string length, she had to build that extension for the lower four strings of the 12-string on the lower bout.
Keeping track of what's ringing and what's not ringing, and dampening those things that are not harmonically cohesive with whatever else is going on, is the challenge with that instrument. Usually when I play it, it's pretty loud. It's become this thing that's an almost orchestral-type instrument. Three different harmonic territories that the three 12-strings can function in – or sometimes I split the angled 12 strings into two different harmonic ranges.
What's the wackiest guitar you own?
One of them is this Paul Kinny acoustic stereo guitar. It just arrived in the mail one day from this Australian builder. It's got a bridge piezo pickup, but it's got two sound holes on the rim of the sort of eggplant-looking things – one for your left ear, one for your right ear. You actually do get two significantly different sounds out of the two holes, almost like you're sitting at a piano. I've used it strictly acoustically on a record or two, mic'ed in stereo, and it's a pretty awesome sound.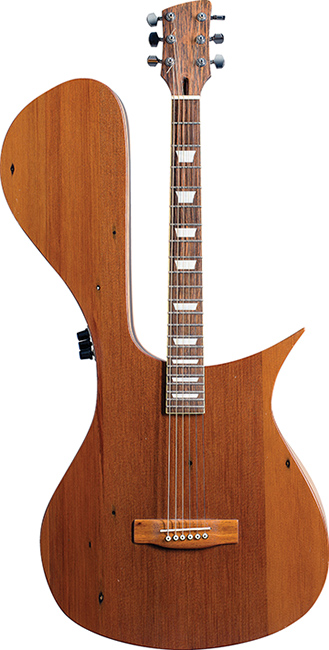 It used to be that jazz guitar was only equated with Gibsons, D'Angelicos, Epiphones, and at some point preferably vintage. But these days, a lot of jazzers play boutique brands, and not only is there no stigma, they sound great.
It's an interesting topic. There was a period when it was all about needing to have this and this and this. Then I had the occasion to tour the Soviet Union. One night after a very hard travel day, we arrived in Kiev and I was invited to go to a jam session. I really didn't want to, but our kind of KGB guy let me know that I really kind of had to. But there was no gear. So this "jam session" was in an auditorium with 5,000 people, and clearly I was going to be onstage with some band. This was the peak of me needing my guitar, my cord, etc. Not only was the guitar I was given to play some unrecognizable Polish thing, the amp and everything truly looked like it was from the Soviet Union in 1958. I started to play a blues, and did my best, then went back to the hotel – where the thing I'd just done as a jam session was being broadcast, tape-delayed, all across the Soviet Union. And it sounded exactly like what I always sound like. It may as well have been my own guitar and setup.
That was the light bulb moment for me. I mean, all this stuff matters, but it really doesn't. Whatever you're going to sound like, you kind of carry that around with you. I'm sure you could hand Jeff Beck my stuff, and somehow he would make it sound like Jeff Beck, and vice versa. It's in the hands, but more than that I think it's in the conception that the player brings to the table. I think the players who aspire to a certain kind of individuality, whether overtly or it just kind of happens, once you've achieved a certain kind of lift-off in that department, you carry it with you.
Also, you go into a music store now, and for not $1,000 or $5,000 or $20,000, but for a few hundred dollars you can get an Eastman carved-top guitar, or for that matter an entry-level Ibanez – like the PM-35 I developed with them – for about 600 bucks, and it pretty much wipes a good chunk of the period guitars, in terms of sound, playability, whatever. They're amazing instruments. Those Eastmans are lacquered, true wood-type guitars that will be even better 40 or 50 years from now. The workmanship is at that level.
Let's discuss your multi-amp setup.
That's probably the biggest game-changer of all. When I did Watercolors, the studio in Oslo had a Lexicon Digital Delay. I used it on one track, although it's almost inaudible, but I noted that the company was based in Boston. When I got back, I called them and said, "I've never been happy with the way a guitar and amp work together." They invited me to their factory, and they were developing the Prime Time, which allowed two different delay taps. I plugged it in, and it didn't sound that good to me. I asked, "Is there any reason we couldn't put this through several amps?" They said, "We've never tried that, but why not?" So in addition to the amp they had there, I brought in two more amps and put them on opposite sides of the room. Because whenever I'd hear sax players or piano players, it always seemed like the sound was coming from everywhere, but the guitar was coming out of this box. I'd tried having other speaker cabinets, but it wasn't the thing. And as soon as I tried it, I was like, "That's it!"
That began this thing of having three amps on stage with slightly different sounds and delays, which I still do now. You don't have to play that loud to get a really full sound.
When I showed up with that rig on a gig, people's jaws dropped. Nobody had ever heard that kind of a sound in jazz. Now, no one would bat an eye, but back then it was a radically different sound. It wasn't until the late '80s that I saw anybody else use more than one amp onstage – because, "Well, that's Metheny's thing." Now, everybody does that. I'd have to say it was a pretty significant change in what jazz guitar could sound like.
I think a lot of people think of that as chorusing, which is actually a sound I can't stand. This is a very different thing. It all happens in the air, and it's a bit hard to get it in stereo, because it's something that goes beyond stereo. You have to have three sources for it to do what it does.
My whole thing has always come from a solidstate sound, because it's loud and it's clear. That's sort of a fundamental difference between my sonic approach and something like a Vox AC30 or, say, a Fender Twin, where there's a very slight fuzz around the note. You even hear that with Grant Green and Kenny Burrell. My thing is more like a steel guitar kind of sound. (Ed. Note: Metheny's guitar tech, Carolyn Chrzan, details, "He currently uses a Digitech 2101 preamp. Two outputs go to a QSC PLX1804 amp and then to a 4×10 cabinet and a 2×10 cabinet, both loaded with JBLs. The other two Digitech outputs go to a T.C. Electronics M2000 studio effects processor, to another QSC amp, and out to two single-15 cabinets.")
Which younger musicians have impressed you?
There was a pretty long stretch of time when it was hard for me to find younger players that I was interested in. Suddenly, this generation came along that included Christian McBride, Antonio Sanchez, Larry Grenadier, Josh Redman – this group of guys that are 10 or 12 years younger than me. I was like, "Yeah, that's what I'm talkin' about."
The whole "young lion" thing was completely lost on me. First of all, none of them play that great, and also, why? Why play for your parents? That's what it was – a bunch of guys putting on suits and playing for their parents. I never played for my parents; I was playing for my friends.
It was a very narrow-minded movement.
Yeah, it was kinda nuts. The Reagan version of the golden city on the hill. The mythology of something that really never existed anyway. And it's not like we don't have the records. We can listen to Duke Ellington any time, or the Miles quintet, or whatever. We didn't need that.
But when these younger dudes started coming along and also playing from a personal perspective, it was fascinating and interesting to me, and I embraced the cats in that realm that made sense – like Gilad Heckselman, who's a total badass.
The best guitar player I've heard in maybe my entire life is floating around now, Pasquale Grasso. This guy is doing something so amazingly musical and so difficult.
Mostly what I hear now are guitar players who sound a little bit like me mixed with a little bit of Sco and a little bit of Frisell, using a couple of amps onstage with a little bit of delay. Then they say they don't listen to me or Sco or Frisell; all they listen to is Grant Green. I kind of go, "Really?" (laughs) What's interesting about Pasquale is that he doesn't sound anything like that at all. In a way, it is a little bit of a throwback, because his model – which is an incredible model to have – is Bud Powell. He has somehow captured the essence of that language from piano onto guitar in a way that almost nobody has ever addressed. He's the most significant new guy I've heard in many, many years. That's exciting for me.
My door is always open to the new cats around New York who come over often. I love hearing what people are up to, and any way that I can help someone, I always try to. Because I was the beneficiary of that – from Attila and Gary and Steve Swallow and Bob Moses and Mick Goodrick and all the Kansas City cats who nobody would know the names of, who let me play gigs when I was 14 or 15 years old. That's a big part of the way this music has evolved. I kind of make it a point to find the younger guys I feel like I can help, on any instrument, and if I hear somebody who's got something happening but I feel like I've got something I could offer, I say, "Come over and let's hang."
In the early days, there was the Pat Metheny Group, and then you did various splinter projects. In recent years, you've done so many projects with different musicians. Is there still a Pat Metheny Group?
You know, everything is the Pat Metheny Group, and has been from the beginning. The distinctions between this and that, from my perspective, are invisible. It's all been just one long thing. But I certainly have done my best to make each thing have a distinctive quality about it. Also, everyone I've ever played with, I could still play with, and would love to play with. I've never really fired anybody; I've always just tried to faithfully follow my interests and instincts and sense of what I feel I ought to be doing next.
In terms of re-creating previous settings and going out and playing sort of greatest hits, that's something I've avoided, but only because I don't have any interest in it. At the same time, I'd have no problem doing that; it's just that I'm not laying awake at night dreaming about doing that the same way I think about all of these other things I do.
The different names that I've used have fit the scenario of the story I was trying to tell at the time, and the different people I've invited to come with me on that part of the journey are, to me, the right people to do that. And I could use any of them again, or not. It's just a matter of what fits with what I'm hearing at a particular time.
I think there are musicians who look back on their lives and go, "What was I thinking? I would never do that." To me, it's the exact opposite. I could do all of it, any time; it's all viable. I embrace all of it. It's all been a blast.
© 2015 Dan Forte; all rights reserved by the author.
---
This article originally appeared in VG February 2016 issue. All copyrights are by the author and Vintage Guitar magazine. Unauthorized replication or use is strictly prohibited.
---