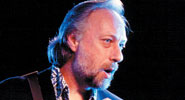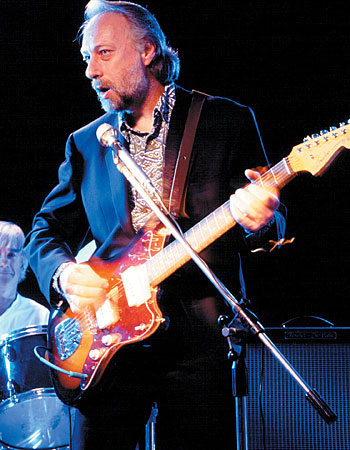 Chris Dreja had a front-row seat to rock-and-roll history, playing rhythm guitar and bass in the Yardbirds behind Eric Clapton, Jeff Beck, and Jimmy Page. Today, Dreja still plays with the vaunted Brit-pop group, co-leading the band with original drummer Jim McCarty and cranking out '60s anthems like "For Your Love" and "Heart Full of Soul."
We caught up with Dreja as he toured the U.S. this year with the Zombies and Spencer Davis Group, asking him to reflect on the magical music he helped create some 45 years ago.
"Heart Full of Soul" was one of the first songs to bring an Indian influence to rock in 1965. How did that idea came about?
That was another tune written by Graham Gouldman, as we had already recorded his song "For Your Love." He was later a member of 10CC, and his music had an eclectic, timeless quality that inspired our creative interpretations. We felt the riff in "Heart Full of Soul" needed that Indian sound, and we even tried recording it with Indian musicians on sitar and tablas. Unfortunately, their timing and sound was too thin, and did not sit well in the track, so Jeff Beck stepped in with his fuzz pedal and that was it – perfect.
Beyond the Beatles, what bands were the Yardbirds listening to in 1965-'66?
A lot of Chicago blues artists like Jimmy Reed, Muddy Waters, and Howlin' Wolf. Also, we were into the Kinks, the Who, Animals, Bob Dylan, Beach Boys, Lovin' Spoonful, and Peter Paul and Mary. All genres, really. But the Rolling Stones were the inspiration for us to form a band and start performing.
Who were your own guitar influences?
The players in Jimmy Reed's band, plus Hubert Sumlin, Duane Eddy, Brian Jones, and of course, Chuck Berry.
Clapton, Beck, and Page tend to get much of the Yardbirds glory, but you, McCarty, Keith Relf, and Paul Samwell-Smith wrote a lot of the music. What was your role in the songwriting process?
Jim, Paul, and Keith were prolific writers, and I contributed where I could with lyrics, arrangements, and a lot of crazy ideas. The Yardbirds were a democratic band and if somebody came up with something interesting we would all work on it and see how it developed. Breaking the rules of accepted pop songcraft at the time was always good fun.
Did pot or LSD play a roll in the songwriting and/or recording?
Beer and Indian curries were the staples of the day. I personally didn't drink alcohol until after the Yardbirds, but I made up for that in later years! Genuinely, it was the music that was the drug; only in the late stages of the band was I aware of any drugs. Some later material may have had its roots under the influence, but I do not recall any recording session where there were drugs.
How did the Gregorian-chant sound of "Still I'm Sad" enter the Yardbirds sound?
Giorgio Gomelsky, our manager at that time, was a big influence with the Gregorian chant. He was half Italian and had a big memory for the religious rites of the monks and church trappings. He sang the very bass part of the chant. We also admired and listened to the film composer Ennio Morricone's music and his incredible use of sounds and especially the human voice.
What do you see as the Yardbirds' impact on later rock-and-roll bands?
Back then there was no road map for the music, or even the business and touring side that came later. The Yardbirds had a tremendous energy and in the five years we were together (it felt more like 20), we embarked on a lot of experimentation and eclectic sounds; I'm glad we did. To be cited as influential on later rock artists is a great honor for us.
What guitars and basses did you use in the '60s?
My guitars back then included a Watkins Rapier, a Harmony, a Gibson 335 and a Les Paul, and a Fender Jaguar. My bass was a Gibson Rivoli, and the amps were Vox 15-watt, Vox AC30 top boost, and Fender Showman. Today, I use Les Pauls and still the Vox AC30. Nothing has changed too much from then and now – pretty much a set up and go type rig.
Back to Clapton, Beck, and Page; which of the three was the most enjoyable to play with?
I had a close kinship with Eric during his time with the band, as our art-school background was pretty much the same and we had a similar sense of bizarre humor. He introduced me to plenty of blues, too, and taught me a lot. Jeff, on the other hand, was quite a moody guy, and really his main conversation was through his guitar. He could be up and down sometimes during a performance, but as a natural guitar genius, when he was on; it was a privilege to share the stage and jam behind him. And Jimmy was a real professional when he joined the band and never pulled a moody – you always knew where you were with him. I personally liked that period mainly because we became a four-piece and I got to play my bass really loud!
---
This article originally appeared in VG November 2009 issue. All copyrights are by the author and Vintage Guitar magazine. Unauthorized replication or use is strictly prohibited.