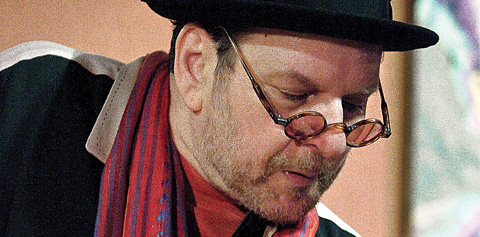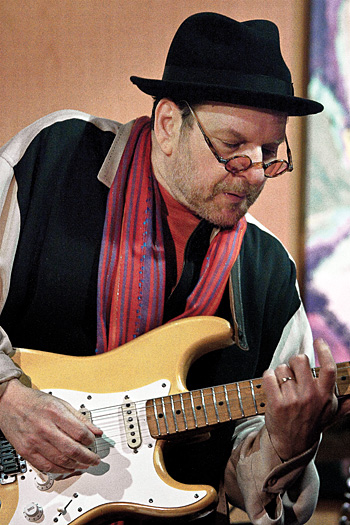 For someone who has been a professional musician for more than 30 years, Ronnie Earl is going through a remarkable production period in his career. In just the last three years, he released his first live DVD and companion CD, 2008's Hope Radio, followed by the CD Living in the Light in '09 and now, a little more than a year later, comes Spread the Love – an encyclopedia of the many ways musical power can be built with tone, taste and restraint.
What was the spark that ignited the new CD?
We had made an album with vocals and I just felt it was time to make one without vocals. Once we were in the studio, it took just two days, and we did no more than two takes for each of the cuts.
Did you have everything charted before you went in?
No, it's a band effort. I was in another room at the studio and heard this beautiful keyboard music. It turned out it was our drummer, Lorne Entress, and he came up with all the complicated chord changes that became the song "Patience." I love playing rhythm and letting the other musicians stretch out.
They're also reissuing some of your older albums.
Without talking to me about it (laughs)! Nobody's going to get rich on any of it, anyway.
Have you ever thought of singing on your CDs?
Oh, God… Then you wouldn't be talking to me right now! For me, there really aren't that many great blues singers – Bobby Bland, Kim Wilson, Muddy Waters, B.B. and Freddie King, Otis Rush, and John Lee Hooker. I let the guitar be my voice – it's so easy to do for me.
In the interview on the DVD you talk about developing your style because you had trouble emulating your heroes.
It's definitely true. That's part of the miracle for me. I just started out and all of the sudden I was backing up Otis Rush and Big Walter Horton all over the country. I still can't believe it except that my Higher Power has this path worked out for me. When people started accepting my music for what it was, I found that being me was everything.
Are there any touring plans coming up?
We just got with a very well-known international agency and are going to play live more. Over the last 10 years, I've probably only played live once a month, but I really love playing more than ever. We've been playing small theatres and art centers in the Northeast. Maybe we'll even come to California. Who knows?
What guitars and amps do you use?
I'm not much of a gear guy, and I believe strongly that the music comes from your soul. But I have four old Stratocasters, and they're my babies. I got one at a pawn shop in Houston for $150. I went in and the guy said, "It's old, but it still works." I have a blond '57 and a '60 sunburst and my sponsor gave me a Fiesta Red '62, and that's my favorite. I've used it on almost every album.
I've always used Super Reverb amps, but I'm going to be playing Juke amps. And I've been playing Nash guitars because I get nervous taking the old ones out. I use whatever guitar is clean and the strings aren't rusted, and I buy whatever strings are on sale.
Are there any guitarists that you really like to listen to?
Chris Cain and Dave Gonzalez. And I love Lurie Bell, whom I played with one night in Rhode Island. I've always liked Anson Funderburgh, and, of course, Jimmie Vaughan. In Boston, there's a man named Frankie Blandino. And also, Jason James who plays on Living in the Light.
At this point, do you feel the young Ronnie Horvath playing at The Speakeasy achieved his musical goals?
When I was that person, my goal was to play with Big Walter Horton, and I got that very early on. All I ever wanted to do was play with my mentors, and I got to do that, and everything else has been gravy. Making a living playing music wasn't easy, but I'm glad I did.
Is there anything you would tell that young man about life?
I would tell him to be humble, that talent is a gift from God. I would tell him that his greatest accomplishments in life will be sobriety, being married and having a family life.
---
This article originally appeared in VG December 2010 issue. All copyrights are by the author and Vintage Guitar magazine. Unauthorized replication or use is strictly prohibited.
---