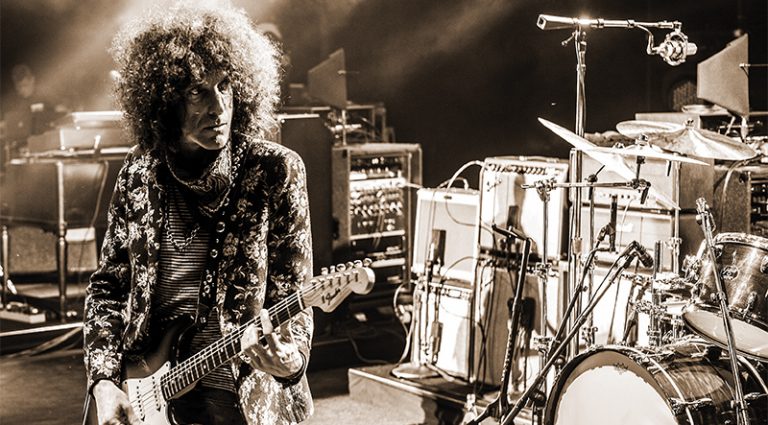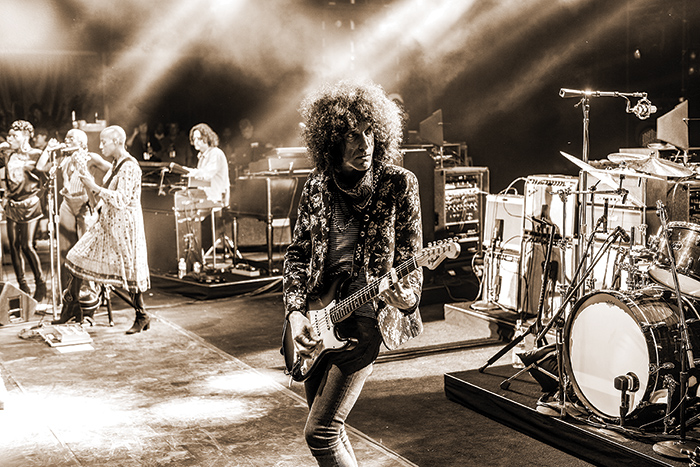 Craig Ross is an integral part of the Lenny Kravitz sound. As lead guitarist and songwriting collaborator since the early '90s, Ross has forged an impressive body of work alongside Kravitz that includes eight albums, numerous singles and B-sides, and countless tours. The latest release, Strut, is classic Kravitz, emitting heavy vibes reminiscent of the Stones output from 1976 to '81.
When recording, Ross typically takes about 20 guitars into the studio. "The one that gets used the most is Lenny's '58 goldtop," he said. "Right before we recorded 'Are You Gonna Go My Way,' he bought a collection, and part of that was the goldtop and a '50s Gibson Skylark amp that wound up being the sound of that record. The goldtop gets passed back and forth; it's just got some kind of energy to it. When we get into more creative things, I've got an old Vox Starstream with the built-in effects – it's amazing for overdubs and cool sounds here and there."
He has also often relied on his '55 Tele, a '64 Gibson ES-330, and a '48 Martin D-18.
Strut was recorded in Atlanta, rather than near his L.A. digs, which meant…
"I didn't have my guitars. So, I borrowed some from Peter Stroud, of Sheryl Crow's band," he said. "I mostly used his '65 Strat, but there was also a Les Paul Deluxe and a Martin D-28. We basically cut a song a day, and the whole thing happened very quickly and organically."
Ross has always been partial to vintage guitars. "My first one was a used guitar. I was lucky enough to be buying them in the early '80s, when you could get almost anything for $300. Over the years, I realized that I liked the way they felt and played. Guitars made in the '80s didn't have the finesse of those from the '50s and '60s. So, that's what I've always done – stuck with it. And I love the sound."
Ross's warm, present, and crisp tone is, of course, generated in part by his amplifiers.
"In the studio, we like to use smaller amps," he said. "You can get deceivingly large sounds with a smaller amp and, depending on the size of the room, you can almost get a larger sound with a small amp. The all-around best recording sound is a Fender blackface Deluxe. I also use a tiny Rickenbacker with a 6″ or 8″ speaker, and a Marshall plexi 50 is always great. I used to have a '64 VT30 I used quite a bit, too. It just depends on what's lying around or if I buy a new guitar or amp. Otherwise, it's been pretty consistent."
On the road, he keeps a mix of vintage and newer pieces. "I'm playing my '65 Strat a lot on this tour, along with a '73 Tele Custom and a bunch of Custom Shop Les Pauls. I've got a '55 Les Paul Custom that I play live through a Marshall; it's kind of magical. I had stopped playing it for a while. I had a bunch of old and valuable guitars stored in New Jersey that I decided I didn't want to take on the road, and sure enough, Hurricane Sandy came and wiped out half the collection. That guitar was one of the only things that survived. Now, I'm playing all my '50s, '60s and '70s guitars, even on the road."
A recent acquisition making its debut on the Strut tour is a custom Zemaitis.
"I'm extremely happy with it," he said. "It's a really beautiful, well-made guitar and it sounds great"
To best deliver his sound live, Ross has his mainstays and a few other goodies. "On tour it's always the Marshall plexi 50-watt and a tweed Fender Deluxe. This year, I'm using a Reeves Jimmy Page model that sounds super tight, and I have a couple of Dual Showmans that I've always used, one of which was modified by Alexander Dumble."
His effects are also fairly straightforward.
"Just delays, reverbs, and a little boost here and there. I've always used a wah, a Tube Screamer, and a Phase 90, and I'm using a couple Boss digital delays. Before that, I tried everything from an old Echoplex to a Roland Space Echo, and even an Otari two-track tape machine."
---
This article originally appeared in VG January 2016 issue. All copyrights are by the author and Vintage Guitar magazine. Unauthorized replication or use is strictly prohibited.
---