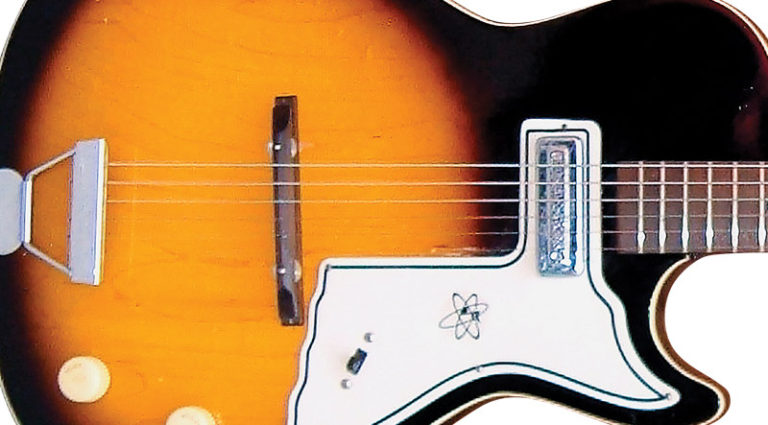 Like many baby-boomer kids, 11-year-old Vern Juran was into slot-car racing and bikes with ape-hanger handlebars, banana seats, and sissy bars. He also loved guitars, and the second-hand Harmony Stratotone he used to start lessons in the summer of 1967 was his following-in-dad's-footsteps dream instrument.
The guitar served him well through his first years learning to read music, memorizing notes on the fretboard, and developing the muscle memory involved in chording. But, by his junior year at Rapid City Stevens High School (in South Dakota), Juran had outgrown the short-scale Stratotone and was on the lookout for something new. That spring, he popped into the local Gibson shop and spotted a new ES-120 with a sale price of $150.
"Right away, I called my mother and told her I'd sell the Stratotone to help pay for it," he said. "We bought the ES-120 the next day. My teacher, who bought and sold guitars and amps, was able to get $40 for the Stratotone."
After graduating in '74, Juran began working a job laying water and sewer lines. Scratching that itch every guitarist feels, after a couple years and with money in his pocket, he traded the ES-120 and a couple hundred bucks for a used maple-neck Telecaster. In the fall of '77, he bailed on manual labor and started teaching guitar, running the Tele through an MXR Distortion+ and his '59 narrow-panel Deluxe. Giving lessons during the day fit well with his gig in a country/rock band that played bars and clubs in a 150-mile radius. Some weeks they'd play once, others might be every night.
In the summer of '79, Haggerty's Musicworks opened in Rapid City and was looking for someone to do guitar setup and repair. Juran inquired, but the owner wanted someone with formal training.
"So, I enrolled in a repair course at the Apprentice Shop, in Spring Hill, Tennessee, and in January of 1980 spent four weeks there, in an intensive course taught by Mike Lennon," Juran said. The Apprentice Shop was also an authorized (and highly regarded) repair shop for Gibson and Martin instruments run by Lennon and his partner, Bruce Scotten.
Returning home, he went to work at Haggerty's, which was a full-line store where he fixed banjos, mandolins, violins, cellos, etc. (and their cases). The shop did bang-up business and within a couple years, owner Tom Hagerty opened a second store in Rapid and one 150 miles away in Gillette, Wyoming. For more than a decade, Juran worked on instruments that flowed into all three.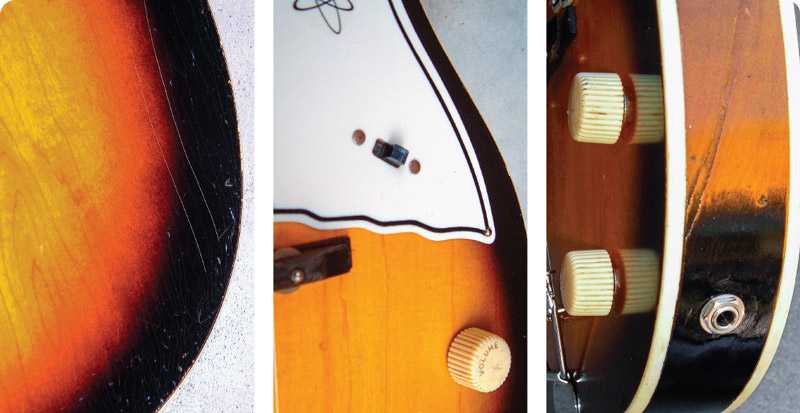 In 1993, he and his wife, Jean, moved to Austin, Texas, where not only did he have extended family, but a traditionally hip roots-music scene was becoming sizzling hot. He hired on as a guitar tech at One World Music, but the gig lasted only a year before the owner was arrested for dealing drugs and sent to federal prison. The Jurans returned to Rapid City, Vern to Haggerty's.
Though he has always enjoyed the variety of work required of a modern guitar repairman/tech, the physical stress of sanding, filing, grinding, cleaning, and polishing instruments eventually took a toll on his arms and shoulders. After carpal-tunnel releases on both wrists and months of physical therapy to cope with bursitis in his shoulders, in 2007, he scaled back. "I basically had to turn my job into a hobby," he said.
After the couple retired in Arizona for two years, in 2013, Jean was offered a job in Rapid City and the Jurans returned to a cabin in the Black Hills. There, Vern created a home workshop where he does setups and repairs for friends.
One day in 2019, he was visited by Mark Falk, a local guitar-collector friend who brings instruments for work. In a flash of nostalgia, Vern asked Falk – who has dozens of old guitars of all types in every condition – if he had a Stratotone.
"Mark said, 'Let me check the junkers in my garage attic,' then a day or two later, he sent an e-mail saying, 'Hey, I do have a Stratotone. I'll bring it by.'"
On his next visit a few weeks later…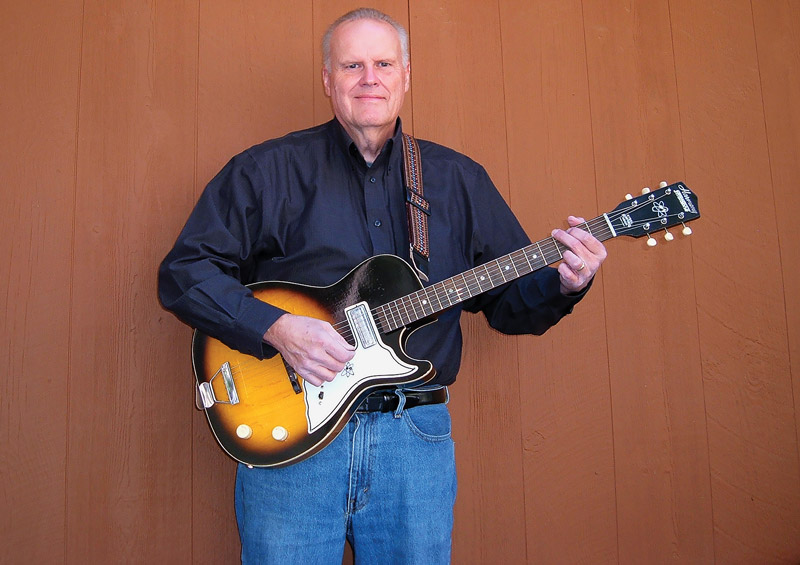 "He brought in this guitar, without a case, and right away I said, 'It's just like my old one!' But it was really beat. I asked, 'Where did you get it?' and he vaguely recalled a yard sale sometime around 1990. It wasn't playable, so he stuck it in the rafters, where it spent the next 27 years going through 110-degree heat in the summer and sub-zero temps in the winter."
Giving it a close once-over, Juran was struck by something peculiar.
"I saw these tiny specs of paint on the body, and sort of flashed back to the summer of 1970, when my mom painted our basement with a roller and how tiny splatters of this ugly blue-green paint got on pretty much everything – the record player, records, the old sofa, an old radio, my baseball bat, my dad's Harmony Monterey, and my Stratotone. None of the stuff had any real value, so we didn't give it a second thought at the time, but seeing those specks of paint made me realize that this was my old guitar!"
They agreed to swap it for repair work, and Vern set about restoring the Stratotone, starting with fixing a 3″ hole where the input jack was supposed to be, and a large split in the same side. He also replaced frozen pots, restored its still-original tuners, cleaned the "super-dirty" frets and fretboard, and replaced the jack, which was broken and dangling by a wire.
The guitar is now quite playable, and Juran gives it a workout every couple of weeks. Of course he misses its original cool, grey chipboard case, but that doesn't diminish the joy.
"It's strange that through all those years, I never had a Stratotone exactly like mine make it to my bench," he said. "I don't even recall seeing one for sale in the stores where I worked. And to think that I've known Mark since 1980 and visited his house dozens and dozens of times, never thinking he could have it in his huge collection. But sure enough, my old guitar was right under my nose!"
---
Do you have a classic/collectible/vintage guitar with an interesting personal story that might be a good fit for "Classics?" If so, send an e-mail to ward@vintageguitar.com for details on how it could be featured.
---
This article originally appeared in VG's November 2022 issue. All copyrights are by the author and Vintage Guitar magazine. Unauthorized replication or use is strictly prohibited.