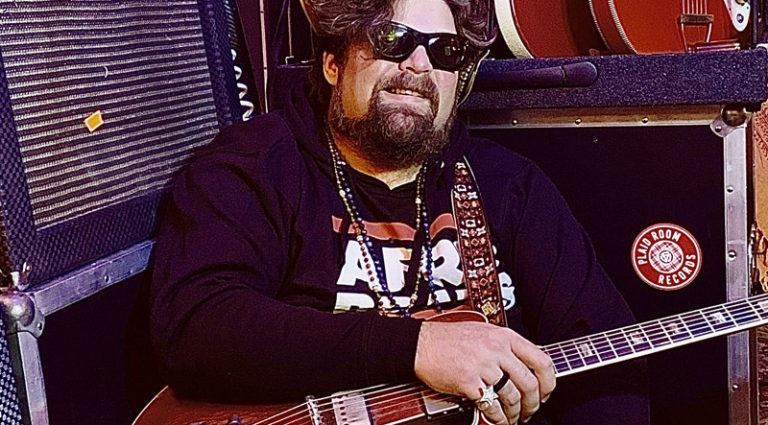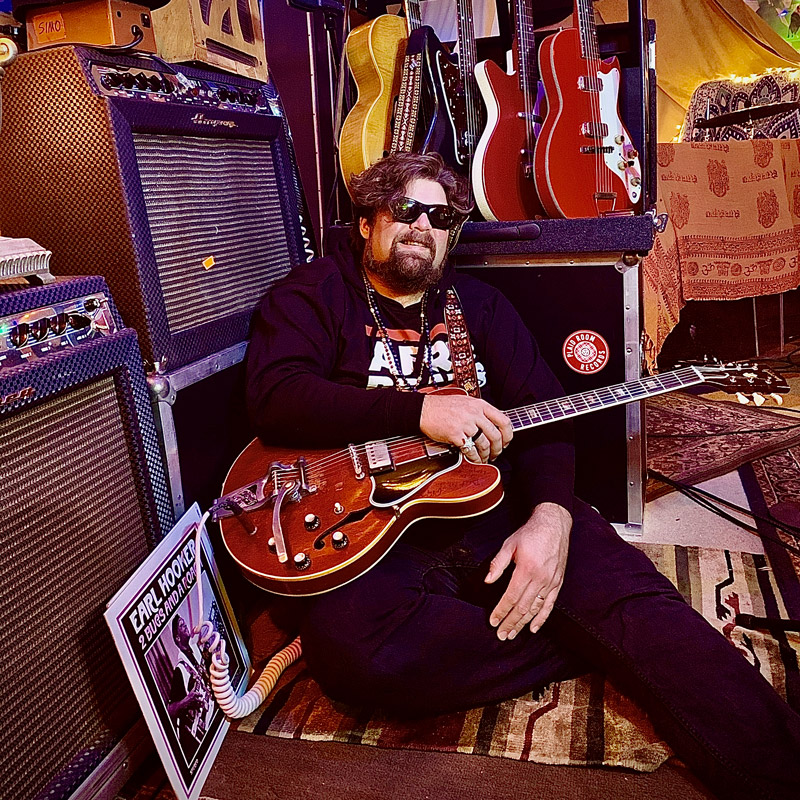 Psych-blues guitar maestro J.D. Simo was the wizard behind the guitar work heard on Elvis, the new Baz Luhrmann film starring Tom Hanks and Austin Butler. Unlike the actors who portrayed a real-life character, Simo recorded parts embodying Scotty Moore, James Burton, Sister Rosetta Tharpe, Reggie Young, Hank Garland, Arthur "Big Boy" Crudup, Tommy Tedesco, and B.B. King.
While it sounds like an overwhelming assignment, for Simo it was more fun than a barrel full of monkeys.
How did you become involved with Elvis?
Back in 2018, I was on tour and got a call from Dave Cobb (VG, April '22). I've known Dave for 10 years or so – before the insane success of Chris Stapleton, Sturgill Simpson, Jason Isbell, and everybody else. We were friends but had never worked together. He called and said, "Hey, are you going to be home this weekend?" Luckily, I was heading home at that moment, from a tour. He said, "I'm working on this Elvis movie and I'd like you to play guitar." That was about it.
I went in for the first round of sessions before Austin Butler (Elvis) was even cast. Tom Hanks (Colonel Tom Parker) was already cast. Luckily, I didn't know who Baz Luhrmann was; ignorance is bliss sometimes. I showed up and we did the first batch of sessions, then it grew from there. We did tons of sessions spread out over the next two years. We didn't finish the music until December of 2021. Of course, Covid was in the middle of all that.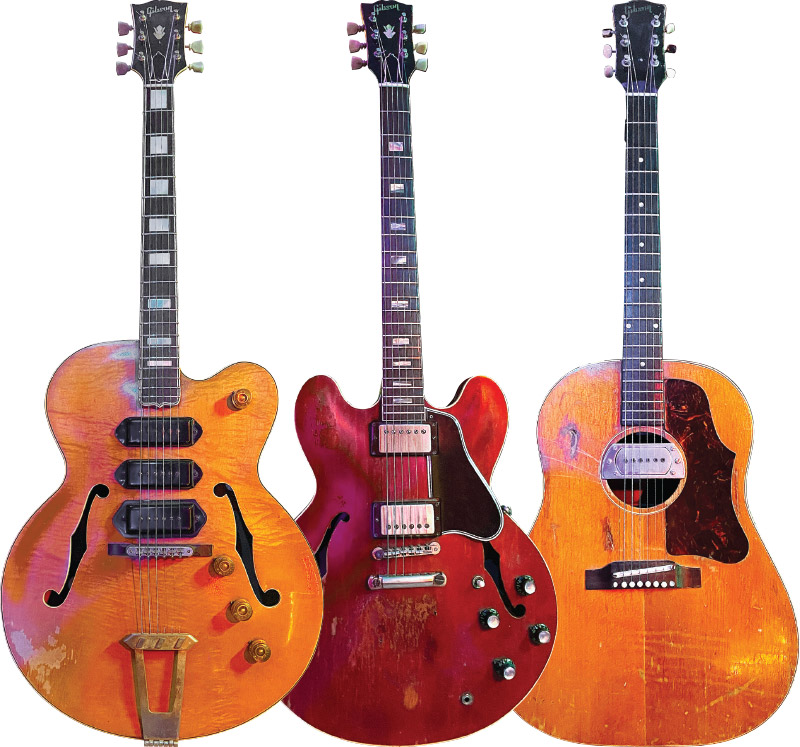 As time went on, it didn't take long to figure out what a monumental undertaking it was, and how it was a big deal (laughs). Initially, it was just Dave calling me to come in for a bunch of sessions for an Elvis movie. I was totally game, and as a side note, the group was myself, drummer Chris Powell, bassist Brian Allen, and keyboardist Philip Towns. The four of us have gone on to work on many records for the last few years for Dave. We've become his rhythm section, in many regards, and it was a beautiful way for that to happen. Other musicians also worked on the movie, but most of it was the four of us, and it was absolutely great.
Was Cobb familiar with your ability to re-create older guitar styles?
He knew my background as a session guitarist and friend before I started making records. At the end of the day, what made him call me instead of anyone else, I still don't know, but I'm grateful he did (laughs). To get to do Sister Rosetta Tharpe, Arthur Crudup, B.B. King, and all those artists was… I just loved it. It was just so right up my alley, and I loved it. Dave knew to a certain extent, but I can't speak to that. Because it was inevitably going to be such a long process, if I wasn't the right person, they would have gotten the right person (laughs).
To be clear, you played all the guitars in the film.
Yes. I was nervous at first about making such a statement until I saw the film. Then I was like, "Holy s**t!" Every two minutes, you hear my ass. It's f***ing crazy! There were 10 or 12 musicians who worked on it, but for most of the stuff you hear, there was four of us that basically did everything. There were a handful of times where artists contributed renditions spliced into the film. Kacey Musgraves contributed "Can't Help Falling In Love" independent of us.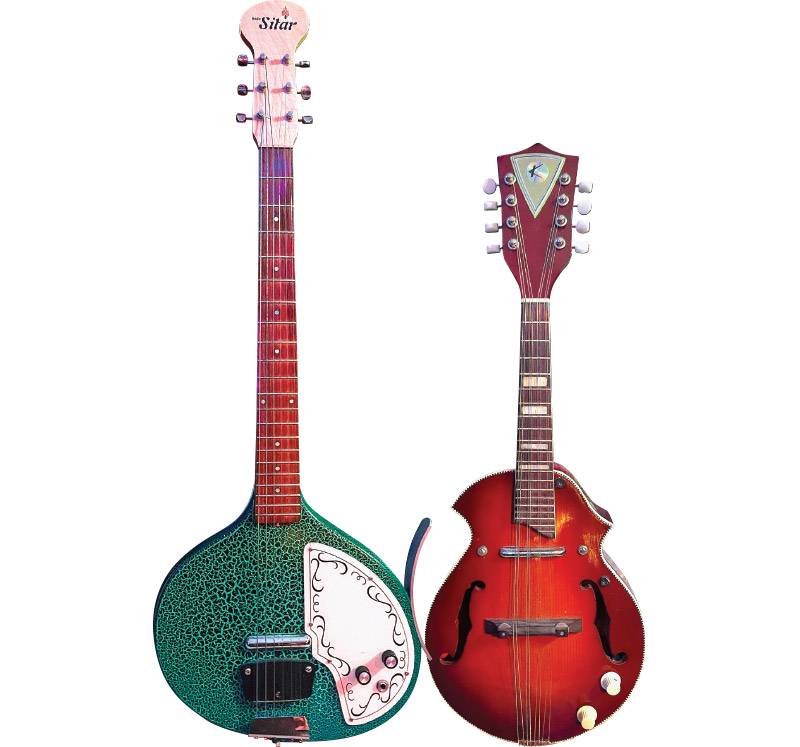 How did you approach each character's relationship to the guitar?
Scotty Moore is a very simplistic player at heart. You have to restrain yourself from doing things he wouldn't do. We recorded a lot of Scotty stuff for the film. One of the big scenes is when Elvis debuts on "Louisiana Hayride," and they do "Baby Let's Play House." We had a live recording of Elvis and The Blue Moon Boys playing it faster, more distorted, and wilder than the record.
It was really fun. It reminded me of when I first heard the Star-Club recordings that the Beatles did in Hamburg. You hear the Beatles, but everything's faster, really distorted, the vocals are distorted, and they almost sound like the Sex Pistols. They don't sound like "Love Me Do." They're way edgier and way more punk-rock, which was never heard by the masses.
It was the same thing with the source material for Scotty Moore. I'm a big Elvis fan, and I'd never heard it. So, playing this amped-up version of Scotty was really fun. They had little amplifiers turned up all the way, so of course, it's going to be more-distorted – and they're nervous. It's not like these are hugely professional musicians. They're young and nervous, so they're going to play stuff faster and more herky-jerky. They're going to have more attitude.
There was a lot of stuff I had to play verbatim because Scotty came up with these parts. I was trying to vary them enough so that it's still a performance and not a mime, because Baz was insistent. "I don't want you to mime this stuff," he told me. "I don't want you to impersonate this stuff. I want you to interpret it as if you're this person." With Scotty, it's trusting his melodies and not extrapolating more than he would.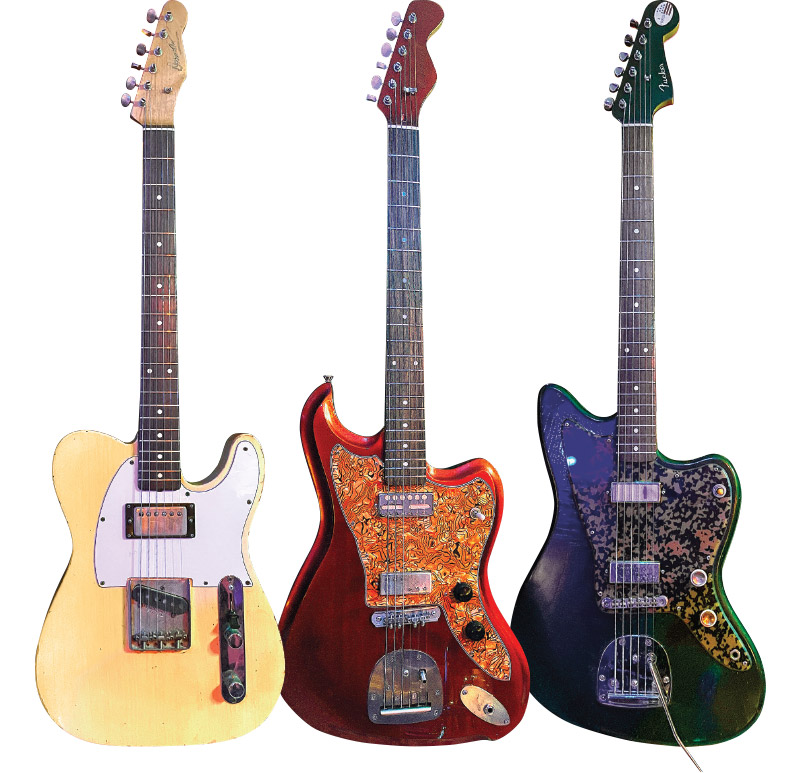 James Burton was a hot picker. On live recordings of him with Elvis from the late '60s and early '70s, James was wild. He was always looking to throw something hot in, so it's almost the opposite. With James, it was finding ways to throw something hot in. He was a young whippersnapper and had a lot of facility. This is how I got into the mind of the two guys. Scotty was this reserved gentleman, whereas James was the sharpshooter. He's from Louisiana, but was a member of The Wrecking Crew at that time and played on tons of hit records in Hollywood. He wasn't cocky, but he was like, "I'm James Burton (laughs)."
Was it difficult to "become" Sister Rosetta Tharpe?
It was (laughs)! Oddly enough, I'm a huge fan. If anything, that was one of the easier things for me because it's right under my fingers of how I play normally. I had to do intensive homework for all of it, but the Sister Rosetta Tharpe stuff was my favorite day. The day singer Yola (Carter) came in, she wasn't even cast – she was just going to supply Sister Rosetta Tharpe's voice. But she's amazing, and when Baz met her, he said, "Why isn't she playing her in the movie? You're playing her in the movie!" That happened multiple times when Baz met musicians from our community here in Nashville and said, "You have to be in the film."
Yola was born to play that part and did an amazing job. Not everything we recorded made it into the movie, but it was great to play that style and hear her in the booth killin' it (laughs). It brought me a lot of joy.
You also cover Hank Garland, Reggie Young, and Tommy Tedesco.
Hank was a methodical player, but very jazzy. With him, it was about restraint, playing more uptown, refined, and perfect. Reggie was a perfect amalgam of both. He had taste and restraint, but he was also a funky dude. Tedesco had a great sense of humor in the way he played, but was one of the finest jazz musicians and sight-readers in music history. He had this precision, but with a sense of humor. For the stuff we cut, Tommy Tedesco is like a grown-up version of James Burton (laughs). He's got all this stuff to show, and he'll still show it from time to time, but he's older, wiser, and has even more ability stacked on top of it. It's an interesting crew to wrap your head around.
With B.B. King, it was more about his playing in the '50s. The scenes take place in 1956, and he didn't have his vibrato yet; if you listen to anything pre-'60s, B.B. played more along the lines of T-Bone Walker. So, I had to make sure there was no big, wide, sweeping Live at the Regal, B.B. King vibrato. I had to make it sound like B.B. King in 1956, which was super fun.
The Scotty Moore sound, in particular, was difficult because Scotty played four guitars through that period, all through a Ray Butts EchoSonic amp, which is super rare and very idiosyncratic. So, we went to Carter Vintage to get a vintage Super 400, L-5, or a 295. We got stuff that had P-90s, staple (Alnico-magnet) pickups, and PAFs. We got a bunch of vintage Super 400s and L-5-type guitars from the '50s and early '60s. We took them all back to the studio, and one mid-'50s L-5 had more of the sound than the others. It had big flatwounds and became the guitar for all the Scotty Moore stuff.
Sometimes having the exact piece of equipment didn't get the sound we were looking for. But, Dave has a gigantic gear collection, so I knew we'd be fine.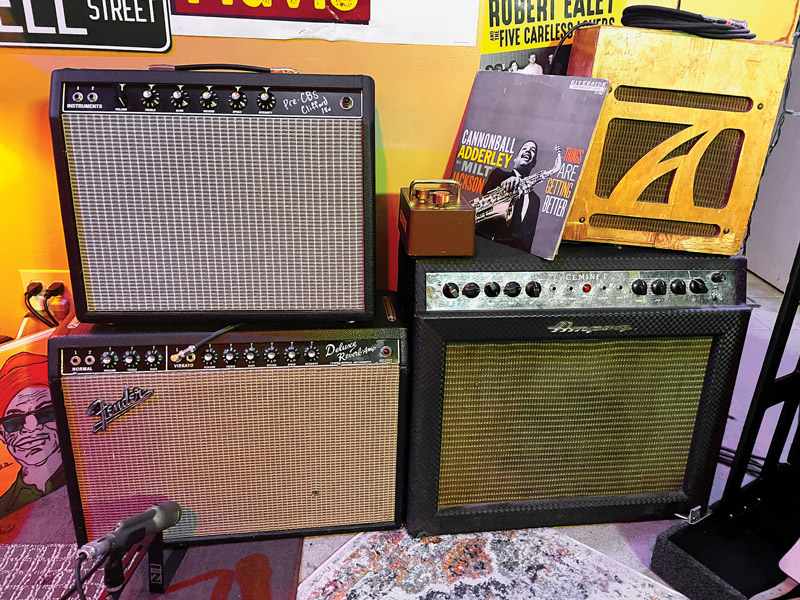 How about amplifiers?
We tried a bunch, but Dave had this little '60s Rickenbacker 10-watt combo that sounded best. If you take a big-body archtop from the '50s and put it into a Ray Butts EchoSonic and an echo of some sort, it's not bright enough – a lot of times, Scotty's sound was very bright, but a lot of those guitars and amplifiers are very dark. We had to find a combination that had twang when we needed it. An old tube Echoplex, that old Rickenbacker amp, and the '50s L-5 ended up being the Scotty setup.
What was the James Burton setup?
That one was easiest because Dave has a fantastic '56 Esquire and a '67 Super Reverb that doesn't sound like any Super I've ever heard. There's a ping to a lot of the Bakersfield sound and the stuff James played with Merle Haggard – a very specific speaker sound. That Esquire into that Super was like, "There ya go!"
Who was the most challenging guitarist to cover?
Probably Scotty Moore because I just wanted to do it right. It was the thing most in my head. I got my first guitar when I was four; it was the first thing I put my hands on and learned to play. So, it was just trying to embody it in a way that got it right. I did the best I could.
Were there challenges impersonating the other blues artists?
Not as much because a lot of that is under my fingers; I'm already steeped in Big Mama Thornton and Sister Rosetta Tharpe – at least peripherally, week after week, month after month. So it wasn't as much of a stretch. My ability to get into the vibe on those days wasn't as intense as, "Oh my God! We have to re-record 'Hound Dog' for 'The Milton Berle Show' scene in the movie!" Little things like that were great to get right, but it was intense. Scotty played "Hound Dog" three times before recording it to be released as a single, and he plays a different part on every performance. Then he plays the part that's etched in time. So, what did he play on "The Milton Berle Show"? I'm drilling it in my head, not wanting to play what ended up on the record, which is subconscious.
Did the mystery tunings make things challenging?
Yes (laughs). It was crazy. In the film, Gary Clark, Jr. plays Arthur "Big Boy" Crudup, whose style was something I certainly worked hard on and took very seriously. When I first listened to the source material, I could tell he was in a [different] tuning. Then you go down the rabbit hole of trying to figure out what he did. That was the best I could approximate because nobody knows for sure exactly how he tuned. There is evidence he tuned to an open minor chord, so I did my best to replicate that.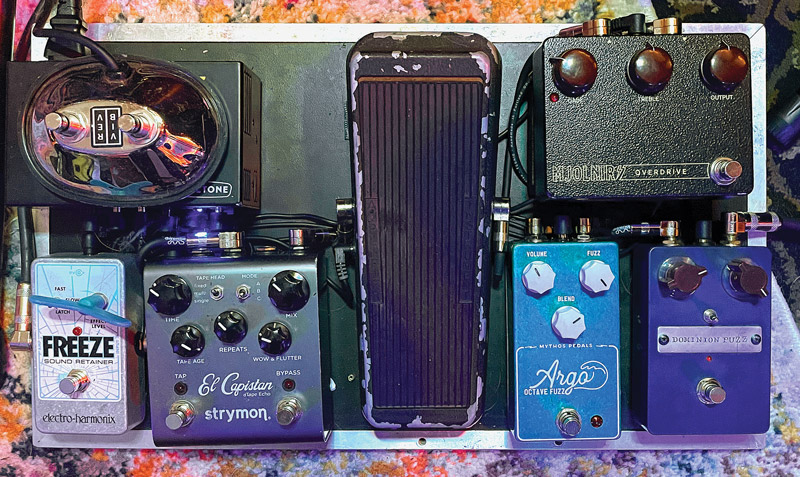 The day I recorded the Crudup version of "That's All Right Mama," it was difficult mostly because of the timing. When you're working on this stuff, you don't know what they will use or not use. But, also, you have no idea of the time or context. With the Crudup stuff, I remember Baz explaining to me how it was going to morph into the '50s, '60s, and '70s and then morph back. I remember him telling me all that, but in my mind, I'm like, "I don't know what you mean (laughs)." So, when I saw the movie, I was like, "Now I get it (laughs)!" So much of it, you're flying blind until he goes, "Yeah, that's great!" "Cool, because I have no idea (laughs)!"
What was your biggest takeaway from the experience?
All of this music is at the heart of the stuff I love the most. I veer toward rhythm and blues, blues, and jazz. The rock-and-roll stuff was very important in my formative time learning to play. It's not as present now, so this process was full-circle, and playing all the stuff that was literally at the core of who I am as a musician. There was a lot I hadn't approached as an adult, so to approach it through my eyes today was fun.
The thing that kept happening time and again was my respect for nuance. Most of the time, everyone I had to cop was fairly simple, but how they played was so righteous and cool. There are people I respect who play with restraint, taste, and tone, and are very musical. But we live in a time where there's overplaying and a lack of dynamics.
Time and time again, I'd listen to some of these artists and say, "Man, check this out! This is just so hip!" It gets stuck in your head, and it's cool. I loved it. It was a wonderful reprieve to keep coming back to. I'm forever grateful to be attached to the project, albeit in a small capacity.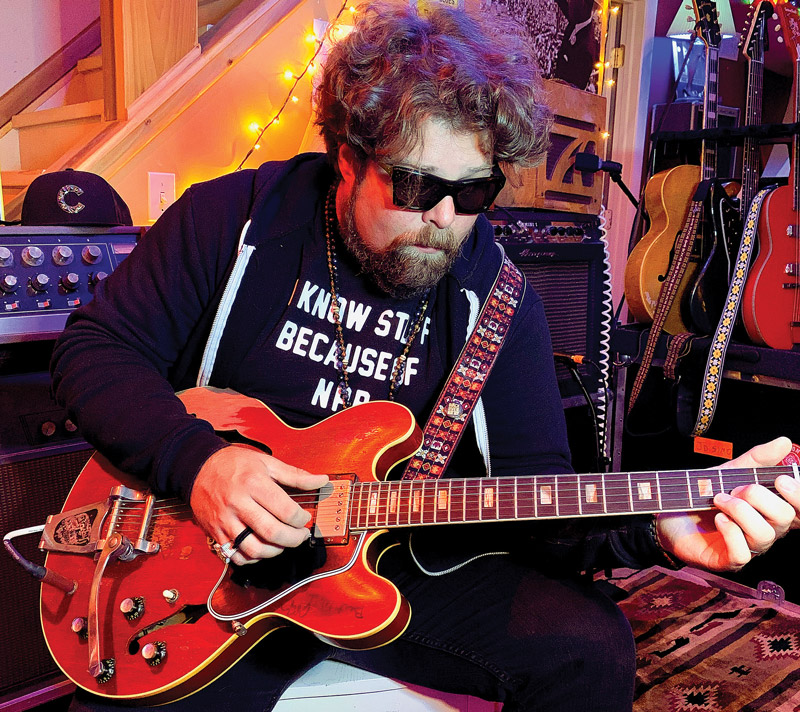 What did you think while watching the finished film?
I went into it curious, and I loved it. Talking to family members and other people, I found that if you like Baz Luhrmann's style, you'll love the movie. It's not for everybody, but I think it's f***ing cool. I dug The Great Gatsby and Moulin Rouge!
The interesting thing I found since is the strong correlation between Elvis and African-American music. Baz did an awesome job splicing Big Mama Thornton into a trap version of "Hound Dog." He also did an amazing job trying to exemplify the environment Elvis was coming from in a way that's palpable in modern times. I have a handful of relatives who are old fogies who don't dig that as much, but I like that they don't like it (laughs). Because they're kind of not supposed to (laughs). It's not for them.
They don't understand how African-American music of the past connects to African-American music of the present.
Exactly. They'd prefer the entire thing be a 100 percent period film. As a fan of music, I like the correlation. It's impossible to explain how outrageous Elvis or Little Richard were in 1956. It was a different time, and Baz did an incredible job painting that picture. He also did a great job showing how much respect Elvis had for African-American culture. Elvis wanted to dress like that. He liked it. It wasn't that he was trying to do anything disingenuous. Black culture was the culture he was immersed in and grew up around. That's how he wanted to present himself, and how he felt comfortable in many respects. I think that's a great thing to personify, given the times we're talking about and the times we live in today.
---
This article originally appeared in VG's November 2022 issue. All copyrights are by the author and Vintage Guitar magazine. Unauthorized replication or use is strictly prohibited.