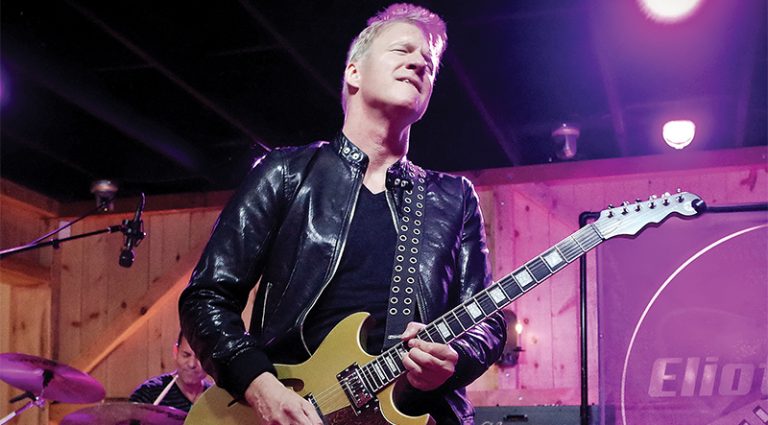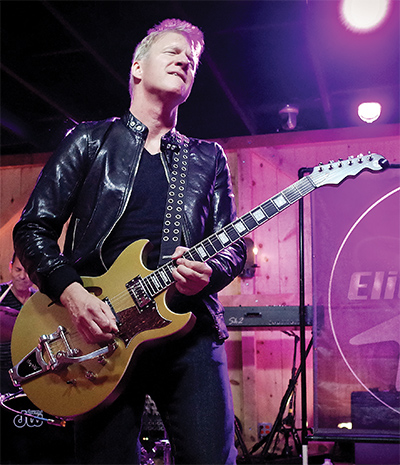 Eliot Lewis was just 10 years old when he started rubbing elbows with legendary performers, thanks to a friend's father who was a heavyweight in the music business. "Every week, he'd take us to see acts like the Who, Alice Cooper, and Elton John," he recalled.
Earlier, though, the music of Glen Campbell prompted him to ask his mother – a classical pianist – for a guitar.
"My first real one was an Ibanez that was very close to a Fender, and my first amp was a tuck-and-roll Kustom. It sounded funky, but I then found a Sound City head and 4×12 cab that sounded close to a Hiwatt, which was okay with me since I loved Pete Townshend. Later, I became a fan of Hamer guitars, and owned many, including an eight-string bass."
In the mid '80s, singer/producer Dan Hartman hired Lewis to play on several projects including songs by Joe Cocker and Tina Turner. Not long after, he began writing with Average White Band bassist/vocalist Alan Gorrie.
"We had an excellent chemistry," Lewis said. "I co-wrote several songs for their comeback record and became a member by default; from 1989 to 2001, I toured with them and helped record three albums and a DVD."
1999 saw the release of his first solo albums, and early in the 21st century, he joined the band that backs Daryl Hall and John Oates, wherein he plays several instruments. In contrast, his solo material is guitar-focused.
"Until 2009, I was mainly using Gibsons – I do love Les Paul Juniors, and I have a Melody Maker," he said. "Now, I'm mainly using Reverends; I stumbled on their Volcano while looking for a Flying V, and was very impressed with the playability, sound, and its bass contour, which re-voices low frequencies and gets into single-coil territory, sound-wise." His go-to Reverend these days is a Tricky Gomez.
Lewis scored the gig on Hall's Palladia network show, "Live from Daryl's House," by default, being a member of the Hall & Oates band, and says he is often left in awe of the artists who perform on the show.
His most recent solo release is a five-song EP titled Crusade, and another is slated for later in 2015. "Instead of a 10-to-12-song CD every year, I decided to do a five-song CD more frequently, as long as I have material."
The disc's instrumental, "Sonic Soldier," has horn parts Lewis played on guitar. After a listen, it's a bit surprising to learn… "It's just one guitar. I know it's common to double-track rhythm parts, but I almost always do them with one, then split the track into two sounds panned with different amp tones to the left and right, to make it a little bigger-sounding."
Lewis says he's pleased with his career track thus far.
"This is truly a great time for me," he enthused. "I feel so fortunate to work with Daryl and John, their amazing band, to be a part of this cutting-edge show, and to have an outlet and freedom as a solo artist."
---
This article originally appeared in VG September 2015 issue. All copyrights are by the author and Vintage Guitar magazine. Unauthorized replication or use is strictly prohibited.
---