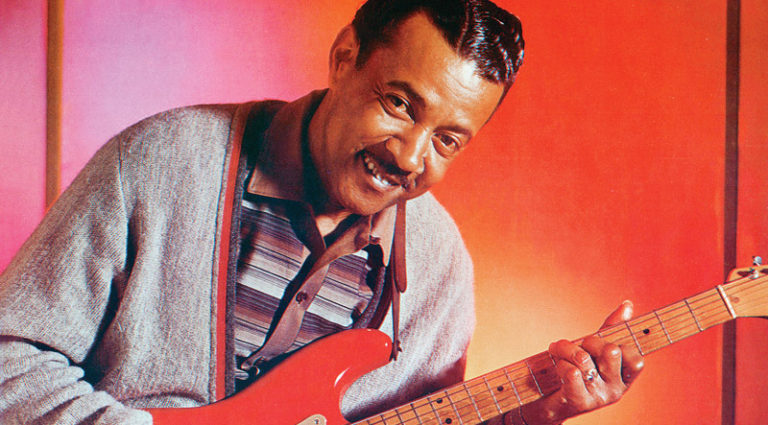 Though he is today largely forgotten, blues aficionados recognize Pee Wee Crayton as a legend. "The little man with a big sound" dominated the charts briefly in the years between T-Bone Walker and B.B. King.
Though his legacy could rest solely on the guitar break in 1954's "Do Unto Others" (the first significant recording made with a Stratocaster, quoted outright by John Lennon in the opening riff of "Revolution"), he also influenced Chuck Berry, Lowell Fulson, Mickey Baker, Gatemouth Brown, Elvis Presley, Steve Ray Vaughan, B.B. himself, and many others.
Connie Curtis "Pee Wee" Crayton was born December 18, 1914, in Liberty Hill, Texas, near Austin. As a child, he sang in a gospel group then learned to play ukulele and trumpet. He didn't pick up guitar until he was 20, after relocating to Los Angeles, his interest piqued by Charlie Christian's "Solo Flight" with Benny Goodman's band. Like Wes Montgomery and scores of other guitarists, the tune prompted Crayton to acquire a used instrument and begin decoding its licks.
He later moved to Oakland, learned basics from local Eddie Taylor, and in 1944 befriended (and was tutored by) T-Bone Walker, then later by jazz guitarist John Collins.
Steering his career toward blues, by '46, Crayton secured his first pro gig with pianist Count Otis Matthews' House Rockers and recorded with Ivory Joe Hunter. In '47, he made his debut as leader, though his four tracks were shelved until '49, when they were issued by 4-Star and Gruv-V-Tone. In '48, he led a trio with stellar pianist David Lee Johnson and bassist Candy Johnson, and was spotted in a San Francisco club by Tony Vallero, who recommended him to producer/entrepreneur Jules Bihari.
---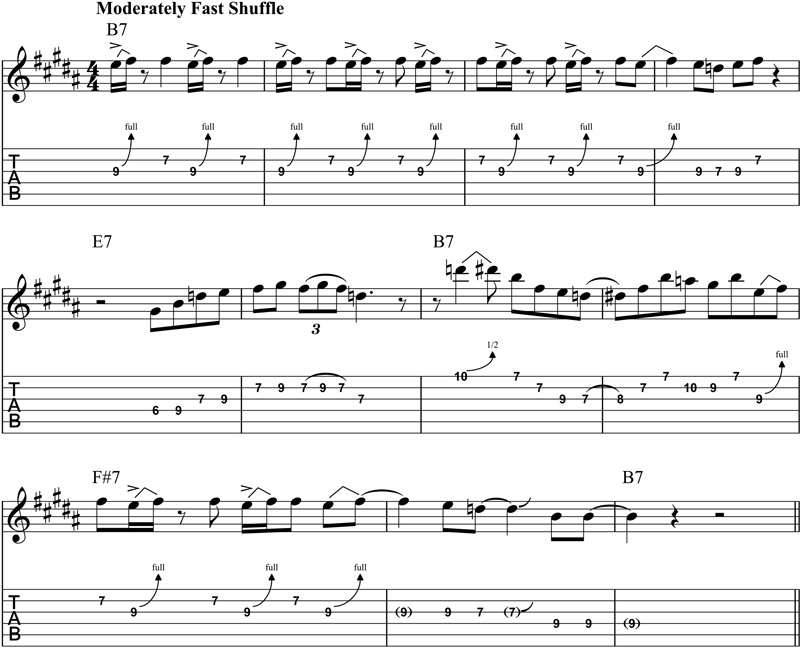 Pee Wee's solo in "Texas Hop" marked a milestone in blues guitar. This excerpt finds him doling out inspired improvisations as he harnesses the power of repetition and short theme motifs a la T-Bone in bars 1-3 with an ostinato that presages similar tactics in early rock. The unison-bend figures are identical in feeling and intent to those later favored by Chuck Berry and other rockers in the '50 and '60s, along with their descendants to the present. Note the rhythmic displacement in bar 3, where Pee Wee nudges each theme to land on alternating strong and weak beats – a simple but effective device. Contrast comes in the form of jazzier eighth-note lines in 5-8. Here, distinctive elements from Charlie Christian surface. Check out his use of idiomatic arpeggios (E9 and B7) and stepwise melody in this passage, strengthening the swing-jazz connection of early electric blues. He recalls the unison-bend ostinato in compressed form over F#7 in 9 and ends the chorus with a return to home base, the minor-pentatonic blues sound in 10-11.
---
Bihari and his brothers were responsible for recording much of the West Coast blues out of Hollywood. Crayton signed with the their Modern label and waxed "Blues After Hours," a slow-blues instrumental that topped R&B charts for three weeks in November '48, backed with "I'm Still in Love With You," a bluesy pop ballad that presaged his crossover tendencies. "Texas Hop," a shuffling blues romp, was followed by "I Love You So," a jazz-tinged ballad and his first vocal A side, reaching #5 and #6 respectively in '49. These marked his commercial peak, established his presence as a versatile blues stylist, and blazed the trail for countless progeny. With an act that featured walking into the audience with a 300-foot guitar cord, he was a favorite performer on Central Avenue and in national blues venues. On June 25, 1950, he appeared at Cavalcade of Jazz, at L.A.'s Wrigley Field alongside Lionel Hampton, Dinah Washington, Roy Milton, and Tiny Davis to a crowd of more than 16,000.
Crayton left Modern in '51, going to Aladdin, RIH, and Imperial between '51 and '55, while producing another batch of influential songs like "Do Unto Others," "Hurry, Hurry," "I Need Your Love," and "Every Dog Has His Day." These tracks rivaled his Modern work and flaunted his crisp new Strat tone, but failed to chart nationally. By the mid '50s, his prospects worsened and he attempted to revive his declining career in Des Moines and Detroit, where he befriended Kenny Burrell and deepened his jazz roots while sharing a mutual love of the blues (recently confirmed by Burrell). He cut several noteworthy but unsuccessful tracks for Vee Jay; "The Telephone is Ringing" is a landmark piece from these sessions. He returned to L.A. in 1960 and recorded singles for Jamie, Guyden, and Smash while supplementing his income with truck driving. His fortunes improved when Johnny Otis booked him for the 1970 Monterey Jazz Festival, which led to his '71 comeback album Things I Used To Do (Vanguard), which updated his sound with electric piano and modern rhythm section and offered a remake of "Blues After Hours." The title track, Guitar Slim's classic composition, became a signature song for Crayton, while the program of shuffles, slow blues, R&B, country, and pop revealed an evolving Pee Wee, absorbing influences via Buddy Guy, Jimi Hendrix, Albert Collins, et al.
In '73, he recorded Pee Wee Crayton: The Johnny and Shuggie Otis Sessions on Blues Spectrum. He subsequently shared album credits with Big Joe Turner and Sonny Stitt on Everyday I Have the Blues (Pablo, '75), and worked as sideman for Big Mama Thornton and Roy Brown (of "Good Rockin' Tonight" fame).
---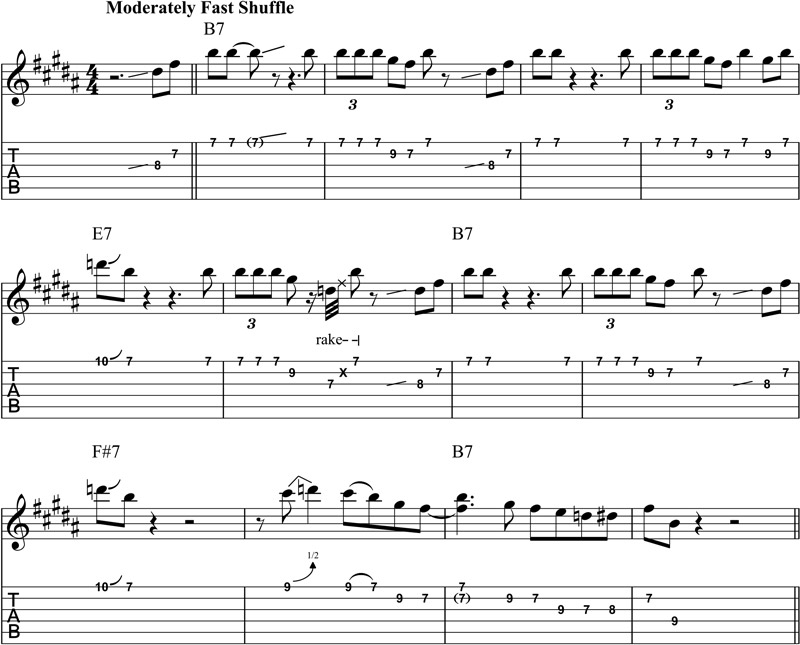 "Texas Hop," Pee Wee's #5 hit in 1949, paved the way for numerous blues-guitar instrumentalists. It was arguably the first of its kind, and certainly the first such electric-blues piece to crack the Top 10. Set in a brisk shuffle groove, the 12-bar blues in B took T-Bone's innovations to the next level with spirited improvisations and a blues-vocal theme portrayed in guitar form, with a tightly structured treatment, call-and-response phrases, and riff-based conception colored by half-step bends typical of the period. The major-pentatonic melody and swing-blues phrasing lent a catchy, song-like delivery to the tune, and shifting the theme to a minor in bars 5-6 is a classic maneuver of traditional blues. The major/minor polarity of the blues is further emphasized by the D-D# in bar 11 at the theme closure.
---
In the '80s blues renaissance, Crayton's earlier catalog was reissued and he continued to tour and record albums like Make Room for Pee Wee and Early Hour Blues on the Murray Brothers label. The latter featured remakes of "Blues After Hours" and "You Know Yeah," the jazz-inflected "E.T. Blues" and funky takes on R&B and blues in "Barefootin'" and "Blues At Daybreak." He began appearing with Eddie "Cleanhead" Vinson and performed until his death from a heart attack on June 25, 1985. In 2019, he was inducted to the Blues Hall of Fame.
INFLUENCES
Crayton's early influences were Charlie Christian and T-Bone Walker. John Collins (of Nat Cole Trio fame) taught him jazz chords and to fret with all four fingers, which distinguished him from the era's other blues guitarists. He also claimed the Kings – B.B., Albert, Freddie, and Earl – Albert Collins, Muddy Waters, Lowell Fulson, and Kenny Burrell as favorites.
STYLE
Crayton was one of the most-influential, diverse blues guitarists of the late '40s. His specialties included slow blues, shuffles, guitar instrumentals, uptempo boogies, R&B, pop ballads, and the occasional novelty tune. His lexicon contained customary blues-scale and pentatonic language, call-and-response figures, speech-rhythm phrasing, swing-jazz lines, idiomatic string bends, and decorative double-timed flurries. His execution was as diverse, ranging from smooth singable licks and hard swinging groove riffs to stuttering rhythmic phrases. His guitar style is often compared to T-Bone yet sported considerable differences, particularly in the embrace of sophisticated jazz chording with substitutions, chromaticism, extensions, and altered tones. "When It Rains It Pours" (heard earlier in "I'm Still in Love" and reprised in an '83 live version of "Merry Christmas, Baby") with its intro sequence of 9th and 13th chords, resembles chord passages of Oscar Moore, Barney Kessel, and Kenny Burrell. The chromatic/slurred 9th chords in "Blues After Hours" (3:46) and rhythm-change bridge of "I'm Still in Love" boast an obvious jazz pedigree, as does the ending sonority of "Baby Don't You Cry," a tune that could've graced Billie Holiday's repertoire. His jazz-informed single-note lines, epitomized in solos like "Don't Break My Heart," similarly expanded the standard pentatonic/blues-scale vocabulary. Unlike his contemporaries, he sometimes relied on a composed hook-oriented approach to "signature" solos – a central tenet of pop rock. In these instances he paraphrased or shadowed the vocal melody line and transcended the looser idiomatic licks of blues improvisation. The tactic is evident in "My Idea About You," "I Must Go On," "I Need Your Love," "Be Faithful," and particularly "Eyes Full of Tears." He had a keen melodic sense as a blues player, extant in catchy themes like "Texas Hop," which presented a blueprint for future instrumentalists such as Freddie King. Moreover, he possessed a gentler, well-modulated singing voice that contrasted markedly with aggressive blues-shouter counterparts and Delta stylists, allowing him to pursue pop crooning and country numbers with an ease and authenticity equal to his blues expressions. Check out "I Must Go On" and "Wondering Why," interpretations laced with idiosyncratic drawl, twang, and yodel hillbilly nuances.
Crayton's early playing over varied styles and grooves foreshadowed and reinforced rock's blues ethic, affecting first-generation rock-and-roll musicians. It's no stretch to imagine Elvis singing "Yours Truly" and "Hurry, Hurry" or Bill Haley covering "I Need Your Love" and "Runnin' Wild," and the signature riff of "Blues After Hours" bears a striking resemblance to the major-pentatonic line running through Fats Domino's "Blueberry Hill." Several elements of Chuck Berry's style resided in Crayton's earlier approach. His use of rhythmically charged dyads is exemplary – what could be more endemic than blaring double stops in rock and roll? Not much, if you asked Chuck Berry, John Lennon, Keith Richards, or Angus Young. Recast by Berry in a dozen declensions, then copied by countless blues, rock, pop, and country successors, they are iconic and definitive – but consider the historic source. Crayton played similar passages in several songs that anticipated rock music and also applied some now classic unison-bend riffs, another Berry staple, for good measure, notably in "Texas Hop." He harnessed parallel-third dyads in "Blues After Hours" reminiscent of Chuck's moves in "No Particular Place to Go" and also played slurred sixth chords regularly in a manner presaging Lonnie Mack's solo in "Memphis." And then there's the pedal-point dyad figure in "Do Unto Others" (1:31) that contains the essential DNA for the Beatles' "Helter Skelter" riff.
---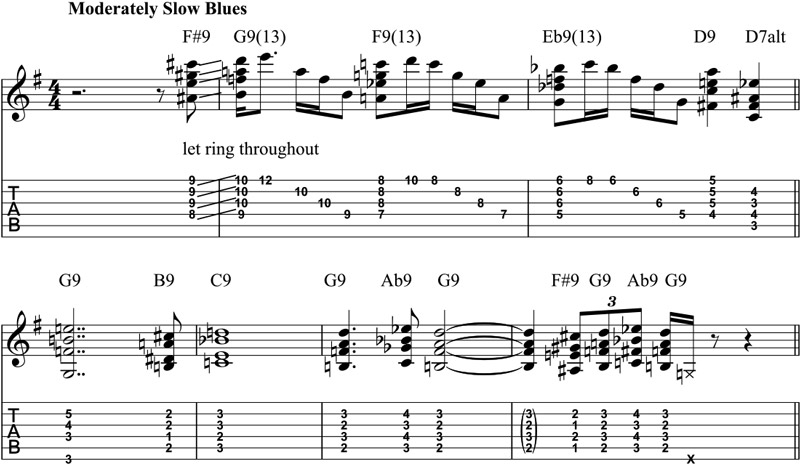 "When It Rains It Pours," a slow blues in G from '51, is a vivid example of Pee Wee's jazz inclinations. He began the song with a two-bar intro containing characteristic chord enrichments illustrating his application of jazz harmony and idiomatic jazz-guitar sonorities. The opening progression – G9-F9-Eb9-D9 with 13th extensions – reworks a set of standard jazz changes. Note the altered chord, D7#5b9/C, in bar 3. This is a clever use of a blues-guitar shape repurposed to generate jazz content. Joe Pass utilized a similar strategy, as have blues-oriented jazz players like Kenny Burrell, Barney Kessel, and George Benson. Bars 4-7 depict common moves found in Pee Wee's comping in song verses. Note the extensive parallelisms (T-Bone and Kenny used 'em, too!) throughout, where two typical 9th chord shapes are moved chromatically to produce dramatic figures and connections.
---
Throughout his career, Crayton favored a clean or mildly overdriven sound on Strat and Gibson guitars. He employed atypical techniques like prolonged tremolo picking ("Barefootin'" 1:22-1:37 and "E.T. Blues" 1:58-2:12), string noises, and non-pitched slurs as texture and punctuation, and, in later years, fretting on the pickup or pole piece ("ET. Blues" 2:15 and 3:03).
ESSENTIAL LISTENING
Crayton's classic tracks have been compiled on collections from Jasmine, Acrobat, Ace, and on Blues Masters: Pee Wee Crayton and Pee Wee's Blues: The Complete Aladdin and Imperial Recordings. Serious blues mavens should also listen to Things I Used To Do and Early Hour Blues.
ESSENTIAL VIEWING
"Blues After Hours" and "Things I Used To Do" from Eddie "Cleanhead" Vinson's '83 tour of Japan reveal Crayton alternated between Les Paul and Strat in his final performances.
SOUND
Crayton began his career on amplified hollowbody guitars. In publicity photos from the mid '40s, he brandished a blond Vega Supertron with a rosewood fretboard bearing diamond inlays, a single-coil bridge pickup, Volume and three-way Tone controls. By decade's end, he'd upgraded to Gibson's flagship Super 400C, an 18″ single-cut archtop with a Charlie Christian neck pickup and custom electronics. He likely used it to cut his Modern hits. In '54, Leo Fender gave Crayton a tweed Twin amp and one of the first custom-finish Stratocasters – a bright automotive paint called Cimarron Red (which later became Fiesta or Dakota Red) with a maple fretboard, chrome hardware, and gold-anodized aluminum pickguard. Recognized as the first blues guitarist to play a Strat, he used it for more than 30 years and posed with it on Things I Used To Do. In the '70s, he returned to Gibson guitars – first a sunburst Les Paul Deluxe with mini-humbuckers, then a tobacco-sunburst Les Paul 25/50 Anniversary model. On '80s albums and in live performances, he alternated between Fender and Gibson tones, briefly played a walnut ES-335 with Ivory Joe Turner, and dabbled with a blue Fender Mustang on The Johnny & Shuggie Otis Sessions. In 2014, Fender's Custom Shop created a '54 Relic Crayton Strat in Fiesta Red with maple board and anodized pickguard.
---
Wolf Marshall is the founder and original editor-in-chief of GuitarOne magazine. A respected author and columnist, he has been influential in contemporary music education since the early 1980s. His books include 101 Must-Know Rock Licks, B.B. King: the Definitive Collection, and Best of Jazz Guitar, and a list credits can be found at wolfmarshall.com.
---
This article originally appeared in VG's November 2022 issue. All copyrights are by the author and Vintage Guitar magazine. Unauthorized replication or use is strictly prohibited.
---