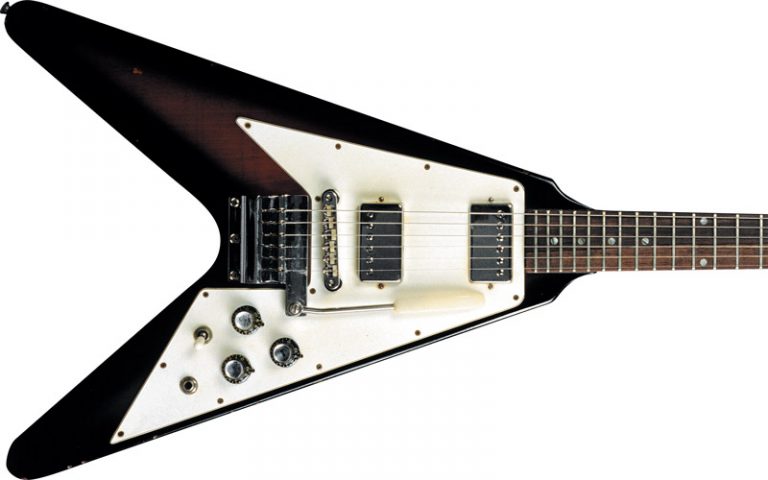 Body is two-piece mahogany.
Pickguard mounts to body with 13 screws.
Pickups are patent-number humbuckers with chrome-plated covers.
Tune-O-Matic bridge with Gibson's basic spring vibrato (a.k.a. Vibrola) tailpiece.
Control pots used mostly "bell knobs" with chrome inserts, though a few guitars were shipped with "witch hat" knobs. Controls – one Volume per pickup and a master Tone – are arranged in triangular fashion, with input jack below them.
Necks on the '67 models are one-piece, but '69 and '70 necks are three-piece. They meet the body at 17th fret.
Tuners are Klusons with plastic "tulip" buttons.
Fretboard is rosewood with 22 frets and pearloid dot markers. Scale length is 243/4″.
Headstock was slightly shorter early in the run, then returned closer to the size of the original '50s model. Gibson logo silkscreened on the oversized truss rod cover.
As played by
Jimi Hendrix (Gibson reissue below)
Andy Powell
Rudolph Schenker
K.K. Downing
Yngwie Malmsteen
Further Facts
All hardware on Flying Vs of this era was chrome – the gold plating of the '50s models was not an option.
The rubber strip on the bottom edge of the treble wing of '50s models (designed to help hold the guitar in place when played sitting down) was not included on the '60s guitars.
---
Second Turn

The history of the Gibson company and its approach to building electric guitars, especially solidbodies, is full of intriguing twists, turns, and more than its share of head-scratching moments. Whether because it lagged behind Fender in building a solidbody of any sort in the early 1950s, the fact it spent a decade playing catch-up even with the now-legendary Les Paul model as its mainstay, or the funky shapes of the "Korina trio" in its Modernistic line dreamed up by President Ted McCarty in the late 1950s, there's just no avoiding it – Gibson's history is full of mystery.
The Modernistic line – the Moderne, Futura, and Flying V – was much more about high-concept than execution, and as a result, of the three only the Flying V and Futura (with a design tweak and new name – the Explorer) went into very limited production; only 98 Flying Vs were built.
Despite the fact the original Flying V was a failure in terms of market acceptance, in 1966 Gibson decided to give it another try. Late that year, perhaps in anticipation of the 1967 NAMM show (at the time there was just one each year), management ordered two Vs. Though documention regarding a reason or rationale is scarce (or nonexistent), 1967 shipping records indicate 111 were made – 67 in Cherry Red and the rest (44) in sunburst.
And apparently those 111 guitars sated the market, as the company shipped exactly zero Flying Vs in '68 before "demand" forced them to ship 15 more in '69 and 47 in 1970 (in Cherry, sunburst, black, and "Sparkling Burgundy," a.k.a. Candy Apple Red; a late-run group were given natural finishes with matching unpainted headstocks) before the model was retired a second time.
Flying Vs of the '60s are differentiated from the '50s version in several ways. Most notable is the fact that the body had a different cut, with a narrower overall profile, less "shoulder" where the neck meets the body, and "wings" cut at a steeper angle. Their bodies were also thinner, front to back.
Another major difference is the tailpiece; where the '50s models had a string-through-body tailpiece cut in a V shape, by the '60s Gibson had developed more modern approaches, including its Vibrola, a simple spring-activated vibrato. Initially, the vibrato was mounted flat against the guitar's body, but a later design used a raised base identifiable by three spacers.
Although the V was discontinued in 1970, it returned in '71 in the form of the Medallion V, followed by a host of variations and reissues designed to address the changing market through the years. Today, it's firmly entrenched in the Gibson product line.
---
This article originally appeared in VG's May 2008 issue. All copyrights are by the author and Vintage Guitar magazine. Unauthorized replication or use is strictly prohibited.
---