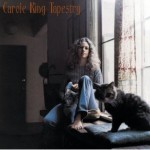 Tapestry is one of those albums that pushes everyone's nostalgia button. Released in 1971, it became such a monster hit (six million copies sold, four Grammys, and six years on the Billboard Pop charts) that its songs are deeply planted within the musical psyche of a generation.
This Legacy Edition contains two CDs, one of which captures live solo-piano recordings from the '70s, while the other is a remastered version of the original studio album, which we'll focus on here. While Carole King's songs, lyrics, and singing deservedly got the spotlight on that seminal disc, there was also a tight band that backed her on most every track. The guitar core of this lineup featured Danny Kortchmar on electric (listed under his nickname "Danny Kootch") and his then-boss James Taylor on acoustic. Manning the bass was King's husband at the time, a fabulous four-stringer named Charles Larkey, previously of a cult '60s band called the Myddle Class.
While the instrumental side of Tapestry is dominated by King's deft piano work, there's actually plenty of fine guitar and bass work going on, too. Kortchmar's über-tasty electric licks can be heard in the middle of "I Feel the Earth Move," trading solos with the keyboard. James Taylor's oft-underrated fingerstyle work is highlighted on the hit ballad "So Far Away," but it's Charles Larkey's show; his bass work is a study in understated, melodic accompaniment, nearly the stuff legends are made of. Sadly, few people even remember his name. As a bonus, at the end of the song listeners are treated to a rare Taylor guitar solo, where he trades acoustic licks with flutist Curtis Amy. Finally, for great rhythm playing, listen to Kortchmar's slippery chord licks on "It's Too Late," "Smackwater Jack," and "Where You Lead." Like his work on Taylor's Sweet Baby James or Jackson Browne's Running on Empty, this is absolutely prime Danny Kortchmar.
So what else can you say? This is perfect pop from the golden age of the '70s singer/songwriter. Add to that some great "sideman" guitar playing from Kortchmar, Taylor and Larkey, and you've got an indispensable album for your collection. If you still haven't updated that old slab o' vinyl to CD, well… it's high time.
---
This article originally appeared in VG's Jul. '08 issue.  All copyrights are by the author and Vintage Guitar magazine.  Unauthorized replication or use is strictly prohibited.
---