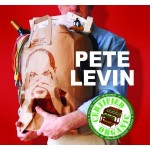 As with his last record, keyboard whiz Levin concentrates on the organ and invites outstanding guitarists to join him. Among those taking part here are John Cariddi, Mike DeMicco, Jesse Gress, and the late Joe Beck, one of the unsung heroes of jazz guitar of the past 30 years.
Beck's airy solo on "Where Flamingos Fly" highlights the bluesy ballad, and his quirky blues solo on "The Face in the Mirror" is the perfect complement to Levin's composition and playing. And while all players here shine, DeMicco is a true highlight. His rock vibe on "Patience" shows great tone and wonderful chops. He betters himself on "When I Was Young," a fine jazz-blues that features chordal and octave work throughout, then a single-line solo that showcases his soul and chops. Gress, known for his guitar instructional work, gets in slinky, funky playing in a couple of tunes – most notably Jaco Pastorius' "Teen Town," where his single-note and funk rhythms are the major propulsive force. Cariddi acquits himself wonderfully also, especially on the Cole Porter chestnut, "Love For Sale," which swings heavily behind his fine comping and great solo.
Levin has played keyboards for many acts, typically on synthesizer. But his organ playing is a pure delight. And his songs are always interesting.
---
This article originally appeared in VG's Nov. '08 issue.  All copyrights are by the author and Vintage Guitar magazine.  Unauthorized replication or use is strictly prohibited.
---