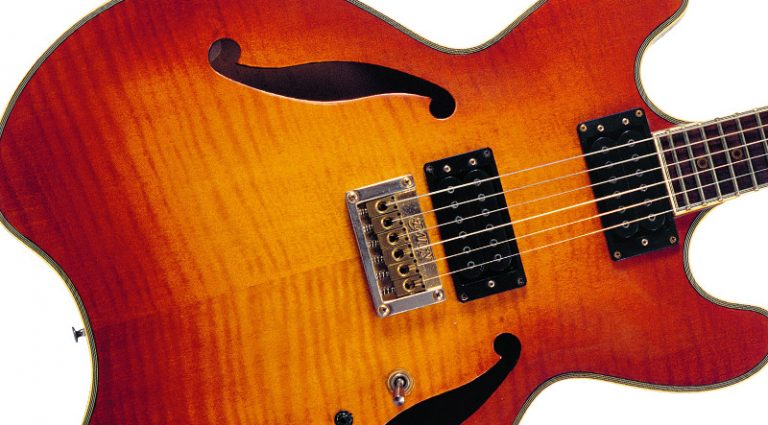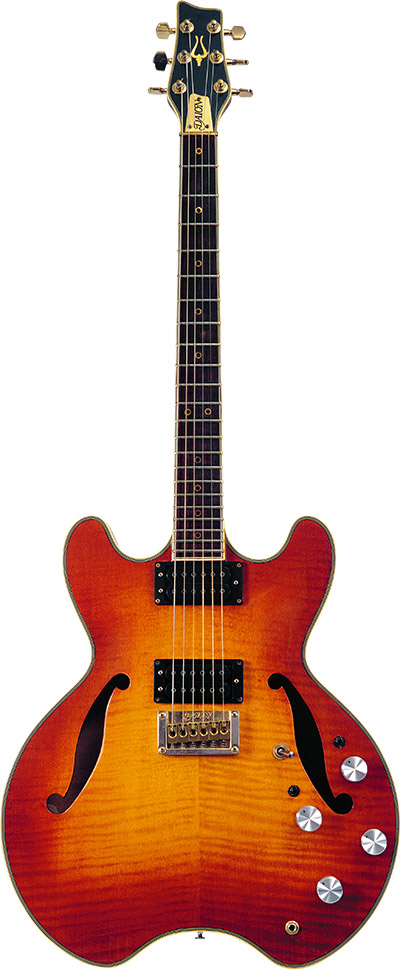 The trajectory of the Japanese guitar industry in many ways has mirrored that of the United States, though in a slightly compressed timeframe on the front-end because America had a fairly big head start.
In any case, people worked for someone, had a better idea, went out on their own, and by the mid '70s there was – on both sides of the Pacific – a plethora of small designers working on innovative guitar concepts. Many of the Japanese products never made it to the U.S., but a few, such as the remarkable Daion line, did, including this wonderfully-named 1982 Daion Headhunter HH-555.
The Daion brand has a typically convoluted evolution. Following the War, two brothers named Yasuyuki and Hirotsugu (this name comes from literature of their American distributor; Kazuyuki is given as his name in one online fan source) Teradaira got jobs with a guitar manufacturer called Tatsuno Mokko. A part of Tatsuno broke off to become Hayashi Gakki, which was purchased in 1954 or so by the music distributor Zenon, a brand that figures large among '60s guitars sold mainly in Japan. Yasuyuki stayed with Hayashi/Zenon until 1962, when he left to begin his own distributorship called Daion (Japanese for "Big Sound"). Whether or not that brand was ever used on guitars in Japan is unknown, but probably. His brother Hirotsugu left the company five years later and started Yamaki ("Happy trees on the mountain"), a manufacturer of classical guitars. These were, understandably, distributed by Daion. By the early '70s, the Yamaki acoustic line included Martin-style steel-strings and are remembered for their quality. By '74, if not before, Yamakis were being imported into Canada by Great West, in Vancouver. A young Jerry O'Hagan of St. Louis Park, Minnesota, wanted to import them, but finding legal obstacles, instead invented the legendary O'Hagan Shark and the rest of his line.
Apparently any legal problems were resolved, and in 1978, Daion/Yamaki struck a distribution deal with MusiConics International, Inc. (MCI), of Waco, Texas. MCI is best known as the distributor of the famous Guitorgan invented by Bob Murrell, who supervised their musical products. The brand name was to be Daion, not Yamaki, which probably suggests the nature of the legal solution.
Several online fan sources indicate a collaborative relationship regarding instrument design, but how much this was the case is uncertain. MCI was really an electronics firm that fitted its creations into whatever guitars came to hand. Hirotsugu Teradaira is identified as a pioneer in the use of brass and cedar, both characteristic of Daion acoustics. A good guess would be that Yamaki took care of the woodworking and, if it had any input at all beyond marketing, MCI may have influenced the electronics.
In any case, in 1978 MCI rolled out a series of Daion acoustics including the Heritage and Mark Series. As usual these were graded according to appointments, but all had cedar tops and brass nuts and bridges, as well as groovy brass inlays. These were quite superb acoustics, worth checking out. Except for the details mentioned, they looked pretty conventional. In '81 Daion rolled out two more radical designs – the Caribou and the Gazelle – with asymmetrical shapes and a dramatic scoop out of the butt-end. Both were acoustic/electrics with piezo pickup systems.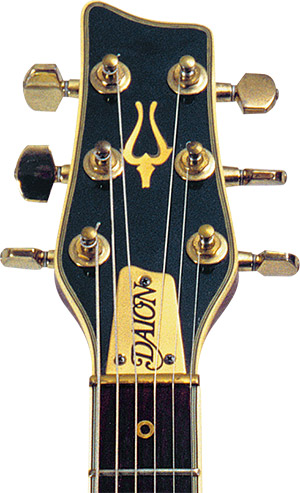 That same year, Daion introduced its first electric guitars, the spectacular rosewood-and-maple neck-through Power Mark Series, the asymmetrical bolt-neck Savage Series, and the semi-hollowbody Headhunter HH-555 shown here. All were twin-humbucker guitars with Power Pulse pickups.
Introduced as a "Future Shape," quite a lot of care went into the design of the Headhunter that fans of thinlines should readily appreciate. Besides giving the guitar a novel look, the "negative space" at the bottom was claimed to improve the balance and make the guitar less tiring to play. It also was supposed to add strength to the "shell cavity," which it probably does. Why a player would care isn't clear, unless their roadie is a gorilla.
Otherwise, the appointments of this guitar are swell. The mahogany neck is glued in and has a bound rosewood fingerboard with pretty good access all the way up. The body is flamed maple, presumably laminated. The tuners are gold-plated, probably Gotohs. The bridge is polished aluminum. A plank of wood reinforces the center and cuts down on feedback. To increase sustain, the strings pass through the bridge and body, and mount through the back. The Power Pulse pickups each have a coil tap. There are more flexible tonal designs, but this is pretty good.
Headhunters shipped in a variety of finishes during their brief run. Honey sunburst is the most common, though a darker tobacco sunburst and a dark chocolate are also encountered. A metallic gold was available on special order and is probably quite rare.
Dating a Daion is pretty simple. Like most Japanese guitars by this time, the first digit or two encodes the date of manufacture; the one shown here is #82235, built in 1982, probably number 235 of the run.
Daion did a lot of promotion, but like many innovative Japanese guitars at this time, it met a market that was moving toward heavy metal and the "superstrat" era. If our assumption that the post-date numbers of the SNs are sequential counts (no other date codes make sense), all we've encountered suggest fewer than 500 per year were built, though this is hardly scientific.
Chris O'Connell and Ray Benson of the Texas band Asleep at the Wheel were the best-known Daion endorsers. Paul Yandell was associated with MCI, as well as a few other folks.
The last Daion ads appeared in September of 1983. Some sources put their demise at '84, but that might be generous. Some Daion copy guitars show up, probably sold in places other than the U.S. The brands Dion and JooDee may also be Daions sold elsewhere.
Daions have a small but fairly rabid fan base, with good reason. While there were more innovative designs made at the time, these were very fine guitars indeed. If you're looking to recruit an interesting piece for your guitar force, you could do a lot worse than a Daion Headhunter!
---
This article originally appeared in VG's July 2009 issue. All copyrights are by the author and Vintage Guitar magazine. Unauthorized replication or use is strictly prohibited.
---