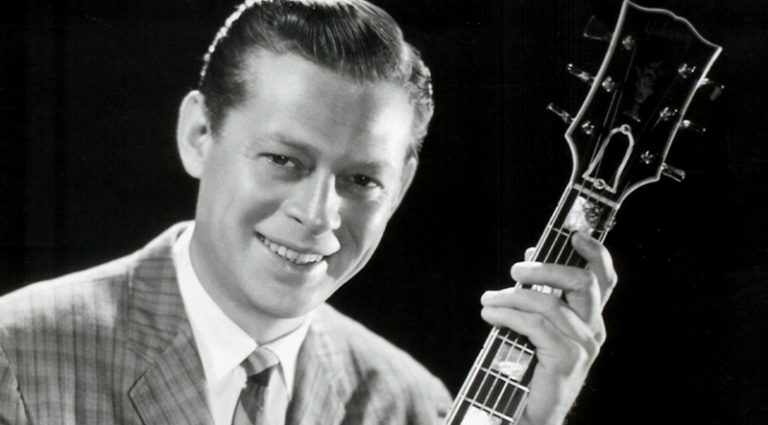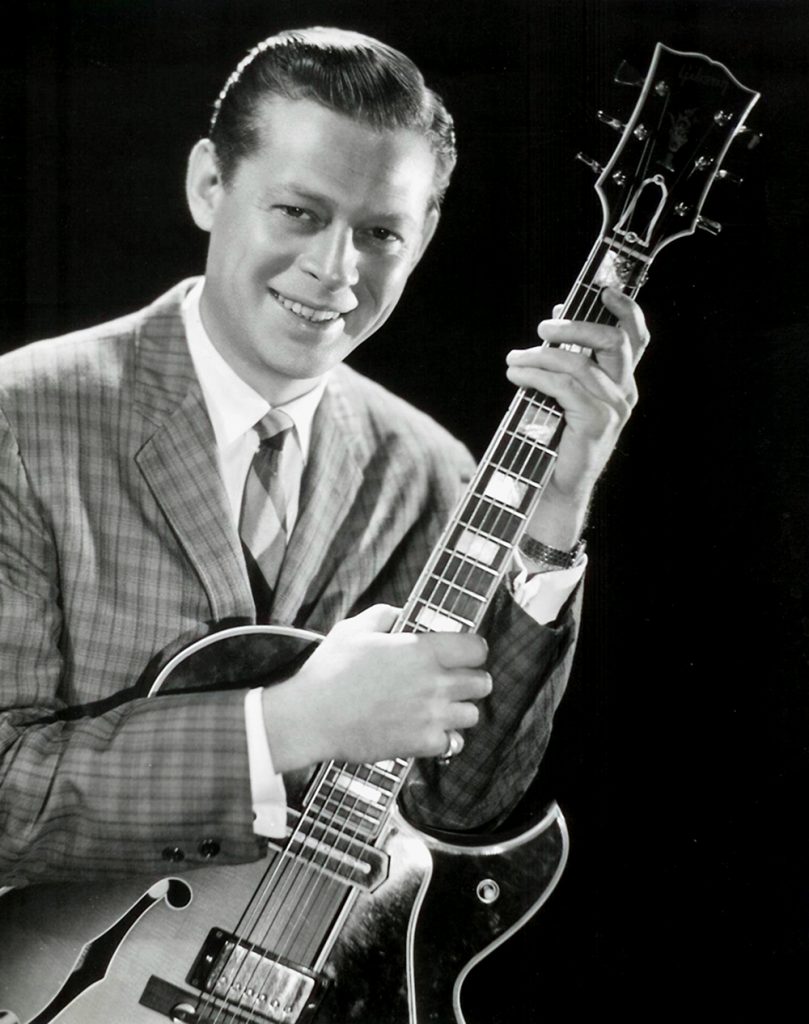 Mundell Lowe is arguably the most successful jazz guitarist of his era. He routinely performed with such luminaries as Charlie Parker, Lester Young, Billie Holiday, Dizzy Gillespie, Bill Evans, Sarah Vaughn, and many others. He perpetuated a career as a major name on the jazz circuit for seven decades and can look back on a life of composing scores and soundtracks for myriad films and television shows. In addition, his days as staff guitarist at NBC complemented a body of work that showcases many of jazz guitar's most-progressive recordings. Moreover, Lowe served several years as music director for the famed Monterey Jazz Festival.
Lowe was born and grew up in the Mississippi Delta farming community of Laurel, between Jackson and the Gulf Coast. Formative years spent in a rural area during the depths of the Depression provided the impetus for the young, ambitious artist to make his way to New Orleans.
"I got tired of two things – working on a farm and bad country music," he said.
From the Big Easy, he found his way to Broadway via the Grand Ol' Opry, where at 16 he worked as a sideman for the Sons of the Pioneers. The future would hold many more extraordinary events, from producing storied guitarslinger Roy Buchanan, playing sessions for Elvis Presley and other seminal rock artists, and a gig as staff guitarist at NBC in New York City, which included playing for the original "Today" show and broadcasting pioneer Dave Garroway.
"Record companies were selling widgets on pieces of vinyl that had nothing to do with art."
Along with many famous peers, Lowe became a fixture on the 52nd Street jazz-club scene in NYC before being hired to compose for Columbia Pictures in Hollywood.
Despite his status as a world-class artist, the guitarist still has a soft spot for authentic country music.
"My dad's group was the Shady Grove Ramblers, so I can appreciate real roots music," he said. "But so much of what we hear today is not country music at all. It's created in a studio. The same thing happened to rock and roll. I went through the era of Johnnie Ray, who was a precursor of rock and roll and played on his huge hit, 'Cry.' And of course, the Four Lads, the Four Aces, the Four Coins and so forth, but in those days we were just trying to make a living in a tough racket, so whoever rang the phone got us. I did, however do sessions with Presley, Jackie Wilson, Bobby Darin, Big Joe Turner, Ruth Brown, and a few more. But too much of the other stuff was simply formulated to make money. Record companies were selling widgets on pieces of vinyl that had nothing to do with art."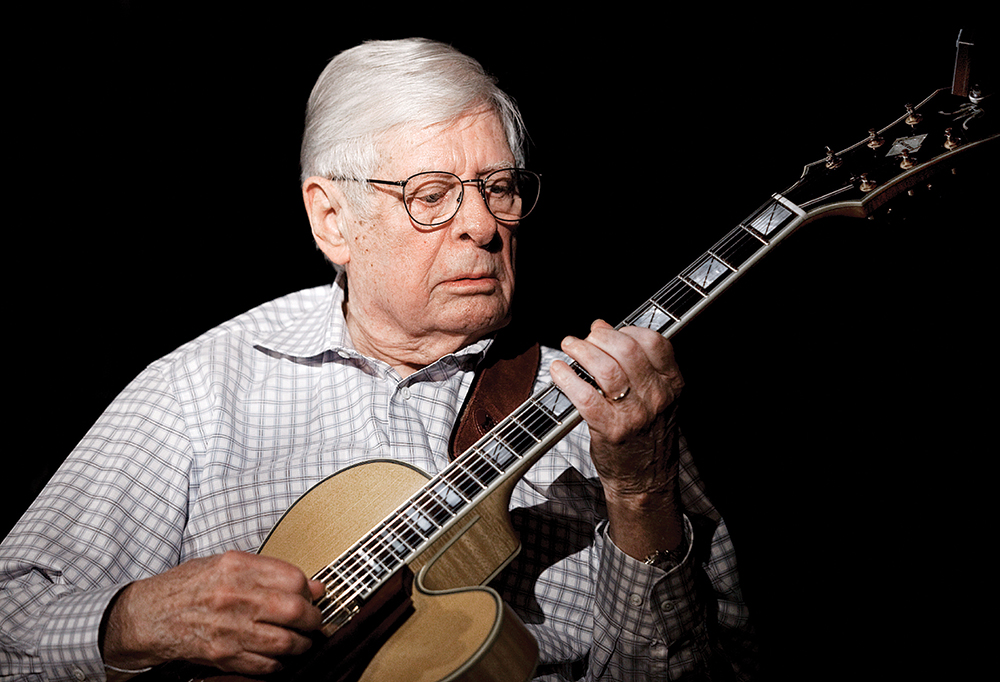 John Hammond
Lowe is among the coterie of artists whose careers were furthered by producer John Hammond. It includes Charlie Christian, Billie Holiday, Aretha Franklin, Bruce Springsteen, Benny Goodman, Leonard Cohen, Stevie Ray Vaughan, Count Basie, Big Joe Turner, and Bob Dylan. Hammond also oversaw the reissue of the indispensable Robert Johnson recordings.
"I met John when I was in basic training at Camp Plachet, outside of New Orleans. I didn't know who he was and had barely heard of Benny Goodman, though I knew Charlie Christian was in his band. John and I became good friends. He liked jazz and would set up jam sessions at the enlisted men's club. Back then, things were segregated; Buck Clayton, Basie's trumpet player, guitarist Al Casey, and many others were situated across the road, but John managed to get us together for jams. John wrote an article for Esquire magazine that eventually became a book and included a piece about me that drew some attention.
"When I was separated from the service in 1945, I sent him a telegram. John was living in New York City and called to let me know that Ray McKinley was putting a band together and wanted me to be part of it; Ray took over the Glenn Miller Band after Glenn disappeared in the war. I spent about a year and a half with Ray, then went with Benny Goodman for a short time and later left to settle back in New York to work at Cafe Society. In fact, I quit Goodman twice and he fired me three times (laughs). After that, I got the staff job at NBC."
New York, NBC, and the Today Show
"When I was working on the 'Today' show with drummer Ed Shaughnessy and bassist George Duvivier, at night we'd often work Birdland. Sometimes after a long night, I'd go back to the musicians' room at NBC and I'd fall out until 6:00 or 6:30, when it was time to rehearse. That was of course when Dave Garroway had 'Today.' He went to bat for me many times, God bless him.
"Once, I got a message to go upstairs and see Lee something or other, who turned out to be NBC president David Sarnoff's son-in-law. He was in charge of the legal department. He said, 'Mr. Lowe, I'm sorry to tell you this but we don't allow black players on camera.' I said, 'Namely who?' He said, 'Your bass player, Mr. Duvivier.' I said, 'Lee, take this up with Dave and I'll do whatever he wants done. In the meantime, because Dave hired me, George Duvivier will be on camera.' He said, 'Oh, no, I don't want to bother Dave. We just signed a contract with him and I don't want to upset anything.' I said, 'Well then, you're gonna have a black bass player on camera.'
"Dave wouldn't tolerate such a ridiculous policy. He was such a terrific person."
During that time, Lowe would arrange his schedule to play "outside" gigs like working weekends with Tommy and Jimmy Dorsey.
"Even during the jazz scene on 52nd Street, the words 'greatness' and 'genius' came [later]. I've said this to many who've asked what it was like to work with Charlie Parker. It was wonderful, but he had the same problem – we were simply trying to pay the rent. There was no thought of 'Is this genius stuff?' We were workaday musicians."
Working studio and outside gigs enhanced Lowe's visibility and cachet among fellow jazz artists. For instance, after a stint with vibraphonist Red Norvo, Lowe was asked by Norvo to find a replacement for himself before he returned to NBC.
"I told Red about was a wonderful player at The Little Club in New York City. I said, 'He doesn't have much of a name, but he can play the guitar.' It took me three or four days to convince him that this guy, Tal Farlow, could handle it. And honestly, Tal did have a bit of a time at first with Red's fast tempos. But he learned, which is what I had to do with Charlie Parker. You can't practice it; the only way to learn to play fast is to play fast. You can't sit around and think about it. Years later, I ran into Red and asked, 'How did that guitar player work out?' (laughs). Red, Charlie Mingus, and Tal Farlow became one of jazz's classic trios."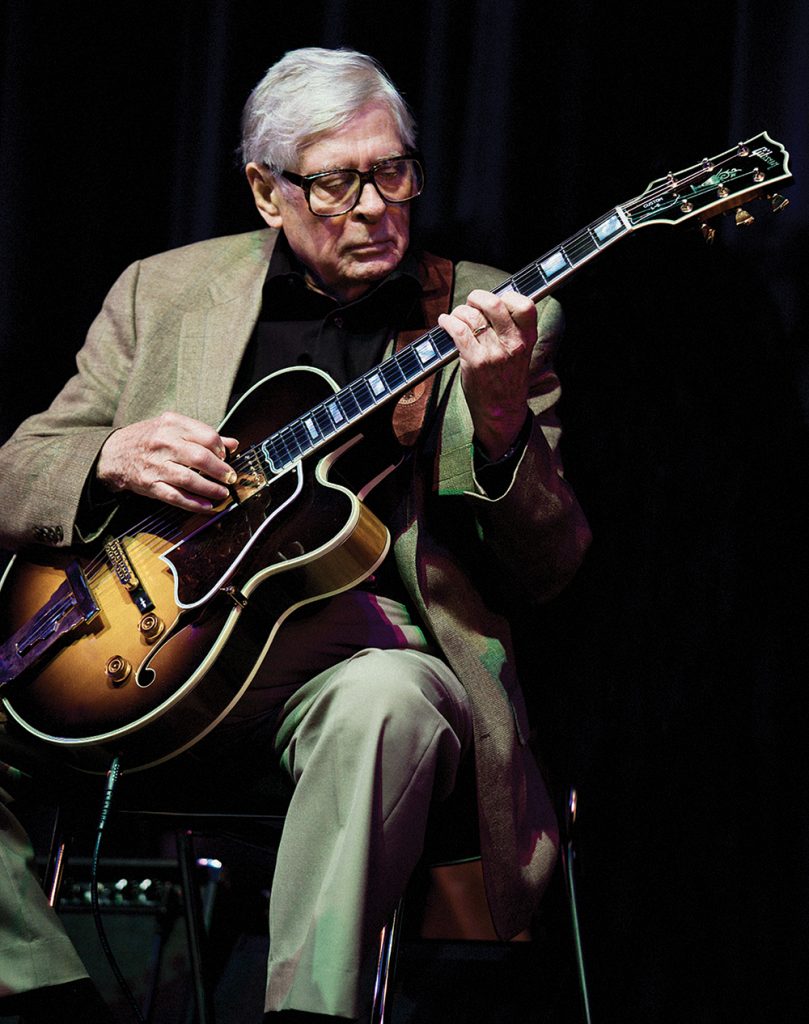 Comp skills and the West Coast
In 1960, Lowe assumed a dual role at NBC. Reuben Frank, who ran the Department of Special Events, employed the guitarist's composing and arranging skills for several documentaries including Castro's Year of Power, The Changing Profile of Baseball, The Marriage Racket, and a few others.
"That's how it began," he said. "But I could see the handwriting on the wall with staff-musician jobs.
"In '65, I visited friends for Christmas in California and ran into Jackie Cooper, who hired me to compose scores for TV and film at Columbia Pictures/Screen Gems. I've always been curious about what made music work; I studied with a lot of seriously good people including Hall Overton, Walter Piston, and then Professor LaGourge, who'd been the headmaster at the Paris Conservatory. I studied 12-tone composition for seven years.
"I once heard a conversation with [Antonio Carlos] Jobim, who had a way of instinctively working with tone rows. He set up rows so he didn't have to go looking for notes when we wanted to compose. I did the same; I'd look at a phone dial or a clock face and translate the numbers into scale steps. The 12-tone approach is the greatest vehicle I discovered for writing film music and dramatic things. You take a series of numbers – five, four, three, eight, and so on, and you convert those into the key of C. From that you get your motifs and expand on them. But, you have to listen to what's being said on the screen, convey the mood, and translate that into some kind of sound. There's your starting point. If you have lovers in a soft scene, you're not going to have a brass band playing underneath. That would call for woodwinds or strings.
"Another technique involves writing a melody with a complementary bass line. That will insinuate the harmony – what the chords will be. Still, you have to use your ear to make it logical. Speaking of using ears, Walter Piston said, 'If you can't hear it, don't play it. Because if you can't hear it the listener won't hear it.'
"After seven years at Columbia, working from 8 a.m. until 6 p.m., I got so worn out I couldn't play at night. And Dave Grusin was there and having the same problem. I finally had to leave. Jackie was so nice and said I could do what I needed and that he'd give me enough outside work to keep me busy and encouraged me to go back to playing. He was that kind of guy. So, I began to freelance at other studios and did some things for Woody Allen. I also did a series called 'The Courtship of Eddie's Father,' another called 'In Name Only,' and a picture with Glenn Ford called The Long Ride Home. I was lucky and got to do projects I really liked."
Finding a Good Guitar
Lowe is famous among jazz guitarists for tuning his low E string to D. "I discovered Drop D tuning and liked how it gave the bottom a little room to spread out. Evidently, Johnny Smith liked it, as well. I like how it facilitates the accompanying aspects of the guitar. If you lay your finger across the fretboard, you have a root and a fifth on the bottom, then almost anything will work on top. That supplies the overtones that make everything else work.
"Finding a good guitar is like finding the right woman – you can't keep your hands off. Right now, I'm playing one that Jim Mapson and I designed – a hollowbody electric [that] does not feed back. It does what I want it to."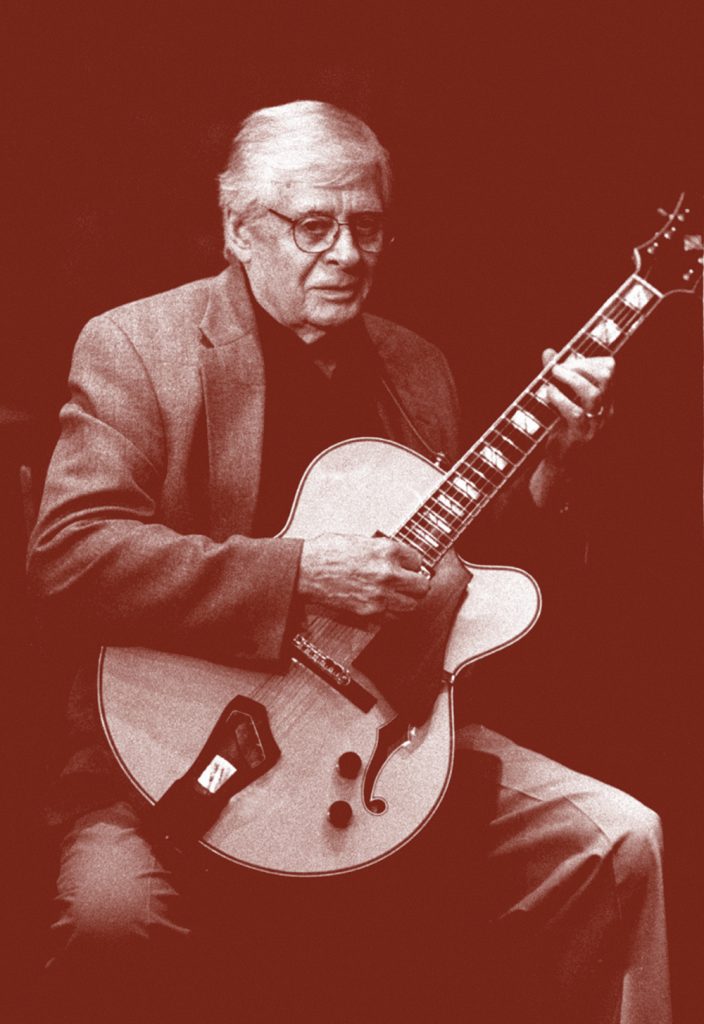 Charlie Christian
"When Charlie came out in 1939 or '40, I was living in Jackson, Mississippi, where they had a couple of his tunes on the jukebox – 'Sheik of Araby' and 'Rose Room' – and he had the sound I wanted. John Hammond was also responsible for Charlie Christian coming to Beverly Hills to join Benny Goodman's band. Time goes by, Charlie dies, and his mother comes in from St. Louis to clean out his hotel room. He had four or five guitars including one ES-150 he'd brought to New York. Through John, I was able to buy it from her, along with his little round-shouldered amplifier. You can see it in many pictures of me with Goodman and, later, with Nick Grido at the Commodore Hotel.
"A couple of years later, I asked John D'Angelico to take the black paint off and put one of his wonderful new necks on it, and he did a beautiful job; it was a gorgeous-playing guitar. I played it for a while, including with my quintet in the Embers on the East Side. As the story unfolds, my daughter, Debbie, was being born while I was on the gig, so before I left, I put the guitar in the liquor room, under lock and key. I came in the next night and it was not there. I looked and looked. Fast-forward to after (alto saxophonist) Richie Kamuca died and we were playing a tribute to him at the Palladium. A bass player approached me and said, 'Mundy, I have to tell you something… I took your guitar.' I asked where it was and he said, 'I don't know… I was a stoned-out junkie in those days and gave it to somebody for a fix.'
"That was a sad situation. It's probably still out there somewhere."
The Movies
Lowe helped create the score for the film Billy Jack, but didn't write its theme, "One Tin Soldier."
"A couple of guys from Canada did, but I created the arrangement. Peggy Lee and I had composed a song we thought captured the story line, and made a demo. Then, one day on my way to a meeting with Laughlin, I heard 'One Tin Soldier' on the radio. I headed straight for Tower Records, got the single, and went to my meeting with Tom. I said, 'This is the perfect song for the movie's main and end titles.'
"I found the group, Coven, living in the Hollywood Hills. I don't think they had any idea we were doing a motion picture when we re-recorded the thing. But we got through it and it stayed [high on the charts] for about six months."
"Tom and I listened to 20 or 30 groups who just didn't have the right feeling, and Coven really didn't have good musicians – couldn't read and it was a mess. But the girl who sang was interesting. It was tricky; I put her in a booth away from the group, then brought in an orchestra and scored the thing with just her."
Lowe also spoke about working for Woody Allen.
"He was a strange little dude. I used to see him when I was on 'The Merv Griffin Show' and he was doing standup. He and Richard Pryor and George Carlin would come on – Merv could get them for scale and they needed the exposure. I worked with Allen on Everything You Wanted to Know About Sex. They shot part of it in Agoura Hills, just outside L.A., and I remember that while we tried to arrange one of the shots, he took his clarinet and walked a hundred yards to sit in the grass and play. All you could see was this little hat with clarinet music coming from it.
"I remember recording the soundtrack at A&R in New York, and I was using Toots Thielemans to play harmonica, guitar, and to whistle because the theme was built around a harmonica solo. Woody was sitting at the board in the control room with a little C harmonica and Toots said, 'Let me borrow that.' And though Toots had all these involved chromatic harmonicas, damned if he didn't do the thing on that little Marine Band C harp. By bending the notes, he got through it brilliantly. It was amazing – everybody applauded, including Woody, who thought it was wonderful. Woody also liked my idea to have Dick Hyman play Bach on the organ in one of the scenes. It was a sequence in which the organ just made it that much funnier."
Charlie Parker
When asked about what it was like to work with Charlie Parker, Lowe asked, "Have you ever been on stage with God?
"That's what it was like. I understand talent and I understand 'best you can hear,' but there's nothing like an original. When you're working with someone extraordinary, a special thing that happens that's indescribable.
"I remember that first gig with Bird. It was the first night we started recording Bird is Free. We were playing 'Yardbird Suite' when he walked up to the microphone and took a couple of choruses that were thrilling. Then, he stepped back and motioned for me to come up and play. I played a chorus and started back, but he kept saying, 'No, let me hear you.' Another chorus, and 'No, no, no…' So I played four or five choruses. He had a gold tip on one of this teeth, so when he smiled, I could see it gleaming and knew I'd made a friend.
"I knew him for a long time. He used to hang out when I was living downtown in the Cafe Society building. I was rooming with (clarinetist) Tony Scott, who'd introduced us. Bird and I talked many, many times, but never about music. We'd talk about physics, mathematics, chemistry… you name it. He'd had a good education. His mother had seen to that. He was an extraordinary human being, a true genius."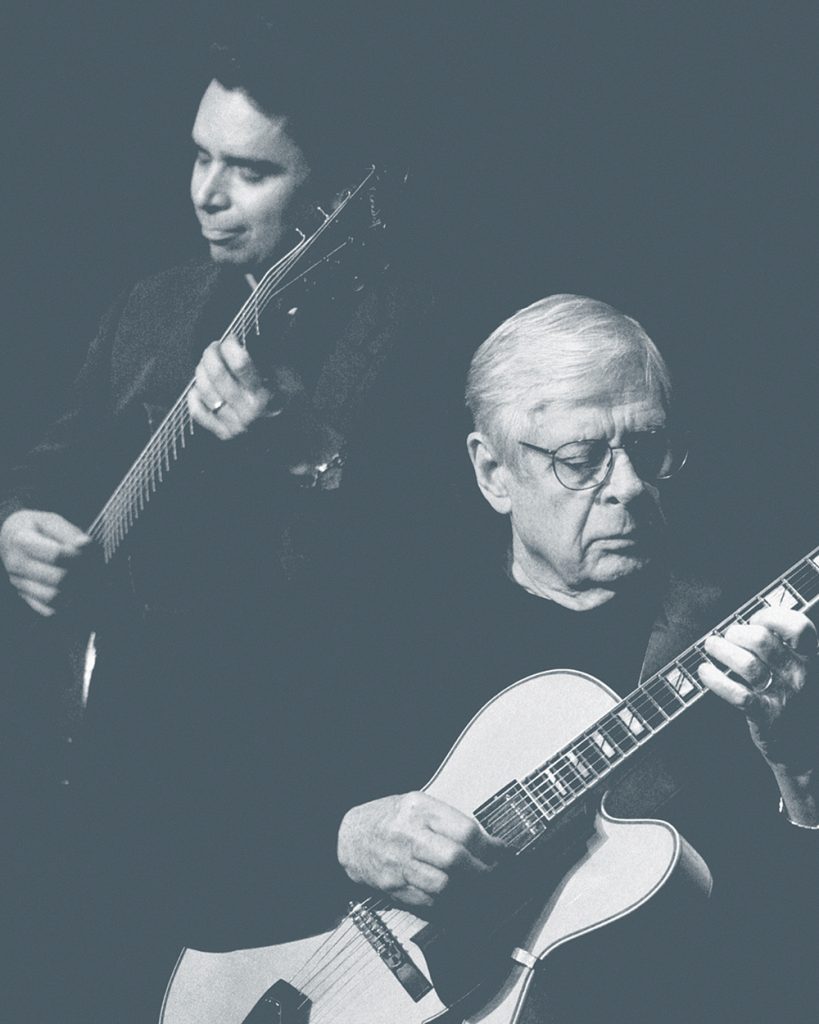 Roy Buchanan
In black-and-white video from the '70s, Lowe is shown producing a session with guitarist Roy Buchanan. He had Buchanan play "Misty," and it displays impressive communication between a straight-ahead jazz guitarist and a down-home, yet flashy rocker.
"We did that at Donte's in L.A.," Lowe said. "We had a lot of fun, but he had a wife who was bugging him about something all afternoon. I finally had to tell someone, 'Take that lady outside and buy her a hamburger or something' (laughs). 'Just keep her away for an hour so I can get this work done.' I got him to chow down on 'Misty' and the result was amazing. I knew he had so much talent and could give us what we were looking for. That was a hell of a time."
Mose
"I toured with Mose Allison down south once, and we did a concert at Ole Miss. The school wanted him to speak because he'd attended. I said, 'We're gonna have to put you in front of the mic and you'll have to say a few words.' So the time comes and Mose steps up and says, 'I came here walking and left on the run.' They'd caught him growing pot in his room!" (laughs)
At 94, Lowe offers sage advice to young players: "Don't sit and practice scales all day. Learn tunes. Because when you get on the bandstand, you're going to be playing tunes, not scales. And harmonize the melody, don't melodize the harmony. And I reiterate, 'If you can't hear it, don't play it. Because if you can't hear it the listener can't hear it.'"
Special thanks to Mitch Holder and Adam Lowe.
---
This article originally appeared in VG February 2018 issue. All copyrights are by the author and Vintage Guitar magazine. Unauthorized replication or use is strictly prohibited.