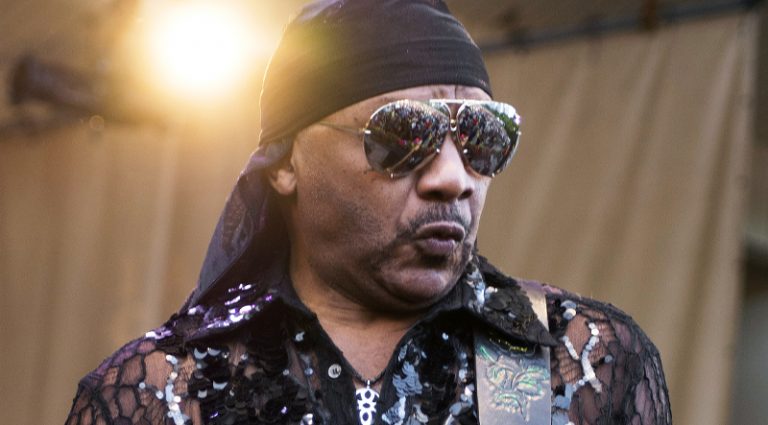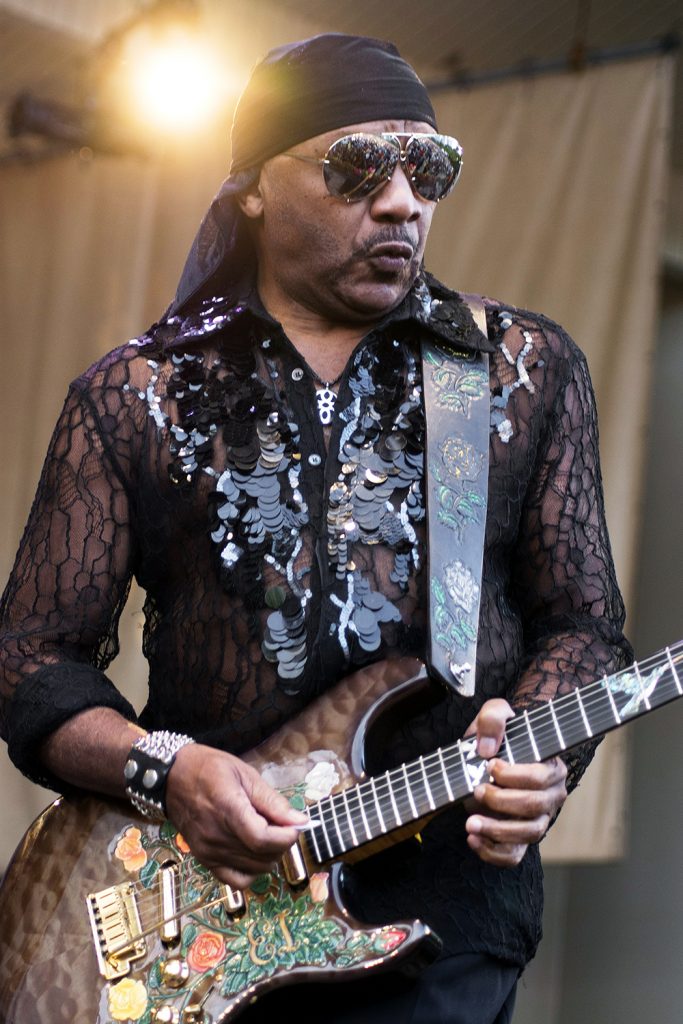 Contrary to what longtime fans may have heard, Ernie Isley didn't take guitar lessons from Jimi Hendrix. Though Ernie hung out with Hendrix in the Isley's home while Jimi was a member of the family band, it was before Ernie had picked up the guitar. That brush with the legend may have inspired the youngest Isley, and certainly, his surroundings led the way to a long career as a multi-instrumentalist, prolific songwriter – and guitar hero in his own right.
Isley was just 14 when played bass on the Brothers' hit "It's Your Thing," but came into his own as a guitarist in the early '70s. He wrote several hits and introduced fuzz guitar to a generation of R&B fans who had never experienced the power of rock guitar. "That Lady," "Summer Breeze," "Voyage To Atlantis," "Fight The Power," "Harvest For The World," "Footsteps In The Dark," "Hello It's Me," and "Climbing Up The Ladder" became hugely popular with a generation of soul fans.
"If you're standing onstage with me with your guitar, you've got a 10-speed and I've got a Harley Davidson!"
Isley's latest recording is a collaboration with Carlos Santana called Power Of Peace. A riveting soul-rock effort, it blends the velvet tones of vocalist Ronald Isley with the mighty guitars of Carlos and Ernie.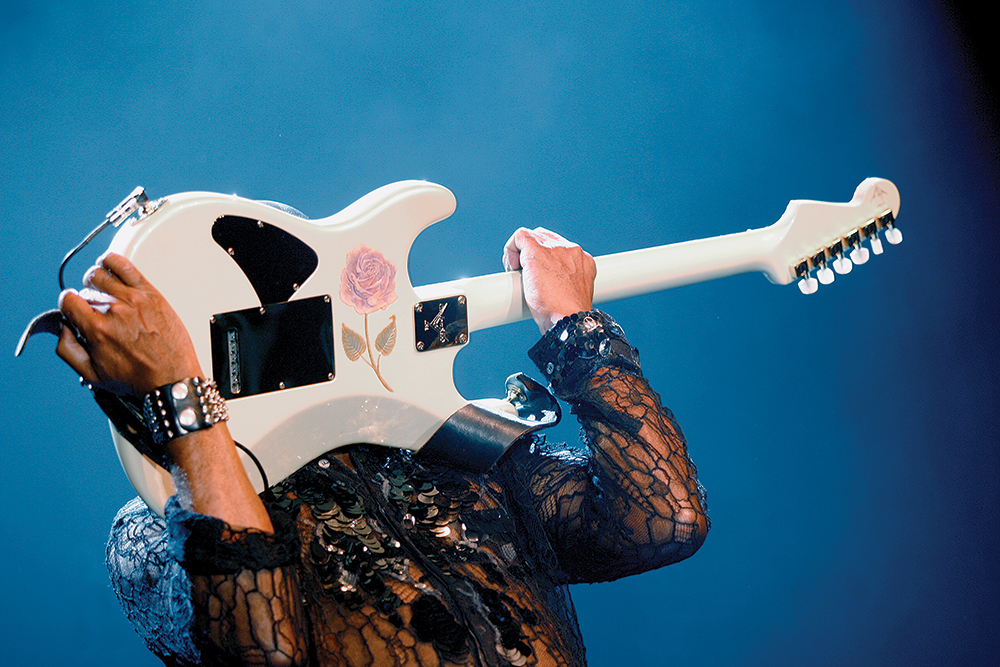 You and Carlos Santana have very different – but complementary – playing styles.
It's true. As we were tracking, I had a silly grin on my face. At certain points, he'd stop and point to me. I'd start playing and when I looked up, he'd have this same grin! I was thinking, "That's the sound! He's that guy!" This is Carlos Santana, no doubt about it! From that point on, we complemented each other quite well.
Were it not for you, a generation raised on soul music wouldn't be exposed to fuzz and lead guitar…
I've heard that, and I appreciate it. The fact I was able to have an identifiable tone and sound made it all that much more sweet. When "That Lady" came out, there was some mystery about who was playing it: "Is that Jimi Hendrix or Carlos Santana?" Then someone finally said, "That's Ernie?" and of course someone else would ask, "Who's Ernie?" CBS Records was like that, too. They didn't know what category to put that song in, but it found its way to what it was – a groundbreaking change maker of a record.
The Isley Brothers resumé is quite remarkable. No other artist started in the '50s and has Jimi Hendrix as a house guest and employee. From when The Beatles covered "Twist and Shout" to rapper Biggie Smalls doing "Between The Sheets." To this day, everybody still plays "Shout."
People forget The Beatles came to America singing Isley Brothers songs.
This is true. When they played Shea Stadium, "Twist and Shout" was the first song they did. It stopped the show. It also has an emotional connection. I ran into Paul McCartney once and I said, "You guys are just wonderful." He said, "Ernie, if it wasn't for The Isley Brothers, The Beatles would still be in Liverpool." Then we got a Lifetime Achievement Award at the Grammys in 2014, the same year as The Beatles. When I met Ringo, he said, "You guys are the reason we were able to hit our stride."
Your lead guitar sound is so memorable. What goes into it?
On "That Lady" there was a Big Muff, a Maestro Phase Shifter, and a Fender Twin. That was pretty much it. I went to a music store on Sunset Boulevard with a certain sound in mind. I tried different pedals until I was like, "That's it!" I wanted to use it on "That Lady," which is a funky-but-melodious track, but it didn't have lead guitar on it. When I plugged in and hit the first note, the song changed. The engineers were like, "This doesn't sound like anything or anybody!" There was a great deal of love, excitement, and adventure in the room. My oldest brother, Kelly, who was standing in the studio, didn't blink for 45 minutes (laughs).
We were all astounded. I played two takes; on the first, I played everywhere. It was wonderful. Then they said, "You gotta cut it back for the vocals (laughs)." I was ticked off, but I played it anyway. The second take is what went on the record. When it came out, people were like, "You gotta hear this new record by The Isleys! It doesn't sound like 'It's Your Thing.' It doesn't have saxophones or trumpets."
Was there an overriding theme that you, Ronald, and Carlos wanted to achieve on Power Of Peace?
For the songs, Carlos wanted to try something with a vocal sound. Ronald was strong in assistance to that. Carlos' band was another level of wow. It just worked. We did 16 songs in four days. We were dead on. Put a microphone in front of Ronald and kaboom, we'd have it.
We had an idea, but the combination of the band and Ronald, and what Carlos and I did, guitar-wise, was unlike what either Santana or The Isley Brothers had done before. Carlos and I played together and I enjoyed hearing and watching the band play. The next thing I know it was over. I'd listen back and think, "That's wonderful!" Then Carlos would say, "Next!" (laughs). I wanted to linger, but that's how we were able to get four tracks done in a day.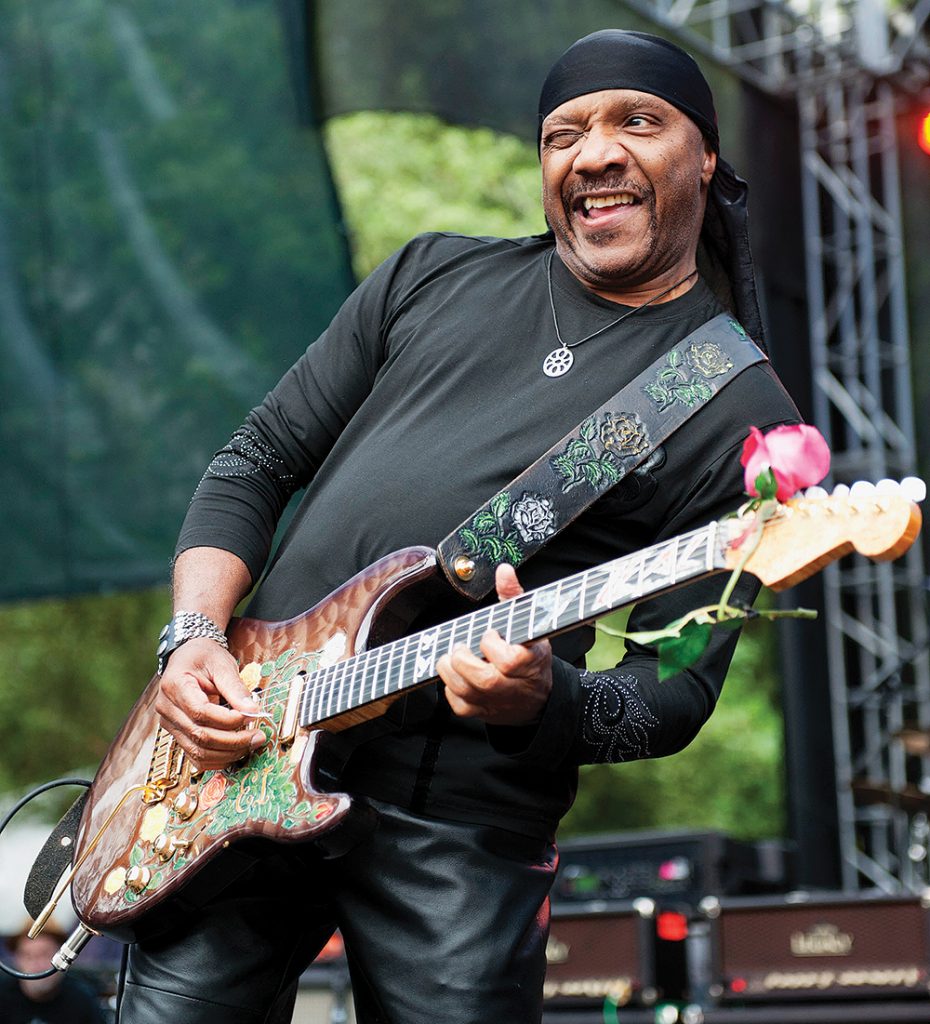 There are some great, weaving solos on "Body Talk."
Carlos is on the Mount Rushmore of guitar. I had to be up for it, and I'm glad I was. It's like I'm in new water with his band. He's familiar with working and playing with them, but it was my first time in that swimming pool. It worked like a charm.
Many people focus on your lead playing, but your rhythm style is equally noteworthy. "Footsteps In The Dark" and "Voyage To Atlantis" have become requisite study.
It's about listening. When you listen, you're open to a lot of different things. When people approach an instrument, there's a specific thing they're trying to get. Perhaps they get it, but there's other stuff that's left out. One of the defining aspects of "That Lady" is the rhythm. It's not just a strumming chord. It's fingers. On "Footsteps In The Dark," the rhythm aspect is quite important.
One of the songs that made me want to get a guitar was Jose Feliciano's version of "Light My Fire." The way he voices chords shows just how essential it is. The way you voice a chord can make all the difference in the world in terms of the mood and the ear. Sometimes, people don't know what they're hearing, they just know they like it. It's the voicings on "Voyage To Atlantis," "Choosey Lover," and "Groove With You." There are all kinds of ways to get a certain kind of feeling by the way you voice a chord.
How did you get the rhythm sound on "Voyage To Atlantis?"
I used one clean guitar and an Electric Mistress on another track. Music companies sell equipment, but if the player is there, you don't need the equipment. If you wear Michael Jordan's shoes, you're not going to play like Michael Jordan. It's the player. In the studio, Carlos had six or seven guitars on a stand, but he was playing a Strat. He's a very dynamic musician. Everything he does on a guitar ultimately sounds like him.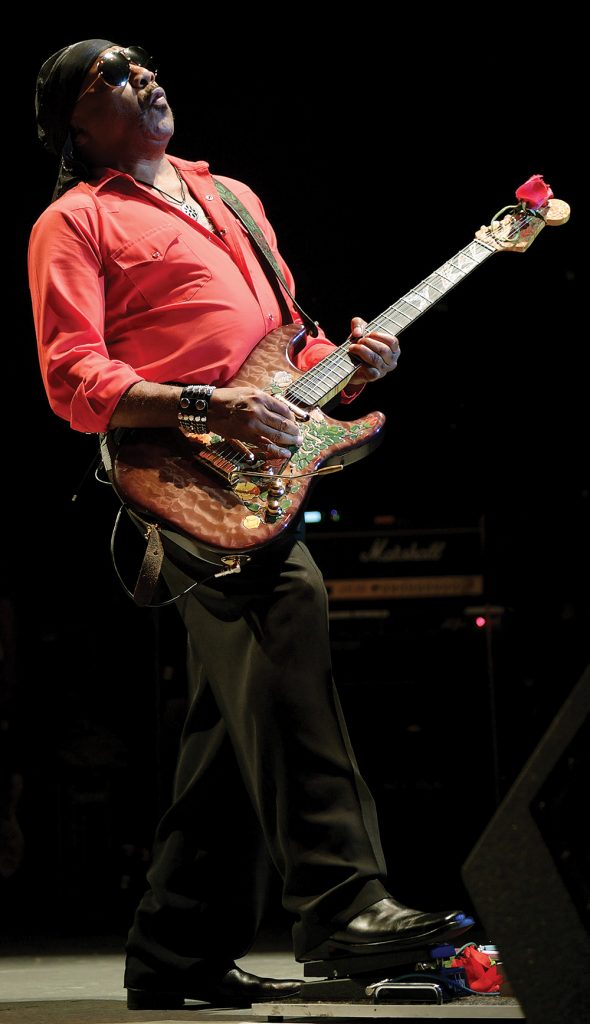 What's in your main rig?
Usually, there's a Mesa Boogie and a Marshall. They're pretty consistent in getting the sound I want. With the Boogie, I usually go for a straight tone to begin with. Whatever it is I'm playing on the floor may enhance it. When it's time to do a lead, like on "Summer Breeze" or "Voyage To Atlantis," I'll use a pedal through the same amps. I have a Crybaby wah, a couple of Rat pedals, a Boss BF-2 Flanger, and a Rotovibe.
And your guitar?
I went to the Fender Custom Shop and said, "I want a guitar that's hand-carved with roses on it." I told them I wanted the letters Z-E-A-L on the neck, and no dots. I also wanted two Doves Of Peace in mother of pearl at the 12th fret. The white one has lavender roses, a diamond in her navel between the G and D strings, and a hand-carved rose on back. That's the Zeal Guitar #3.
Zeal is burning desire – the thing that keeps you alive with a heartbeat. The essence of your life is zeal. To be playing from that place is a spiritual foundation. That's really what it's about. The three Zeal Guitars I have are the best-looking instruments to ever come out of the Fender Musical Instrument Corporation, bar none. Anybody who sees them is like, "Wow!" Anybody who plays a Strat that don't look like mine, I feel sorry for them (laughs). If you're standing onstage with me with your guitar, you've got a 10-speed and I've got a Harley Davidson (laughs)! Fender can do a production model, but they need to give me a couple of bucks (laughs)!
Any chance of another solo record like High Wire?
We'll have to see where this goes with the Santana-Isley project. With a Santana-Isley tour, we can do all kinds of things. We could do "That Lady" or "Everybody's Everything." I'll be smiling like the Joker. We had a series of shows and played with Carlos during his residency in Las Vegas. It was a great experience. Playing with him and his band is like, "Wow!"
---
This article originally appeared in VG February 2018 issue. All copyrights are by the author and Vintage Guitar magazine. Unauthorized replication or use is strictly prohibited.