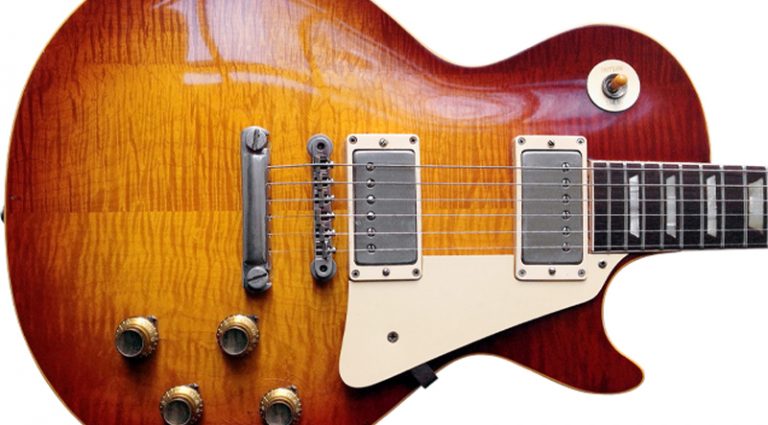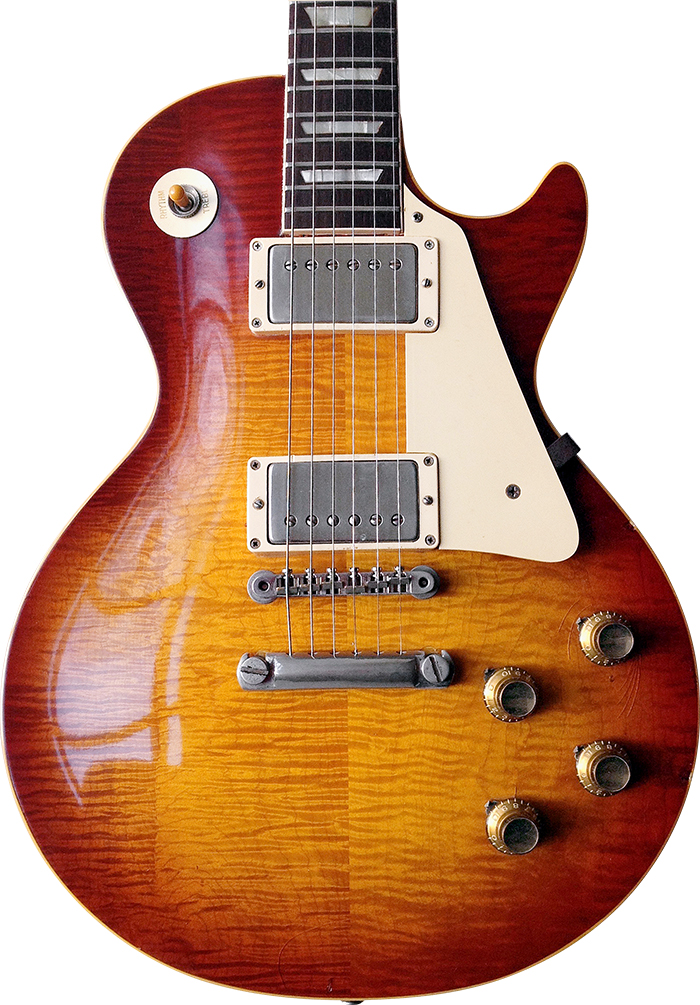 Certain instruments are nearly as famous as the heroes who play them – we know them as Blackie, Lucille, Greeny, Number One. And don't forget E.C.'s colorful Crash Strats. But not all guitars cool enough to get names are played in front of the teeming masses.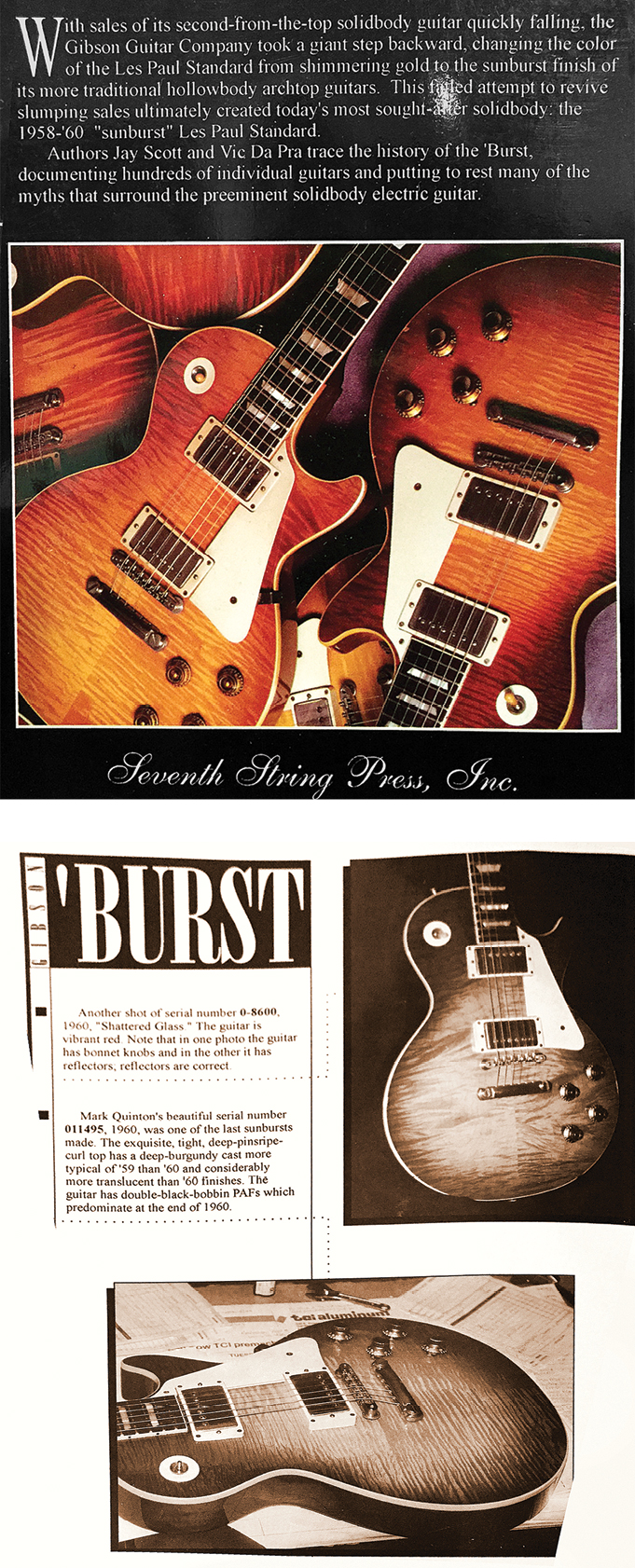 Amongst the community of collectors who dwell in the domain of the sunburst '50s Gibson Les Paul Standard – a.k.a. the 'Burst – names have for decades been assigned as certain guitars were passed from one collector to the next. One of them bears a name not usually associated with desirability, but nonetheless makes it special.
Amongst the community of collectors who dwell in the domain of the sunburst '50s Gibson Les Paul Standard – a.k.a. the 'Burst – names have long been assigned as certain guitars were passed from one collector to the next. One of them bears a moniker not usually associated with desirability, but nonetheless makes it special.
Owned by instrument dealer Bruce Sandler, one known as the "Last 'Burst" in many ways embodies the things that make the original sunburst Les Paul the most valuable mass-produced guitar to ever leave a factory spray booth. In other ways, though, it's an anomaly.
Familiar to the 'Burst community for 30 years, the guitar stands out because its serial number – 011495 –  is from late in the final year Gibson produced the original single-cut Les Paul. It also nicely book-ends the 'Burst featured in the September '16 issue of Vintage Guitar and believed to be the earliest.
Far more interesting, though, is how the number intersects with the then-new double-cut "SG style" Les Paul designed by Gibson in an effort to cure the model's perpetually lagging sales (see George Gruhn's feature on page 42 of this issue); though an exact quantity is not known, there are many SG Les Pauls with lower serial numbers than this single-cut, and Gibson's shipping ledgers showed more than 300 units between it and the previous single-cut (with serial number 011167).
"She sounds and plays great, of course, but as Jay Scott and Vic DaPra pointed out in their book, The Gibson 'Burst, 1958, '59, '60, 'It's the wood that makes it good,'" said Sandler. "Or, as my old friend Stan Jay might have cleverly put it, 'Imagine some of the most-diseased maple ever to grace the loading dock of Kalamazoo's finest.'"
Sandler is referring to the guitar's figured-maple top, a product of several factors that create a hologram-like appearance when viewed from changing angles. One of the most commonly applied terms is "flame" because the figure seems to move like the hues of orange and brown flickering in a campfire. The depth of flame and degree of "bookmatch" of a 'Burst's top can push the value of one significantly above others. On the Last 'Burst, the flame is strong.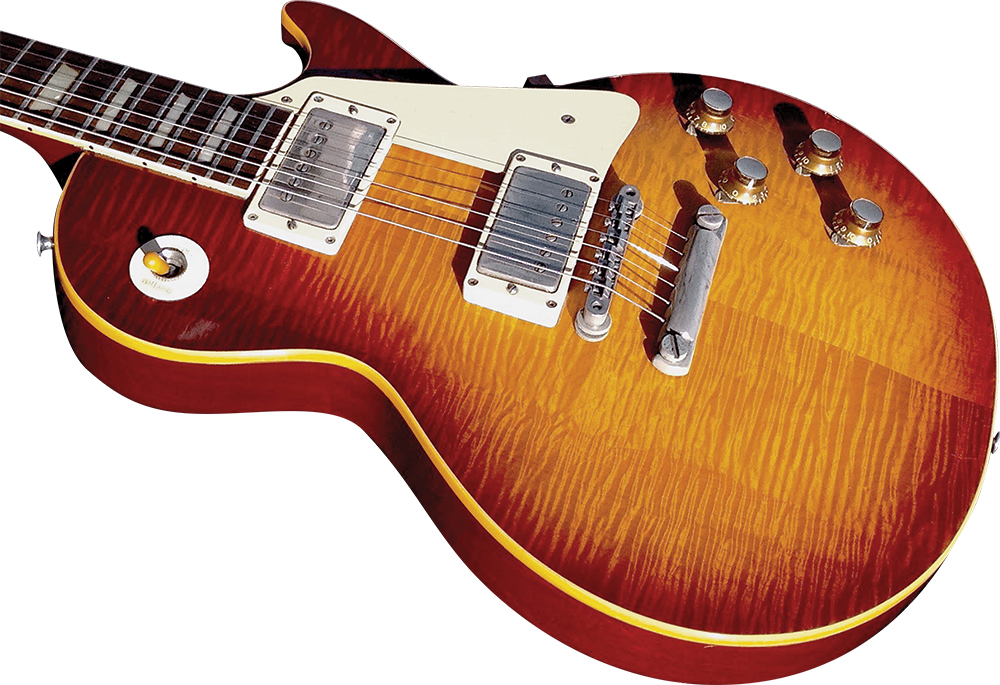 "Its medullary grain is striking, too, enhancing the flame's depth and iridescence," Sandler said. "From most angles, you see continuous waves of tight flame. But what sets the guitar apart from most 1960 'Bursts is its unusually translucent finish and deep, rich color. Some 1960 'Bursts are noticeably opaque – with an orangey-red tomato-soup look to them."
Collectors sometimes call that soupy finish "clown burst," but the deep red and orange on Sandler's is gorgeously translucent.
The list of other qualities that determine any electric guitar's collectibility – resonance, playability, the way it sounds through an amp, playability, and originality of its finish, parts, and hardware – are all magnified on a 'Burst. Any chips or breaks in the neck, headstock, or body, along with swapped parts or modifications – details apt to draw a groan from a collector/dealer in regard to most vintage instruments – bring a wince when done to a 'Burst.
Another factor that can push value is celebrity ownership. Sandler doesn't know of any high-profile owners in the lineage of this one, but it does trace through a succession of "'Burst fanatics."
"I believe the first collector to get it was Marc Quinton, on the West Coast, who sold it to Vic DaPra, who in turn sold it to Gil Southworth," he said. "I got it at the Dallas Guitar Show in the early '90s, where Gil had it in his booth on setup day. At that point, I had seen, played, and owned a lot of 'Bursts and was as obsessed as anyone – well, almost anyone – when it came to flame and color. I picked up the guitar and looked it over, and over… and over! It was one of the most beautiful and striking I'd ever seen. I wound up trading a couple dozen guitars for it – Gibsons, Fenders, Rickenbackers, Gretsches, etc. They were all great, but not like this. I just had to have it."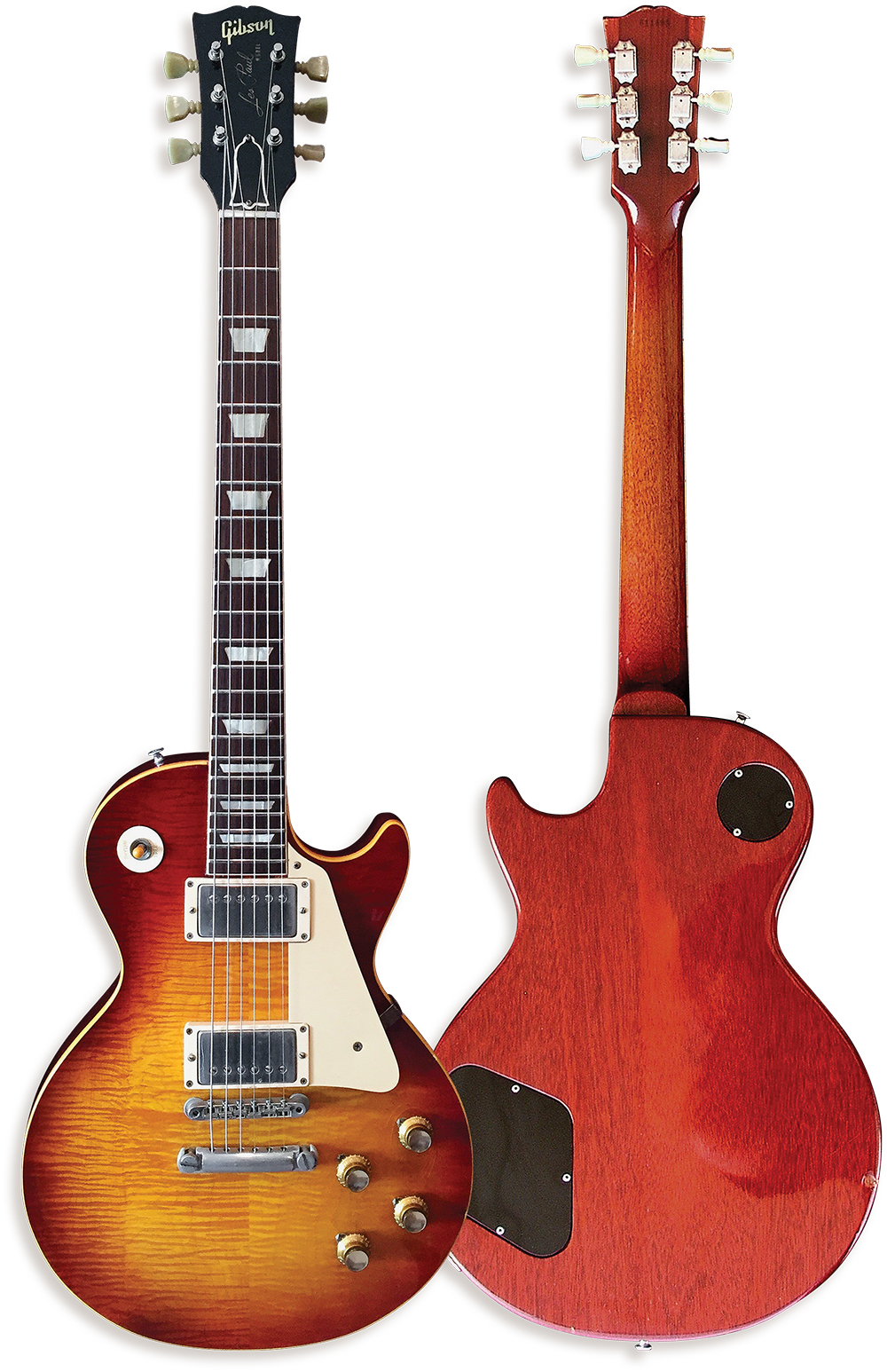 Because the guitar's serial number runs so late into the model year, and because its finish has less orange tint, Sandler believes it was likely a special order.
Beyond speculation, though, is how it delivers in terms of sound and play. Unplugged, he says its resonance is fantastic. Of course, to be truly great, an electric guitar has to deliver through an amp.
"When I first got it, I was using mostly tweed Supers and blackface Deluxe Reverbs – two of my favorites – with the occasional Marshall in the mix. Between them, I got most of what I was looking for. But then I bought a Dumble and with the resonant frequencies of the Les Paul combined with the harmonically rich Overdrive Special overdriven even moderately… I could get nearly every note to sustain and split, harmonically, without even picking the string. I could have pretty much left my picking hand at home."
Sandler became enamored with vintage instruments in the early '70s, beginning with a '61 Les Paul SG Custom. In '75, he bought a '52 Tele, then a '58 Strat, which redirected his interest to Fenders.
"I was hooked," he recalled. "So, I started dealing to support my habit, as they say, and by early '79 I was doing it full-time. Most popular forms of music at the time were guitar-based and had been for years, so interest in older guitars was really starting to grow."
For five years he operated Guitar Exchange from his house, then in '84 opened a retail shop just outside of Baltimore. As you'd expect, he has seen his share of fantastic examples – dot-neck Gibson ES-335s, herringbone Martin D-28s, D'Angelicos and Strombergs, custom-color Strats, Teles, and Jazz basses. And like anyone who's been in the game so long, he has stories.
"The first really rare electric I bought was a Flying V," he said. "I was on the phone with [PRS Guitars founder] Paul Smith one day, and as we were about to hang up, he remembered an old Flying V someone had told him was a few hours away. Within minutes, I was in my car with $3,500 cash in my hand – in those days, enough to buy almost any guitar – on my way to Ocean City, not knowing what I'd find, or if I'd see any guitar at all."
But, Smith's tip proved real.
"I found myself face-to-face with an extremely clean '58 V with black parts and an immaculate original case," he said. "But they wouldn't sell it!"
Sandler left empty-handed and for the next year and a half, the owner shopped the V to every dealer in the region. Finally, he called Sandler, who made good on his offer to pay 10 percent above any other.
There are other stories…
"In '81/'82, I had a '58 goldtop with PAFs and a finish that was heavily checked and greened-out because it had been so heavily played – it was a beast," he said. "I ended up using it as part of a deal to get a 1959 'Burst played by a local guitarist named Jeff Adams, whose band had a big regional following. I pestered the hell out of him to sell it to me, and to close the deal I had to throw in a '60s Strat, an early Marshall half-stack, and a few grand cash along with the '58, which, by the way, sounded and played every bit as good as his 'Burst. In the end, though, Jeff was happy with the deal – and I was ecstatic."
While heavily played, Sandler said Adams' '59 was "Magic… alive and responsive with that luck-of-the-draw combination of wood and wire. And its top was nothing short of amazing – even in a room full of 'Bursts, it's a killer." Among fellow dealers, it became known as the "Sandler 'Burst," and now goes by "Sandy."
Sandler sold the guitar to buy a house, and today expresses only a tinge of remorse.
"Ya' know… the idea of holding on to a bunch of 'Bursts was not viewed favorably by a lot of players or dealers, even then," he said. "So, more often than not, we sold or traded them, and held on to the ones we loved to play. And there were always lots of great guitars making the rounds or coming out of the woodwork."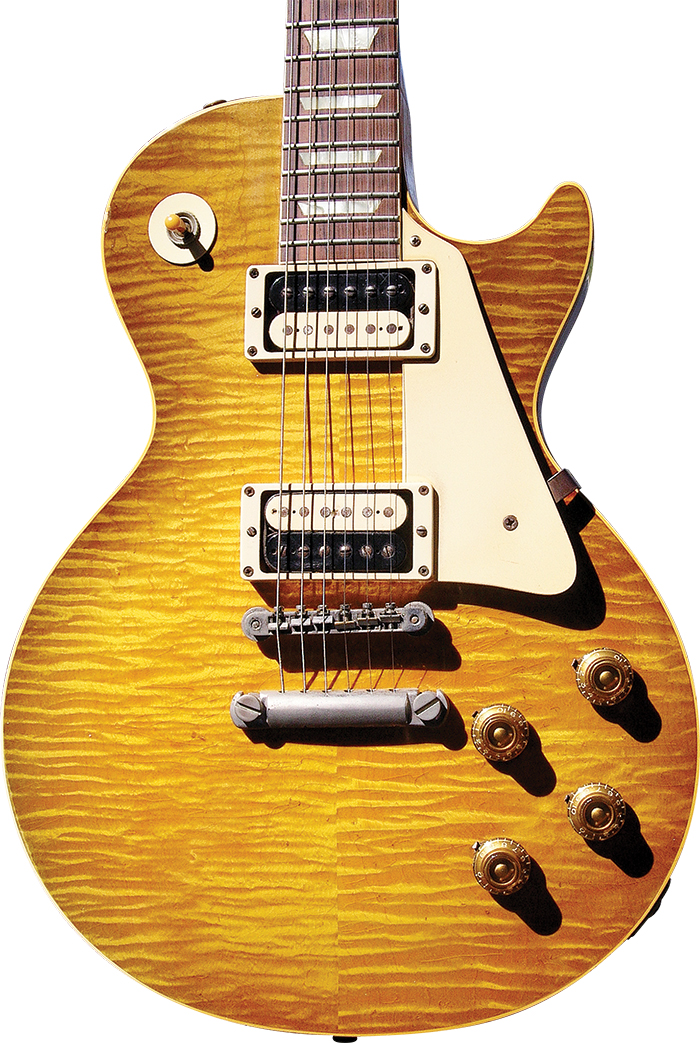 Around the same time, he also possessed a '59 now known as the Texas 'Burst, named in part because he scored it during the Dallas Guitar Show in March of 1981.
"I flew to Dallas just to get the guitar," he said. "It was listed in the local newspaper that weekend, when nearly every vintage dealer in the world was in town. Everyone at the show was jealous, especially the local dealers, who all knew about the guitar but weren't aware it was in the paper. I believe it's now back at home in Texas."
Today, Sandy belongs to Tom Wittrock, proprietor of Third Eye Music, Springfield, Missouri. He has been dealing vintage instruments since 1976 and is the host of a online forum dedicated to '50s Les Pauls. In the late '80s, he counted 22 of them among his inventory and has sold them to Slash (who got his first one via Third Eye), some that ended up with the late Gary Moore (who bought one formerly owned by Ronnie Montrose), and Joe Bonamassa. His collection currently includes the Sandy 'Burst and another, serial number 9 1923, known as "Donna." Both are considered exemplary, including by the specialists in the Gibson Custom Shop, who used Sandy as the model for its Collector's Choice series #4 model, while Donna was used for CC#5.
Wittrock called Sandler's Last 'Burst "a stunning beauty," and says that until another surfaces with a later/higher number from 1960, Sandler's deserves the name.
"Given what we know at this time, it is likely the last," said Wittrock. "It has long been assumed that serial numbers were applied in numerical order and, unfortunately, Gibson's records on these guitars are not available to the public. Unless they are finally made public, that assumption will remain and I have no problem calling Bruce's guitar the Last 'Burst."
---
This article originally appeared in VG October 2017 issue. All copyrights are by the author and Vintage Guitar magazine. Unauthorized replication or use is strictly prohibited.