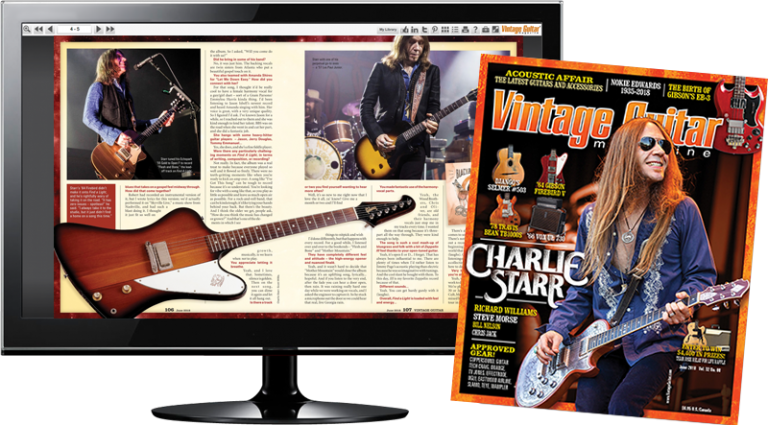 Find what's in this issue, enter the latest exclusive VG contests, or learn the 3 ways to get your Vintage Guitar fix! Don't forget to check out VG Classifieds and the playlist for this issue of VG on Youtube.
Table of Contents
We dig into the making of Blackberry Smoke's new album with guitarist/frontman Charlie Starr, reveal the complete story of Django Reinhardt's famed Selmer #503, pay our respects to the late Nokie Edwards, and talk new music with Steve Morse, Richard Williams, Bill Nelson, Phil de Gruy, Chris Jack, and Britt Daniel. When it comes to details, no other source provides information on classic instruments with the depth offered by VG. This month, we investigate the creation of Gibson's EB-3, look at a rare '64 Gibson Firebird V, and offer the complete histories of the late-'70s Travis Bean TB1000S and Vox's UL 730 amp from the mid '60s – a favorite of The Beatles. And of course, there's the usual dazzling mix of "VG Approved Gear" reviews and "Hit List" music reviews of Judas Priest, Mike Landau, Insect Surfers, Ben Rogers, Leon McAuliffe, Pete Drake, Sting, Bob Dylan, Joe Perry, and John Oates. It's all in the June issue, available now!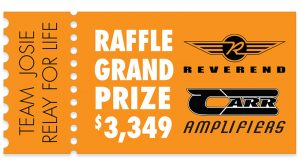 36 Rare Dress
A '64 Gibson Firebird V in Cherry Red
The Firebird was a response to the flashier, lighter offerings from Fender in the early '60s. Designed by a car guy, it was also used to launch several new Gibson features. This one is finished in an uncommon hue. | By George Gruhn and Joe Spann

42 A Better Idea
The Travis Bean TB100S Standard
Guitar history is littered with "better ideas," some of which caught on before landing in the boneyard to be occasionally reincarnated. This aluminum-neck is one great example. | By Michael Wright
48 Beatle Juice
The '66 Vox UL 730
Amp aficionados today lust for early "copper-panel" Vox AC30 and AC15 models, but one JMI-made line is far rarer and represents a bridge between old and new technology, as well as early English JMI amps and their American usurpers. Meet the UL series. | By Dave Hunter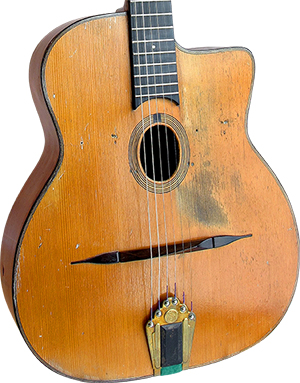 92 Quest For Volume
Django Reinhardt's Selmer #503
In his early years, Django experimented with a variety of guitars – steel-strings, parlor-sized, large-bodies, and others. But once he started playing guitars built by Selmer-Maccaferri, he swore by them for the rest of his life. | By Michael Dregni
100 Celestial Guide
Charlie Starr and Blackberry Smoke Find A Light
Georgia's hottest genre-jumping rockers are back on task, touring behind 13 songs on a spankin'-good new album. Always highly collaborative, Starr and company invited a few musically divergent friends to pitch in. We get to the heart – and gear – of the matter. | By Ward Meeker

first fret
14 Reader Mail
18 News and Notes
G&L Opens Custom Shop; Yamaha Sponsors Six-String Theory Competition; In Memoriam
Honor Thy Father
VG will once again honor fathers in this year's August issue, distributed just prior to Father's Day, June 17. If you would like to be included, send a photo of you and your dad/kids with your favorite guitars (saved as a large .jpg file), along with a caption by May 15 to doug@vintageguitar.com, with "Dad's Day" in the subject line. If you'd like to submit a short video of you and/or your dad playing, we may use it on social media.
18 Farewell to a Venture
Nokie Edwards 1935-2018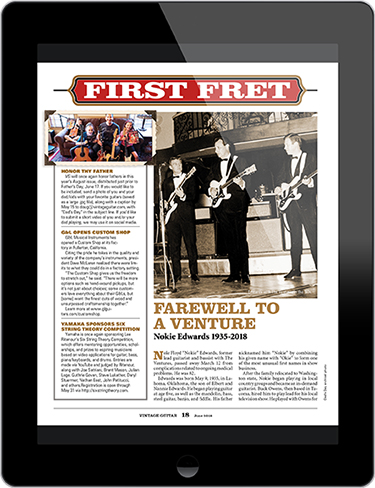 22 Ask Zac
22 Bill Nelson
Brit-Guitar Deluxe
24 NGM Visits Texas
Museum Honors Raitt
26 Chris Jack
The Routes: Psychedelic Faithful
28 Richard Williams
Kansas' Team Player
30 Britt Daniel
Spoonful of Sounds
32 Steve Morse
Return of the Dixie Dregs
33 Phil deGruy
Laughin' Matters
departments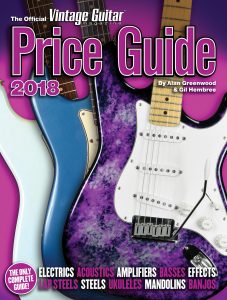 54 Vintage Guitar Price Guide
88 Acoustic Guitar Spotlight
98 WIN BIG! The Team Josie American Cancer Society Relay for Life Raffle
Win a Carr Raleigh, Reverend Pete Anderson PA-1, and other prizes worth more than $4,400! Enter now →
108 Upcoming Events
122 Vintage Guitar Classifieds
136 Showcase
144 Readers Gallery
columns
58 The (Way) Back Beat
Cream Dream or Mud Machine?: The Gibson EB-3 | By Peter S. Kohman
66 Fretprints
Melvin Sparks | By Wolf Marshall
74 Acousticville
Wear or Abuse?: It's a Fine Line | By Steven Stone
78 Dan's Guitar Rx
Joe's Woes: A Tricky Truss Replacement | By Dan Erlewine
84 Shop of Hard Knocks
Six and the Single-Coil: Easy, Economical Ways to Upgrade Tone | By Will Kelly
reviews
114 The VG Hit List
Judas Priest, Mike Landau, Insect Surfers, Ben Rogers, Leon McAuliffe, Pete Drake, Sting, Bob Dylan, Flat Duo Jets, Joe Perry, John Oates, Jim Burns, more!
115 Check This Action
Who Says Instrumental Rock is Dead? | By Dan Forte
128 VG Approved Gear
CopperSound Foxcatcher/Polaris, Guitar Tech Craig Dino Sauce, Orange Rocker 15 Terror, TV Jones Starwood pickups, Effectrode LA-1A Leveling Amp, Ugly Amps Big Ugly 100, Eastwood Airline 59 3P, Slamo Guitars Cabronita, Teye Jazz Cat, Wampler Tumnus Deluxe/Paisley Drive Deluxe
129 Gearin' Up!
The latest cool new stuff!
FROM READERS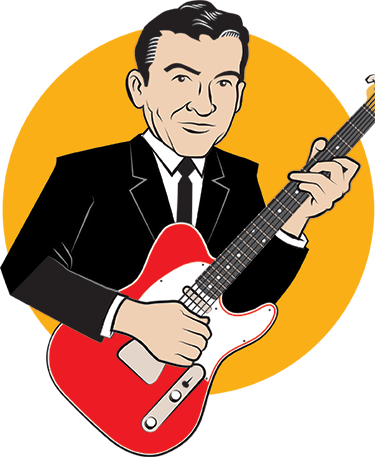 › Reader Mail
Send letters to ward@vintageguitar.com or mail to: Vintage Guitar, Inc. Attn: Reader Mail, PO Box 7301, Bismarck ND 58507.
› Readers Gallery
Check out the current issue Readers Gallery or VG's Online Readers Gallery
Send your photos to: ward@VintageGuitar.com or mail to: Vintage Guitar, Inc. Attn: Readers Gallery, P.O. Box 7301, Bismarck, ND 58507.
Readers submit photos with the understanding that they may be used in any VG, Inc. project. Due to the volume of photos we receive, we are unable to return them, please do not send us your only print.
3 WAYS TO GET YOUR VG FIX!
1. Print › › Receive the print edition by subscribing now. Order print copies of the current issue or back issues in the VG Shop.
2. App › › Download the FREE "Vintage Guitar magazine" app at the Apple app Store or Google play. Subscribe to Vintage Guitar through the app or Digital Subscription Service for access to a downloadable version of VG.
3. Browser › › Read for FREE in a web browser (Chrome, Firefox, Safari, etc.). The browser edition works on most computers or hand-held devices.