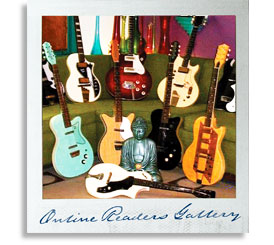 Welcome to Vintage Guitar magazine's online Readers Gallery, the best place to show off your gear to guitar lovers worldwide.
To view the photos, click on one of the Photo Galleries listed below. Once inside a Gallery, click on individual photos for a larger image and expanded text.
To upload your favorite guitar photos simply CLICK HERE to begin. You need to be a registered VG user to post photos. Registration is free.
The Vintage Guitar Readers Gallery is not for buying, selling or promotion; you can use the Free Classified section for that purpose. Any submission that includes language intended to buy or sell will be removed.
Photo Galleries: