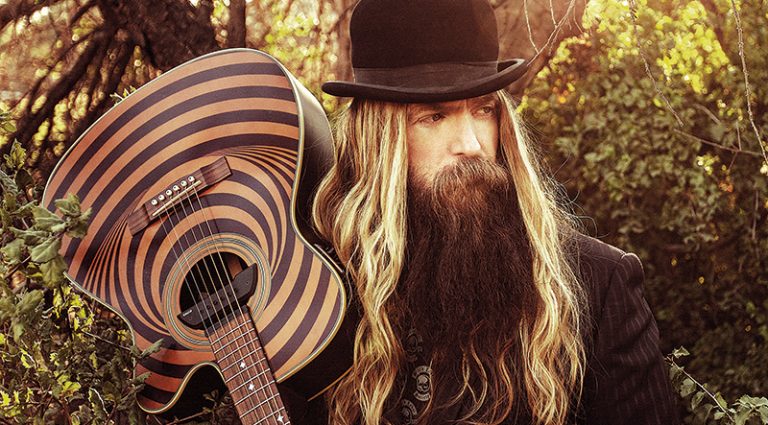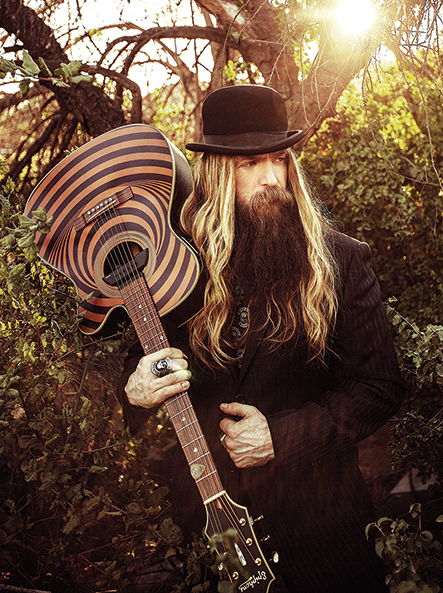 Storming the stage like King Conan The Biker, former Ozzy Osbourne guitarist Zakk Wylde was one of the highlights of the Tony MacAlpine Benefit Concert at the Wiltern Theater in Los Angeles last December, laying waste to screaming guitar maniacs with a ferocious onslaught that included Black Sabbath and Allman Brothers classics.
Wylde has been stunning audiences for years with his inimitable combination of fretboard intensity and classic-rock musicality. His new album, Book Of Shadows II, continues this tradition with acoustic singer/songwriter compositions that explore the depths of his artistry.
What made you finally decide to do a sequel to Book Of Shadows I?
It's been almost 20 years, but I was like, "Chinese Democracy took 15 years. Let's break that record (laughs)." So that's why when we got to 18 years, I said, "Let's go two more and make it 20." This way, the record will be secure. The only other person that can possibly beat this 20-year mark will be maybe Richard Branson if he was going to make a record (laughs).
I still can't believe it's 20 years. When we're on tour with Black Label Society, people always ask, "Hey Zakk, you ever going to get around to making another Book Of Shadows record?" I'm like, "Oh yeah. In between putting together world peace, splitting the atom, cleaning the dog, and changing diapers, I'll get around to that (laughs)."
We did a short run and it was definitely cool. We'd been supporting Catacombs Of The Black Vatican for the last two years – doing the heavy thing. So I thought, "Why don't we see if we can knock something out to coincide with the 20-year anniversary?"
What was the motivation behind Book Of Shadows?
After doing Ozzmosis with Ozzy, I was in limbo. We'd track all day and then I'd go out drinking all night. I'd end up at this one bar and the jukebox would be playing The Band, Bob Seger, The Allman Brothers, The Stones, Elton John, The Eagles, Van Morrison, Percy Sledge, and Sam Cooke. I'd be hearing all that and just get inspired. At 6 or 7 o'clock in the morning I'd be rolling into my room. I'd take out an acoustic guitar and start writing stuff in that vein. I had all these songs, so I tracked it. That's how that record came about.
Most people think of you as a wailing metal guitarist, but acoustic singer/songwriting is a big part of your repertoire.
It's always been there, even with Ozzy – "Mama, I'm Coming Home," "Road Back Home," and "Time After Time." The mellow stuff has always been around, and it's been there with Black Label since the beginning, like "Spoke In The Wheel." The last album had "Angel Of Mercy," "Scars," and stuff like that.
Book Of Shadows II sounds very personal.
The lyrics have to have depth and weight. They're either things that have happened to me or things that I've seen happen to friends. Sometimes, I approach the same topics in three different ways. I'm of the whole process of songwriting from the beginning of starting a song, where it's going, and writing the lyrics using different metaphors and words of how you're going to say something. I just sit and start writing until I get what I like.
Were there specific guitars that inspired the writing?
I'm using some of my buddy Garren Dakessian's Loucin guitars. He made me two – one with a bullseye finish, one with a buzzsaw. I used his guitars and the new prototypes that my company, Wylde Audio, makes. Those are the acoustics on the record. All the electric guitars were Wylde Audio.
What's your philosophy in regard to designing guitars?
Just make things good. If you're making a cheeseburger, just make it good! It's the ingredients that you're using, too. If it's s**t, it's going to be terrible. Same thing goes with the amps. You gotta use good components. Don't skimp, just make it good. And make it affordable. Don't make it if you have to be in a seven-figure tax bracket to buy the thing. There's no reason why you shouldn't be able to make something good. There's no excuse for making s***ty anything.
You recently finished the Experience Hendrix Tour. What's next?
After the Generation Axe tour, I go to London, then I'll be touring until 2017, when we'll make another Black Label album. Then we'll be out doing festivals. We got pretty much the next three years wrapped up.
---
This article originally appeared in VG August 2016 issue. All copyrights are by the author and Vintage Guitar magazine. Unauthorized replication or use is strictly prohibited.
---