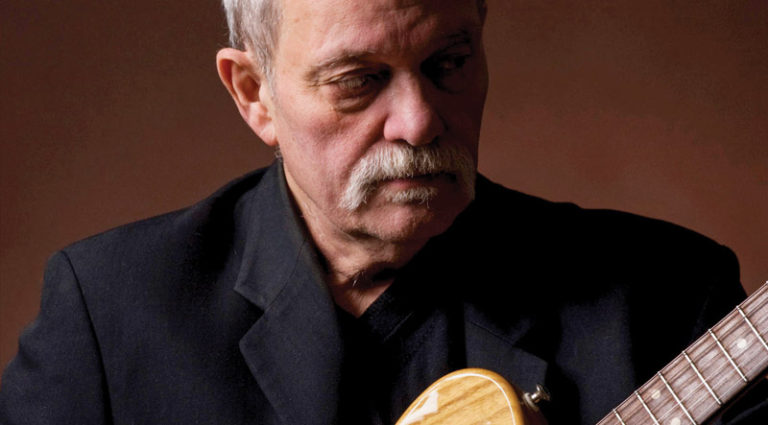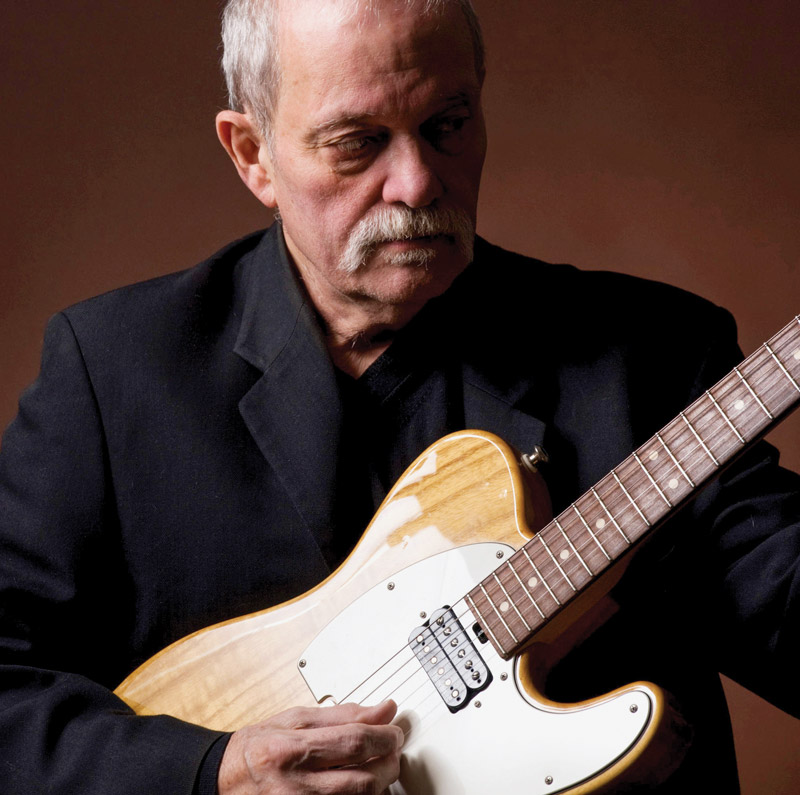 John Abercrombie operated in four dimensions. A guitarist of unbounded breadth and depth, he redefined space in long, improvised flights and bent time like a rubber band. Jazz is too-narrow a label, as is fusion.
Everything Abercrombie touched represents a step forward in music and for ECM Records, his label for more than 40 years. Along the way, he remained unaffected and unassuming, saying, "I'd like people to perceive me as having a direct connection to the history of jazz guitar, while expanding some musical boundaries."
John Laird Abercrombie was born in Port Chester, New York, on December 16, 1944, and raised in Greenwich, Connecticut. He was drawn to the '50s rock of Elvis, Chuck Berry, the Ventures and the guitar sound of Mickey Baker in "Love is Strange," but began listening to jazz after hearing Dave Brubeck and Miles Davis. Inspired by jazz guitar via Barney Kessel on the Poll Winners albums, he took lessons with local guitarists Joe Nicolo and Bill Frenz. Frenz schooled him in chord-melody and tunes like "Misty" and "Tenderly." He attended Boston's Berklee College of Music, studying in the new guitar program of Jack Peterson, receiving tutelage in improvisation and combo classes from Herb Pomeroy and John LaPorta. He also discovered the work of Jim Hall, Wes Montgomery, and Bill Evans, all of whom remained lifelong influences. While playing student venues, he met Michael and Randy Brecker, along with organist Johnny Hammond Smith, who invited him to tour and provided his first recording opportunity, for 1968's Nasty!. In '69, he moved to NYC and joined the Brecker brothers in their jazz-rock band Dreams, appearing on their debut album. He subsequently recorded with Gato Barbieri (Under Fire), Barry Miles (White Heat), Dave Liebman (Lookout Farm), Gil Evans Orchestra (Plays the Music of Jimi Hendrix) and Billy Cobham (Crosswinds). He sharpened his session skills with drummers Billy Cobham and Jack DeJohnette in '74-'75, toured with Cobham's band, and prepared for his emergence as a constantly advancing solo artist.
Abercrombie's leader debut, Timeless (1975) featured DeJohnette and Mahavishnu's Jan Hammer (keyboards). A fusion classic, it revealed possibilities for the organ trio though he remained fixated on McLaughlin's rock approach, ferocity, and distorted tone. Hammer's "Lungs," captured the essence of jazz-rock with blistering guitar/keyboard duels contrasted by three-way interplay in a spacious improvisatory section and an electronica episode showcasing fuzzed guitar licks and sound effects over a heavy pedal point. "Ralph's Piano Waltz" recalled hard-bop jazz waltzes, while the contemplative acoustic-tinged "Love Song" and "Remembering" and gentle electric treatment of "Timeless" reflected the chamber jazz of the ECM genre.
In '75, Abercrombie formed Gateway with DeJohnette and Dave Holland. This ambitious group was something unimagined in previous Kessel/Burrell/Pass units – a power trio with upright bass – and pushed the traditional ensemble into fusion, avant garde, and free-jazz territory on two eponymous albums. He maintained Gateway for more 20 years, using it as a repository for his evolving style affirmed in Homecoming and In the Moment.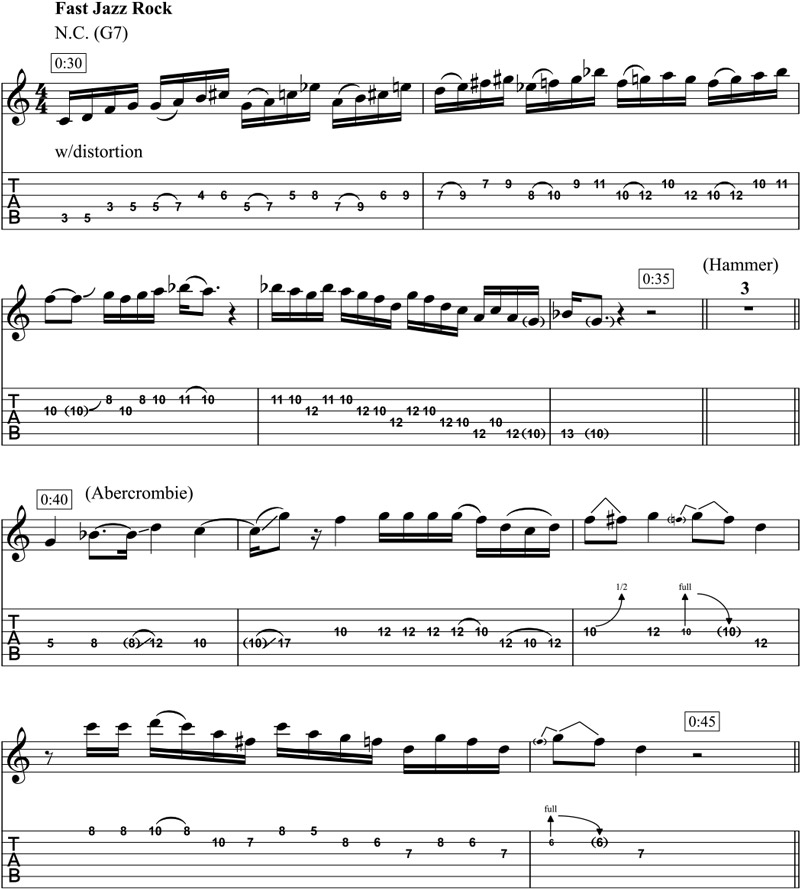 Fusion fans dropping their needles on Timeless didn't have to wait long for the fireworks. After a brief romp through the head of the opener, "Lungs," Abercrombie and keyboardist Hammer engage in a no-holds-barred bout that defines the state of the art. The guitarist plays his first statement at 0:30, launching a series of blistering phrases that set his tone for the section. Note his use of varied four-note group patterns, endemic to the jazz-rock language, in measures 1-2, over an implied G7 tonality. He combines pentatonic, whole-tone, minor, major and scalar cells in one sweeping gesture. The sequential figures, aggressive pick attack, distorted tone and virtuoso execution in these lines and the more modal/pentatonic phrase in 4 reveal a strong McLaughlin influence. John's second statement at 0:40 is, by contrast, more-legato and incorporates synth-like bend-and-release licks in 9 and 11, bookending another McLaughlin-esque pattern-based passage.
Playing acoustic and electric guitars, in '76, Abercrombie redefined the guitar duet with Ralph Towner on Sargasso Sea, then explored his inner world on Characters, a solo album of original compositions in which he played electric and acoustic guitars along with electric mandolin accompanied by his overdubbed textural backing.
Abercrombie's quartets personified ECM's chamber-jazz genre with characteristic melodic, harmonic, and textural ingredients that epitomized the ethos of a classic jazz combo, updated. His first quartet provided a consistent group that marked significant steps in his progression. Buoyed by the rhythm section of Boston cohorts George Mraz (bass) and Peter Donald (drums) it afforded a canvas on which he and pianist Richie Beirach developed mercurial motifs into sprawling impressionistic pieces. Beirach brought a classical influence to the group, reinforcing modern chamber-music sensibilities, but was also a disciple of post-bop jazz. He and John met in New York, played together on Liebman's Lookout Farm and Sweet Hands, and cultivated musical synergy. Their atmospheric pieces could venture into controlled chaos, swing hard in the bop sense or indulge grooving new-age (an oxymoron, to be sure) moods. Abercrombie's electric sound boasted a round, mid-boosted tone that at times suggested a flute, violin, or synth. He mixed in various acoustic six- and 12-string parts and favored the uncommon electric mandolin functioning as a "soprano guitar." The period began with '79's Arcade and continued with Abercrombie Quartet, which John claimed was "the closest to how the band sounded live." The third recording, M closed this chapter and began a phase of variegated explorations. He revisited his duet setting with Towner on Five Years Later, then adopted a more-distorted sound in future groups, particularly with quartets and Gateway. Moreover, future quartets boasted differing instrumentation, sometimes combining guitar trio with violin, trumpet, and saxophones, as on The Third Quartet, Secret Obsession, and November, while his mid-'80s trios found him exploiting the guitar synthesizer on Current Events, Emerald City, Getting There, and the acclaimed John Abercrombie/Marc Johnson/Peter Erskine amalgam of '89. Abercrombie's work with Dan Wall (organ) and Adam Nussbaum (drums) pushed the envelope of the organ trio further in the '90s on While We're Young and Tactics, while individual projects comprised much of his output in the new millennium.
Concurrent with Abercrombie's sonic experiments was his steadfast connection with the jazz tradition, exemplified by inclusion of standards like "Alice in Wonderland," "Stella By Starlight," "Sometime Ago," "Come Rain or Come Shine," and "Long Ago and Far Away" in otherwise incongruent settings. In fact, this aspect of his mindset may be the most pervasive. Consider his take on "Nardis," neatly tucked into his last studio date, Up and Coming, as well as albums emphasizing jazz standards such as Solar (with John Scofield), Witchcraft (duet with Don Thompson), Structures, Standards, Within a Song, and Timeline (with Andy LaVerne). He reunited with Gateway in 2012 for DeJohnette's 70th birthday and continued innovative strides, but his preference in the 2000s leaned toward classic jazz and its hybrids, along with bop-informed melodic language as an improviser with a softer attack, clean tone, and relaxed articulation reminiscent of Montgomery and Hall. He remained active touring, performing, and recording until his death from heart failure on August 22, 2017.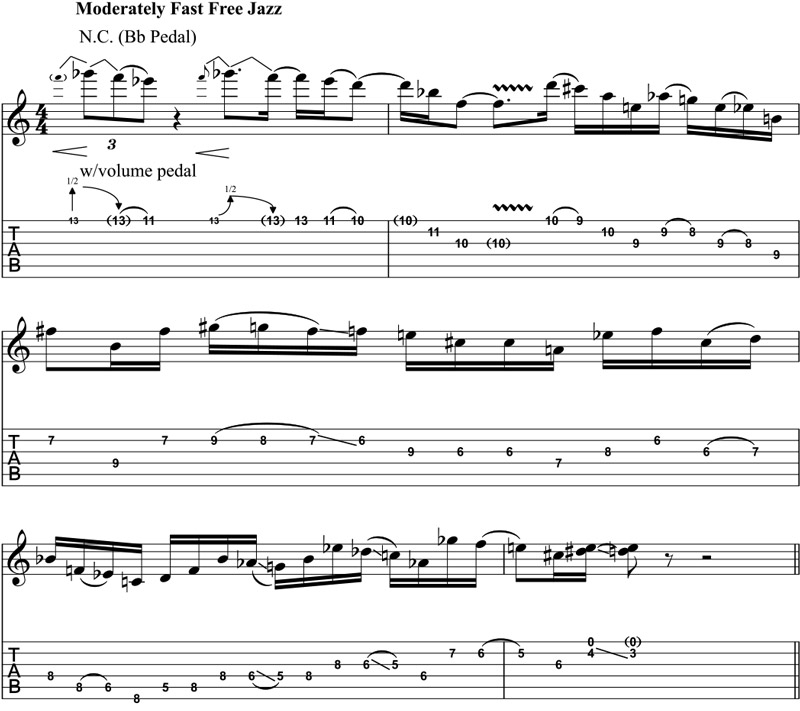 Abercrombie's work with his first quartet of the late '70s marked his growing development as a musician and improviser. This excerpt from "Flashback" (4:10) (on M) reveals a wealth of Abercrombie approaches over a Bb pedal point with numerous superimposed tonalities. He addresses the environment with a series of free-jazz phrases that exemplify his idiomatic use of small, thematic motifs to build a larger, more-complex whole. Note the use of the volume pedal to swell-in the first two figures in measure 1. In his improvised phrase of measures 2-5, he visits a number of the implied tonalities. Note references to Bb major, A major, and Em(maj7) in the opening line. Also noteworthy is the connective chromaticism in 3 that sets up an unexpected reference to the Bb major blues and a sequence in fourths exploiting Bb7, Eb7, and Ab7 arpeggios.
STYLE
An artist of unlimited colors, Abercrombie was interactive, not reactive; his colors depend on the statement he chooses to make. With an organist or pianist like LaVerne, he played in the straightforward hard-bop tradition, employing tone and phrasing a la Montgomery or Hall. With more-modern trios and quartets, he was experimental, free, and often dissonant and angular. In fusion bands, he harnessed progressive-rock attributes and intensity, as with Hammer or Lonnie Smith in the Hendrix tribute albums. In ECM's cerebral settings, he drew on semi-classical, impressionistic, ethnic, and folk influences, embracing the modernism of unresolved harmony and tensions of rhythmic suspension.
He was also a true improvising guitarist who epitomized that crucial element of jazz, blues, Eastern, and Indian music. Compared with players like Benson, Martino or McLaughlin, Beirach maintained that Abercrombie was a real improviser, melodically less-predictable, theme-driven rather than riff-based. Like his idols Hall and Evans, his improvisations arose from small ideas or themes developed organically within the course of a piece. Bred on bop and the language of modern jazz – its scales, modes, intervallic shapes, swing rhythms, chordal superimpositions, extensions, alterations, substitutions, and re-harmonizations – he internalized and morphed those factors, and expounded upon them in varied contexts. When needed, he borrowed freely from rock's pentatonic/blues vocabulary, string-bending techniques, whammy-bar mannerisms, and rhythmic phraseology. John's experiments and success with the electric mandolin (its unique timbre is prominent in "Pebbles" on M) and guitar-synth underscored his vision as an advancing musician. He also unapologetically applied sound processors and effects to his music. Consider the volume-pedal swells for violin/wind effects opening "Flashback," the distorted, chorused tones in "Homecoming," or the repurposed electric 12-string generating gong-like sounds in "Boat Song."
Abercrombie's chord style was similarly multifaceted, using traditional jazz comping in organ trios and the like (his early work on Nasty! and "Sometime Ago" on Standards), exploited textural sounds, ethnic-tinged sonorities and sharp dissonance ("Ralph's Piano Waltz" and "Lisa" on Current Events) in modern ensembles, and generated lush orchestral guitar-synth pads or keyboard emulations in his '80s groups ("Killing Time").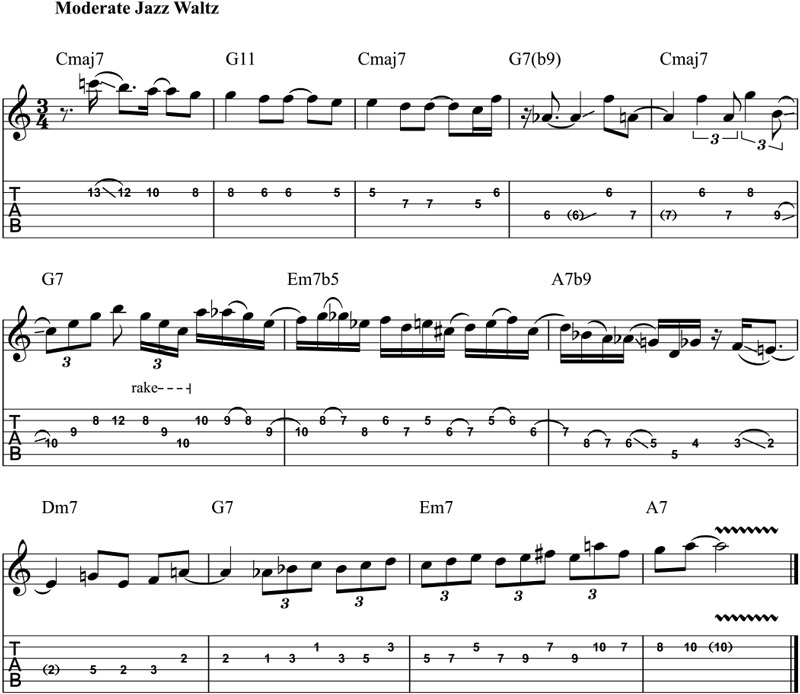 In the last two decades of his career, Abercrombie returned to more-traditional jazz, adding many standards to his repertoire. One of his favorites was "Sometime Ago," a tune associated with Jim Hall and Bill Evans, also covered by Joe Pass and Stan Getz. This example (3:26) presents "gentle John" improvising lyrically over a version from Sometime Ago, his 2016 collaboration with bassist Jim Vivian released posthumously in 2018. Compared to the ferocious flight on "Lungs" or the dissonance, angularity, and sophistication of "Flashback," his playing is very relaxed and fluid, with an emphasis on phrasing and melodic continuity enhanced with his mellow clean tone and soft thumb attack. His penchant for playing simple flowing melodies on a single string is evident in measures 1-3. He relies on intervallic shapes, arranged as alternating major and sixth intervals, in 4-5. He applies his bebop vocabulary in the long, chromatically laced double-time line of 7-8, and builds a smooth, ascending sequence from small (three-note) nuclear cells in 10-11.
ESSENTIAL LISTENING
Timeless, Gateway, Homecoming, First Quartets three-album compilation, Timeline, and John Abercrombie/Marc Johnson/Peter Erskine are essential. Also noteworthy are Sargasso Sea, Current Events, Standards, Solar, and Within A Song.
ESSENTIAL VIEWING
Numerous performances and interviews are posted online. Check out "Homecoming" with Gateway, a 1999 Cologne Subway performance, and full concerts of his 2011 and '13 quartets, interviews with Jody Fisher, David Schroeder, and Monk Rowe, and clips from his Homespun instructional video.
SOUND
On Nasty!, Abercrombie played a Gibson L-7 before his '70s fusion sound emanated from a Les Paul Deluxe goldtop with mini-humbuckers, Guild Starfire, or modified Melody Maker, then, later, an Ibanez Artist solidbody. He used a Fender electric mandolin and another made by Kevin Schwab with hotter pickups, both with light strings tuned like an octave-higher soprano guitar. In the '90s, he favored a Sadowsky T-Style with two humbuckers, middle single-coil, and vibrato, and also used a solidbody Sadowsky nylon-string. His main guitar after '03 was a signature Brian Moore DC-1 semi-hollow with two Duncan humbuckers, piezo bridge pickup, USB and synth capabilities, and seven-way switching. In the '80s, he used Roland GR-707 or Ibanez IMG2010 guitar-synth controllers and a GR-700 module.
His archtop collection included two Ric McCurdy customs with two humbuckers, a James Mapson custom, and a '50s ES-175D with P-90s. In the '70s, he played Ovation Legend and Guild F-50 acoustics (with Towner) then later preferred vintage Gibson L-2 and Michael Gurian steel-strings. Inspired by Kevin Eubanks' warm tone, he began plucking with his thumb regularly in the mid '90s, and used thumb and fingers for hybrid-picked chord playing. He used D'Addario roundwound (occasionally flatwound) .010-.046 sets on most guitars and an .011 set on archtops.In the '70s, he used a Fender Deluxe Reverb, then in the '80s moved to Roland JC-120, JC-77, MusicMan and Polytone Mini-Brute amps, followed by a Walter Woods stereo amp with a Mesa/Boogie preamp driving two small Boogie cabinets before finally combining Roland and Boogie amps in a rig.
Early on, he favored MXR phaser and distortion boxes, an Echoplex (with Cobham) and DeArmond volume pedal. In the '80s, he assembled a rack with a Rane mixer, Lexicon PCM-60 reverb, and Ibanez delay. By the '90s, he relied on an Ernie Ball volume pedal, Boss GE-7 EQ as preamp boost, Fulltone Full-Drive 2 distortion, Jam Pedals Waterfall chorus, and Boss SE-50 multi-effects for reverb, chorus, and delay.
---
Wolf Marshall is the founder and original editor-in-chief of GuitarOne magazine. A respected author and columnist, he has been influential in contemporary music education since the early 1980s. His books include 101 Must-Know Rock Licks, B.B. King: the Definitive Collection, and Best of Jazz Guitar, and a list credits can be found at wolfmarshall.com.
---
This article originally appeared in VG's May 2022 issue. All copyrights are by the author and Vintage Guitar magazine. Unauthorized replication or use is strictly prohibited.