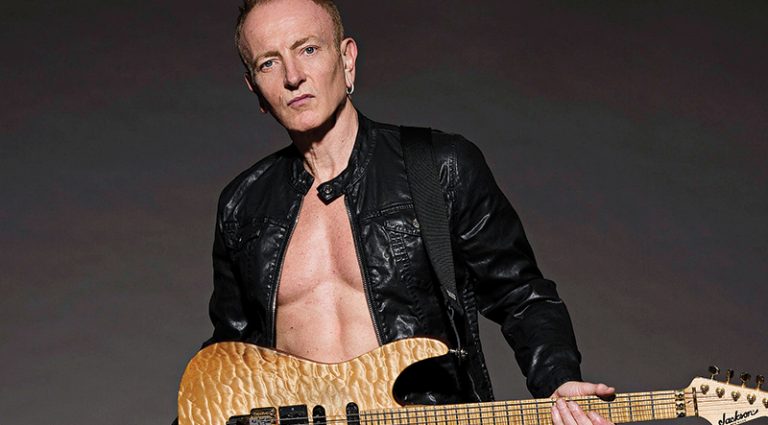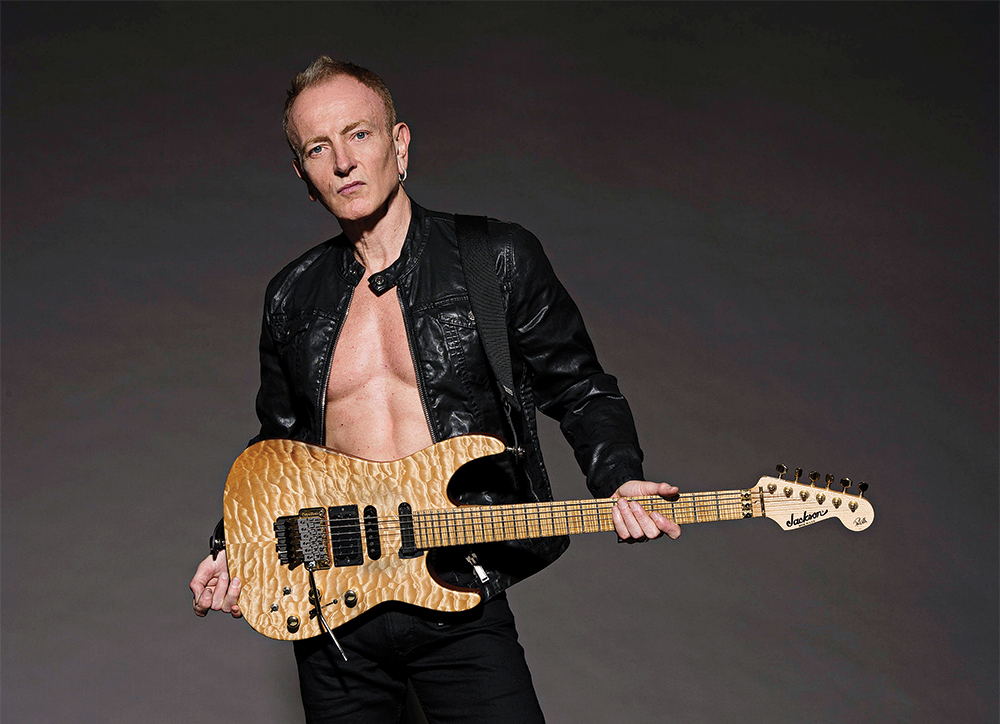 In the eyes of many, there's quite a difference between arena rock and blues rock. But not to Phil Collen, guitarist for one of the biggest acts in the former category as well as a recently launched effort in the latter; most are familiar with Def Leppard, while Delta Deep – Collen with singer Debbi Blackwell-Cook, bassist Robert DeLeo, and drummer Forrest Robinson – has just one studio album to its credit along with its latest, West Coast Live. We recently spoke with him about the similarities – and differences.
As a guitarist, how was it to adapt to playing in Delta Deep?
So easy I don't have to think about it. I use the same guitars, same amps. On the newest Def Leppard album, I used Guitar Rig software and I defy anyone to say, "This is an amp, this isn't." So, I also used it on the Delta Deep album except for two tracks.
Even playing… only the song structures are different. That said, Delta Deep reminds me of almost Zeppelin/Hendrix/Stones stuff that was very blues-based; Def Leppard was hugely influenced by Led Zeppelin. So, it's all the same when you use it as an expression. The only big difference is recording Def Leppard has to be more precise because we do a lot more tracks, especially vocals. If I lay down a backing vocal, I have to get it perfect – timing, tuning – because I have to do 30 more, and then two other people have to do 30 tracks. In Delta Deep, I do one take on four tracks, then the backing vocals. That's the difference in the structure, really.
Who are some of your favorite blues rock guitarists?
I started off listening to Ritchie Blackmore and Jimi Hendrix, then Jimmy Page. Hendrix had played the Chitlin' circuit, and on those bills were him, the Isley Brothers, Little Richard, James Brown, Etta James, B.B. King. So I got a lot from that. The style I play is based on that, really. When you ask kids, "Who were you influenced by?" and they say, "The Sex Pistols" or "Nirvana" – guitar-driven rock music – it comes from a different place. So, the stuff I came from was very much blues-based. Page and Keith Richards were pure disciples of blues, so I got it second or third-hand from them, really.
Which guitars do you usually use and what's your setup?
The Jackson PC1 is my signature model and favorite guitar of all-time. I've used Jacksons for 30 years now, and I still tour with my first one. I'm playing this crazy neck-through version – a hybrid Strat that does everything a Les Paul does and everything a Strat does, and more. It's full-on hot rodded, has a sustain switch, and is just a joy to play.
Amp-wise, for Def Leppard, for years I've been using a Marshall JMP1, and I have an '80s Randall solidstate power amp that has only gone down once, and that was just a fuse. This thing goes around the world; you can throw it upside down and it survives.
For Delta Deep, on West Coast Live I used a Blackstar ID:60, which is a programmable combo that sounds like a valve amp, but it's not. You can pick it up with one finger. For recording, I mainly use Guitar Rig on my Mac, and it gets the best sounds ever.
---
This article originally appeared in VG August 2016 issue. All copyrights are by the author and Vintage Guitar magazine. Unauthorized replication or use is strictly prohibited.
---