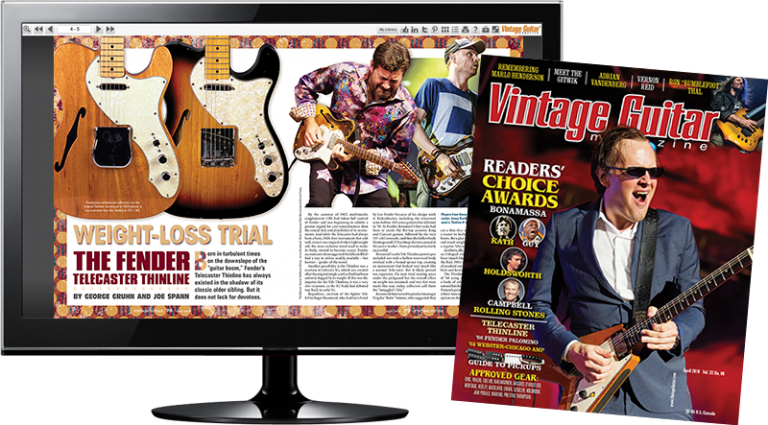 Find what's in this issue, enter the latest exclusive VG contests, or learn the 3 ways to get your Vintage Guitar fix! Don't forget to check out VG Classifieds and the playlist for this issue of VG on Youtube.
Table of Contents
We reveal this year's winners in our annual Readers' Choice Awards and nominees to the VG Hall of Fame! Joe Bonamassa chimes in on his selection to the Hall, while members of Chicago discuss the late, great Terry Kath. Other winners include Glen Campbell, Allan Holdsworth, Buddy Guy, luthier Bill Collings, the Rolling Stones' Blue & Lonesome album, and the Gibson ES-175. We also offer an in-depth look at the life and career of studio guitarist Marlo Henderson. We interview Vernon Reid, Adrian Vandenberg, Eli Cook, Ron "Bumblefoot" Thal, Andy Bassford, and others. George Gruhn adds new insight to the history of the Fender Telecaster Thinline, Peter Kohman does likewise on the Larson Brothers' work with William Stahl, and we profile the Webster-Chicago Model 166-1 and the Aria Pro II Thor-Sound TS-500. Wolf Marshall dives deep into the history and licks of Tiny Grimes, Dan Erlewine returns a Fender Palomino to playability, and Will Kelly restores a Gibson GA-20. Finally, we offer our usual vast assortment of "VG Approved Gear" reviews and "Hit List" music reviews. It's all in the April issue, available now!

34 Hammer of the Gods
The Aria Pro II Thor-Sound TS-500
Gibson's legal move to force Japanese builders away from copies in the '70s led to the creation of guitars like this, which many argue is more innovative and better-built than contemporaries made in the U.S. | By Michael Wright
40 Grammy Winner
The Webster-Chicago RMA 375 Model 166-1
Repurposed or modified amplifiers generally don't fit into discussions amongst collectors. There are exceptions, however, like this gem from 1952. | By Dave Hunter
78 Weight-Loss Trial
The Fender Telecaster Thinline
Born in turbulent times on the downslope of the "guitar boom," this creation from the minds of Roger Rossmeisl and "Babe" Simoni existed in the shadow of a classic older sibling. But it does not lack for style, function, tone, or devotees. | By George Gruhn and Joe Spann
82 Cooperative Cognition
Meet the Gitwik
When it comes to identifying guitars, basses, amps, and effects, nobody knows it all. But, thanks to a collaboration in Nashville, the world is about to become a lot more knowledgeable. | By Rusty Russell
88 Unsung
The Story of Marlo Henderson
Though his death in 2015 barely made the music press, the music world lost a great member of the team with his passing. | By Oscar Jordan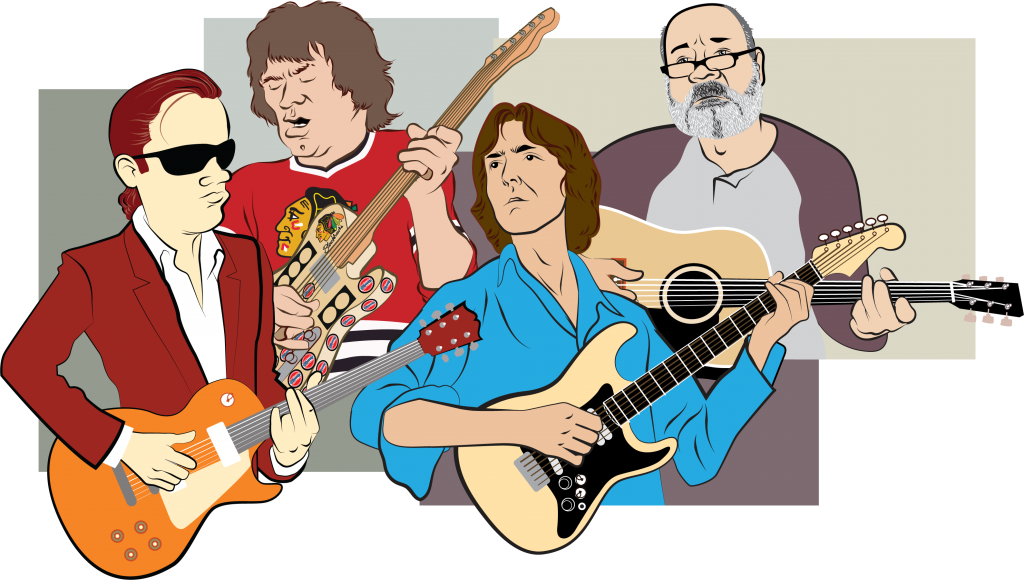 92 The VG Readers' Choice Awards
Once again, we honor players and their music for being the best of the bunch in 2017, plus we induct a new field of players and instruments to the VG Hall of Fame.

first fret
14 Reader Mail
16 News and Notes
Satriani, Santana, Others Donate for Fire Victims; Young, Stills, Campbell Join Autism Benefit; In Memoriam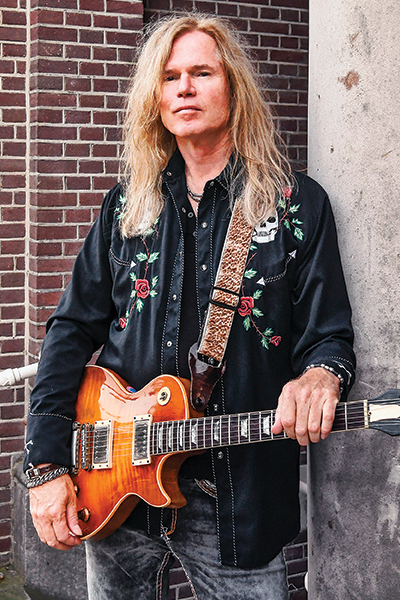 18 Adrian Vandenberg
MKII
22 Ask Zac
22 Eli Cook
All Over the Map
24 Bumblefoot
Prog Shred Ain't Dead
26 Vernon Reid
Kind of Blue
27 Jabrille "Jimmy James" Williams
Old Soul, Fresh Sounds
28 Jussi Jaakonaho
Sunburst Finish
29 Andy Bassford
The Harder They Strum
30 Joel Shapira
Solo Flight
departments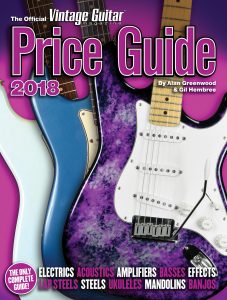 48 Vintage Guitar Price Guide
74 New Sweet Sounds: The VG Guide to Pickups 2018
100 Upcoming Events
114 Vintage Guitar Classifieds
128 Showcase
136 Readers Gallery
columns
50 The (Way) Back Beat
Steel Serenade: The Larson Brothers and William Stahl | By Peter S. Kohman
56 Fretprints
Tiny Grimes | By Wolf Marshall
64 Acousticville
Tonewood Interrogation: Is Brazilian the Best? | By Steven Stone
66 Dan's Guitar Rx
From Factory to Track: '66 Fender Palomino Returns to Form | By Dan Erlewine
70 Shop of Hard Knocks
Return to Rule: Restoring a Gibson GA-20 | By Will Kelly
reviews
106 The VG Hit List
Yardbirds, Jim Campilongo, Pink Floyd, Louisiana Hayride, Jimmie Vaughan, Sons of Apollo, Yes, Johnny Nichols, more!
107 Check This Action
Think Link | By Dan Forte
126 VG Approved Gear
BONUS: Pickups by EMG, Fralin, Lollar, and Railhammer PLUS! Bassics BPA-1, D'Angelico Excel EXL-1, Heritage H-155M, Keeley Electronics D&M Drive, Backlund 400, Emma DiscumBOBulator V.2, Big Joe Powerbox Lithium, Genzler Acoustic Array Pro, Holbrook TS50, Jam Pedals Delay Llama, Wahcko Wah, Preston Thompson 00-45
127 Gearin' Up!
The latest cool new stuff!
FROM READERS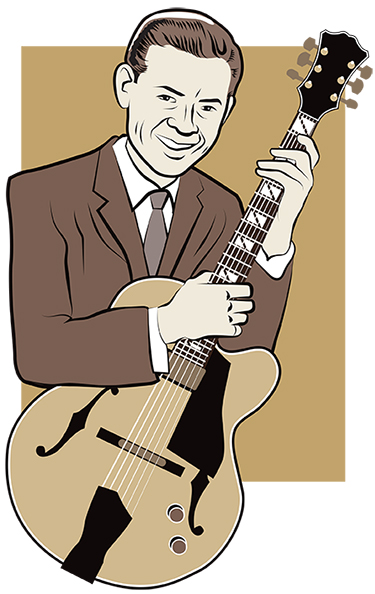 › Reader Mail
Send letters to ward@vintageguitar.com or mail to: Vintage Guitar, Inc. Attn: Reader Mail, PO Box 7301, Bismarck ND 58507.
› Readers Gallery
Check out the current issue Readers Gallery or VG's Online Readers Gallery
Send your photos to: ward@VintageGuitar.com or mail to: Vintage Guitar, Inc. Attn: Readers Gallery, P.O. Box 7301, Bismarck, ND 58507.
Readers submit photos with the understanding that they may be used in any VG, Inc. project. Due to the volume of photos we receive, we are unable to return them, please do not send us your only print.
3 WAYS TO GET YOUR VG FIX!
1. Print › › Receive the print edition by subscribing now. Order print copies of the current issue or back issues in the VG Shop.
2. App › › Download the FREE "Vintage Guitar magazine" app at the Apple app Store or Google play. Subscribe to Vintage Guitar through the app or Digital Subscription Service for access to a downloadable version of VG.
3. Browser › › Read for FREE in a web browser (Chrome, Firefox, Safari, etc.). The browser edition works on most computers or hand-held devices.