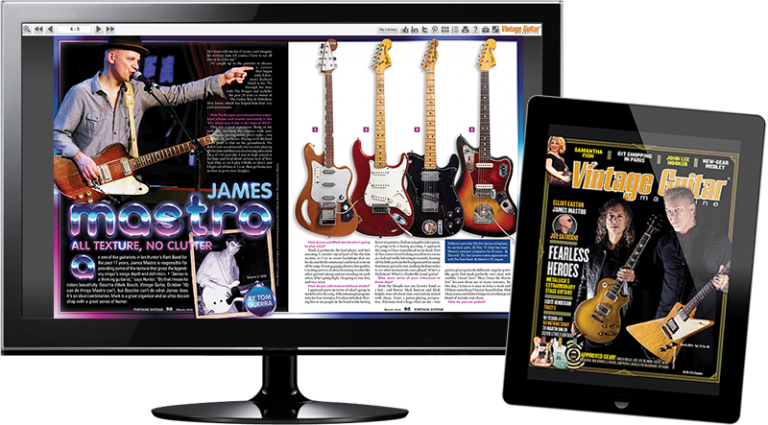 Find what's in this issue, enter the latest exclusive VG giveaways and contests, or learn the 3 ways to get your Vintage Guitar fix! Don't forget to check out VG Classifieds and the playlist for this issue of VG on Youtube.
Table of Contents
We take an exclusive look at two classic Gibsons staged every night by Metallica, including the famed Les Paul Standard known as "Greeny" that once belonged to Peter Green and Gary Moore but now gets regular workouts with Kirk Hammett. And while it's not as famous yet, the '58 Explorer used by James Hetfield has swagger all its own. Read about the players who inspired both guys to take these treasures on the road. We also offer intriguing conversations with Joe Satriani, Elliot Easton, James Mastro, and Samantha Fish, along with a look at vintage-guitar shops in Paris. This month's best-in-class instrument profiles include a look at the Teisco J-5 and Watkins' 1963 Scout amp. George Gruhn tells the real story of Martin's 14 Orchestra models and why they're the best flatpicking instruments money can buy! Michael Wright talks to the people behind the '80s phenomenon that was Silver Street Guitars, Dan Forte concludes his examination of John Lee Hooker, Wolf Marshall digs into the licks of Scott Henderson, and of course there's our usual vast assortment of "VG Approved Gear" reviews and "Hit List" music reviews. It's all in the March issue, available now!
FEATURES
34 Distinctive Japano-Centricity
The Teisco J-5
Modern guitar making in Asia began in Japan and followed an arc through the copy models of the '70s to superstrats of the '80s. But it always carried a wealth of characteristic designs independent of American expectations. Here's an example. | By Michael Wright
38 Merit Badge
The Watkins Scout
Though the brand never landed big-name endorsers, Watkins amps fueled the craze among youngsters in England, many of whom later played on stages while standing in front of Voxes, Marshalls, Fenders, and Hiwatts. This is one of the cooler combos to ever be propped behind a Brit-beat hopeful. | By Dave Hunter
42 OM Irony
The Real Story of Martin's 14-Fret Orchestra Models
Much has been written about the OM-28, including speculation on its design origin. The real story is complicated, and there's true irony in the fact that today, pre-war 14-fret Martins are considered such fine instruments for fingerpicking. | By George Gruhn and Joe Spann
84 Building a Better… Gibson?
The Story of Silver Street Guitars
Trends in the late '70s spawned new guitar companies motivated to capitalize on perceived shortcomings of the big two. The fraternity includes two brothers from Indiana whose instruments employed unique body shapes that belied their comfort, playability, and sound. | By Michael Wright
92 James Mastro
All Texture, No Clutter
His career began with Richard Lloyd in the '70s followed by time with The Bongos in the '80s, and for the last 17 years he has played in Ian Hunter's Rant Band, lending textural depth and definition to the singer's work. | By Tom Guerra
100 Fearless Heroes
Metallica's Hammet and Hetfield Stage Legendary Solidbodies
Their superstar thrash-metal band survived the grunge and power-pop movements that erased nearly all of its peers, and recently released an album that has sold more than three million copies. When its tour resumes in February, they'll continue to stage two of the most valuable guitars on planet Earth. | By Ward Meeker
first fret
14 Reader Mail
18 News and Notes
Cars, Dire Straits Inducted to Rock Hall of Fame; CITES Set to Ease Permits; In Memoriam
18 Joe Satriani
Capturing the Energy
22 Ask Zac
22 Tracy G
Dio Disciple
24 Elliot Easton
Driving Classic Cars
26 Samanth Fish
Blues Belle Stretches Out
28 The City of Guitars
Git-Shopping in Paris
30 Hands-On
Lenser Twists Musician Portraiture
departments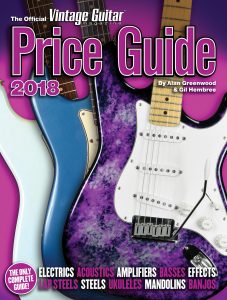 48 Vintage Guitar Price Guide
108 Upcoming Events
122 Vintage Guitar Classifieds
134 Showcase
135 Builder Profile: Chatsworth Guitars
144 Readers Gallery
columns
52 The (Way) Back Beat
Your Name Here: A Potpourri of Personalization | By Peter S. Kohman
60 Fretprints
Scott Henderson | By Wolf Marshall
68 Q&A With George Gruhn
70 Dan's Guitar Rx
Puzzle "Solved" | By Dan Erlewine
74 Shop of Hard Knocks
A Better Bird | By Will Kelly
reviews

114 The VG Hit List
Emmanuel/Grisman, Jeff Beck, Duke Robillard, Joe Satriani, Chris Hillman, UFO, Bowie, Frank Zappa, more!
115 Check This Action
Hooker: The Box | By Dan Forte
126 VG Approved Gear
Danelectro Billionaire Big Spender, BluGuitar Amp1, Jam Pedals RetroVibe, Wylde Audio Odin Grail Genesis Bullseye, API Audio TranZformer GT/LX, Rob Wrobel Le Voyage Lace III, Mu-FX Phasor 2X, Lace Cybercaster LS Relic, Supro 1606/1605R, Walla Walla Maverick Pro
127 Gearin' Up!
The latest cool new stuff!
FROM READERS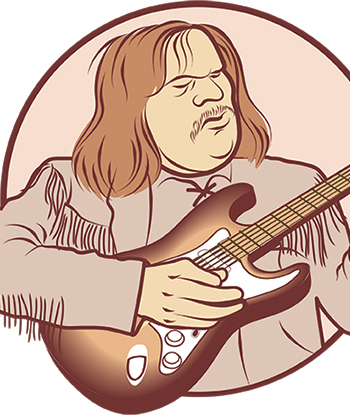 › Reader Mail
Send letters to ward@vintageguitar.com or mail to: Vintage Guitar, Inc. Attn: Reader Mail, PO Box 7301, Bismarck ND 58507.
› Readers Gallery
Check out the current issue Readers Gallery or VG's Online Readers Gallery
Send your photos to: ward@VintageGuitar.com or mail to: Vintage Guitar, Inc. Attn: Readers Gallery, P.O. Box 7301, Bismarck, ND 58507.
Readers submit photos with the understanding that they may be used in any VG, Inc. project. Due to the volume of photos we receive, we are unable to return them, please do not send us your only print.
3 WAYS TO GET YOUR VG FIX!
1. Print › › Receive the print edition by subscribing now. Order print copies of the current issue or back issues in the VG Shop.
2. App › › Download the FREE "Vintage Guitar magazine" app at the Apple app Store or Google play. Subscribe to Vintage Guitar through the app or Digital Subscription Service for access to a downloadable version of VG.
3. Browser › › Read for FREE in a web browser (Chrome, Firefox, Safari, etc.). The browser edition works on most computers or hand-held devices.