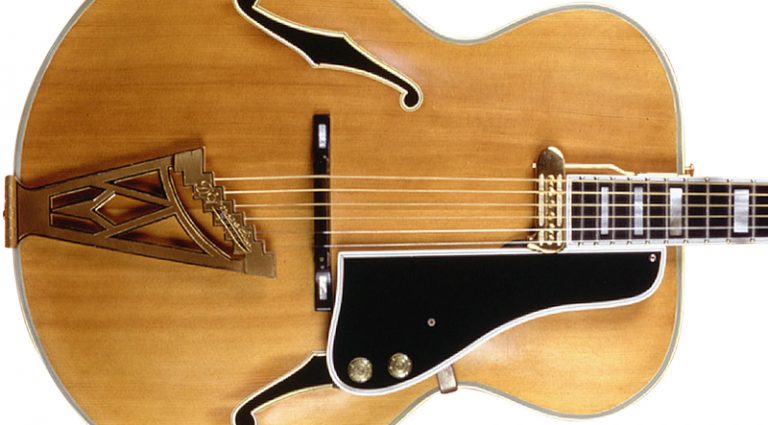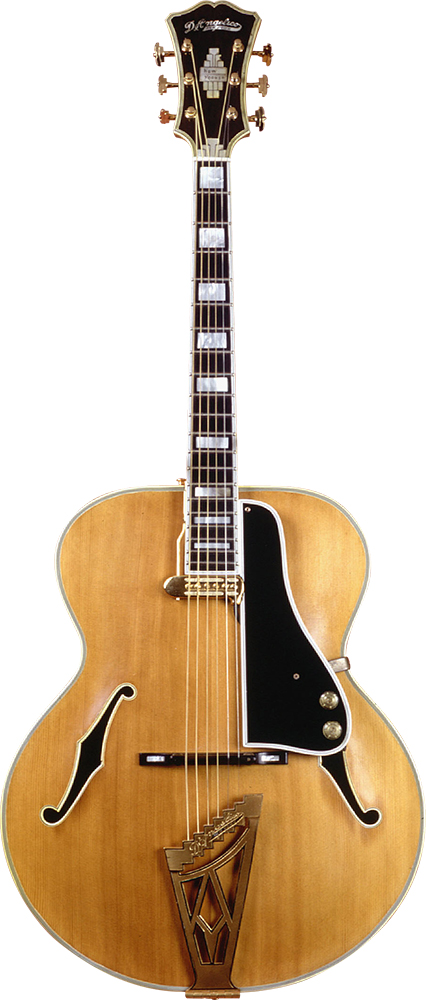 The D'Angelico New Yorker has rightfully earned its place in the Vintage Guitar Hall of Fame as one of the finest guitars in the history of the instrument. While models such as the Gibson ES-150 Charlie Christian, Fender Broadcaster, and Gibson ES-335 have achieved recognition and are worthy of Hall of Fame status based on their innovative qualities and superb quality, the D'Angelico New Yorker is significant primarily due to its superb quality and aesthetic artistic appeal, rather than being an innovative instrument.
John D'Angelico's reputation was based on producing superb-quality handmade instruments, rather than competing head-on with companies such as Gibson or Epiphone, which had factories capable of producing large quantities of guitars. While the Gibson company introduced many innovative new designs as well as very high-quality production-grade instruments, D'Angelico took the leading popular designs of his time and refined them into the most sophisticated handmade instruments available in his era. While D'Angelico's instruments may not have been at the leading edge of design or technology, there's no doubt his superb craftsmanship and fine sense of aesthetics raised his instruments to a level not obtainable in factory-made guitars.
D'Angelico was born in New York City in 1905. When he was nine years old, he was apprenticed to a granduncle who made violins, mandolins, and flat-top guitars. From early childhood, D'Angelico learned how to run an instrument building and repair shop from the ground up, and he opened his own shop in 1932 to make violins, mandolins, and archtop guitars. His earliest guitars were very closely modeled after the Gibson L-5; the peghead shape was virtually identical. Although the bodies were typically ½" wider than the 16″ Gibson L-5 (measured across the lower bout at its widest point) of the time, D'Angelico's early instruments were virtually identical in appearance to the L-5, with the exception of the peghead inlay. What set his instruments apart from his competitors was their superb quality, rather than radical new design.
When Gibson introduced the 18″ Super 400 and the 17″ Advanced L-5, L-7, L-10, and L-12 in late '34, D'Angelico followed Gibson's lead. His 17″ Excel was closely modeled after Gibson's L-5 in size and shape, although it differed in ornamentation, and his 18″ New Yorker was very strongly influenced by the Super 400. The 18″ body, split-block fingerboard inlays, X-pattern bracing, and the art deco ornamentation of the New Yorker were not introduced until after Gibson had introduced these concepts with the Super 400. But D'Angelico clearly took the concept to a new plateau with his superb craftsmanship and fine sense of aesthetics.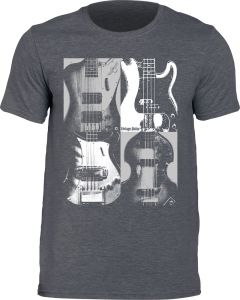 In '39, Gibson introduced an optional natural blond finish, and cutaway models. D'Angelico followed soon afterward, offering blond finishes as an option. Although there are very few cutaway D'Angelicos until the '50s, from the mid '50s until his death on September 1, 1964, the bulk of his production was cutaway models.
Although D'Angelico had a standard line consisting of his top model, the New Yorker, as well as the 17″ Excel, the 17″ style B (roughly equivalent to Gibson's L-10 or L-12), and the 17″ style A (roughly equivalent to Gibson's L-7), his instruments were usually built on custom order. While the vast majority of D'Angelico guitars conform to the normal ornamental specifications of his primary four models, neck sizes differ considerably according to individual musician's requests and the maker varied top thickness and other specifications in his efforts to produce the tone requested by individual musicians. Late in his life, he concentrated primarily on the 18″ New Yorker cutaway, a similarly ornamented 17″ New Yorker Special, and the cutaway 17″ Excel.
D'Angelico left a legacy of over 1,100 guitars and an estimated mandolin production of 300 to 350 instruments. In addition, he did a considerable volume of repair and custom work on such a variety of brand-name instruments that there are now Gibson and Epiphone guitars with D'Angelico necks. He even built one of the first extended-length five-string banjo necks for Pete Seeger.
While collectors today view D'Angelico instruments with awe and pay premium prices for them, in his lifetime, D'Angelico charged little more than the retail list price for an equivalent Gibson instrument. To bolster his income, he did repairs and even orders as oddball as a gun-shaped solidbody eight-string tenor electric. At the time of his death, archtop acoustic guitars were not nearly as popular as they had been when he first went into business. Unlike his apprentice, James D'Aquisto, D'Angelico did not live to see the reemergence of the archtop jazz guitar as an icon of American culture and a highly prized, expensive collectible.
---
This article originally appeared in VG March 2000 issue. All copyrights are by the author and Vintage Guitar magazine. Unauthorized replication or use is strictly prohibited.
---
Dig into VG's vast article archive!
Be notified when the next "Overdrive" and other great offers from VG become available! Simply submit this form.