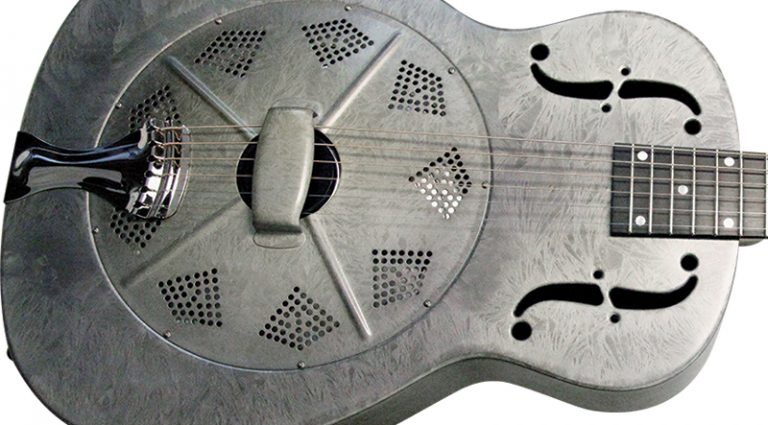 Blues man Charlie Parr recently philosophized in VG that National resonator guitars are as much mechanical creation as musical instrument, which is why maintaining the function of vintage Nationals comes with a special set of worries and woes.
Since its founding in 1989, National Reso-Phonic Guitar has re-created many great vintage models – and remedied their shortcomings along the way.
The Dueco is a prime example. Duolians of the early 1930s were National's budget guitars, and, as such, often the model of choice for blues men wanting to be heard above the sound and fury of a juke joint. The guitars – like the players – led hard lives, and most that survive today need a repair regimen, if not a complete resurrection.
The Dueco is the remedy. While it retails for about the price of a prime vintage Duolian, it comes with something the old guitars don't – rock-solid reliability. The new Dueco boasts a truss-rod-supported neck that won't bow like your favorite archery equipment. And if it does get out of true – say you're consistently using an A or E open tuning – you can simply realign it with an Allen wrench rather than going through the expense and agony of removing the neck and resetting it in a heat press. And then doing it again next year.
The Dueco comes in both the early 12-fret, large-body and the later 14-fret, small-body versions of the originals. That steel body houses National's 9.5″ hand-spun resonator – a new resonator that sounds so lovely many players insist on swapping them into their old guitars (and keeping the vintage piece in their case for originality).
The Dueco is available in the traditional gray-green crystalline frosted Duco and the rare golden finish, which is stunning.
The neck is made of mahogany and topped by an ebony fretboard. The slotted headstock follows the traditional early style (versus the last 14-fret guitars with their solid heads) and is identified by a stamped-in headstock logo. All told, the guitar weighs a sturdy seven pounds.
Playing the Dueco is like playing the best vintage Duolian, except there are no rough edges, no roadblocks, no excuses. It's kind of like stepping back in time and finding a brand-new National. Instead of compensating for 80-year-old foibles, you can focus on making music.
Whether you're sliding or fretting, the neck is sweetly finished. There's no bow to hamper chording or rough fret edges to catch on a bottleneck.
And the sound is pure Duolian – loud, but minus errant resonator buzz. Play it soft and you get that sweet, metallic tone for which single-cone/steel-bodied Nationals are renowned. Play it with a wide-open throttle and it'll rock the house.
Thanks to that hand-spun cone, the tone is everything you could want. Yes, it might mellow a bit with time, but you won't be telling yourself that the guitar needs eight decades of picking to sound "right." The Dueco has vintage soul right out of the box.
Because the guitar's voice is so clear and bright, we dressed it with a set of flatwounds. The Dueco loved them, enhancing the vintage vibe and doing away with excess bottleneck rattle and hum.
Options abound with the Dueco. Both bodies are available in left-handed configuration, the 12-fret body is available as a square-neck, and there's even a 12-string.
It might sound like a sappy song or a greeting card, but if you love Nationals, you'll fall in love all over again with the Dueco.
---
This article originally appeared in VG November 2016 issue. All copyrights are by the author and Vintage Guitar magazine. Unauthorized replication or use is strictly prohibited.
---