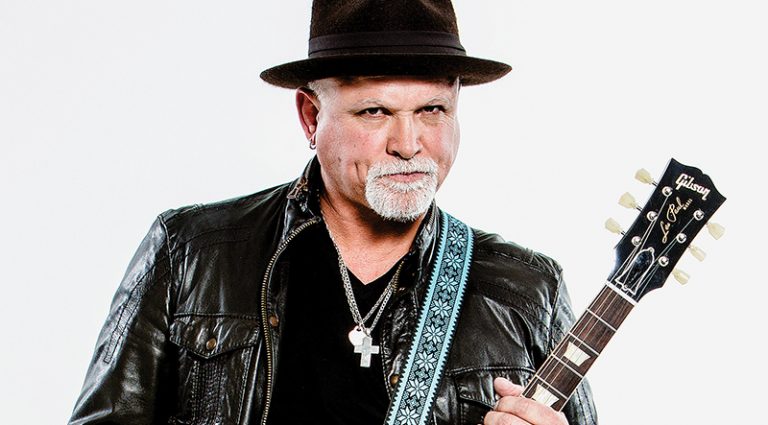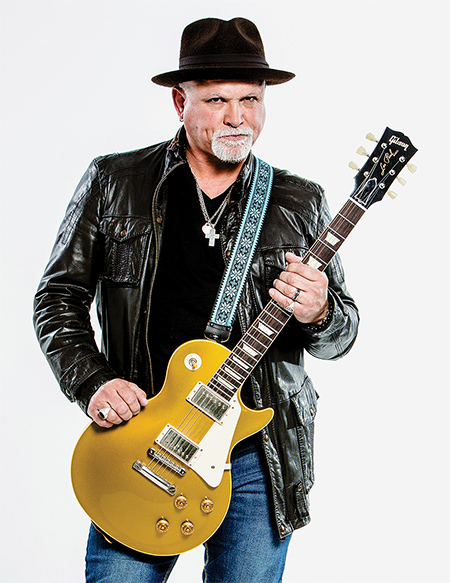 Derek St. Holmes has been in the rock and roll business since the early 1970s and is best known for his work as guitarist, vocalist, and co-songwriter with the original Ted Nugent band. Ever the unsung hero, St. Holmes was delivering the word on favorites like "Stranglehold," "Snakeskin Cowboys," and "Hey Baby," back when people assumed the band's namesake was the voice emanating from their speakers.
In 1981, St. Holmes teamed with Aerosmith guitarist Brad Whitford to released the self-titled collaboration Whitford/St. Holmes. Now, 35 years on, they're at it again with a new record and tour. "It's like a throwback to 1978," said St. Holmes. "It's stuff that sounds like it could be on the next Aerosmith or Ted Nugent record, but it's not (laughs)! This is by far the best record I've been on; you don't hear much like this anymore. Some of the younger guys are keeping this whole thing alive – bands like Blackberry Smoke, Rival Sons, and Winery Dogs."
Whitford's relocation is responsible for the reunion. "Brad moved to Nashville and we started hanging out. Then, guitars got involved and before long, we were saying to each other 'Hey, check this out. This is something I've been working on,' and shortly thereafter, they became songs. We forgot the chemistry we had, and 30-some odd years later, it's still there. "
Of the pair's instrumentation, he says, "It's an art, having a two-guitar band, and the thing that works so well with Brad and me is that we really listen to each other. I hear him going to a certain place and I make sure that I've got him covered and then he hears something going on and he makes sure I'm covered."
St. Holmes has always been partial to Gibsons.
"Is there another kind of guitar (laughs)? On the record, I used a 2013 '57 reissue Goldtop and my three-pickup white SG Custom. Gibson made a copy of my old one that sounds and plays a hundred times better. It's got the Maestro and looks exactly like my first one, but the neck is better, it plays better, and it's got Burstbucker 3s instead of '57s. The neck was so small on the original one that I could hardly make a chord. I only used it for a little while, then switched to my '57 Junior and my '71 Les Paul Custom. We also used Brad's Gibson Jackson Browne acoustic on the record."
St. Holmes prefers his guitars stock with the exception of the bridge. "I always use Tone Pros bridges. They look almost identical to stock, but they're solid. The original bridges, with the guitar all strung up, still have a little movement and a slight vibration. The Tone Pros are locked down, it's just one solid sound."
For the stage and the studio, his amps are an 18-watt Sock Monkey with a 1×12″ 3 Monkeys cab and a Marshall MKII 50-watt reissue on a 4×12″ slant cab with 25-watt Celestion Greenbacks.
"We want to be powerful live, but we want to try to keep the stage volume down," he said. "That's mostly what we used on the record. I also used a hand-wired AC15 and a 50-watt Friedman that sounded great. We're using the same guitars and amps we used to use, just a bit lower wattage. We had in mind that live Humble Pie record from '71, and that's the kind of tones we're going for."
They're sticking with it on the road, as well.
"We're taking quite a few vintage guitars out, so we can get the sounds we're looking for. I'm using '56 and '59 Les Paul Juniors – the '59 is a Cherry double-cutaway and the '56 is a sunburst single-cut. Brad just went down to Boston and brought back his '68 goldtop with P-90s and he might take that and his '59 out with us. I had a chance to play the '59 a bit and there's no comparison – those old ones are the Holy Grail."
St. Holmes keeps his pedalboard simple.
"I'm using an Xotic Custom Shop AC Booster, a Boss DD3 delay, a couple vintage tube choruses, and my Boss Tuner – that's it. The tone, the sound, really comes from your fingers, your hands, your head, and your soul, you know?"
He attributes the vibe of the new album to their collective roots.
"Our old ears can still hear the way it sounded, standing in front of Jimi Hendrix or standing in front of Eric Clapton, going, 'Man, that's the sound.' It's stuck in our heads; can't shake it."
---
This article originally appeared in VG May 2016 issue. All copyrights are by the author and Vintage Guitar magazine. Unauthorized replication or use is strictly prohibited.
---