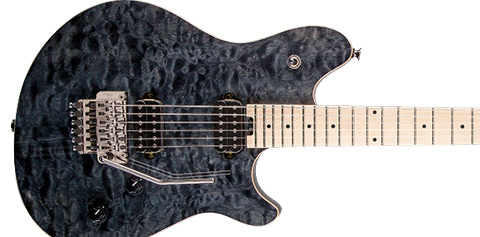 EVH Wolfgang WG Standard
Price: $799.99 (list); $599.99 (street)
Contact: www.evhgear.com
Decades after the release of the first Van Halen album, universal acceptance of Edward Van Halen as the last musician to revolutionize the electric guitar periodically rises and falls. About every five years or so, renewed admiration and respect is often followed by indifference or disregard from segments of the guitar community. Despite a laundry list of idiosyncratic songs, finesse, and feel, his contributions are routinely overshadowed by the flashier elements of his playing.
Edward Van Halen's approach to the guitar left an indelible mark on the guitar population and the gear industry. His intuitive approach to playing, diming his amplifiers, and building guitars, still resonates today. And his DIY ethos caused a ripple effect among guitarists of all genres, and was the impetus to materialize fresh ideas on the fretboard – as well as on the workbench.
Van Halen's latest production model is the EVH Wolfgang WG Standard by Fender. Made in Indonesia, it offers the guitarist's favorite appointments and tonal characteristics at an affordable price. The review model was a Trans Black flattop with a quilt maple top, forearm contour and comfort cut, and made to Van Halen's specifications. With its basswood body, maple neck and fingerboard, and compound-radius, it proved a soloist's dream. Two direct-mount Savage EVH humbuckers are controlled by one Volume and one Tone control. The WG Standard comes equipped with an EVH Floyd Rose bridge and locking nut.
The guitar's bolt-on 25.5″-scale-length neck is reinforced with graphite for added stability, and its flat fretboard radius starts at 12″ at the nut, going up to a comfy 16″ on the upper frets. Combined with 22 jumbo frets, black-dot inlays, and a three-way toggle switch, the EVH WG Standard is smaller than a Strat and fully accessible up the neck. It's lightweight, and its oiled natural neck finish is like butter. To find out if the Wolfgang Standard is more than a one-trick pony, it was tested using a Blackstar HT Club 40, a '66 Fender Pro Reverb, and an Orange TH30.
Right out of the box the Wolfgang is built for speed and comfort. It's fast and smooth, and its neck is wide enough to anchor a secure grip, but not so girthy in the rear as to slow you down. Its low action is perfect for unleashing rapid-fire barrages of high-intensity legato licks. With the gain turned up, the pickups aren't overtly hot, but offer relentless sustain. They accommodate an amp's saturation with clear glassy highs and innocuous lows. While the WG Standard lacks the tonal complexity of its higher-priced counterparts, tweaking your amp can help any shortcomings in the EQ department. The toggle located in the upper horn is reversed relative to Les Paul-style guitars. The up position engages the bridge pickup; the down position engages the neck pickup. It's fun to play and one of the most ergonomic guitars you'll ever use. Its cut brings you closer to the body, and access to the higher frets is a breeze.
The WG Standard's neck pickup warms things up, drops the gain a tad, but maintains a glassy punch. The negligible lack of distortion coming from the neck pickup is offset by a deeper, richer, clarity. Eddie is a dive-bomb guy, and the guitar's Floyd Rose was engineered to create rubbery single notes, dipping harmonics, and growling string flap. After a rigorous whammy bar workout, the guitar remained in tune.
With a clean amp, the pickups display a tough but semi-clean bark. The bridge pickup can imitate the sharp cluck of a Tele crying out for chicken pickin'. Arpeggiated chords unfortunately don't yield lustrous chime. The bridge pickup is slightly harsh, but the neck pickup yields smooth bottom end and volume. Manipulation of the Tone and Volume controls help to customize the clean sound – but then again, you probably won't purchase this guitar to play klezmer or bluegrass.
The EVH Wolfgang WG Standard won't replicate the sounds on Van Halen records. What it does offer, however, is a blank slate with which to communicate your own artistry, ideas, and shredalicious individuality. It's effortless to play, makes soloing fun, and the price point is excellent.
---
This article originally appeared in VG March 2015 issue. All copyrights are by the author and Vintage Guitar magazine. Unauthorized replication or use is strictly prohibited.
---