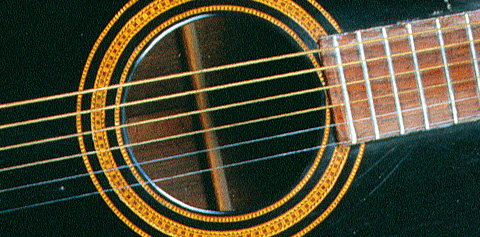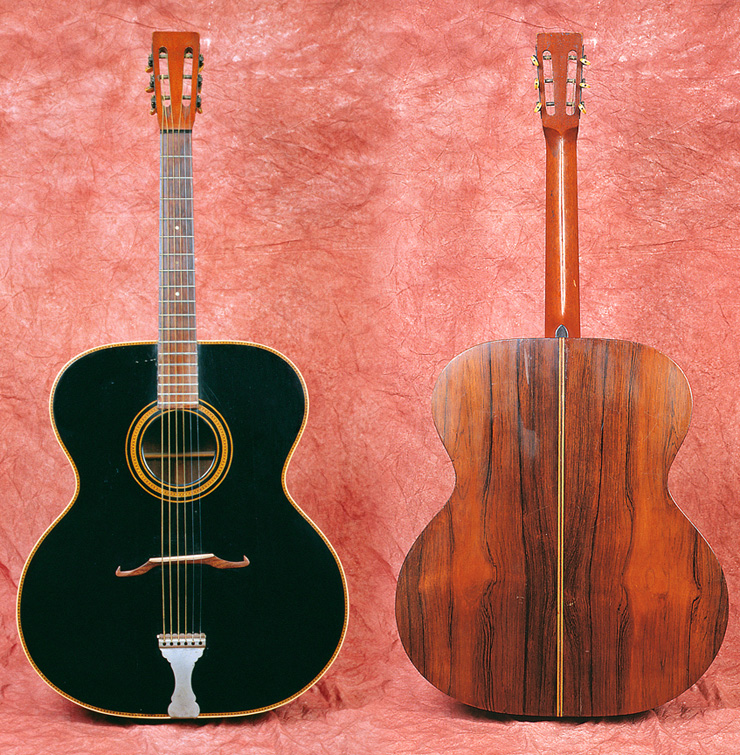 So what is it? Its original black-finished spruce top is simply ladder-braced from within, but its back and sides feature Brazilian rosewood with dramatic bookmatched figure. Its unbound 18-fret fingerboard –also of rosewood – sports only a few small, round dots for position makers, yet intricate multicolored wood purfling graces much of the rest of the instrument, including the top body edge, rosette, and back centerseam. Its configuration of flimsy, stamped-steel trapeze tailpiece and simple movable bridge (usually the hallmark of a budget flat-top) stands in stark contrast to the high quality and craftsmanship demonstrated throughout the guitar. It is curiously both deluxe and plain.
But what is it? It's wide, flat fingerboard straddles the body at the 12th fret, its relatively thick V-shaped neck is topped with a squared-off slotted headstock, and its antiquated nickel-plated tuners, with pinion gears above the worm gears – are all indicative of a small, turn-of-the-century parlor guitar. Its gigantic body, measuring 19 ¼" across, puts it in a class with the largest guitars ever built. Bear in mind that Elmer Stromberg's massive Master 400 archtop, designed to project through the increasing din of the big-band era, measured a mere 19". Perhaps this guitar was intended for the world's largest parlor?
Among the few makers who constructed such behemoths during this period were the Lyon and Healy Company and the Larson brothers, both of Chicago. At least one Larson brothers' flat-top has surfaced that was bigger still by several inches. Our guitar in question is quite unlike that one and bears none of the telltale Larson construction details. Their laminated X-bracing, their characteristic binding and trim, and their quirky fingerboard inlay patterns are all notably absent.
It's a Lyon and Healy, then? Yes and no. Circa 1900, the firm was so large it manufactured under a host of sub-brands; Washburn is perhaps the most recognized, though Leland, Lakeside, and American Conservatory are still seen. American Conservatory was responsible for a line of "over-sized" instruments, but the neck and the tailpiece of this one are more akin to those of a Lakeside. This is so much hair-splitting, however. When an instrument of this caliber survives almost a century and in such fine condition, when it continues to play cleanly and easily, when it exhibits a tone that its present owner describes as "quite deep and dark," it is already more than we ask of most vintage instruments. No further explanation should be required. It just is.
---
This article originally appeared in VG Classics #02 issue. All copyrights are by the author and Vintage Guitar magazine. Unauthorized replication or use is strictly prohibited.