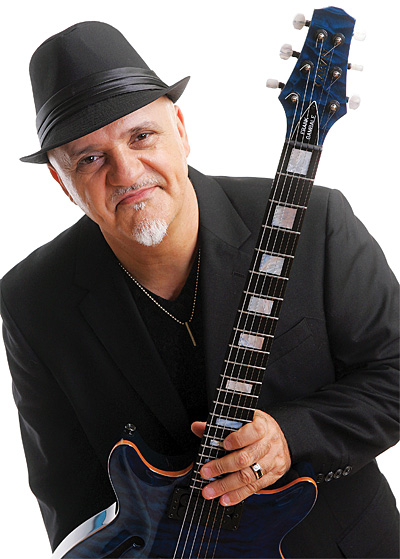 Frank Gambale has had an amazing career playing the music he loves. From being the go-to guy for sweep-picking, and later replacing Al DiMeola in Return To Forever, Gambale drops jaws wherever he goes, and whether playing straight jazz, instrumental rock, or contemporary fusion, he plays from the heart and head.
Gambale's current project is a collaboration with singer Boca, who just so happens to be his wife. It's called Soulmine, and it's a vocal record bridging the sounds of pop, funk, smooth jazz, and spiritual music. It's a return to Gambale's vocal roots and the romance that can blossom with the collaboration of two accomplished artists.
What's it like to write an album with your wife?
It was incredible. She's a real inspiration to me in a lot of ways. She's a huge talent. She had a record out before I met her, and when she first played it for me, I was like, "Wow, that's really good!" She's got an amazing voice.
I've always done vocal tunes on my records, but for this one I wanted to do a record where it's all vocals. I love vocal music. I was waiting for the right voice to come along. When I heard hers, I thought, "We really have to do something together."
It was a wonderful collaboration. We wrote 10 songs together and we're already starting to plan the next one. We're just enjoying the process. I won't say it wasn't without a few tussles, but we're both very passionate about music. The end result was what was important.
It's a positive, uplifting record with a strong sense of spirituality.
She writes incredible lyrics with beautiful, positive messages. It's really a romantic record. Generally, I would give her a song with a melody and she would write the lyric to it, but we both did a lot of arranging together. We spliced and diced it until it was what we wanted.
Even though it's a vocal record, the guitar playing is distinctly you.
Boca isn't a regular singer, because she's a musician. She has played piano since she was seven, so she's okay with the guitar weaving in and out of the voice like that. I really like it because in most of the tunes, it's like a dialogue between the guitar and voice.
It worked well on "Forbidden Kiss."
I like that approach, and it really keeps the guitar in the forefront. I've always liked that style of guitar filling in and around the voice. Some singers are afraid of that, or feel that it gets in the way, but I just love the way it sounds.
Is this a Gambale crossover record?
I don't think of it as crossover, though that's fine. I've always liked this kind of music. In my car you'll hear me listening to everything from Earth, Wind & Fire to Steely Dan, Sting, George Benson, as well as Chick Corea, John Coltrane, The Eagles, and Crosby, Stills & Nash. I've lived it all. Back in Australia, I was in vocal groups. I was even one of the singers.
My path went a little differently when I came to the States; I got really headlong into guitar and went down that fusion path. But this other stuff has been such a desire for a long time to finally do it like this. So, yes, I guess it can be seen as a crossover record. I love vocal music and I like groove. I always thought of my instrumental music as vocal tunes. It's just that the guitar was there instead of the voice.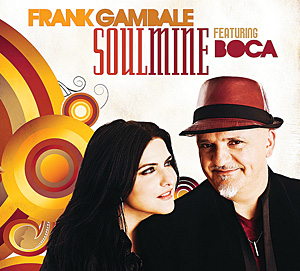 Your instrumental work has always stressed a lot of melody.
Melody is very important to me. I don't want to be esoteric; I always like to consider the audience and what the people want to hear, especially on this one. We spent a lot of hours crafting this one.
Your Carvin FG1 signature model has a great presence on the record.
I'm very happy with it. I think it's about as great as you can make a guitar. The main difference between the FG1 and my other signature models is that it's a semi-hollow. I wanted a guitar I could string with flatwounds and get a great jazz tone from, then put .009-gauge strings on it and play blues, rock, and R&B as well. It's kind of along the lines of a mini 335, but I would say it's more refined. On the front pickup, we spent quite a while finding the right number of windings to get it to be a little bit less muddy. Sometimes, those front pickups on a hollowbody can sound kind of muddy, especially with distortion. So we wound it a little bit lighter. It's a beautiful-sounding pickup.
What kind of amplification are you using?
These days, I've been developing a line of amplifiers with a company called DV Mark. We designed a 1×12 combo, which is a hybrid of a tube preamp and solidstate power. I've always loved tube preamps, so I've always bought them as separate items. What's great is that this little combo has both. It sounds great, and they make their own speakers. It's extremely light.
What effects are you using live?
I use a MIDI pedal and a volume pedal, mostly, and I've been using the TC Electronics G-Force for a long time. I'm hoping to be able to just use the DV Mark amp head for everything.
Any chance you'll be returning to some of your group projects like Vital Information or Gambale, Hamm & Smith?
I'm really on this other track right now and into playing my own music. That's not to say it wouldn't happen, as I'm always open to suggestion. But this year, I'm focusing on Soulmine.
---
This article originally appeared in VG June 2012 issue. All copyrights are by the author and Vintage Guitar magazine. Unauthorized replication or use is strictly prohibited.
---