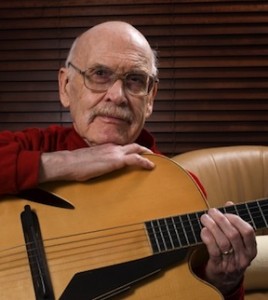 Renowned jazz guitarist Jim Hall passed away December 10 at his home in New York City's Greenwich Village. He was 83 and suffered heart failure.
Influenced by Charlie Christian, Django Reinhardt, and jazz saxophonists, he studied at the Cleveland Institute of Music while playing club gigs on weekends. Initially, he did not focus on jazz, and after graduating moved to Los Angeles to study classical guitar. There, he joined Chico Hamilton in his Quintet, and also worked with multi-instrumentalist/composer Jimmy Giuffre, who Hall cited as being very influential in his own improvisational style.
In the early 1960s, he was asked to join a new quartet being assembled by saxophonist Sonny Rollins and their 1962 album, The Bridge, is regarded as one of the genre's foremost recorded efforts.
In the mid '60s, Hall served as guitarist on television's "Merv Griffin Show," led his own trio groups, and worked sessions for several labels. Famously humble despite his abilities, his career was highlighted by performances with pianist Bill Evans, singer Ella Fitzgerald, bassist Ron Carter, saxophonist Paul Desmond, as well as Rollins and Hamilton. He was also supremely influential in the careers of a host of guitarists, including Larry Coryell, Pat Metheny, Bill Frissell, John Scofield, and others.
Hall is survived by his wife, Jane, and daughter, Debra Hall Levy.