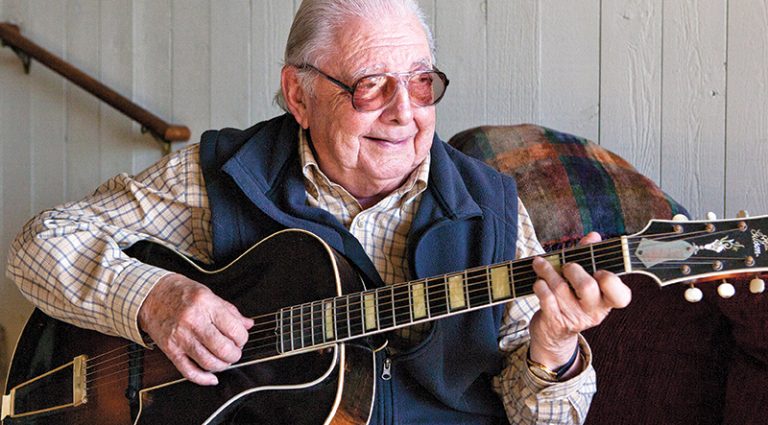 We're very saddened to hear of the passing of legendary guitarist Bob Bain. Even if you're not familiar with the name, odds are very good you've heard him play; that's him on "Peter Gunn," the themes to Mission Impossible and Magnificent Seven, along with thousands of other TV and film scores as well as songs by singers ranging from Frank Sinatra to Sam Cooke to Linda Ronstadt.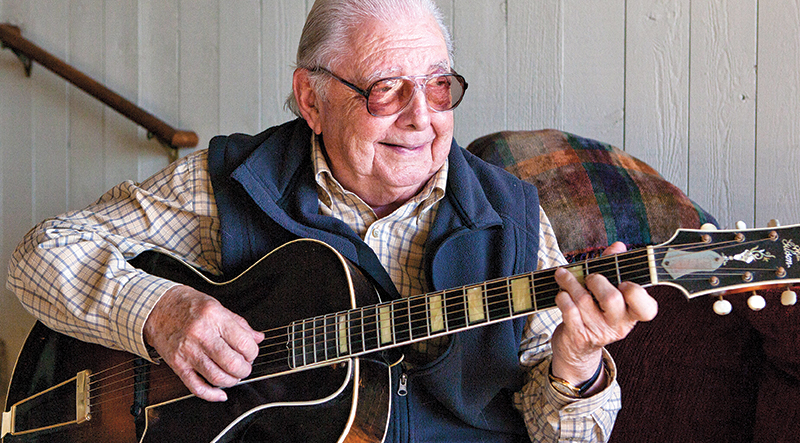 For seven decades, Bob Bain flexed his chops on more recording sessions than any living guitarist, for artists including Frank Sinatra, Nat Cole, Peggy Lee, Glen Campbell, Ray Charles, Linda Rondstadt, Sam Cooke, Quincy Jones, Henry Mancini and countless others. That's Bain playing the famous licks on Mancini's "Peter Gunn," Lalo Schifrin's "Mission Impossible Theme," as well Elmer Bernstein's "Magnificent Seven."
For 22 years, you'd hear Bain's wah pedal when The Tonight Show Band played the coda of "Johnny's Theme" at the beginning of every show, or on a bumper going into commercial breaks. Today, one can routinely find many of the world's best players hanging out at Bain's ocean-front home jamming, exchanging ideas, and enjoying his fascinating (and funny) showbiz stories. Among his peers, he's the most respected guitar player in Hollywood and the undisputed doyen of jazz and studio guitarists.
Early Days
Bain began playing guitar at age 12, when he was living with his grandmother in Milwaukee. She had a rooming house with a tenant who taught Hawaiian guitar. "I'd hear him in his room and I'd go in and listen," Bain recalls. "When he asked if I'd like to learn, I told him I really liked what was then called 'Spanish guitar.' So he gave me lessons until he moved away. Then I found a teacher named Russ Stout, who played banjo with the Coon Sanders Orchestra. When my mom re-married, we moved to California, where I finished high school and met guitarist Joe Wolverton, who was Les Paul's mentor; Les had joined Joe's trio when he was Les Polsfuss. They worked as 'Sunny Joe and Rhubarb Red.' Les often spoke of Joe's influence and how much he'd learned from him. And Joe taught me a lot, too. He was an unbelievable technician on the guitar. I hadn't met Les then, but I got the chance to go on the road with Wolverton after I'd finished high school. So it was two guitars, and me on bass. The singer, Gene Walsh, was never known as a player but he actually played good rhythm guitar. So that was the beginning of my professional career. And I just kept going from there."
When Bain returned to L.A., he worked club dates as a bassist and eventually joined Freddie Slack's group as a guitarist. Then, in late 1943, Bob joined a U.S.O. tour that took him to New York City, then on to Europe and Africa.
On his return, he found work with Andre Previn's trio and later with The Phil Moore Four, renamed The Phil Moore Four and One More in honor of Bob's addition. The quintet was one of the first interracial bands, and one of the first to explore bebop. It was Moore's group that Sinatra would choose to accompany him on a novelty tune, "Bop Goes My Heart," which was the first of many sessions that Bob would work with the iconic singer. With Nelson Riddle, Gordon Jenkins and Billy May, Bain would play on such hits as "I've Got You Under My Skin, "Young at Heart," "I've Got the World on a String," and a vast repertoire of Sinatra classics.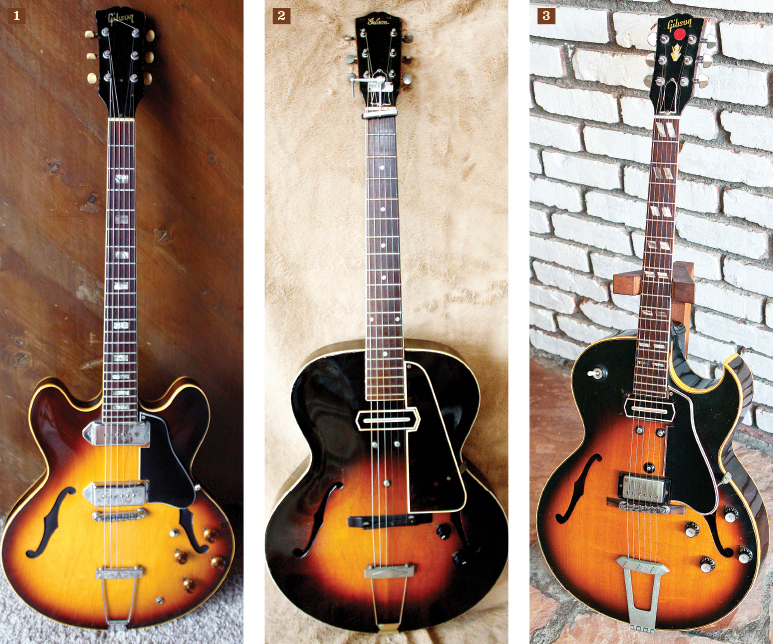 The Dorsey Band
1944 presented another plot point in Bain's career. Guitarist Dave Barbour was working with his wife, singer Peggy Lee, writing songs for Disney. Barbour asked Bain to sub for him one weekend with Tommy Dorsey's band at the Casino Gardens. Ultimately, Bain worked the rest of the engagement.
"Dave gave his notice and Tommy asked if he could get me to stay," Bain recalled. "He said, 'Buddy (Rich) likes him,' which was funny because Buddy didn't say two words to me. But I wasn't doing much, so I joined the band. They were making a picture at M.G.M. called Thrill of a Romance."
That film was the first of hundreds Bain would play on, and served as harbinger of a studio career unequaled by few, if any, guitarists.
There was more recording with Dorsey, as the timing coincided with the union lifting a recording ban imposed from 1942 to '44 by its notorious boss, James Petrillo. Bain was making records with some of the era's greatest musical talents, including Nelson Riddle on trombone, Buddy DeFranco on clarinet, and of course, Buddy Rich. "We recorded a couple of albums worth of material in about a week at R.C.A.," he said. "So I stayed on and sat next to Buddy for almost two years. He was the highest-paid member of the band and had a feature spot in every stage show. It would just break the place up."
After his stint with Dorsey, Bain joined Bob Crosby's outfit and was happy to work with Bing's brother in a more relaxed, yet musically valid environment. But soon, Bain's virtuosity would realize yet another significant opportunity – and engender one of the most extraordinary careers in modern music.
Stage To Studios
Andre Previn, with whom Bain had worked clubs, was signed as an orchestrator for M.G.M.. When music director John Green had a part for an electric guitar, Previn recommended Bain. That endorsement was in essence the formal commencement of his long studio career. "I did the picture, whatever it was, and Green liked it," he remembers. "That's how I broke into the studios. That was in late '46."
Bain was in the big leagues, joining a pantheon of legendary studio guitarists. "George Smith was number one back then. Allan Reuss came on a bit later and ended up doing all the guitar work at Disney," he said. "He was marvelous, and of course Al Hendrickson had been around since '38."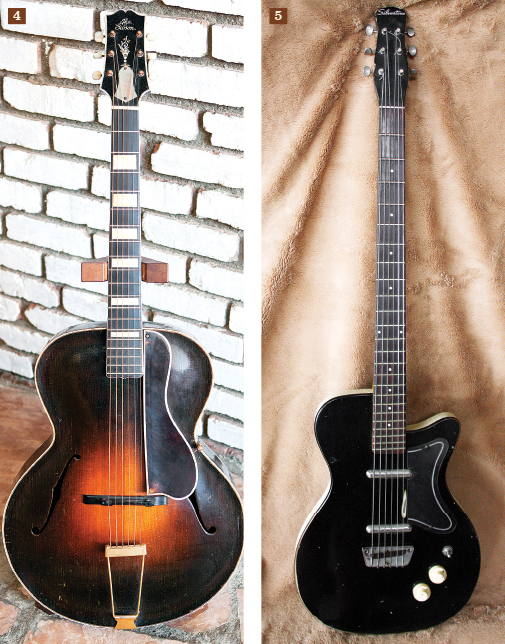 Les Paul
One of the most important and influential people in Bain's life was the great Les Paul.
"I first met him in the early '40s. We used to hang out a lot. Les had a house on Sunset Boulevard, and I used to work the clubs and drive by his place on the way home. If the light was on, I'd pull in the driveway and we'd sit around. He was always doing something. He had two turntables, and once played me a thing called 'Seven Guitars in Flight,' one of the first overdubbed things ever, all done in his garage."
Bain recalls when Les Paul played his overdubbed recordings for Capitol producer Alan Livingstone.
"They started releasing albums right away, which were among the biggest things Capitol ever had. I worked on a record that put Capitol on the map – 'Cow, Cow Boogie' – with Freddie Slack and Ella Mae Morse, in '42. Capitol didn't even have an office, just some rental space above a building. After that record hit, they got together with Wallach's Music City at the corner of Sunset and Vine."
The last time Bain saw Les Paul was when Bain collaborated on the musical Danny and Sylvia, about Danny Kaye and Sylvia Fine. "It played off Broadway at St. Luke's Theater; the premier was [in 2009]. I'd written it with Robert McElwaine, a guy I'd gone to high school with who really wanted me there. So I called Les, who was going to be at the Iridium the Monday night I was getting in. I went from the airport to the club and caught his last set. Then we hung out all night after the last show. That was the last time I saw him." Paul died three months later.
With Joe Wolverton, Bain carried Django Reinhardt records on the road, listening to them on a portable record player. "It was about all we listened to," he said. "I still listen to Django every day. Charlie Christian influenced everybody, too, but Les Paul is more responsible for the electric guitar's popularity than anyone.
"Once, I was playing a date for Dimitri Tiomkin. But when I got there, there were no parts for guitar, so the orchestrator came over and said, 'We're giving you a piano part. It has all the cues, so just play when you think you should.' I had this big sheet and I had to keep turning pages. But I was sitting next to the French horn player, whose parts were transposed on the piano part. So I thought, 'I'll just use that.' And after six or seven cues, Tiomkin looked at me and said, in his heavy accent, 'My voychek, you give me hit record!' All I was doing was doubling the French horn part. But that was a good example of how Les made the electric guitar so popular. So often, a producer would say, 'Get a Les Paul sound in your score if you can.'"
Tim May, one L.A.'s busiest session guitarists, offers a further observation. "There's more to that story because that's what this business is about. Bob could have done any number of things. He could have played rhythm or a hundred different things. But he had the intuition to know what was right and what would sound best. And that's 90 percent of this business. Of course, you have to know how to play, but you have to know what to play."
May's admiration is echoed by Bill Pitman, one of Bain's peers, and a member of the famous Wrecking Crew, which played on hundreds of hit records. A veteran with a career in the studios spanning more than 40 years, Pitman said, "Bob is so amiable. He's wryly funny, and so much fun to be with. But what's amazing is his ability to read lines that are in the stratosphere. In all modesty, I'm an excellent reader. I had to be. But very, very few guitarists, maybe Al Hendrickson was among them, could read and play fluently that high on the music staff. We called it 'Bain country.'"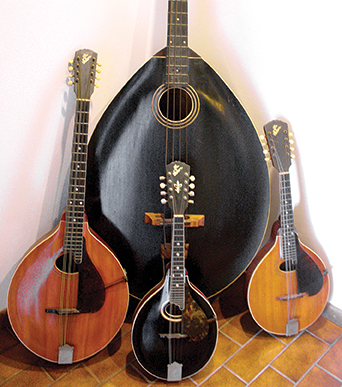 Mancini
"I was first-guitar at Universal when Hank Mancini came on as an orchestrator," Bain said in regard to yet another phase of his career. "He was hired as an arranger for a guaranteed minimum of $250 a week, and his first picture on his own was Rock, Pretty Baby with John Saxon – a rock-and-roll picture. Now, prior to that, he'd worked on The Glenn Miller Story. Joseph Gershenson was its musical director and got credit as the conductor when it won an Academy Award. But Hank got credit as the orchestrator because he'd just left Tex Beneke who had the Miller band. So Hank orchestrated the Miller picture and wrote the song that became the theme for it called "Too Little Time." So they got the award for best adapted score and that was the first big thing to happen to Hank. And that's where I met him because I was there all the time."
Along the way, Mancini met Blake Edwards, who had the idea for the Peter Gunn show and asked if he would write music on spec. The show became a hit, and R.C.A. wanted an album.
"So when Blake asked if Hank wanted the publishing, he formed Northridge Music and published all that music from 'Peter Gunn' and virtually everything he did with Edwards thereafter. So Hank ended up with a huge publishing firm worth millions.
"Then, 'Mr. Lucky' hit and we were doing two shows a week at M.G.M.. Every Wednesday was 'Peter Gunn' and every Friday, 'Mr. Lucky.' Then, Breakfast at Tiffany's and the Pink Panther series happened, and his records were really selling. He was a great composer who loved new things. He'd check out any new amp I'd have, and when synths came out, he'd mess with those, and learned how to play piano really well so he could play onstage with his shows. Before, he just played arranger piano."
When asked about the primal sound of "Peter Gunn," Bain said, "Bones Howe was the engineer and he knew what he wanted. It was a groundbreaking record. I still have that guitar and every now and then somebody calls and asks to borrow it to display at a show or something. And I'd get calls from people who'd ask if I was Mancini's guitar player. They'd say, 'I need you on a session.' And they didn't know me; they just knew I'd played for Hank. I got a lot of work that way."

One of Bain's most famous film contributions was his guitar part accompanying Audrey Hepburn on "Moon River" in Breakfast at Tiffany's.
"We were recording the score, and on the third day, we were wrapping up around 4 p.m. Everybody was packing up, and Hank said, 'Pack up, but keep an acoustic guitar. We have something to do after the band is gone. Go to Nick's and have a drink and come back.' So I left a small Martin, and by the time I got back, the stage was dark and there were only three people in the booth – Hank, Blake Edwards, and the engineer. Hank said we were going to record something I thought would be a source cue or something, but he walks in with Audrey Hepburn. He introduces us and says she's going to sing 'Moon River.' Now, we'd been recording the tune several different ways for the picture, but there was a scene with just her and the guitar, and she didn't want to sing with the full orchestra. He wanted it as simple as possible. So she sat down and Hank said, 'I'll leave you two alone.'
"It was at Paramount, and I knew they always left the mics on. But I asked the engineer to turn the mic off because we wanted to talk. She said, 'I'm very nervous about this.' I reminded her that it was a simple tune, and that she'd be fine. So we found the right key, and she had a very good voice. We tried it a couple times, then I said, 'Let's make a take.' I told Hank we were going to run one down and I played a simple introduction, and she sang the song. The engineer needed another, so I asked him to turn off the mics again and said, 'Maybe take a breath here and I'll hit a chord so you'll be comfortable,' and so on. I asked for another take, and it was really good. I said, 'I don't think you're going to sing it any better.' She said, 'I don't think so, either.' We went in the booth and Hank liked it, Blake liked it, she liked it, and I certainly wasn't going to say anything (laughs)! It starts with her sitting in the window in the film and the orchestra sneaks in quietly after eight bars or so. I don't think it took more than a half an hour."
The Studio Life
When coordinating studio gigs, Bain recalls that often, the logistics became complicated.
"Let's say I was working sessions for Billy May, Nelson Riddle, and Hank Mancini… It worked like this: Bobby Helfer contracted for Hank and he was also a contractor at Universal and a lot of other people. But Nelson had a different contractor. He used the Kleins, as did Billy May. So if you were working for Helfer a lot, he would give you maybe 10 dates – two this week, two more in two weeks, and two more in a month. These were film dates they'd set far in advance, with Elmer Bernstein or Mancini. So I would take those. Then, if I got a call from Nelson, I couldn't do it. The band leaders depended on me. I worked for so many – Hank, or Ray Heindorf at Warner Brothers, or Stan Wilson at Universal. Being first guitar at Fox, Universal, and Warner all at the same time, I just had to hope they didn't all fall on the same day!
"For instance, I did all the 'M.A.S.H.' shows at Fox. They'd start at 8 a.m. and usually, I'd be out at 9:30. Once, though, I turned it down and the contractor called back and said he'd called 17 other guitar players. I said if he could guarantee that I'd be out by 9:45, I'd do it because I had another call at 10 a.m. And they got me out on time!"
Bain is well aware that several claims abound when it comes to who recorded the themes for "M.A.S.H." and "Bonanza," because, he said, the union required a new recording for every season.
"I did the original 'Bonanza' theme and called the guitar players for David Rose. Dave said, 'I have to do this pilot and they want guitars, but I haven't had time to write the theme. Get some guitarists, call my contractor, and tell them what to bring.' Besides myself, I got Tommy Tedesco, Bill Pitman, Allan Reuss, and Laurindo Almeida. I told them, 'We'll cover ourselves with two electrics, two acoustics, and Laurindo can play gut-string because the producer might want something Spanish.' So we had two guys play the melody in unison on electric, two on acoustic, and Laurindo ended up playing rhythm."
Even with so many guitarists recording the theme, the version of the song that became hit record was produced by Don Costa in New York, with guitarist Al Caiola.
"Nobody knows what's going to be a hit," Bain said. "I worked on a picture with Max Steiner, called A Summer Place, and the title tune became a big hit for Percy Faith. I thought it was a pretty tune and I was under contract to Capitol, but it never occurred to me to record it. It was the biggest hit of Percy's career. And I worked on The Magnificent Seven with Elmer Bernstein, too." That song also became a hit for Caiola.
Playing "The Tonight Show"
Bain got his start with The Tonight Show Band by working yearly three-week stints when the show visited L.A. When it moved permanently, he was in place.
"On a typical day, we'd come in at 3:15, which was rehearsal time. The librarian would distribute the music Doc had chosen – usually charts we'd played before. But if it was a new chart by Tommy Newsom or Bill Holman or whomever, we'd run it down, and Doc would make changes."
When the show ran in a 90-minute format, there were typically two musical guest performers. When it was moved to 60 minutes, singers became rare but were usually major artists like Tony Bennett, Ray Charles, or Bette Midler. Otherwise, Bain, Sevrinson, and the band had to be alert and on its toes.
"There were so many setups," he said. "Like, if Johnny's monologue wasn't working, he'd hit the mic and say, 'Is this thing working?' and I'd play these broad triplets and he'd start singing something like, "Like a rhinestone cowboy…' And he'd dance a bit, then cut us off, like 'That's enough!' It was just something I'd do if I felt like it."
Because Peter Woodford and (later) Mitch Holder would sub for him on "The Tonight Show" when he took a night off, Bain used the wah pedal to identify the shows on which he played. "Tony Mottola told me to do that," he said. "When he was doing the show in New York, he called and told me, 'At the end of the theme, play something on the wah so you won't be wondering if you'll get a residual when they play a repeat. You won't have to watch the whole show. If you hear the pedal, you'll know you were on it.'"
The Peter Gunn Guitar
Bain also received frequent calls to double a part or play a stringed instrument other than guitar. His main axe was a modified Fender Telecaster, which he favored because it was versatile, reliable, and he could get a round, jazzy sound from the neck pickup in addition to a rock or country tone from the bridge pickup and the Bigsby tailpiece. "I put a humbucker in the neck position because I might go to a studio and need a Chuck Wayne sound. I'd have a Gibson ES-150 with me and switch if I had to. But that meant I had to carry two electrics."
Guitarist Tiny Timbrell suggested installing the humbucker as a way to replace the ES-150; though he had to shim the fingerboard slightly because of the humbucker's height, "It turned out great. He also put a big Bigsby tailpiece on it, which I used all the time because you could simulate so many things."
The guitar has been ever-popular because he used to record the "Peter Gunn" theme.
"It's one of a kind with that tailpiece," he said. "Guys have tried to imitate it. Albert Lee saw a picture of it and tried, but never quite could."
In addition to recently purchasing a new Telecaster with a distressed finish and hardware, Bain recently acquired an ES-150 "Charlie Christian" pickup for his Gibson L-4. "Barney Kessel used that guitar as an acoustic, then converted to an electric. He put the Christian pickup in the front and a humbucker in the back. Herb Ellis bought it from Barney, but returned it. I liked it, so I bought it. But when I'd take it to a session, the Christian pickup would make too much noise, so I replaced it with another humbucker. Though I used my Telecaster a lot, if I had a jazz gig, I'd use the L-4. But then I put it back the way Barney had it."
John Jorgenson and the Missing L-5
For many years, Bain kept a Gibson L-5 close at hand in his music room. One night, though, somebody broke in and stole the ES-150, the L-5, and a Coral sitar, along with a camera and a turntable.
"I reported it, and they recovered everything because some gal tried to pawn the camera. They found everything at her house. So I go to the police station and there was the Charlie Christian, the sitar and the camera – everything except the L-5. I thought maybe they'd forgotten it when they'd transferred the instruments between precincts. When I asked, the detective said, 'Take my advice, don't go there. If you report it gone you'll run into a lot of flack, you'll never get it back and you might even make a few enemies.' He was telling me that someone in the department picked it up because he knew it was pretty good. I said I thought the guitar was worth it. He said, 'No, it isn't. You'll get tired of trying and it'll be a major hassle.' I got to know this detective and he kept advising me that I was doing the best thing. So I filed the insurance claim for $750."
Fast-forward about a dozen years… "One night at 'The Tonight Show,' John Jorgenson, who was working with Elton John, approached me and said, 'I think I have something that belongs to you.' It was my L-5! He told me there'd been an ad in the Green Sheet. The guy wouldn't tell him where he got the guitar, but he wanted $400. John bought it, and when he looked closer, my name was still on the scroll – all those years, and no one had bothered to remove the nameplate. I gave him $1,000. He said I didn't have to, but I insisted. I said, 'Look, I got $750 from my insurance, you paid $400, and we'll call the rest a finder's fee.'
"John had an old jukebox that played 78s, so I sent him some old Eddie Lang records, and Django and Joe Venuti discs, and he loved that."
Today
Bob Bain is living proof that music isn't just a living – it's a lifestyle.
"Just the other day I had Mitch Holder, Tim May, Jim Fox, and Dave Koontz pay a visit, and we were playing guitar quintets and had such a good time. I have a lot of Jack Marshall's arrangements and classical things that have been rearranged, like the 'Ravel String Quartet.' And they're difficult parts. We sat around for three or four hours. Mitch and I played some things the other day that had time changes almost every other measure. You try to sight read it and can't help but laugh. But that's the sort of stuff we do just for the hell of it."
Perhaps most admirable is Bain's perpetual hipness, his ability to stay au courant. And it's more than being the guy who played the "Peter Gunn" riff; even early on, he was associated with Freddie Slack, Ella Mae Morse, Andre Previn and The Phil Moore Four – all very progressive artists of their era. And one admires the friendships with his peers like Les Paul, Howard Roberts, Barney Kessel, and George Van Eps, and his working with so many acts on "The Tonight Show." Moreover, Bain is enthusiastic not only about what's happening, but who is happening.
So the players drawn to him today, such as Chris Hillman, John Jorgenson, Albert Lee, Tim May, Holder, Fox and Dennis Budimir, are emblematic of the respect Bain has earned.
Today, he remains a regular on the guitar scene, working with jazz-guitar great Jim Fox every other week at Galletto's in West Lake Village and performing in rotation at John Pisano's Guitar Night, at Vitello's. And when he's not onstage, he's in the audience.
"I saw Mundell Lowe not long ago, and he was so terrific. He played 'Polkadots and Moonbeams,' and his first chorus stated the melody – such an artistic thing to do! And I go to Mitch's gig at least once a month. Mitch has such tremendous ideas. He's so musical, with such a marvelous feel for expression. Sometimes I can't get over how good he is."
"Bob is the epitome of guitardom," Holder reciprocates, while fellow session ace Tim May expresses the thought for many of Bain's friends. "I want to be Bob Bain when I grow up. He's revered by the best players in the world and no one has had a better career. He's done it all, and he continues to inspire us."
An Immortal's Greatest Hits
A Compendium of Tracks on Which You've Heard the Guitar Work of Bob Bain
Motion Picture Themes
Airport '75
Alvarez Kelly
Baby The Rain Must Fall
Batman
Blazing Saddles
Breakfast At Tiffany's
Butch Cassidy And The Sundance Kid
Bye Bye Birdie
Cape Fear
Cat Ballou
Cincinnati Kid
Conrack
Days Of Wine And Roses
Doctor Dolittle
Dr. Zhivago
Escape From The Planet of Apes
Finians Rainbow
Gidget Goes To Rome
Hatari
Hello Dolly
High Plains Drifter
How The West Was Won
Hud
Hush Hush Sweet Charlotte
In Harms Way
It's A Mad Mad World
Jaws
Jumbo
Lillies Of The Field
Love Story
Madame X
Magnificent Seven
Midway
Nightwing
Ode To Billy Joe
Omega Man
Our Man Flint
Paint Your Wagon
Play It Again Sam
Ride The Wild Surf
Rosemary's Baby
Sand Pebbles
Silver Streak
Stagecoach
State Fair
Summertree
The Dirty Dozen
The Green Berets
The Longest Yard
The Pink Panther
The Sting II
Thomas Crown Affair
Thrill of a Romance
Tom Sawyer
Tora Tora Tora
Under The Yum Yum Tree
Valley Of The Dolls
Wait Until Dark
Walking Tall
Who's Afraid Of Virginia Wolf
Willy Wonka And The Chocolate Factory
10
Yes Giorgio
Thornbirds
Pop Artists/Songs
Nat King Cole/"Unforgettable"
Frank Sinatra/"I've Got You Under My Skin"
Rosemary Clooney/"Come On A My House"
Doris Day/"Que Sera Sera"
Henry Mancini/"Peter Gunn," "Pink Panther"
Tommy Dorsey/"Opus One"
Dave Rose/"The Stripper"
Nelson Riddle/"Lisbon Antigua"
Percy Faith/"The Summer Wind"
Peggy Lee/"What's New"
Elvis Presley
Barbara Striesand
Tony Bennett
Perry Como
Kennny Rogers
Lou Rawls
Linda Ronstadt
Ella Fitzgerald
Quincy Jones
Sarah Vaughn
Glen Campbell
Vicki Carr
Four Freshman
Hoyt Axton
Roger Miller
Hi-Los
Ray Charles
John Williams
Andy Williams
Sammy Davis, Jr.
Doris Day
Shelly Mann
Bill Conti
Lani Hall
John Mandell
Petula Clark
Nelson Riddle
Michel Legrande
Dionne Warwick
Sam Cooke
Bobby Darin
Connie Francis
Ricky Nelson
Mamas & The Papas
Nancy Sinatra
Tom Jones
Anita Kerr
Television Themes
"Daktari"
"Bonanza"
"Dallas"
"Dynasty"
"Medical Center"
"Quincy"
"Mash"
"Happy Days"
"Kojak"
"Incredible Hulk"
"Starsky & Hutch"
"Bob Newhart"
"Laverne & Shirley"
"Carol Burnett"
"Ozzie & Harriet"
"Benson"
"Bionic Woman"
"Waltons"
"Mary Tyler Moore"
"Hart To Hart"
"Barnaby Jones"
"Rhoda"
"Charlies Angels"
"The Fugitive"
"Checkmate"
"Mission Impossible"
"Peter Gunn"
"Mr. Lucky"
"Emergency"
"The Deputy"
"Lou Grant"
"Wonder Woman"
"Six Million Dollar Man"
"My Three Sons"
"Trapper John M.D."
"The Munsters"
"Fantasy Island"
"Bewitched"
"Alice"
"Adam 12"
"Family"
"Batman"
"Columbo"
"Rockford Files"
"Baretta"
"Wild Wild West"
"Adam's Family"
"Andy Griffith"
"Beverly Hillbillies"
"Hunter"
"Highway To Heaven"
"McMillan And Wife"
"Get Smart"
"Twilight Zone"
"Little House On The Prairie"
"Alfred Hitchcock"
"Lawrence Welk"
"Mr. Belvedere"
"Gunsmoke"
---
This article originally appeared in VG May 2012 issue. All copyrights are by the author and Vintage Guitar magazine. Unauthorized replication or use is strictly prohibited.
---