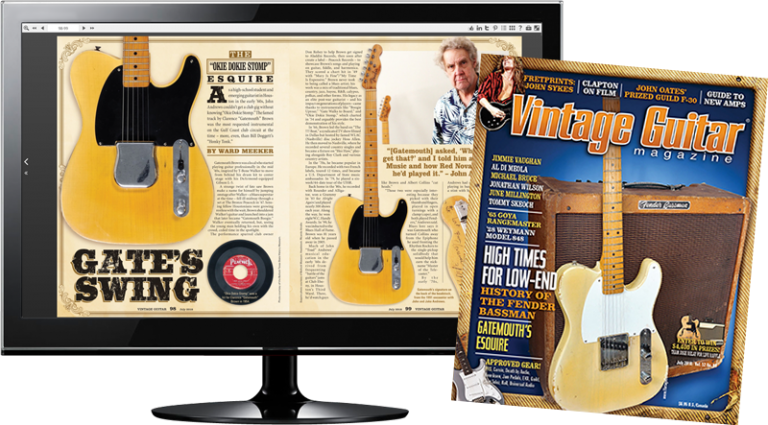 Find what's in this issue, enter the latest exclusive VG contests, or learn the 3 ways to get your Vintage Guitar fix! Don't forget to check out VG Classifieds and the playlist for this issue of VG on Youtube.
Table of Contents
For many players, the Fender Bassman is a surefire go-to amp. We take a look at the circuits and formats that have worn the name. We also tell the story of the Esquire used by Clarence "Gatemouth" Brown. Then, we speak with John Oates about his incredibly special Guild F-30, and offer our best-in-the-business profiles of a '28 Weymann Model 848 and the Goya Rangemaster 116. There are a million reasons to read the July issue, available now!
We talk new music, new guitars, and the latest goings-on with Jimmie Vaughan, Al Di Meola, Michael Bruce, Jonathan Wilson, June Millington, and Tommy Skeoch. Dan Forte delves into Clapton on film, Wolf Marshall tells the story of rocker John Sykes, Peter Kohman continues his exam of the Gibson EB-3, Dan Erlewine shows us his fix a broken Strat vibrato bar, and Will Kelly takes two DIY neck-through guitar kits and makes a doubleneck!
Update your listening with help from our music reviews, including new stuff by Led Zeppelin, Al Di Meola, Jack White, Eric Johnson, Tinsley Ellis, Barney Kessel, John Prine, Joe Bonamassa, John 5, Toto, and more. If it's time for something new in the jam room (and when isn't it?), be sure to read our no-bull reviews of VG Approved Gear.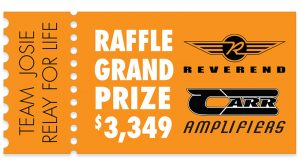 36 Mail-Order Rara Avis
The Weymann Model 848
For nearly a century, H.A. Weymann and Son, Inc. made, imported, and sold guitars along with other instruments. This rare example from 1928 offers sustain and reverb that make it great for playing blues, and stands out with its solid peghead, banjo tuners, and fancy dress. | By George Gruhn and Joe Spann
42 Italian Smorgasbord
The Goya Rangemaster 116 SB
American guitars made in the 1950s and '60s constitute an almost-holy canon, yet most players in the era took their first steps on imported instruments – often good and interesting in their own right, like this one. | By Michael Wright
86 Roots Return
John Oates' Prized Guild F-30
The Hall & Oates catalog lends few hints, but the co-founder of one of the most successful pop-music duos in history is a lifetime student of the guitar with a passion for the music of Mississippi John Hurt. We relate the story of a well-traveled instrument that landed in proper hands. | By Oscar Jordan
92 High Times For Low-End
History of the Fender Bassman
If they could have just one amplifier, many guitarists would choose the legendary Bassman. For nearly 70 years, it has been the go-to for those seeking robust, dynamic tones. We take a look at the many circuits and formats that have worn the name. | By Dave Hunter
98 Gate's Swing
The "Okie Dokie Stomp" Esquire
Clarence "Gatemouth" Brown was a star in Houston before he made it big with the instrumental "Okie Dokie Stomp" and other hits. Here, we offer a look at the guitar given to Brown by Leo Fender in 1951, and used to record the classic track. | By Ward Meeker

first fret
14 Reader Mail
18 News and Notes
NMM "Adopt an Instrument"; Willcutt Turns 50; In Memoriam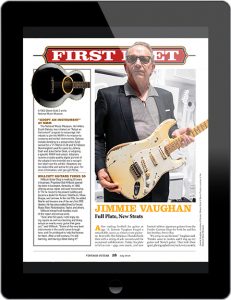 18 Jimmie Vaughan
Full Plate, New Strats
22 Ask Zac
22 Bob Barry
Jazz Lenser, Guitar Lover
24 Al Di Meola
Still Elegant
26 June Millington
Rock-Guitar Hero
28 Tommy Skeoch
Rock and Roll Forever
30 Jonathan Wilson
Rare Bird
32 Michael Bruce
Eighteen Again
departments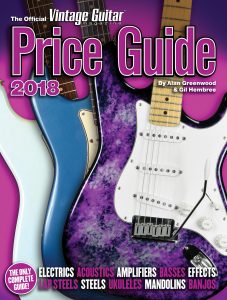 48 Vintage Guitar Price Guide
80 Guide to New Amplifiers
102 Upcoming Events
116 Vintage Guitar Classifieds
121 WIN BIG! The Team Josie American Cancer Society Relay for Life Raffle
Win a Carr Raleigh, Reverend Pete Anderson PA-1, and other prizes worth more than $4,400! Enter now →
130 Showcase
136 Readers Gallery
columns
52 The (Way) Back Beat
Cream Dream Machine: The Gibson EB-3, Part 2: | By Peter S. Kohman
60 Fretprints
John Sykes | By Wolf Marshall
68 Q&A With George Gruhn
72 Dan's Guitar Rx
Bad Dreams: Repairing a Strat Vibrato Arm | By Dan Erlewine
76 Shop of Hard Knocks
Post-Secondary DIY: Tackling a Double Neck-Through Kit Build | By Will Kelly
reviews
108 The VG Hit List
Led Zeppelin, Jack White, Al Di Meola, Eric Johnson, Tinsley Ellis, Barney Kessel, John Prine, Joe Bonamassa, John 5, Toto, more!
109 Check This Action
Clapton's Story on Film | By Dan Forte
122 VG Approved Gear
PRS Silver Sky, Carvin Audio X1, Death by Audio Deep Animation, Henriksen The Blu, Jam Pedals LucyDreamer, EHX Slammi Plus/Hot Wax, Guild Jetstar, Jext Telez Canyon Climber/Jext Face, Koll Guitar Co. Super Glide Almighty, Universal Audio OX Amp Top Box
123 Gearin' Up!
The latest cool new stuff!
FROM READERS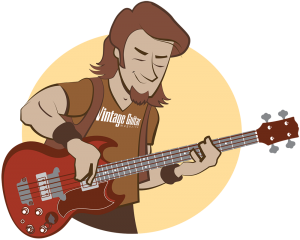 › Reader Mail
Send letters to ward@vintageguitar.com or mail to: Vintage Guitar, Inc. Attn: Reader Mail, PO Box 7301, Bismarck ND 58507.
› Readers Gallery
Check out the current issue Readers Gallery or VG's Online Readers Gallery
Send your photos to: ward@VintageGuitar.com or mail to: Vintage Guitar, Inc. Attn: Readers Gallery, P.O. Box 7301, Bismarck, ND 58507.
Readers submit photos with the understanding that they may be used in any VG, Inc. project. Due to the volume of photos we receive, we are unable to return them, please do not send us your only print.
3 WAYS TO GET YOUR VG FIX!
1. Print › › Receive the print edition by subscribing now. Order print copies of the current issue or back issues in the VG Shop.
2. App › › Download the FREE "Vintage Guitar magazine" app at the Apple app Store or Google play. Subscribe to Vintage Guitar through the app or Digital Subscription Service for access to a downloadable version of VG.
3. Browser › › Read for FREE in a web browser (Chrome, Firefox, Safari, etc.). The browser edition works on most computers or hand-held devices.