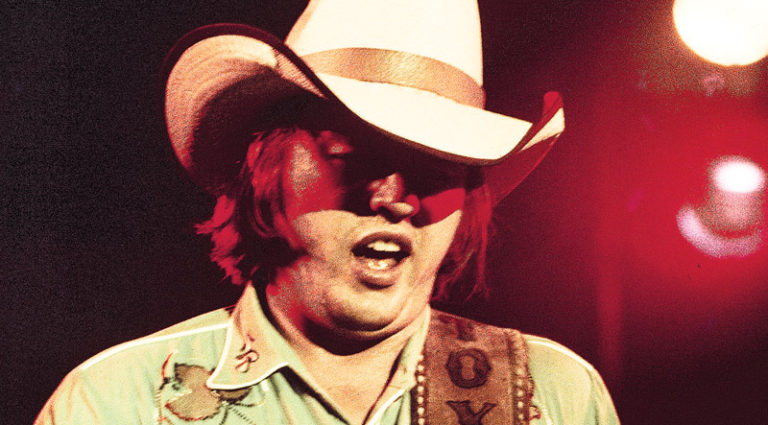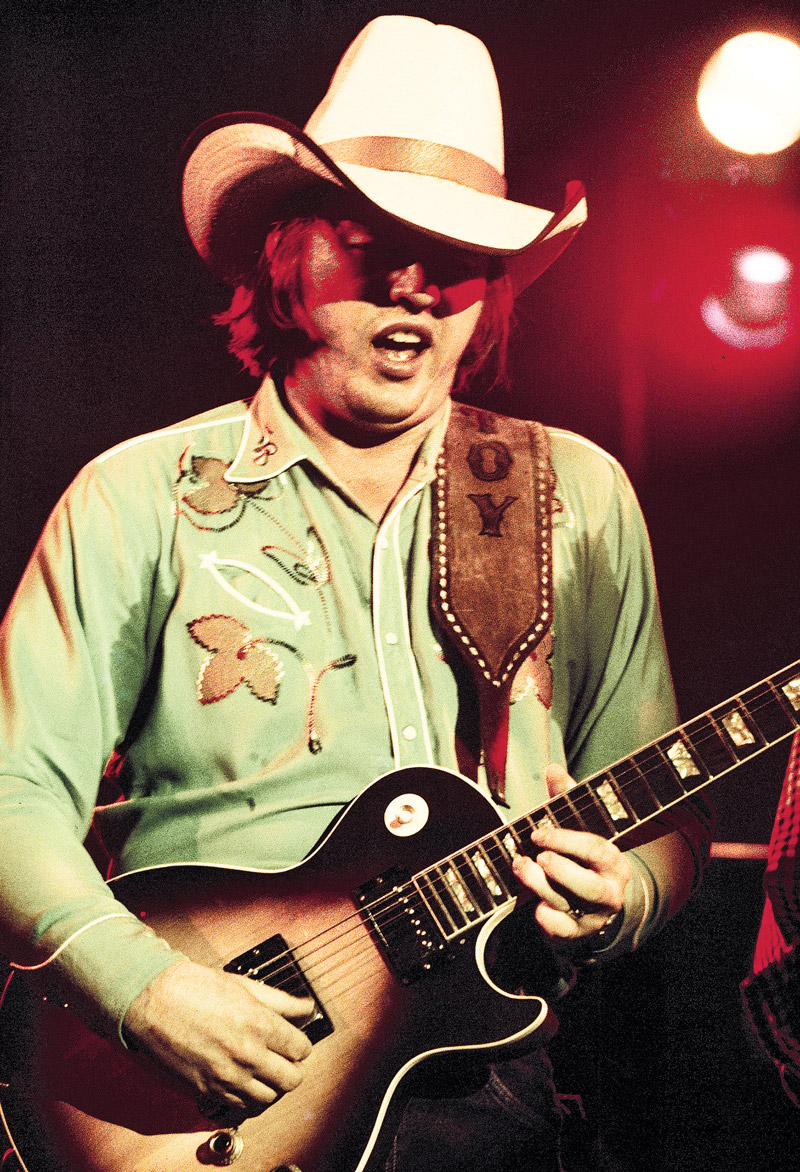 Marshall Tucker Band was arguably the most unusual Southern-rock group of the '70s. Its namesake wasn't the leader, a member, or mascot, their virtuosic lead guitarist didn't use a pick, and they regularly featured flute and saxophone solos.
Moreover, MTB played a seemingly irreconcilable array of styles, blending country, blues, folk, gospel, and rock with progressive, bluegrass, soul, and jazz – smashing all stereotypes of the genre. Depending on where you dropped the needle, you might think you were hearing Jethro Tull, the Allmans, ZZ Top, Eagles, Freddie King, a Jeff Beck's fusion outfit, Bakersfield twang, refugees from the Grand Ole Opry, a psychedelic jam band, or contemporary funk. Despite these diverse tangents, most MTB albums were surprisingly cohesive commercial successes that struck gold in their heyday when the lineup boasted guitarist/composer/vocalist/co-founder Toy Caldwell.
Born in Spartanburg, South Carolina, on November 13, 1947, Toy Talmadge Caldwell, Jr. began playing guitar at 14. His father, a pro guitarist who eschewed the plectrum, taught him basic chords, the roots-country music of Hank Williams, songs like "Wildwood Flower," some Travis picking, and exposed him to Glenn Miller big-band swing jazz. By 16, he was drawn to Chet Atkins and Hank Garland, and developed on a budget Gibson acoustic. He graduated to a Guild Starfire and Fender Jaguar, added rock, R&B and blues influences via the Beatles and B.B. King, played locally with the Rants, and assembled the fledgling Toy Factory with brother Tommy on bass and future MTB members Doug Gray (vocals), Jerry Eubanks (sax/flute), and George McCorkle (rhythm guitar/banjo).
Caldwell served in the Marines from '65 until '69 and received a Purple Heart after being wounded in Vietnam. By '70, he recovered his guitar chops, rebuilt Toy Factory, and reunited with Tommy in '72 to launch Marshall Tucker Band (the moniker taken from a name printed on their rehearsal-room key) with Gray, Eubanks, McCorkle, and drummer Paul Riddle. They secured a gig at Grant's Lounge in Macon, Georgia, where they were heard by future producer Paul Hornsby and, after a quick round of demos, signed to Capricorn Records.
MTB's eponymous '73 debut, produced by Hornsby, was an auspicious outing combining rock, psychedelic, jazz, R&B, gospel, folk, and country elements boasting a program of Toy's originals. Atypical instrumentation distinguished the perennial favorite "Take the Highway" with its jazzy flute solo and Toy's blues-rock lead work while "Losing You" and "See You Later" evoked characteristic country moods with pedal steel, hillbilly harmonies, and drawling vocals. "Ramblin'" was a showcase for Toy's fiery blues-rock while "My Jesus Told Me So" testified like pure Southern gospel and "Ab's Song" was a gentle folk piece written for Toy's wife and accompanied only by his acoustic guitar. Relentless touring (more than 300 shows yearly) sharpened MTB's skills and paved the way for their sophomore outing; A New Life was another set of Toy originals including future classics "Fly Eagle Fly," "24 Hours at a Time," "Blue Ridge Mountain Sky" and "Too Stubborn." MTB's instrumentation was augmented with a horn section, greater use of keyboards (Mellotron on "You Ain't Foolin' Me") as well as fiddler Charlie Daniels and percussionist Jaimoe (ABB). Where We All Belong boasted guest appearances by Daniels and Elvin Bishop (slide on "Where a Country Boy Belongs"). A double album of studio tracks penned by Toy – including "In My Own Way," "Now She's Gone (co-written with Tommy) and his signature song "This Ol' Cowboy"– mixed with live cuts personifying jam-band tendencies (especially the nearly 12-minute "Everyday I Have the Blues"), it's a bona fide Southern-rock masterpiece.
The next two albums also garnered gold. Searchin' for a Rainbow boasted the Top 40 single "Fire on the Mountain" while Long Hard Ride, with Daniels on the instrumental title track, earned a Grammy nomination. 1977's Carolina Dreams went platinum and signaled greater pop-rock aspirations with the Top 20 hit "Heard It in a Love Song." Together Forever, the first album produced by Stewart Levine, was a mainstream-rock affair with more band compositions, marking MTB's last sessions for the collapsing Capricorn label.
---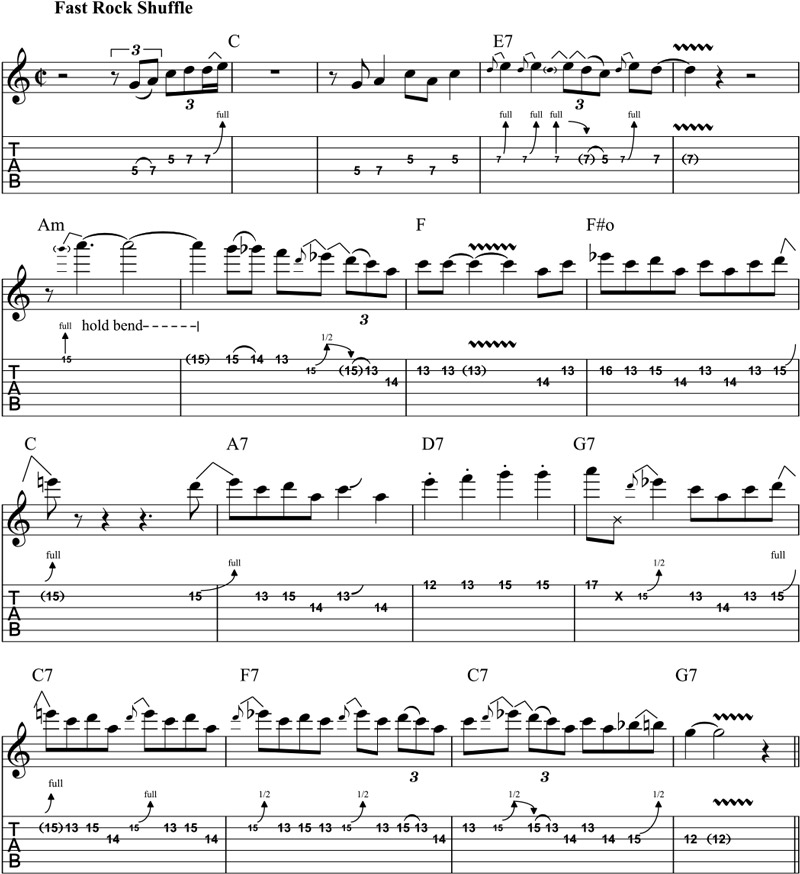 In concert, "Ramblin'" was Caldwell's signature blowin' song, and many versions serve as testament to his increasing abilities in MTB. The rendition on Where We All Belong is watershed. An uptempo rock shuffle, it's comparable to Freddie King at double speed, with blistering blues-rock lines over chord changes that reconcile Dixieland, a country rag and Western swing. Toy finds strong melodic possibilities in the progression and puts his technique and palette of major/minor blues sounds to good use. Note the swing-based major pentatonic and its operative sixth tone A over C, Am, F, F#, C7 and F7, the slick toggling of half-step (Eb) and whole-step (E) bends over C7 and F7, and his smooth execution.
---
Running Like the Wind (Warner Brothers, '79) was slicker and pop-oriented, exemplified by the catchy title song, though its single "Last of the Singing Cowboys," suggested jazz/R&B and fusion influences.
Tenth was their final album with the founding lineup. Tommy Caldwell died of injuries in an auto accident that year and was replaced by Toy Factory bassist Franklin Wilkie for the aptly named Dedicated. Afterward, MTB's popularity began to wane with Tuckerized, Just Us, and Greetings from South Carolina, as did Toy's input and enthusiasm; all three contained far fewer Caldwell compositions.
Toy left to pursue a solo career without the rigors of touring, and released a self-titled album in '92 (later retitled Son of the South). Featuring contributions by Charlie Daniels, Willie Nelson, and Gregg Allman, it presented a revitalized Caldwell with a strong band including Pic Pickens on slide and rhythm guitar and reworking MTB classics "This Ol' Cowboy" and "Fly Eagle Fly," reinvented Nelson's "Night Life," and covered new territory in "Trouble in Dixie" and "Shadow Rider."
Toy died of a heart attack on February 25, 1993.
STYLE
Tommy Caldwell called MTB "progressive country," reflecting their amalgam of blues, rock, gospel, jazz, psychedelic, R&B, and prog n a country base. It serves well as a descriptor of Toy's style, which was a true musical mosaic. If Clapton electrified rural blues in "Crossroads," then Toy produced its country equivalent in high-energy amplified versions of bluegrass/fiddle tunes like "Long Hard Ride." The influence of '60s rock players was evident in his overdriven sound and solo lines in heavier tunes like "You Ain't Foolin' Me" while electric blues a la B.B. King and Elvin Bishop informed the pentatonic/blues-scale melodies, string bending, speech rhythms, call-and-response phrasing, and staccato attack in "Ramblin'" and "Thrill is Gone." R&B birthed the funky "How Can I Slow Down," major-seventh chords and a breezy soft-jazz riff belied the down-home storyline in "This Ol' Cowboy," and his ubiquitous pedal-steel backing channeled the pop sensibilities of a Nashville session cat. Moreover, modal jazz solos were juxtaposed with modernized Delta blues in "Southern Woman." In the studio, he balanced tight country and pop structures, while jazz inspired the freer jam-band improvisations on Stompin' Room Only (live tracks from '74 through '76).
Despite the breadth of his musical palette, Caldwell was as melody-conscious as any rock contemporary. What really separated him from cohorts was the way he used his thumb for picking intricate lead lines, affording the fleshy timbres of Jeff Beck, Mark Knopfler, Lindsay Buckingham, Wes Montgomery, and Albert King. He was able to turn on a dime with this technique to deliver fast, articulate blues-rock licks (with down strokes) on "Ramblin'" and "Take the Highway." With his longer thumbnail, he simulated brighter plectrum tones in major-pentatonic and country-blues phrases, a la Betts and Duane Allman, generated artificial harmonics ("Southern Woman") or rendered his personal take on chicken pickin' ("Hillbilly Band"). He occasionally incorporated other fingers – a vestige of his Travis studies – to play dyads, chordal textures ("Everyday"), intervallic melodies like broken sixths ("Can't You See" coda and "Everyday" intro), and arpeggios. He applied extremes of dynamic range and percussive muting effectively in his solos and colored many faster phrases with abundant hammer-on/pull-off legato technique. He occasionally used tunings like Open D on "Long Hard Ride" and Son of the South.
Caldwell's music reached an apogee by '93, chronicled on that solo album. Interested in chords and progressions from his early years, his compositions were more assured and developed, cast in well-conceived arrangements decorated with thoughtful orchestration and focused guitar work. His playing exhibited considerable refinement in the form of more thematic improv, smoother phrasing, more-confident double-timed lines, greater variety of tone, and improved intonation in string bending and finger vibrato. His melodic blues reflected the sophistication and harmonic awareness of Gary Moore and Larry Carlton in "Night Life" and "Why Am I Crying" while the droning passacaglia (variations over a repeated bass pattern) "Midnight Promises" recalled earlier Beatles' inspirations a la "Dear Prudence." His unflagging jazz influence was subtle and contextual, like the imaginative use of pedal-steel for chromatic changes and soloing in "Night Life" and the fluid modal melodies tucked into solos and fills. "Trouble in Dixie" captured the feeling of new country-rock a la Garth Brooks and Travis Tritt, while "Mexico" exploited ethnic colors, a pop-rock harmony-guitar riff and alluded to '80s shred in the solo's blistering lines.
---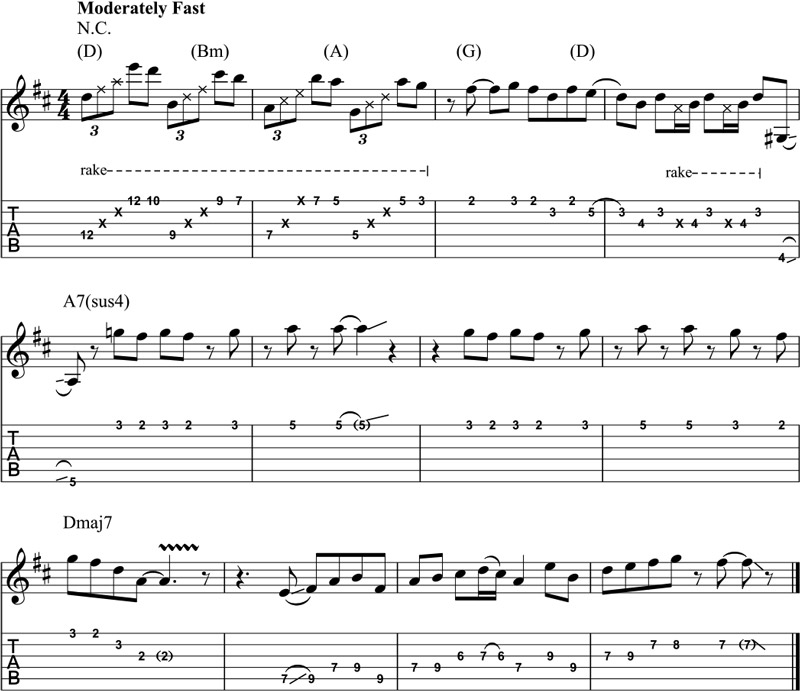 "This Ol' Cowboy" became Caldwell's theme song. The earliest version opened Where We All Belong, but subsequent takes took it to greater heights and he breathed new life into it on Son of the South. Toy originally played the song on his ES-350 for a warmer jazz tone, and later found similar fullness with his 335s. Influenced by players like Hank Garland, the intro exploits a jazz-based approach using arpeggio lines through the D-Bm-A-G chord progression. Toy personalized the sequential phrase with raked chicken-picked articulation, which split the difference between country and bebop. The chicken pickin' was also applied to his opening fill in bar 4. The elegant hook in 5-9 incorporates a smooth jazz/pop melody and strong rhythmic drive with extensive syncopation, channeling a hint of Miami Latin with jazz-rock and R&B leanings. The lead fill of pentatonic and diatonic melody in 10-12 further exemplifies Toy's blend of jazz, country, and rock.
---
ESSENTIAL LISTENING
Best of Marshall Tucker is a serviceable intro, while Where We All Belong, Stompin' Room Only, Marshall Tucker, and Son of the South are highly recommended.
ESSENTIAL VIEWING
MTB's '73 Grand Opera House concert in Macon, Georgia, an '81 New Jersey show, clips from "Don Kirshner's Rock Concert," "Can't You See" with Travis Tritt and Mark O'Connor, and his TV appearance on "Bobby Bare and Friends" are online highlights.
SOUND
Caldwell's main guitar in MTB was an early-'70s sunburst Les Paul Standard with vintage PAFs and strung with Ernie Ball Slinkys (.011-.048). He also used a sunburst post-CBS Strat ("Searchin' for a Rainbow") and Gibson ES-350T ("This Ol' Cowboy" and "Desert Skies") for jazz tones. He later acquired a '64 Strat and '50s 'Burst. By '79, he favored ES-335 Studio models with trapeze tailpieces and no sound holes. His blond 335 sported block inlays and a pickup selector on the upper bout, while a newer Cherry Red had an unbound dot-inlay board. His primary acoustic guitars were a Guild J-50 and National resophonic. He played a Marlen doubleneck pedal-steel, heard on MTB country tracks and his solo album as well as sessions with Elvin Bishop, Hank Williams, Jr., and Charlie Daniels.
In MTB, he used a Y-cord to plug into two early-'70s silverface Fender Twins (mounted in smaller cabinets) mated to two Marshall cabinets, each with four JBL K120 speakers.
---
Wolf Marshall is the founder and original editor-in-chief of GuitarOne magazine. A respected author and columnist, he has been influential in contemporary music education since the early 1980s. His books include 101 Must-Know Rock Licks, B.B. King: the Definitive Collection, and Best of Jazz Guitar, and a list credits can be found at wolfmarshall.com.
---
This article originally appeared in VG's December 2022 issue. All copyrights are by the author and Vintage Guitar magazine. Unauthorized replication or use is strictly prohibited.