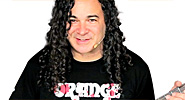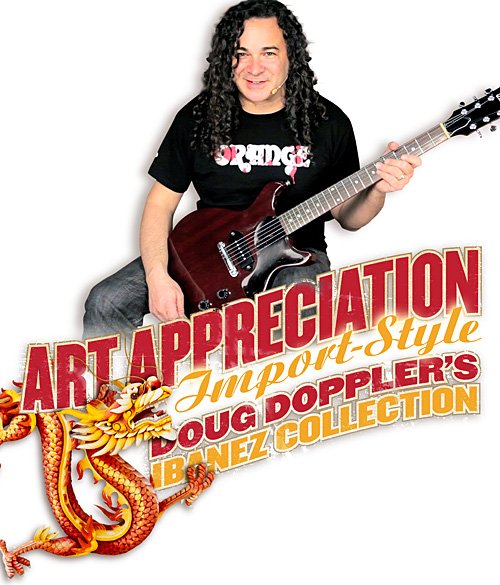 Doug Doppler recalls how, at age five, his first swimming lesson fell on the same day as his first guitar lesson. Beyond mere coincidence, there is no connection between the two. Nonetheless, these days, Doppler is "swimming" in guitars – specifically, vintage Ibanez.
Doppler is an L.A.-based musician and great example of how a guitarist can make a living playing even if they don't regularly perform on huge stages with superstars at their side. In the '90s, he released an instrumental album called Ground Zero on Steve Vai's Favored Nations label, and more recently recorded parts for the Guitar Hero video-game series. He also produces audio and video demos for manufacturers including Dunlop, Orange Amplifiers, Line 6, and Tech 21. He is also a former student of Joe Satriani, which might explain why Doppler is one very hardcore Ibanez guy.
"When I released Ground Zero, I reached out to Rob Nishida, who was the head of artist relations at Ibanez for many years," he said. "He sent me a 540S, and soon after, I started putting together an arsenal of S-series instruments."
The guitar offered enough intrigue that Doppler dug a bit deeper into the company's lineage. His first vintage Ibanez was a model 2351 straight from the "lawsuit era" of the '70s. "I bought it in 2003," Doppler recalled. "From there, it was a slippery slope!"
Doppler has indeed taken the slide, amassing one of the baddest Ibanez collections around, complete with the highlight pieces lusted after by all Ibanezheads, including the much-ballyhooed "korina trio."
We recently spoke with Doppler about the fine points of collecting what are arguably the preeminent Japanese-made electric guitars.
How did you teach yourself all you needed to know about Ibanez instruments before you started collecting them?
I've been a member of the ibanezcollectors.com forum for some time, and those guys really know their business. There's a great culture there and people are happy to help if I have a question, which is not the case with all forums. Also, there's a massive collection of vintage Ibanez catalogs available online, which I use to double-check model numbers, features, and hardware.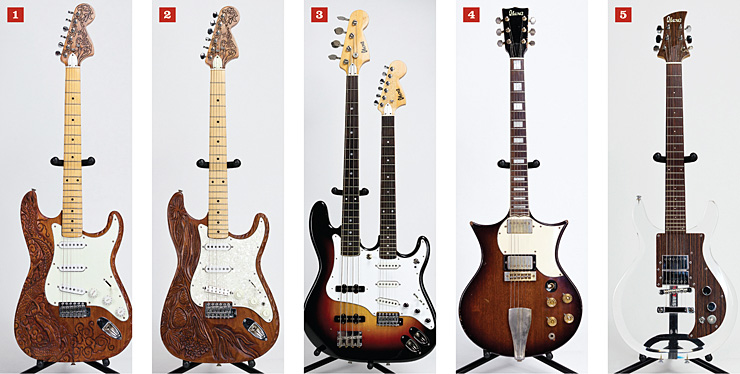 1) This '74 2408-1 Artwood Dragon was one of three instruments Ibanez produced in very limited numbers and used in a 1974 catalog alongside the Black Eagle bass. Rumor has it approximately 30 instruments were sent to China to receive the carved tops. 2) This '74 2408-2 Artwood Cornucopia was another member of the trio of instruments sent to China to receive the top carving. Doppler found it in South Africa. 3) The rarest instrument in his collection, Doppler won this doubleneck – which bears no model number or serial number – after what he calls a "…furious bidding war between myself and a French collector who has since become a dear friend." After bidding crossed the $5,000 mark, Doppler bowed out. A few months later, the Frenchman found something he had to have and asked whether Doppler was interested in buying the guitar. Though someone added a second output jack and changed the knobs, the original vibrato bar and bridge cover are stowed in the case. "This model was featured in a photo, but not actually offered in one of the 1976 Ibanez catalogs, making it the most rare vintage Ibanez I know of," said Doppler. 4) For the diehard collector, this 2662 hints at what was to become the Artist series. 5) This model 2364 was the Ibanez take on Dan Armstrong's Lucite guitar. Another very rare example, Doppler found it in Austria.
What drew you specifically to the Ibanez lawsuit-era instruments?
The company produced a remarkably wide offering of designs, some that easily rival their Fender or Gibson counterparts. And they're collectible because of their uniqueness; they have always been undervalued, I think. Unlike other copycat brands, Ibanez is relevant, which means they'll become more collectible and significant. From a player's perspective, a number of them are personal favorites.
When you started collecting, were you looking for anything specific, or maybe a handful of potential models to buy?
Pretty much from the beginning, my goal was and is to own every lawsuit-era instrument they made. As much as I love the early Artists, the guitars I'm passionate about collecting are those, shall we say, "borrowed" designs.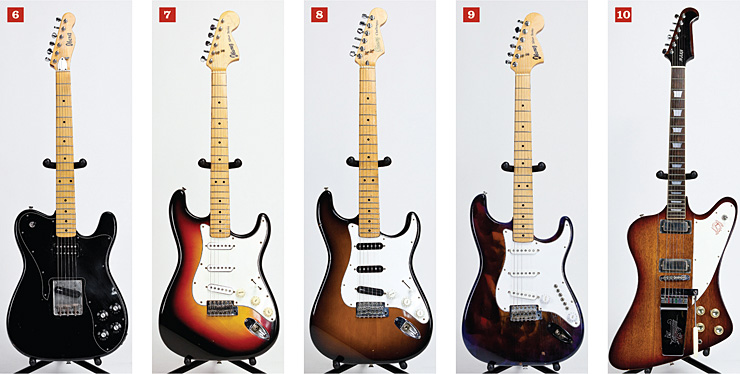 6) When Doppler got this pre-serial-number 2352 Custom, it was all-stock but missing its bridge cover. He swapped the pickups for DiMarzios. 7) The big headstock and three-tone sunburst on this '77 Silver Series 2375 exude the era's vibe. The stock pickups were swapped for a set of Fender SCNs and Doppler used this instrument on a video to demonstrate Orange Amps' Rockerverb. 8) Though it has a two-tone sunburst and a bullet truss rod – which isn't right – this '78 Silver Series 2375 remains one of Doppler's favorite players. He used on a number of Guitar Hero sessions, including the remake of Iron Maiden's "Wrathchild." 9) Though this '78 Silver Series 2375 is a refin, "I had to have it," said Doppler. The pickups have been changed. 10) Hoshino used several brand names in its distribution territories. Doppler found this all-stock '75 Mann 2348 in Canada and has used it extensively on Get Killer Tone.
Do you have any personal rules or guidelines you follow when you find a guitar you'd like to add to the collection?
I'm careful to always follow my Rule of Ten, which reflects the fact that although these instruments may be valued at one tenth of their inspirational counterparts, I believe the value drops more, percentage-wise, if they do not have all the original parts. There are a lot more instruments on the market these days, but many of them are the most common ones or are not original. Buying now is about being smart and making each purchase count.
Why are pre-serial-number guitars more desirable?
Generally speaking, they were made at the very beginning of a model run, and possibly got a bit more attention in manufacture compared to those that followed. It's generally thought that there were fewer of these instruments than when a production run got up and running, but given the number of pre-serial-number instruments I own, that logic may not be the case for all models.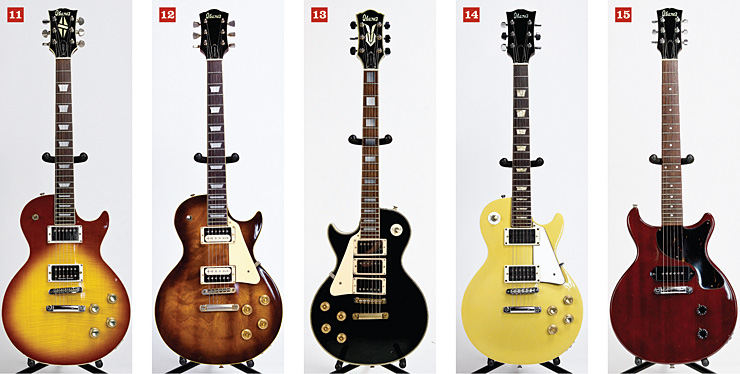 11) Doppler found this '75 model 2351M in Canada. Note the mismatched Standard fingerboard inlays with the Custom headstock inlay and truss-cover badge. 12) Unlike the '75 2351M, this '77 version has the matched Standard neck inlays and truss cover, along with original tuners. 13) "As a true testament to how crazy the collecting thing can get, I decided to pick up this lefty," Doppler said of this '77 2350L. "I later discovered the middle pickup was not original, but it's still a cool piece, and it's in great shape." 14) The stock pickups in this 2351 were exceedingly microphonic, which forced Doppler to swap them for a set of DiMarzios. 15) This all-stock model 2343 is one of Doppler's favorites.
Anyone who collects more-traditional brands knows that when you delve into old guitars, you have to be on the lookout for things that affect originality – changed parts, refinishes, etc. Given that Ibanez instruments came of age at a time when modding guitars was commonplace, do collectors have to be all the more wary?
Surprisingly, few of the guitars I've seen come to market have major modifications, which, considering the era, is pretty remarkable.
What are the most commonly replaced parts, and why were they swapped?
In the '80s, a lot of people thought different pickups and tuning gears were an improvement. Most of the time, I'll swap pickups because the originals have gone microphonic and I'd have to take them out, anyway. Since these instruments are not as valuable as Gibsons or Fenders, I'm not as concerned about the wiring harness remaining untouched.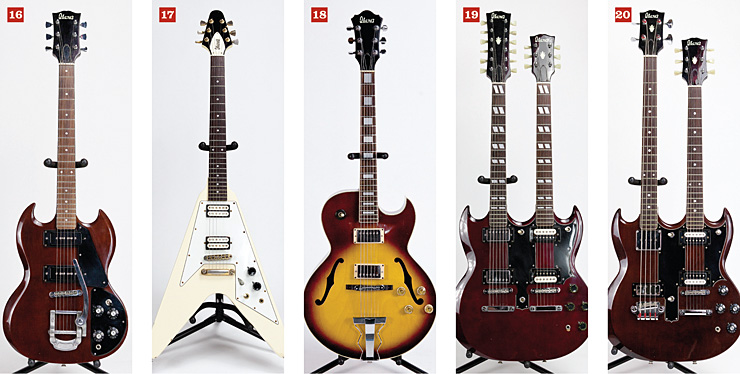 16) This pre-serial number 2377 is all-stock and Doppler has used it on a number of Orange Amps videos. 17) This '77 model 2387 has its original tuners and pickups. 18) Doppler found this '78 2355 on Craigslist. "I showed up to find a nearly original instrument with a small neck crack the seller did not mention in advance," he said. "So I got it at a great price, and I've used it a ton." 19) This pre-serial-number 2402 has original tuners and pickups. 20) Doppler calls this '76 2404, "A neat, all-stock piece."
You've scored most of your guitars via internet auction. What do you advise people about that process?
The "freshman" collector buys first, then learns what they did wrong second. There are enough of these instruments on the market that if you miss one, you'll most likely find another. I almost never bid on an instrument when the seller has less than 99 percent positive feedback or has less than 25 transactions. I also don't trust people who charge too much for shipping, and I'll pass on a guitar where the seller thinks they're going to make an extra buck for packing it and dropping it off at FedEx or UPS. It reeks of "freshman," and those are deals to watch out for.
When you talk to someone about getting into collecting Ibanez guitars, what advice do you offer?
First, I tell them that they need to know the market before pulling out their wallet. It's easy to think you've made a huge local score on some website only to find out you've been had. A smart collector knows what they're looking for before it comes up, and they know how much they're willing to pay.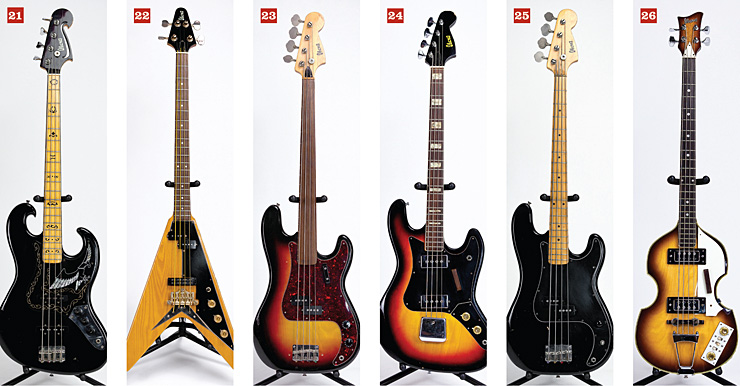 21) The cutout on the headstock of the 2409B Black Eagle bass is typically broken because the piece on the treble side was left quite thin after the rout. This one is from '75. 22) An all-stock '76 2387B-CT. 23) This pre-serial number 2366FLB is one of two Doppler has ever seen offered for sale. It's all-original. 24) Doppler says this awkward-looking 2030 has wonderful tone. "It's completely stock, in great condition, and the only one of its kind I've seen," he said. 25) One of Doppler's first vintage Ibanez basses was this 2366B. "The stock pickup was dead, so it has been replaced," he said. 26) This pre-serial-number 2357DX is one of Doppler's crown jewels. "I scoured the globe and tracked it down in Germany," he said. "It sounds and plays like a Höfner and is ultra-rare in this condition."
How did your connection develop with Satriani and Vai?
When I was in high school, I studied with Satch for 31/2 years. When I got ready to head to GIT, he gave me Steve's phone number. Flash forward a couple decades, and Joe kindly sent Steve my newly mixed Nu Instrumental disc, which he released on his Favored Nations label.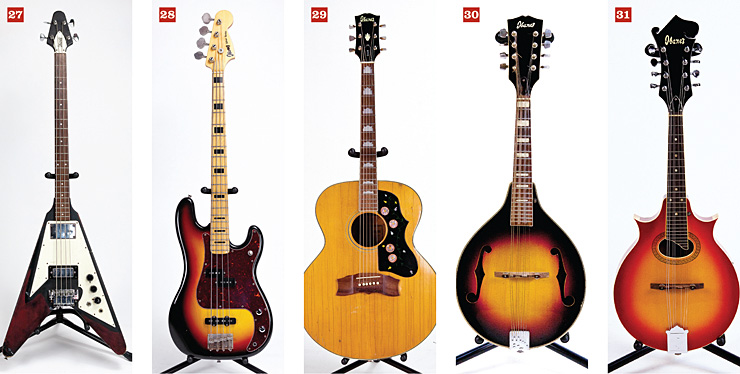 27) "This poor instrument has been through hell and back," Doppler said of this 2387B. "I stripped most of the matte-black paint to reveal the original finish, and it came with all-original components." 28) This all-stock 2369B has the pickup combination with three-way toggle. 29) The cracks in the finish and bits of missing binding are testimony that this pre-serial-number model 698MS has been well-played. "There is little information on the acoustics from this era, but I'm fairly certain the pickup is stock, and it still works like a charm," Doppler said. 30 and 31) "Though I don't really play mandolin, I thought these would make a great addition to the collection," Doppler said of this model 511 and 513, both pre-serial-number.
So where might we have heard you use some of these instruments?
I used two of the Silver Series 2375 models on the Guitar Hero sessions; the two-tone sunburst on the classical intro to Extreme's "Play With Me" and one of the rhythm parts on Iron Maiden's "Wrathchild" and the three-tone sunburst on the solo for White Lion's version of "Radar Love." I also do a ton of video work for Orange, and I love to get them in the mix. I'm always happy to see the positive comments about them on YouTube.
What projects do you have in the works where you're using your Ibanezes?
In June, I'll be releasing a DVD where I demo 100 modern and vintage time-based effects. It's called Get Killer Tone: Delay/Looper/Reverb. And there's more in the works.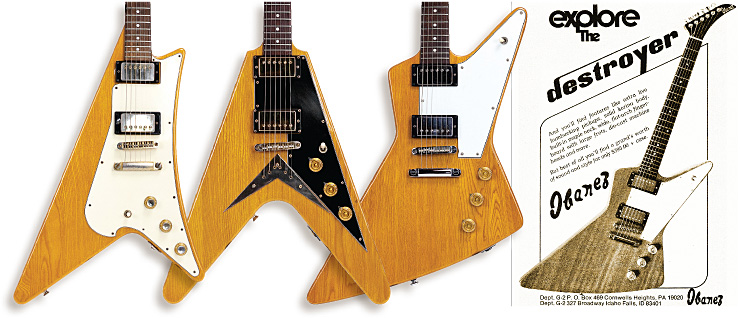 "Korina" Trio
Though their bodies weren't actually made with Korina – they're probably a Japanese wood called sen – Doug Doppler says the Ibanez guitars made to look like Gibson's famed korina instruments are highly desirable because their finish work was outstanding, "And they play as good as they look!" he said. "The Rocket Roll Sr., Destroyer, and Futura are probably the most collectable because they do a brilliant job of paying homage to what were some of the finest instruments Gibson ever – and never – made."
---
This article originally appeared in VG June 2012 issue. All copyrights are by the author and Vintage Guitar magazine. Unauthorized replication or use is strictly prohibited.
---