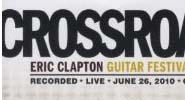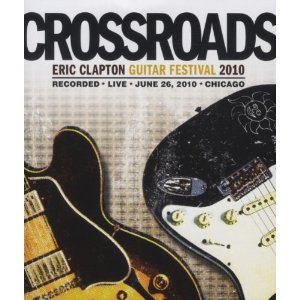 Robert Johnson's "Cross Roads Blues" is more than just a song and artist that inspired and haunted Eric Clapton; it symbolized the conflicts in his own life and career. As he told me in 1988, "I don't think I'll ever get across the crossroads. It's always standing right there in front of me."
In Johnson's recording and others he cut in a room at the Gunter Hotel in San Antonio in 1936, we hear a tortured soul. "I went down to the crossroad," he sings; "fell down on my knees. Asked the lord above, 'Have mercy now. Save poor Bob if you please.'" Mythology surrounded Johnson, who died less than two years later – to the point that musicologists actually debated the location of the Mississippi crossroads where he'd met the devil and sold his soul in order to become a better musician. This is (do we even need to point it out?) hogwash, but it doesn't diminish the image Johnson conjures up when he sings, "Standin' at the crossroad, tried to flag a ride/Didn't nobody seem to know me; everybody
pass me by."
After his well-publicized battles with substance abuse, Clapton named the treatment facility he built in Antigua the Crossroads Centre, and in 2004 held his first Crossroads Guitar Festival at Dallas' Cotton Bowl – also auctioning off dozens of guitars from his personal collection, with all proceeds going to the rehab. He held another star-studded event, this time at Toyota Park, Bridgeview, Illinois, near Chicago, in '07, and returned to Bridgeview for a third on June 6, 2010. Highlights from all three have been released on DVD – the latest edition (Crossroads: Eric Clapton Guitar Festival 2010 on Rhino) spanning two discs and clocking in around four and a half hours.
And highlights indeed abound, from the very first act, with Clapton joining slide wizard Sonny Landreth on "Promise Land," then the instrumental "Z Rider," featuring Landreth's trio on its own. (If you've ever wondered how he milks so much texture out of just three pieces, watch and listen to the picked-bass style of Dave Ranson, who's played with Sonny for 40-some years.)
After some sage advice and a story about meeting Muddy Waters from Hubert Sumlin, pedal steeler Robert
Randolph shows his gospel roots on "Travelin' Shoes" before being joined by Joe Bonamassa and Italy's Pino Daniele for Freddie King's "Going Down." Sumlin then backs Robert Cray on "Killing Floor" (having played on Howlin' Wolf's original version) and Jimmie Vaughan on "Six Strings Down." Both performances are good (although, ironically, Vaughan's voice has never been particularly suited to the song about the death of brother Stevie), but Cray and Vaughan not only appeared at the first two Crossroads concerts, they sang these same songs on the '04 DVD.
Which brings up one of the few (but main) criticisms one can level at the DVD and the festivals as a whole. In only three festivals, ZZ Top, Jonny Lang, and James Burton make returns appearances from '04, while Landreth, Derek Trucks and Susan Tedeschi, Cesar Rosas (with David Hidalgo, although this time with Los Lobos as a whole), Albert Lee, and Steve Winwood (reprising two tunes) were already on the '07 set. Vaughan, Cray, and Buddy Guy (no doubt a reference to Stevie Ray Vaughan's last show, which they played on with Clapton), as well as Randolph, Sumlin, Vince Gill, Doyle Bramhall II, John Mayer, and Jeff Beck have played all three fests – although, like Burton, Beck's brief '04 appearance didn't make it to that year's DVD. Likewise, Johnny Winter played 2007 and 2010, but only appears on the former release.
To be sure, booking something like this must be a nightmare, and, as a fundraiser, draw has to be a consideration. But, with so many fantastic guitar players out there, isn't it a bit early for reruns? Also, the kickoff Dallas fest (from which I'm still applying zinc oxide) was much more eclectic. There was bluegrass (Dan Tyminski), hard rock (birthday boy Steve Vai), world music (Vishwa Mohan Bhatt), and jazz (John McLaughlin, who also played in '07, and, although not on the DVD, Pat Metheny). One could argue that jazz doesn't go over in football stadiums, but Larry Carlton got the Bowl jumping as high as any act that day.
That said, British folk pioneer Bert Jansch (showing where Jimmy Page got "Black Mountain Side" – the traditional Irish folk song "Blackwaterside") and the pairing of acoustic bluesmen Stefan Grossman and Keb' Mo' are welcome additions here. Also, James Burton finally gets some face time, as part of Vince Gill's ensemble – which somehow doesn't sound like a cluster-pluck, despite having at least a dozen players up there. Burton, Albert Lee, and Gill constitute Tele's Holy Trinity, while Keb' and gut-stringer Earl Klugh join in on "One More Last Chance," "Mystery Train," and "Lay Down Sally." But the sleeper star is the Gill band's slider, Tom Britt, who Vince calls "part Sonny Landreth, part Ry Coder."
The lone jazzer on the DVD, Klugh looks like he's having a blast during the jam, but really gets to shine on his own – on the solo ballad "Angelina" (which director Martyn Atkins inexcusably, and unnecessarily, interrupts with an interview snippet) and fronting his quartet on the Latiny "Vonetta."
John Mayer closes Disc 1, leaving at least one journalist to wonder, "What does Clapton see in this guy?" Sure, he's got talent and looks enough to woo younger guitarists and teenage girls, but we're talking Eric Clapton! He's obviously heard every Mayer lick (by himself and other originators) and seen every affected pose and expression. So you've got Sonny Landreth, Billy Gibbons, James Burton, Jimmie Vaughan, Jeff Beck, Buddy Guy, and… John Mayer? Doesn't make sense. (For better or worse, though, his presence here spares you, the reader, from one of my rants about Jonny Lang!)
Disc 2 has some nice turns by Derek Trucks and wife Susan Tedeschi (doing Joe Cocker's "Space Captain" with Warren Haynes on guitar) and Buddy Guy joined by Lang and Ronnie Wood (a bit sloppy, but it's Ronnie Wood, after all – and Buddy Guy). When I reviewed the '07 DVD, top honors went to Steve Winwood, with Jeff Beck a close second. This year, I have to reverse those spots, thanks to Beck's other-worldly interpretation of Puccini's "Nessun Dorma" – although his jam with Clapton on "Shake Your Money-Maker" crashes and burns.
For his own part, E.C. plays well throughout (with a stunning extended solo on "I Shot The Sheriff") – although his and Winwood's dual solos on "Had To Cry Today" are far from the height of interplay. Paring down his three-guitar band (with Bramhall and Trucks) to just him works well, although how he could possibly think female backup singers fit the song "Crossroads" is a bigger mystery than his John Mayer fascination.
Little details like that, along with so many acts seemingly taking up residency, raise the question of whether the crossroads – not the rehab or the fest or the song, but the condition, and its inherent conflict – have become a tad comfortable for the guitar god in shorts and bifocals.
This article originally appeared in VG's Feb. '11 issue. All copyrights are by the author and Vintage Guitar magazine. Unauthorized replication or use is strictly prohibited.